Having first appeared in the UK in 1997, FunCup is one of the best value endurance racing categories currently in operation. Featuring large grids of identical cars, race lengths can vary from 3 to 5 hours with mandatory pitstops for fuel and tyres adding that extra element to overall race strategy.
The cars are all equal, based from the original VW Beetle, comprising of tubular steel space frame chassis with identical silhouette style bodywork for enhanced aero performance over the standard car. Power is delivered to the rear wheels via a rear-mounted 1.8 litre VW turbo engine and a 5-speed sequential gearbox and slowed back down by disc brakes all round.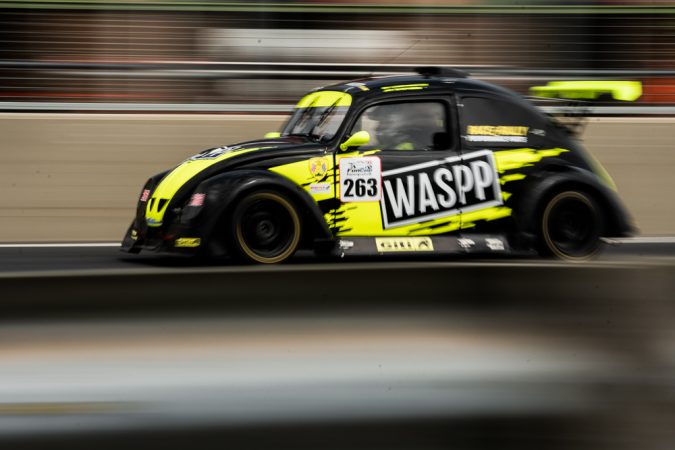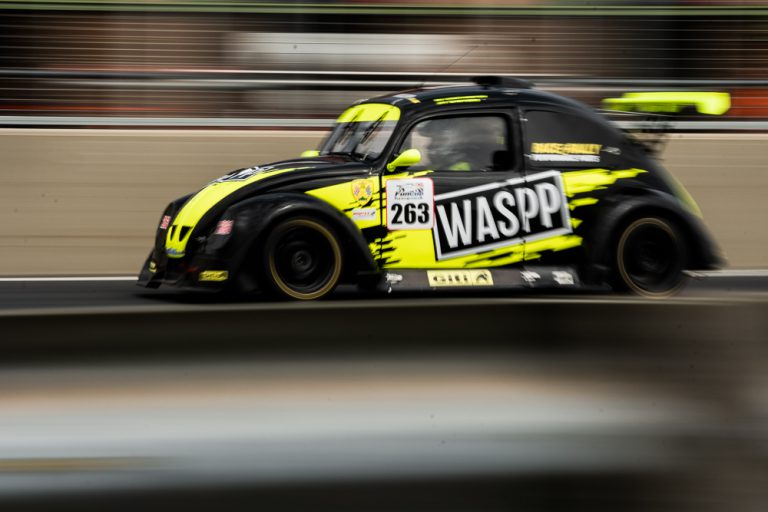 Snetterton circuit hosted the 2020 season opener featuring an unusual 2 races compared to the usual 1. All eyes were on reigning champions Farquini Deott and Fabio Randaccio in their Team Uvio car to see if they could mount a serious title defence early in the season.
Pole position for race 1 went the way of British GT regulars, Track Focused, courtesy of pro driver, Sean Cooper
Race 1: 1 Hour Sprint
With such a close qualifying, this race was all to play for. This seemed evident as the drivers barrelled towards Turn 1 three abreast fighting for that all-important track position. Track Focused were quickly disposed of by Team7 Waspp. A slipstreaming frenzy then ensued with Waspp continually leading at the line by just a few tenths of a second each lap.
This constant battling allowed Harry Mailer for Make Happen Racing and Marcus Clutton for DespatchBay Express to close up and make it a 4 way battle for the lead. The constant order shuffling continued until the first round of mandatory pitstops.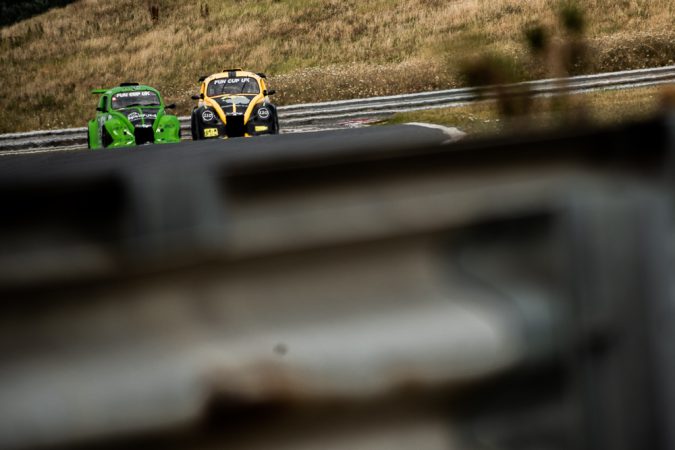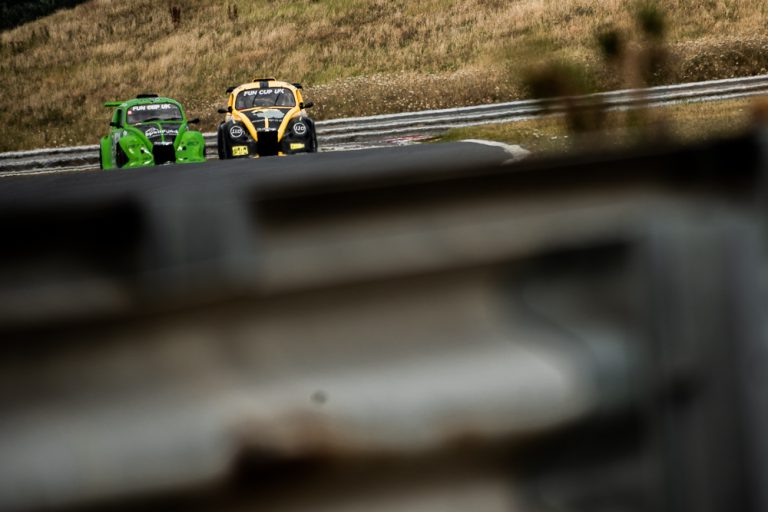 It was Team Viking and Axiametrics who performed lightning pitstops to move into the lead of the race. From then on in it was a tense battle between the two for victory. No fewer than 4 lead changes occurred within the final 30 minutes.
Axiametrics looked set to take victory until the Vikings made a late move on the penultimate lap. Axiametrics then ran wide heading into the Esses trying desperately to chase down the Vikings, costing them any chance at slipstreaming past at the line.
In the end, it was the Vikings who took victory just 0.5 seconds ahead of Axiametrics in what was an enthralling race.
Race 2: 4 Hour Enduro
After the excitement of Race 1, the focus turned to the endurance and who could preserve their equipment until the end. A clean start saw no casualties on the opening lap with the drivers choosing to run slightly conservatively during the early phase of the race.
After the opening hour, it was Team Uvio who had stormed to a 14 second lead from Enduro Motorsport who were capitalising on their 7th place start with the faster cars behind them.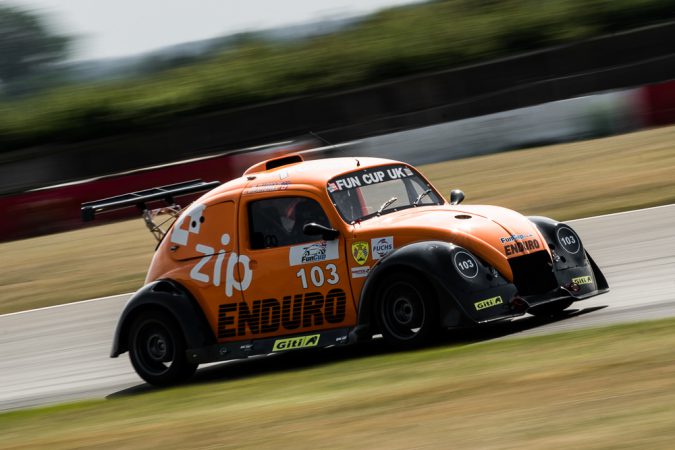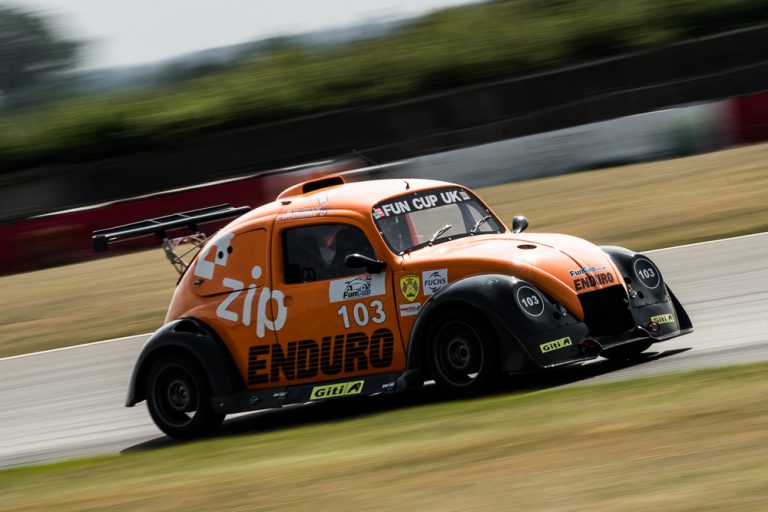 The only drama to report was a technical issue for the Greenheath car halfway through the hour. No safety car was required however, Greenheath dropped to 13 laps behind the leader, putting any chances of victory well and truly out of the window.
The second hour was another conservative one with Uvio now having doubled their lead over Enduro to 32 seconds. There was a change for 3rd position with 2 Rent Dominos moving up 4 positions to put themselves firmly in contention for the victory.
Technical gremlins hit the Team7 Waspp 2 car who had now dropped back to 14th position, fighting to stay on the lead lap.
After the 3rd-hour drama struck. The 3rd place car of 2 Rent Dominos ground to a halt exiting Turn 2 bringing out a late-race safety car (to continue the 100% safety car record for FunCup at Snetterton). With a mad dash into the pits for fuel and tyres, Uvio's lead had been cut right down with Team7 Waspp right on their tail having slowly started to close up the gap to Fabio Randaccio in the lead.
Enduro had managed to get back into 3rd position and set about chasing down the two cars ahead but neither could catch Fandaccio on the restart and Uvio quickly built up a 10-second lead whilst Waspp and Enduro fought over the final two rostrum positions.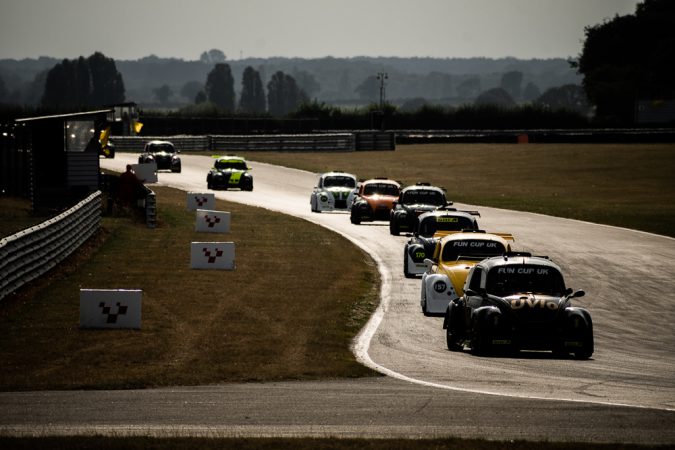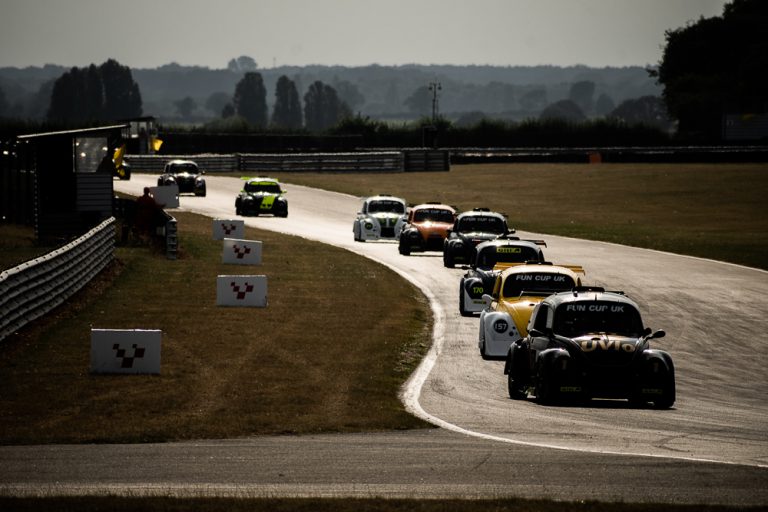 Hour 4 looked set to see Uvio take an easy win, but more problems for the Greenheath car brought out a late safety car. With only 18 minutes remaining at the restart, all bets were off and Jay Shepherd in the Waspp car set about catching Fandaccio once again.
It didn't quite work out that way though. Neil Plimmer in the PLR Racing machine made a superb restart to take second away from Shepherd and fought hard to keep this position, fending off attacks from Greensall Motorsport and Marcus Clutton who was on an absolute mission setting his fastest lap of the race on the final lap.
Luckily there was only one incident with the 212 Make Happen Racing car being turned around heading into the esses, breaking a driveshaft in the process and causing a permanent yellow flag rather than a safety car with only 5 minutes remaining.
With one major overtaking spot now out of action, Fandaccio was able to cruise on to take victory by 3.4 seconds from Shepherd with Ryan Lewis just holding off Clutton to take 3rd for Greensall Motorsport.