Cue the Garmin Virb Ultra 30
Garmin kindly provided us with the chance to test out their latest entry into the action camera world. While we weren't wooed over initially, because we are quite accustomed to GoPros by now, we were plenty surprised after testing it out.
We brought the VIRB Ultra 30 along with us when we took the Subaru WRX STi out for a spin. It's a good opportunity for this little camera to prove itself as well, as the weather was typically British by the time we got there.
Introduction And The Exterior
Garmin packed a lot of extras into the box, much like GoPro. They include a rounded and flat sticky mount, a multitude of extenders, and tools to modify the orientation of the camera. The waterproof hard case comes as standard as well.
It's worth noting that the VIRB Ultra 30 works with GoPro mounts. So if you've already invested in a GoPro in the past, don't worry, you don't have to throw your accessories away.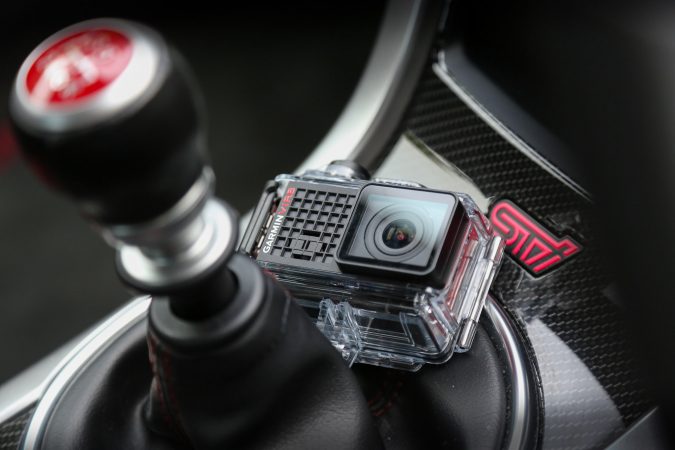 Immediately, the VIRB Ultra 30 looks distinctive. You can spot from afar that this is a Garmin. It weighs 88 grams with the battery. It is quite similar in dimensions compared to our GoPro Hero 5. Really though, they're both 'slip into your pocket and forget it'.
The Controls
To the front, the VIRB Ultra 30 has a small LED to confirm actions. You'll be grateful for that,because the VIRB has a quite useful command, voice control. Garmin has kept the menu on the VIRB Ultra 30 simple and intuitive. Additionally, it's made to be touchscreen friendly, so selections are big and easy to press.
The VIRB Ultra 30 also has multiple buttons. There are arrows for menu controls, a dedicated shutter button, and a record lever you can slide across. The screen on the Garmin is slightly smaller than on our GoPro Hero 5. What's more impressive though, is the fact that it works even while the VIRB Ultra 30 is in its hardcase. Although the Hero 5 wins at not even requiring a case to be waterproof. Button access is still possible even in the case.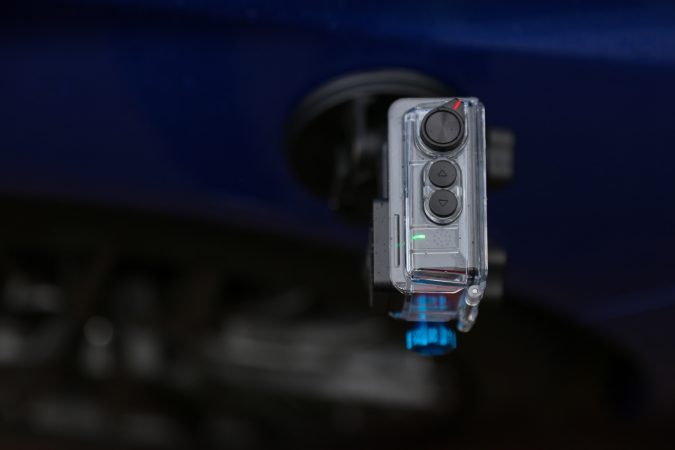 There are a plethora of neat novelties built into this camera. It has a lot of sensors and even GPS inside it for data logging. You can choose to display different information in the editing suite afterwards. We tried this out driving the Subaru around, and it worked great.
The voice control is a nice touch too, and it can pick up commands quite well overall. You just have to shout 'OK Garmin' to get its attention and tell it what you need, like 'Take a photo'. A nifty feature is 'Remember that', where the VIRB will mark out a highlight for editing later.
The Image Quality
In terms of video quality, there really is no faulting the VIRB Ultra 30. There are a lot of video modes to choose from, from 4K/30 FPS to 720p/240 FPS. Additionally, there's a manual override in the VIRB Ultra 30, in which you can really get the most out of that sensor.
Honestly, it's quite surreal just how close the VIRB cuts it when it comes to a comparison with the GoPro. The videos are that good. It's not as contrasty as the Hero 5 Black, paired with the solid dynamic range means that you can fetch a lot of details from the shadows. The GoPro is that bit more vibrant and saturated though.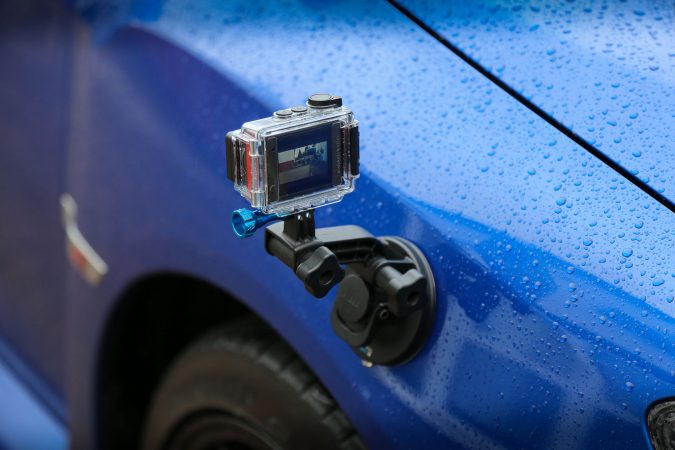 The VIRB also has 3-axis image stabilisation. Using it you have to forgo 4K, and settle with 2.7K at most. Mind you, it's still plenty of resolution though. The field of view of the VIRB is also exceptional.
We also find the mic quality on the VIRB to be amazing. Even in its case, it picks up audio remarkably well. Wind noise is less than you might think even with the mic facing straight forward. You can always attach an external microphone to the VIRB if you need more.
You can also see the sensors coming into use for the videos we're showing here. It even has ANT+ for additional data acquisition such as heartrate, and even tyre pressure.
It can also take 12 megapixels photos. It's very much like the photo quality of modern phones, except at a much wider field of view.
Recording at 4K, 30 fps, the VIRB Ultra 30 will last for a bit over an hour.
The Software
There are applications available for the VIRB Ultra 30 to make your life using it easier. On the mobile phone, you can get an app to control the VIRB Ultra 30 on the fly for Android and iOS. If you'd prefer a more reliable connection though, there's a physical remote control you can buy from Garmin.
On your desktop, there's something called VIRB Edit. It's a simplistic video editor that can stitch multiple sessions together. But more importantly, you can attach the sensor readings to your video and edit the data overlay to show the information in a way you want it to.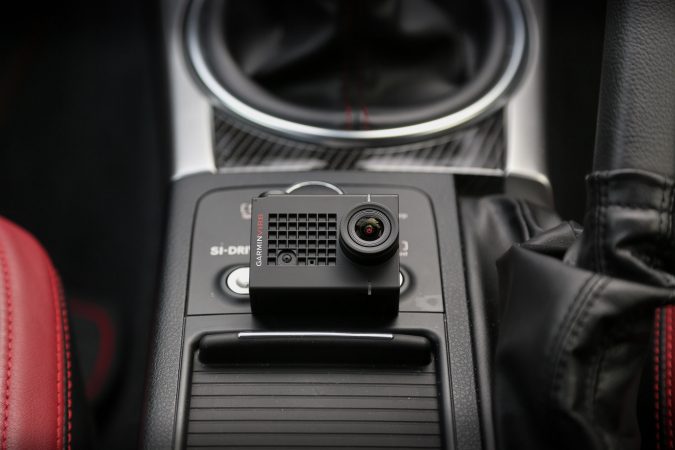 For the less techie though, there's an auto create video function, which edits your video for you. There's also a sample library of music to choose from for use in your videos.
Verdict
Garmin has really impressed us this time around. In fact, they've made a very solid contender in the action camera market. In many ways, it can compete with the GoPro. Bar some minor sacrifices, it is the same thing in a different box.
Those minor sacrifices though, in the end, is what will ultimately decide what you want to buy. We are thoroughly impressed at what the Garmin provides. Those G-Metrix sensors inside the camera body is also doubly convenient. This is a feature that will definitely attract enthusiast drivers.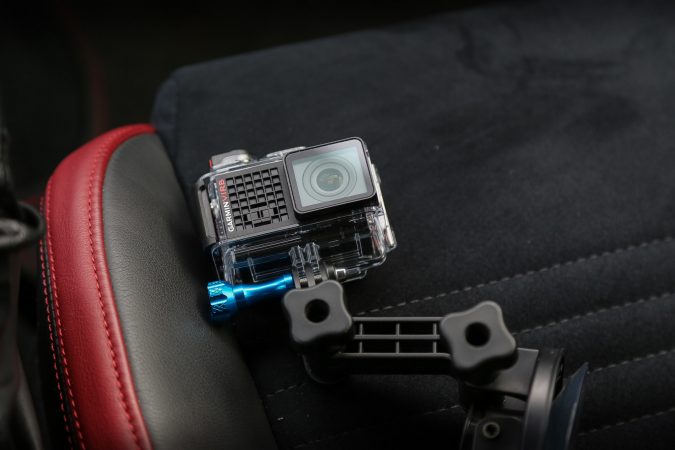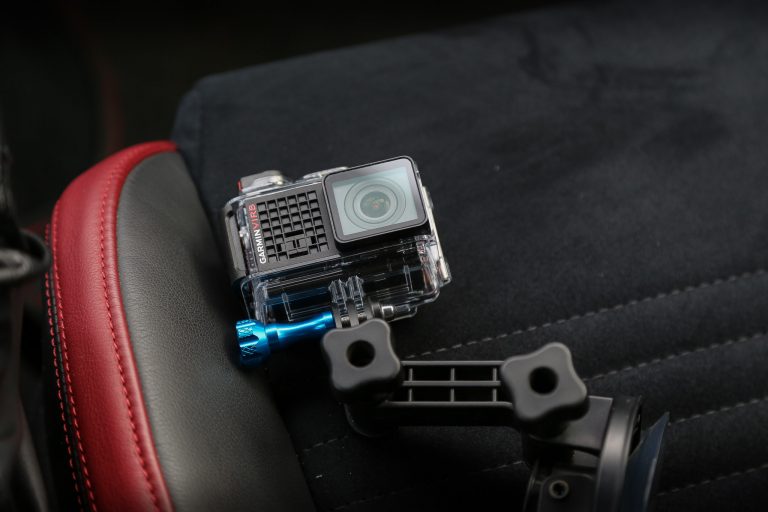 Garmin did really well this time around. They're not beginners to the action camera market as well, but their previous cameras were just not good enough. Now though, with a solid design, impressive quality, intuitive controls and a competitive price, one can really consider the Garmin over a GoPro.
What would you choose? The GoPro Hero 5 Black, or the Garmin Virb Ultra 30? Tell us in the comment section below!