I'd say one of the best features of any modern vehicle lies buried within that giant screen in the middle of your dash – the infotainment system. No longer will you need to contend with having a phone stuck onto your windshield with some flimsy mount. With just one display, you'd have access to everything from climate control and the stereo, to the satnav or a backup camera.
However, while the driver and front passenger can enjoy a crisp, slick, and sharp infotainment system, the rear passengers often get nothing. Sure, pricier cars sometimes come with screens on the headrests for your rear passengers, especially those hyperactive kids, something to play around with. But if your car doesn't feature one or has an option for it, what can you do?
Well, if you have a Tesla, perhaps you might consider getting yourself one of these – a bespoke Tesla rear seat entertainment system. There are plenty of companies building all kinds of third-party aftermarket multimedia centers, but never with this much quality dedicated to the ones that have to sit in the back. But if you need one, Hansshow Auto Parts has you covered.
Hansshow rear seat entertainment provides better visual experience. The headrest screens are usually installed to the right or left headrest and passengers sitting on the left or right side will have trouble watching a full picture or get the annoying reflective screen. Traditional headrest screens may also present some safety issues as you may hit the screen when you lay forward in the event of an accident.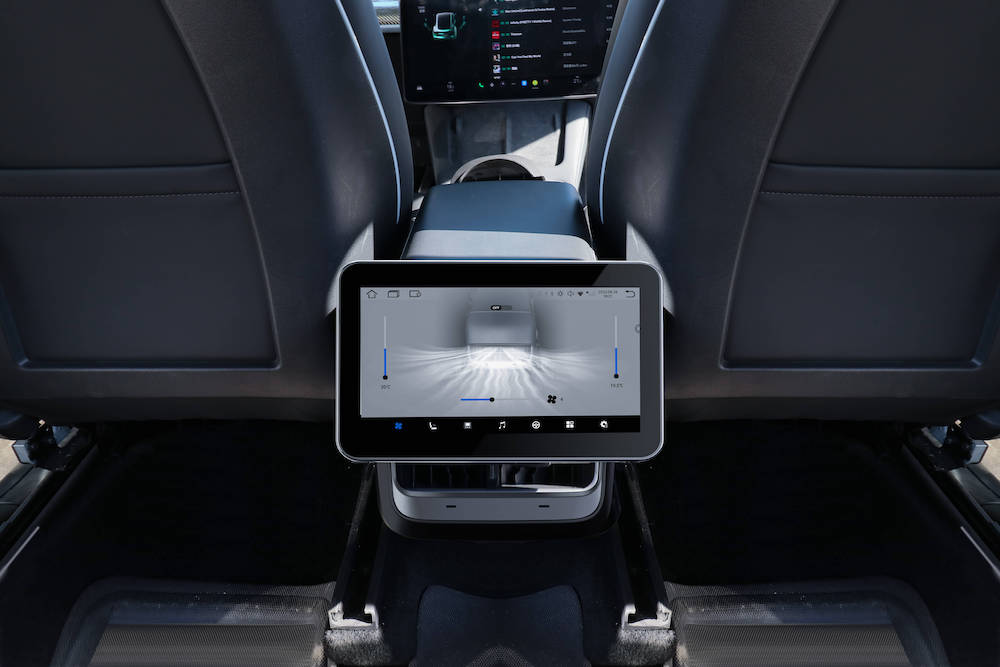 It can fit two Tesla models, in particular, the Model 3 (2017MY and up) and Model Y (2020MY and up). Up front, you'll note its 720p, 8-inch display, which is decently large.
Even though this product is derived from the design of the Model S rear screen, the biggest difference is that the Model S has no game function.
Moreover, the Hansshow rear seat entertainment has an OS built atop an Android 11 build, so it should be pretty intuitive for most folk who've used Android phones before. But, this system isn't just a simple multimedia screen.
More Than Just An Entertainment Center
This screen also allows you to control the Model 3 or Model Y's original rear climate control. It includes being able to control the rear seat heating and manage the rear air-conditioning. It does so by integrating with your Tesla's OBD port. Thus, allowing rear seat passengers the ability to alter the rear A/C vents' air speed, temperature, or even the volume of the radio, and more.
Nevertheless, there's another layer to this system – the multimedia functions. As it's an Android system, you could even access the Google Play Store to download apps onto it. So, if your kids want to listen to podcasts on Spotify, watch a YouTube video, or play a co-op game (if it helps to calm them down), they can do just that. Furthermore, the system integrates both 4G connectivity and has Wi-Fi, too!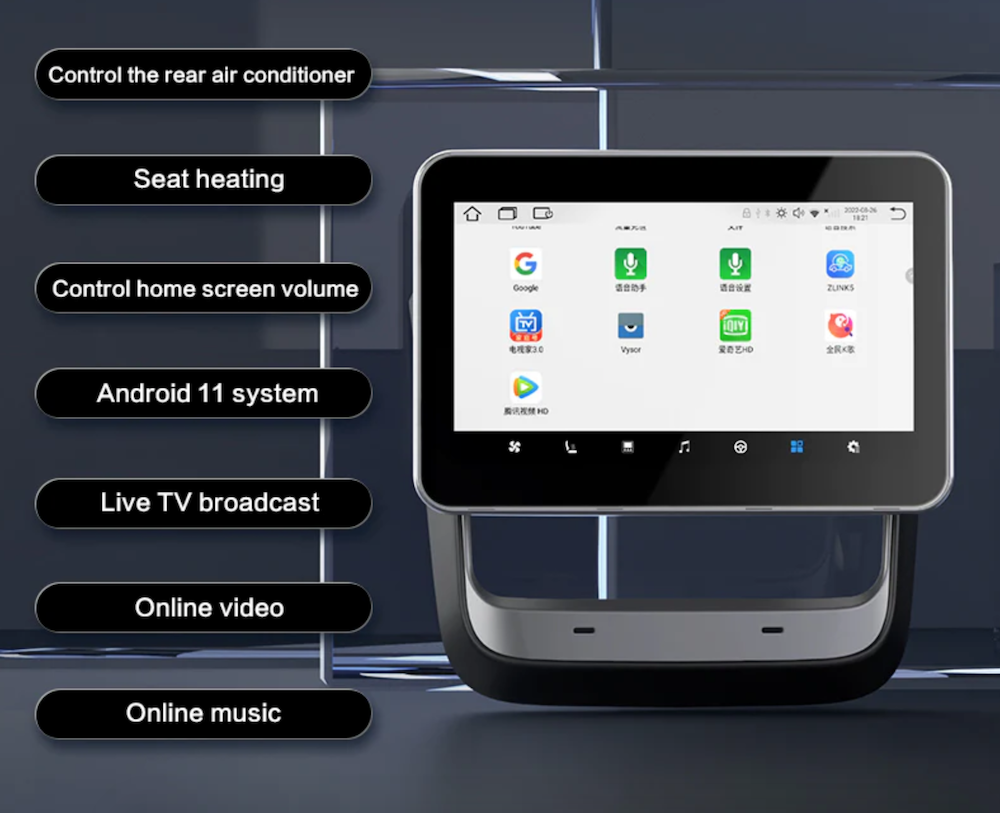 Interestingly, you may also use it like the front infotainment display, by connecting a phone to it and using Apple CarPlay or Android Auto. So, be sure to shop now on Hansshow and use Promo code: MotorV25 if you need to learn more about the specs and capabilities of this system in detail, and want to get one for your Tesla. In addition, you're then able to sync up the sound output to the rest of the car's speakers, or a wireless headphone.
Killing time on that long road trip has never been more fun or as seamless. Besides, installing it is very straightforward, as well. There's no need to drill holes or break your Tesla apart. Rather, installing the Hansshow rear entertainment system is a simple plug-and-play. Plus, this system is compatible with those Tesla models that use either the newer AMD chips or the older Intel ones.