A paint code guides you through using the right color for your car. It is a three- to six-character code that makes it easy to establish color accuracy when painting your car. Sometimes it can be challenging to get the right color for your vehicle, but GM paint code by VIN takes away that worry. VIN will help you find your car color code.
A VIN (vehicle identification number) is a 17-character unique code you will find in every vehicle after manufacturing. The 17 characters consist of numbers and alphabets,  but there is no intervening space between them. Also, you won't find letters such as Q (q), O (o), and I (i) in VINs; the omission is to prevent confusion with 0 and 1. 
The VIN gives you information about the car, such as the country, factory, make and model, and year of the factory. If you are a car owner wanting to retouch your GM car or retouch your vehicle in a different GM color, knowing your car paint color code numbers is essential to match the right color. All cars have a color identification plate, locate yours, and everything becomes easy.
Color Code
Your car color code is vital in selecting the right color for your vehicle. You can find your car color code anywhere on your car, depending on the make and model. The common places you can find the color code include: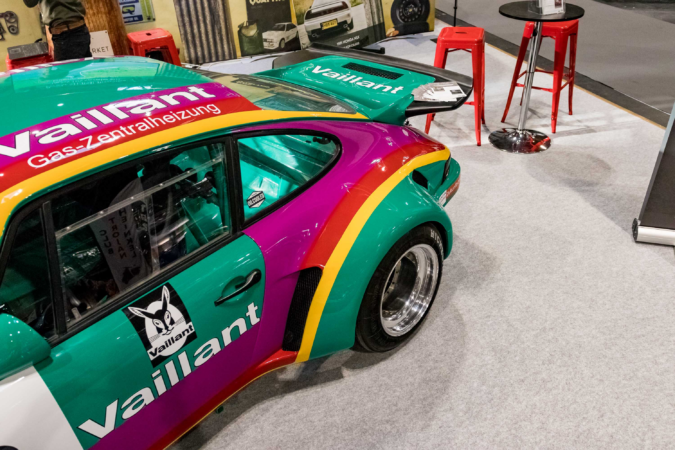 The radiator
Firewall or engine compartment
Glove box
Right-hand sun visor
Under driver seat
Drivers side door jamb
Trunk lid
Spare tire wheel well
The rear of the middle console
Also, you can find your car color code in your service history and your owner's manual. Taking your time to write down your color code makes it easy to find the correct paint that will match your car correctly. If you have an Audi car, your color code will be under the deck lid, rear compartment, or in the spare tire compartment.
Bentley owners should find their color code under the hood, the door hinge, the door jamb, or inside the trunk. The color code of BMW is always in the wheel well or the firewall. Fords always have their color code in the driver's side door jamb, while Mercedes Benz has its own in the engine compartment or the radiator support.
Color Code Finder
You can use the right color to cover up scratches on your car (to learn more, check out our guide on scratched plastic bumper repair), and to know the right color, locate your color code or VIN, and you will get all the information you need.
Paint Code By VIN
Several reasons can require that you know the right color for your car; whatever the reasons, the most important thing is finding the exact color that will match your vehicle. To find the precise color, you will need your car's paint code, a color number that makes finding the right color for your car easy. Every car has a paint code, just as every vehicle has a VIN.
Your car's vehicle identification number serves as a fingerprint, containing specific information about your car, which Is your paint color code. You can find your VIN on your insurance card (for more insight, check out our guide on how much is motorcycle insurance as well as how to choose the right motorcycle for you and how to cancel Progressive insurance), vehicle title, or dashboard. Your car VIN does not explicitly give information about your vehicle paint code, but you can still use it to find your paint color.
Your VIN serves as your car fingerprint; then, you can use it to search for your paint color on other platforms. Also, you can search for your paint code online using your VIN or get in touch with your dealer and give them your VIN so they can help you find your paint code. You should understand that the VIN won't give you the exact paint code for your car, but it's a tool you can use to find it.
Automotive Paint Colors
There are several automotive paint colors that you can choose from depending on your taste and what suits the vehicle more. The colors include;
GM Paint Code By VIN: #1. Metallic Car Paint Colors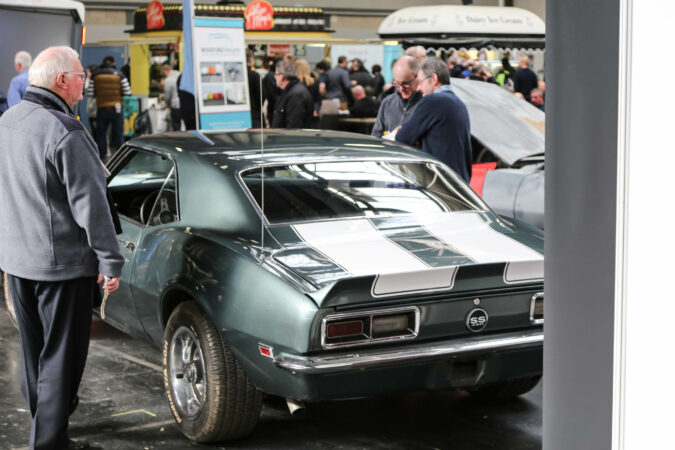 Metallic colors have a sparkle from a good metallic aluminum pigment that gives them different variations based on size and brightness depending on the type of metallic pigment used. These paints can be very easy to apply and can get complicated, depending on your chosen color.
Typically, you will find using lighter-colored metallic paints more challenging than their dark counterparts. Also, most metallic paints are durable depending on your chosen color and how you apply them. Metallic colors include;
Allen Green Metallic
Wool Grey Metallic
Watermelon Metallic 
Arctic Blue Metallic
Black Sparkle Metallic
Coffee Bean Metallic
Champagne Metallic
Euro Racing Metallic
Fire Red Metallic
Titanium Metallic
Red Gold Metallic and so on. 
GM Paint Code By VIN: #2. Pearl Car Paint Colors
Pearl paint colors originate from combining a special pigment called pearlescent pigments and traditional transparent pigments. Pearls are available in different sparkle colors and sizes, and that's why they have more color depth than the standard car paint color.
You can get the 2-stage pearl colors you can apply, and then clear or a 3-stage pearl system that involves using a solid color, followed by a mid-pearl coat and a protective clear coat. Examples include;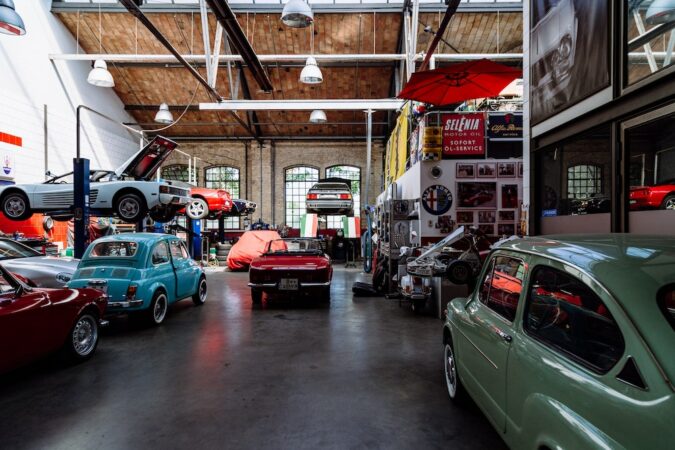 2-Stage Pearl Colors
Sunrise Orange
Liquid Brass
Black Cherry
Sparkling Merlot
Geaux Gold
Static Grey
Izit Brown
Lime Time
Vibrant Violet
Pacific Blue
Midnight Blue
Proud Navy
Forest Green
Midnight Envy
3-Stage Pearl Colors
Star Fire White
Galaxy Blue
Shaved Ice
Celebrity Pink
Miami Pink
Laser Red
Lambo Lime
Mirage Brown
Deep Water Blue
Mysterious Purple
GM Paint Code By VIN: #3. Solid Car Paint Colors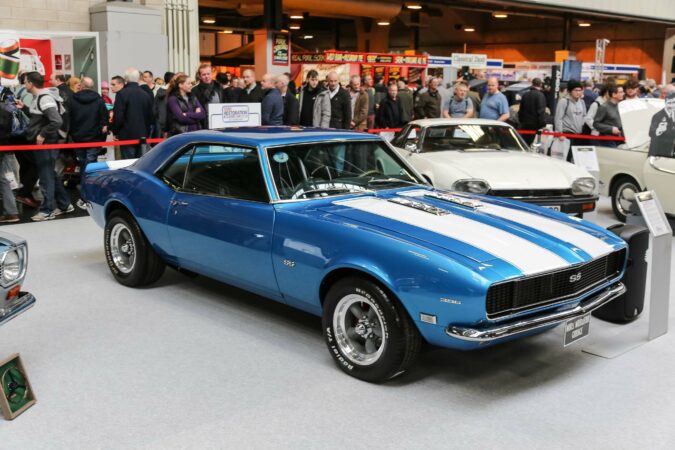 Solid car paint colors are those that do not have any sparkling agent. Black and White are the most common solid colors, but there are others. Generally, solid colors are easy to apply than any color because they don't have metallic or sparkling agents. Solid colors have average durability, and they are good picks. Examples include;
Super Bright White
Glacial White
Lemon Yellow
Viper Yellow
Steel Grey
Rich Brown
Lava Orange
Flamin Red
Red Hot
Peach
Hot Pink
Indigo Blue
Electric Lime
Vibrant Green
GM Paint Code By VIN: #4. Candy Colors
Candy colors differ in depth color. They offer unique looks because of their unique process of making a proper candy effect. Three processes go into creating a sparkling color. Examples include;
Wine Red
Black
Lemon Drop
Hot Pink
Apple Red
Teal
Fire Red
Tangerine
Emerald Green
Cobalt Blue
Vexing Violet
GM Paint Code By VIN: #5. Color-Changing Paints Or Chameleon Auto Paint
Chameleon auto paints are unique because they can display several colors depending on where or how they are viewed. You can view up to five colors on one object from a painting. Examples include;
Nature's Fury Chameleon Auto
Tropical Storm
Toxic Tide
Mountain Fall
Hole Shot
GM Paint Code By VIN: #6. Factory Colors VS Custom Colors
Factory paints are also called Original Equipment Manufacturers (OEM); they are those used for the production of commercial vehicles that are manufactured in mass quantities. Assembly-created cars such as Ford, GM, Chrysler, and so on all use factory colors.
Custom paints are not factory paints; they are produced to be unique and not easy to get, but they offer uniqueness and style.
GM Paint Codes
To find your vehicle's GM paint codes, locate the color identification plate in your car. You will find the plate on the driver's side door for most GM cars. Also, you can find the color identification plate under the hood, near the windshield, or on the left side of the engine compartment.
Once you have located the color identification plate, you need to understand the plate's information. To know the exterior color of a GM car, find the number code combination that ends with L or U, where U signifies upper body color and L signifies lower body color. Another factor that determines a GM paint code is the year, make, and model of your vehicle.
A BC before the color code means base coat, and a CC means clear coat. Some paint colors use two colors: an underlying color and a top color. You may find two sets of numbers, one with L before it to indicate lower color and the other with U before it to indicate upper color.
You can also find the paint code on the VIN and the VIN on the dashboard. However, you can only see the paint code through the VIN if the color on the vehicle is original. Once you find the VIN, call the dealership to help you check the paint color using the VIN.
Cadillac Colors
You should check the list below to find the best exterior colors for your Cadillac.
GM Paint Code By VIN: #1. Exterior Colors
Summit White
Black Raven
Satin Steel Metallic
Shadow Metallic
Garnet Metallic
Dark Emerald Frost
Rift Metallic
Diamond Sky Metallic
Electric Blue
Crystal White Tricoat
Blaze Orange Metallic
GM Paint Code By VIN: #2. Interior Colors
Sky Cool Gray with Jet-Black accents
Jet Black with Jet-Black accents
Natural Tan with Jet-Black accents
Sahara Beige with Jet-Black accents
Maple Sugar with Jet-Black accents
Chevy Colors
Chevy colors are always bold and bright, and that's why chevy is one of the most colorful trucks you can get. You can pick from many standard paint color options such as Northsky Blue Metallic, Silver Ice Metallic, Summit White, Black, and Satin Steel Metallic. You can upgrade to three colors: Red Hot, Cherry Red Tintcoat, and Iridescent Pearl Tri-coat. Chevy colors include;
Black
Satin Steel Metallic 
Red Hot
Mosaic Black Metallic
Oxford Brown Metallic
Cherry Red Tintcoat
Silver Ice Metallic 
Shadow Gray Metallic
Northsky Blue Metallic
Summit White
GM Touch Up Paint
Touch-up paints are used to cover minor scratches on your vehicle. Touch-up paints can make your car look astonishing without paying extra money for complete car repainting. However, to get the best touch-up paint for your vehicle, get in touch with a professional.
Addiction Red
Bright White
Metallic Black Sapphire
Metallic Navy Blue
Dark Garnet Red
Metallic Autumn Maple
Metallic Emerald Green
GMC Touch Up Paint
GMC touch-up paints are made as tough as the vehicle, and they include;
Summit White
White Frost Tricoat
Red Quartz
Dark Slate Metallic
White
Ebony Twilight Metallic
Iridium Metallic
Dark Sky Metallic 
Chevy Touch Up Paint
Chevy touch-up paint includes;
Chevrolet Summit White
Chevrolet Black
Cajun Red 
Red Hot
Quicksilver Metallic
Olympic White
North Sky Blue Metallic
Iridescent Pearl Tricoat
Mosaic Black Metallic 
Cadillac Touch Up Paint
Cadillac touch-up paints include;
Crystal White Tricoat
Radiant Silver Metallic
Stellar Black Metallic
Black
White Diamond Metallic Tri-coat
Silver Coast Metallic
Crystal Claret Tricoat
Phantom Gray Metallic
Red Passion
How To Find GM Paint Code
You will find the paint color code of most GM vehicles on a sticker (also, fun fact, go check out our explainer on how to get sticker off car window) that says Parts Identification. In the beginning, you can find BC/CC, U, WA, or a four-digit number/letter. Most vehicles will have a sticker on the trunk lid, door jamb, and engine hood. Your VIN gives essential information about the car but won't indicate the paint code.
Importance Of Paint Codes
Painting your car is typically a detail-oriented activity, so you have to make sure you are painting it with the right color, and obviously, that's the first step. Whether you are trying to use the paint to cover a scratch or you want to repaint the whole car, you or other people will quickly notice if the painting is off. Paint codes will save you time, resources, and energy.
Experts, auto dealers, and enthusiasts use paint codes to create the best paint match.
Where To Find The Color Of My Car
Most car brands have a unique code format and where you will find the code on the car. Some color codes are easy to find, while some are in a highly complex location, such as under the carpet in a spare compartment. Below are the paint code locations for some popular cars;
Acura: Driver's door jamb
Audi: On a paper tag or in the spare tire compartment
BMW: Under the hood
Chrysler: At the top of the radiator support or driver's door jamb
Ford: Driver's door jamb
Hyundai, Kia, Toyota, Lexus, Mitsubishi: Driver's door jamb
Volvo: Under the hoof
Subaru: Under the hood
Vehicle Color Codes: Facts
To ensure the accuracy of your vehicle color, you must find your vehicle color code.
The vehicle color code provides an exact description of your vehicle color, making it important to locate.
The color code can be found on a plate, sticker, decal, or stamped into the body of your vehicle.
The location of the color code can vary by vehicle make and model and can be found by checking the appropriate table.
Some car manufacturers place the code in odd locations, so locating the code may require checking several locations.
VIN (Vehicle Identification Number) does not give the color code but helps to match the paint formula variance in an existing color code.
Interior colors are not color-coded on the vehicle but can be identified by borrowing color books or visiting a body shop with interior color chips.
Some vehicles have a factory code, which makes a difference in the color.
Some car models may have challenging color code locations, such as being hidden under trunk carpets or folded paper tags.
Online resources provide information on locating color codes for different vehicle makes, such as Acura, BMW, Ford, GM, Toyota, etc.
Frequently Asked Questions On GM Paint Code By VIN
Here are some popular FAQs:
Where To Buy Car Paint
You can buy car paints in online shops such as Amazon. Also, you can get paint from your dealership or search for the nearest car paint seller in your area. Collision repair shops, automotive part stores, and car dealers also sell car paints.
Where To Find Car Paint Code
You can find your paint code information inside the driver's door, the door jamb, or inside the door. You will find two paint codes, one for the exterior paint and one for the cabin or interior color. One code may instruct you to paint, while another will guide you to trim. Write down the paint code and call your dealer to help you decode and find the color. Also, you can find your car paint code in the owner's manual, door jamb, and under the hood. Also, your vehicle will always have a VIN; find it and write it down; you will find the VIN on the left side of your dashboard. Write down the number and contact your dealer to help you find the paint code using the VIN.
How To Find Color Code Of Car
Look for the automobile information sticker inside your car to find your car color code. Most cars have a badge that gives important information about that car; you can find the sticker inside, your car door, your door jamb, under the hood, driver side interior dash, and in the rear wheel well. Then locate the exterior paint color codes on the instruction sticker; some cars will have their codes labeled as VIN, and check the details on the stamp to find paint or color codes. You will see a C code that indicates paint or color. Some cars have their paint codes in abbreviation or shorthand. Locate the letter C that symbolizes paint or Tr that shows the color of your car trim.
What Trim Is My Car By VIN
To find your car trim with your VIN, go to the manufacturer's website and use the VIN lookup to find information about your car, especially the trim level. Car manufacturers use specifications such as Sports or XLE to show differences between two cars from the same brand. Also, interior and exterior options can show disparities between vehicles. The most common trim levels are the base, mid and high-end, and these trim levels can affect the price, looks, and performance of the vehicle. Base trims always have limited options and features, while high-end trims mean luxury, special features, and options that make driving effortless.
Where To Buy Car Touch Up Paint
You can buy car touch-up paint at your car dealership, mechanics workshops, online markets, and the nearest car paint shop near you.
How To Match Paint On Car
To match up the paint on your car, you will first find the color code to know the original code of your vehicle. You can find the code on the car identification plate or the manufacturer's website. Once you get the code, go to an auto body supply shop and buy the paint; note that some cars have two tones, which means they will need two colors. Start mixing the paint until you get the right color for your vehicle; you can start with the variation in lightness and darkness and keep adjusting the hue until it matches your desired color. Make sure you blend the color until you achieve a color match; even if the color looks the same, make sure you blend regardless.
How To Find Out The Color Of Your Car By VIN
Typically, you can't find your paint color using VIN because VIN does not explicitly indicate it. However, you can still get your car color by using the VIN because the VIN is your car fingerprint, and you can use it to find the paint code of your car on another platform. Find the VIN, call your dealer, give them the VIN, and they will help you use it to find your vehicle paint code. Another way is to find your car paint code online using your VIN.
How To Read Paint Color Codes
If a 0 has the same hue as a 99, it means the 99 is t to the green hue; a 99 means it is very close to the blue hue. You will find 0-99 numbers in the series. A code is a number associated with a specific color or group of colors; they will primarily refer to a single number.
How To Match Car Paint Without Code
To match car paint without code, first of all, check the service history of your car or the owner's manual. Also, you can research your vehicle's exact model on Google. Another option is to use a machined spectrophotometer; it is the equipment you can use to analyze color measurement. It will provide top-notch analysis and data the human eye can not get. This machine is helpful if you can not get the correct paint code for your car.
What Can You Tell From A VIN Number

A VIN has 17 characters of digits and capital letters that serves as a fingerprint for the vehicle. A VIN will show the unique features of the car, the specifications, and manufacturer information. You can use the VIN to track recalls, warranty documents, thefts and insurance coverage, registrations, etc. The first character gives information about where the car was produced, the second and third character indicates the manufacturer, and the fourth and eighth character shows the vehicle's brand, engine, size, and type. The ninth character indicates the security code that shows the VIN, while the 10th character gives information about the car's model year. The eleventh character shows the plant that assembled the car.
When Do You Need A Vehicle's VIN
You need the VIN of your car when you want to insure your car, during manufacturer recalls and when you want to make claims for a warranty. A VIN is also helpful whenever you want to buy or sell a used car; it gives you some information about the vehicle, such as maintenance history, accident history, past owner history, etc.
Conclusion On GM Paint Code By VIN
Finding a GM paint code by VIN is one of the ways you can get the right paint color or touch-up paint for your code. The VIN does not explicitly indicate the paint code, but you can use the characters in the VIN to get your paint code on another platform.
Approved Tools
These tools have been tried and tested by our team, they are ideal for fixing your car at home.
AI Car Expert Thinking 

.

.

.