The GMC Acadia is one of GMC's crossover vehicles. Crossover in the sense that it has the same physical appearance as a truck, but its body-like construction is engineered to serve as a car. That gives it the spacious advantages of a truck… Which we'll uncover more as we look at the GMC Acadia 2010 problems.
So we can conveniently say it's a big car with a spacious interior and a big body. Many families now prefer crossover vehicles because they combine the utility of a large SUV with the fuel efficiency and handling of a standard car.
The 2010 GMC Acadia falls short in performance regarding heavy-duty towing and off-road adventures, unlike the GMC Yukon. At full load, a GMC Acadia can tow about 5,200 pounds, while the GMC Yukon can comfortably tow about 7,500 pounds or more. This difference is comparably average because the GMC Yukon is a full-size SUV.
Various users have reported GMC Acadia 2010 problems, and some issues appear common. Also, the pros of owning a 2010 GMC Acadia are said to be much more important than the cons. This article will discuss all the 2010 GMC Acadia problems, when to expect them, and solutions and maintenance costs for each problem.
2010 GMC Acadia
Users of the 2010 GMC Acadia have said that the car's pros are more important than its cons. This model is closely related to the likes of the Buick Enclave and Chevy Traverse, among others. It has a similar design to the GMC Yukon, a full-size truck-based SUV. It comes with an all-wheel drive (AWD) or front-wheel drive (FWD) train option.
Exterior Design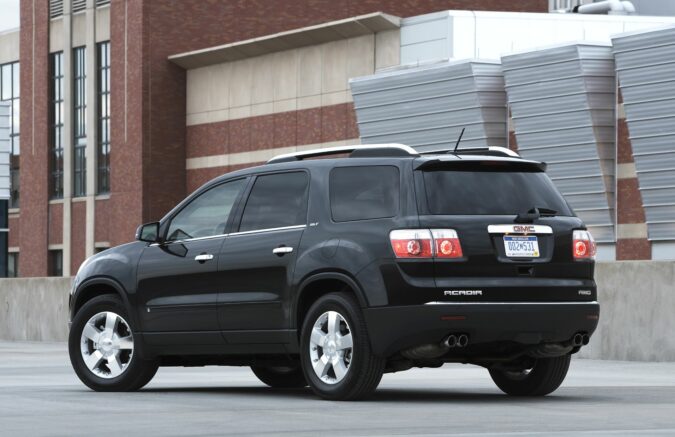 The 2010 GMC Acadia features a tapered roofline and a box-like structure. It is about 200.7 inches long and 78.2 inches wide. Its roof is made of polished aluminum. One of its exotic external features is the presence of a double exhaust with chrome tips.
Xenon headlamps are optional in the 2010 GMC Acadia. It has a standard LED tail light and 18-inch cast aluminum wheels. Some drivers opt for the 20-inch chrome-clad wheel variant.
Uneven handling is among the GMC Acadia 2010 problems noticed, partly due to its size.
Interior Design
The 2010 GMC Acadia is a 7- to 8-seater vehicle with plenty of space for everyone to relax. The 2010 GMC Acadia's cabin is regarded as upscale by most reviewers. It has well-cushioned seats and a design that eliminates most exterior noise in trucks. Wind noise is almost practically eliminated, even at highway speeds.
It features a few padded surfaces with bright accents and smooth plastic surfaces, which give the interior an exquisite look.  It adorns mainly a two-tone theme that gives it class.
Its third-row sitter is also quite roomy by most standards and can accommodate adults. Its base model, the SL, has seats that can only be adjusted by hand. The SLT1 and SLT2 models, on the other hand, have fully powered front seats and leather upholstery for a touch of class.
However, one of GMC Acadia's 2010 problems is the quality of materials used for the interior finishing. Finishing materials aren't as high-quality as those on other cars of the same type.
Interior Features
As expected, the 2010 GMC Acadia leaves nothing to be desired with its easy-to-use features and standard types of equipment. For instance, its base version (SL model) comes equipped with the following features:
Keyless entry system
Temperature display (exterior and interior)
Assist tilt steering technology
AM/FM radio with CD player
Satellite radio capability
Its base model (SL version) infotainment features are regarded as "standard" because they feature just the basics and nothing more.
However, with GMC 2010 Acadia SLT and SLE, more infotainment features are readily available, such as:
Rear seat screen to provide entertainment to passengers
GPS navigation
Leather upholstery
Automated interior climate control
Dual panel roof
Has the XM Nav Traffic, which displays real-time traffic data (available on premium models only)
Be it day or night, the 2010 GMC Acadia's controls and knobs are easy to reach and operate, making it a very functional and handy vehicle.
Despite its classy look, one of the GMC Acadia 2010 problems often mentioned is the use of low-grade plastics and the irregular assembly of varying interior components.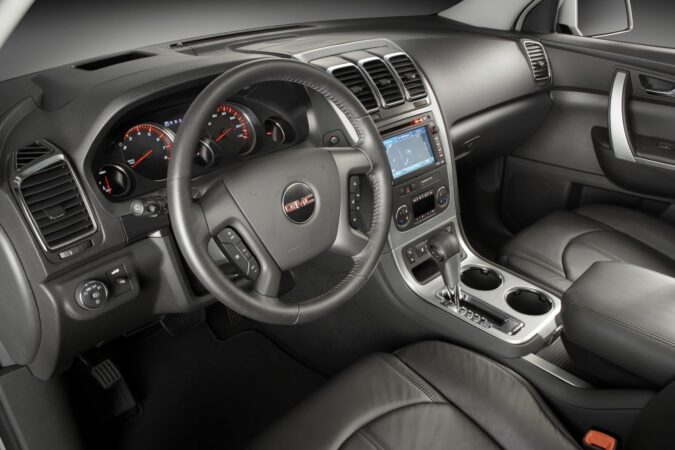 2010 GMC Acadia Problems
The 2010 GMC Acadia is a mini SUV with immense benefits, like nice fuel economy and a spacious interior. However, there have been common reports that the 2010 GMC Acadia developed some problems after some time or immediately after purchase.

According to reports, the 2010 GMC Acadia was recalled four times. Customers registered about 341 complaints with the NHTSA, which carried out investigations to ascertain the problem.
Some of these problems include:
Engine problems
Faulty air conditioning
Transmission problems
Dim headlights
Faulty airbags and sensors
GMC Acadia 2010 Problems – #1. Engine Problems
One major GMC Acadia 2010 problem is the constant annoying "check engine" lights being turned on at any opportunity. Normally, this light comes on in most cars for some reason, and the GMC Acadia 2010 is not left out of this phenomenon.
However, most users have complained that even trivial issues have brought this light several times. As previously stated, some reasons why the "check engine" light comes on could be:
GMC Acadia 2010 Problems – #2. Worn Or Loose Gas Cap
The "check engine" light should come on if the gas cap loosens or wears off. Gas caps, or fuel filler caps, are a simple yet very important component of any vehicle. The gas cap's job is to keep dirt and other things from getting into the gas tank. It also seals off the gas tank contents from their external surroundings.
It also plays a major role in recapturing fuel vapors to be reused; this action helps save fuel and increases efficiency. You could learn more in our guide on whether does driving faster use more gas. Sensors will turn on the "check engine" light on the GMC Acadia 2010 if this gas cap is damaged.
Solution: The gas cap should be checked for any signs of looseness (not tightened appropriately). That usually happens when it doesn't click to show that it is tight or when it clicks, then pops up again. Change the gas cap.
Another way of detecting a bad gas cap is by detecting the vehicle's smell of fuel or gas. That happens because fuel vapor is not captured for use; hence, it escapes into the atmosphere. This is a handy diagnosis alongside checking for a gas cap check engine light.
Worn or loose gas caps will not necessarily cause huge performance issues. But it will cause the "Check Engine" light to come on.
However, replacing the gas cap is not capital-intensive; the problem lies in diagnosis. GMC service centers have been reported to charge over $100 to diagnose an issue that causes a check engine light flashing situation.
The cost of diagnosis at GMC service centers is quite on the high side. People have said that these gas cap problems happen after about 66,000 miles of driving. This problem affects models from 2007 to 2012, as well as 2014 models. It's one of the more common GMC Acadia 2009 problems.
GMC Acadia 2010 Problems – #3. Diagnostics Error Codes
Another reported GMC Acadia 2010 problem occurs at around 111,000 miles. This problem is characterized by the "check engine" light turning on and displaying these codes: P0011, P0391, P0336, P0346, P0024, P0021, P0014, and P0341.
These codes mean different problems, which will be capital-intensive in most cases. These codes might mean that the GMC Acadia 2010 powertrain control module needs an update. The codes may also indicate that the camshaft needs alignment. Worse, you might have to consider a camshaft replacement cost.
GMC Acadia 2010 Problems – #4. Powertrain Control Module Problems
The power control module (PCM) is the computer brain of modern vehicles. That works to monitor certain metrics to ensure the car engine is working at optimal conditions. They are equipped with components that store error codes to diagnose engine faults at any time. Some of these codes are outlined above.
Over time, this part tends to break or wear out, and it will need to be fixed or replaced with a chip that matches it. For the vehicle warranty to stay valid, only experts should replace the powertrain control module with the right diagnostic tools.
GMC Acadia 2010 Problems – #5. Camshaft Issues
Camshafts are situated inside the engine compartment just above the cylinders. They open and close valves on top of working cylinders. Precision timing is required to open or shut off valves during expansion and compression. Camshafts wearing out or being damaged will disrupt engine activities, and the "check engine" light will come on.
That is one of various GMC Acadia 2010 problems that users have complained about. Oil, dirt, and other things can easily damage the camshaft and stop the engine from working as it should. Ticking noises can be heard when the camshaft goes bad.
The culprit behind the "check engine" light can be a faulty camshaft sensor (look out for the symptoms). This electronic device (the camshaft sensor) keeps track of the camshaft's position in relation to the crankshaft at any given time.
This sensory action allows the system to control fuel injection and ignition. When this sensor goes bad for various reasons, it could cause stalling, a surge of power, and reduced fuel economy and performance. The "check engine" light is lit up immediately after this happens.
A head gasket replacement costs about $3,000 on average.
GMC Acadia 2010 Problems – #6. Check Engine Light Comes On
The "check engine" light is the most common complaint of GMC Acadia 2010 users. And as previously noted, it can be caused by a variety of factors, one of which includes a transmission clutch wave plate breaking down. When the clutch wave plate breaks down, one of these codes is displayed on the dashboard: P0776, P2715, P0777, P0717, P02723, P0716, and P2714.
When this error code comes up on the screen, the 2010 GMC Acadia usually stops in the middle of the road. Fixing this issue is very expensive, as a complete transmission rebuild may be inevitable.
The GMC Acadia, 2010 model owners have reported spending about $2,000 to $4,000 to fix this issue. This has also been reported to occur between 93,000 and 94,000 miles on the odometer. This use also affects the 2007–2013 model years, with the 2015 model year included.
GMC Acadia 2010 Problems – #7. Faulty Air Conditioning System
Numerous users have experienced a hissing sound coming from the middle of the dashboard on their 2010 GMC Acadia. That indicates a fault in the air conditioning system.
Users have also complained of receiving cold air in temperate regions. That is one of GMC Acadia 2010 problems. The following year models are affected: 2012, 2013, 2014, and 2015. These problems are generally noticed around the 44,000 to the 79,000-mile range.
One major cause of a non-functional AC in your 2010 Acadia might be a refrigerant leak. That shuts off the entire cooling system. Getting the leakage fixed has solved the problem for many users, but some have complained that the quality of air conditioning has reduced drastically after getting the leak fixed.
Some drivers also report that their AC works well but suddenly stops after some time or when the vehicle is at low speed. An expert should be called in to address this issue.
Low refrigerant levels may cause a reduction in the quality of air conditioning. Low refrigerant levels will affect air circulation. Fun fact: Refrigerants diminish by 15% annually. It can also be caused by a broken or worn-out condenser. A cracked, damaged, or defective compressor coupled with inactive pressure switches can be the culprit.
GMC Acadia 2010 Problems – #8. Transmission Problems
GMC Acadia 2010 uses an automatic transmission that eliminates the hassle of manually changing gears. Automatic transmissions have a wide reputation for being safe and reliable. But in some cases, issues may appear, such as what's going on behind the 4L60E transmission problems – the latter also a GM product.
However, various transmission problems have been reported to be part of the GMC Acadia 2010 problems. Automatic transmissions have their characteristic problems and are quite expensive to repair when one or more parts of the transmission go bad.
The following are some of the most frequently reported transmission issues with the 2010 GMC Acadia:
Failure of the shift solenoid
Transmission slippage
Stalling or jerking
Increased apparent difficulty in shifting gears
GMC Acadia 2010 Problems – #9. Torque Converter Malfunctions
When you have a bad torque converter (be wary of its symptoms), you will experience a delayed response when you press down on the accelerator pedal. That might result from torque converter engagement or disengagement issues.
One of the first signs of this problem is difficulty stopping the car (in the case of disengagement issues) or getting the car to move from rest (in the case of engagement issues). If you're able to diagnose a P0741, it's another solid indicator of a torque converter issue.
One common solution to this problem is checking if the torque converter clutch (and its solenoid) is worn out or completely damaged. If the latter is the case, then a complete change is required for the entire assembly.
The average repair cost will be around $150 to $400 when you fix the whole thing yourself. Using the services of a technician might cost you around $1000 for labor and spare parts. Otherwise, you might have to spend more for a torque converter replacement cost (for more insight, check out our guide on the B&M torque converter and the best torque converter).
GMC Acadia 2010 Problems – #10. Failure Of Shift Solenoid
A shift solenoid failure (look for those symptoms) means that gear shifting has become a significant issue. Solenoids control the movement of clutches and bands with pressurized transmission fluid. Solenoids are spring-loaded devices.
A broken solenoid (or even a blown transmission solenoid fuse) might not show any obvious signs, but it will have a big effect on how well the car runs. In the GMC Acadia 2010, P0750 is the code that will be displayed once you use a scan tool like the OBD-II for diagnostics.
After figuring out that a broken shift solenoid is to blame, you can fix the problem by changing the transmission fluid and filter or by replacing the broken solenoids. The average replacement transmission solenoid cost for automatic transmissions ranges from $200 to $500.
GMC Acadia 2010 Problems – #11. Transmission Slippage
The GMC Acadia 2010 transmission system is designed to prevent transmission slippage. Therefore, if you are experiencing transmission slippage (or symptoms of a slipping clutch), you are one of a few hundred users who have complained of this common GMC Acadia 2010 problem. That is most likely to be a mechanical fault within the system.
A sign that shows you have this problem is when you hear a gear slipping. A good way of diagnosing this issue is by using a scan tool that displays an error code. Since it is most likely to be a mechanical fault, the two solenoids of two or more gears might be worn out or completely damaged. A replacement is advised when this is the issue to avoid certain complications.
GMC Acadia 2010 Problems – #12. Stalling Or Jerking
Your car stalling or jerking means that there is a problem with the transmission that needs to be fixed right away. The jerking of the GMC Acadia 2010 makes for a very unpleasant driving or cruising experience.
GMC Acadia jerking can be caused by a few common issues, like cylinder misfire, fuel delivery issues, or the catalytic converter, amongst others. An air and fuel mixture is compressed and ignited in your cylinder to produce the needed thrust power that drives your GMC Acadia's wheels.
The mixture of the two follows a high-precision schedule, so when one or more processors are mistimed, the cylinder is bound to misfire. During a misfire, the affected cylinder loses power, causing the vehicle to stall or jerk while accelerating. A "check engine light" usually follows that.
A fuel delivery issue can be caused by a bad fuel pump or a clogged fuel filter. If the filter is clogged, the right amount of fuel can't get into the cylinder, which can make a cylinder misfire. Going to a mechanic is the fastest and most effective way to fix this problem since it requires a lot of experience and skill.
GMC Acadia 2010 Problems – #13. Difficulty In Shifting Gears
Smooth and seamless gear shifting is part of what makes driving an automatic transmission car interesting. However, once you notice difficulty shifting gears, your transmission has developed an issue.
Sometimes this problem is caused by a damaged transmission pressure sensor. It can also be caused by an oil leak from a particular gear. Changing or servicing each mentioned component effectively solves the increased difficulty in shifting gears.
GMC Acadia Years To Avoid
Over the years, car experts have thought that GMC Acadia models were pretty reliable small SUVs. However, GMC Acadia has had significant issues that have persisted across all Acadia models.
We have made a list of GMC Acadia years to avoid when buying a GMC Acadia vehicle. Some made the list because they have small problems that keep happening, while others are known for safety problems that can cost thousands of dollars to fix.
GMC Acadia years to avoid:
2008 GMC Acadia
Even though all first-generation Acadia models had their ups and downs, the 2008 model left much to be desired and got a lot of negative reviews. Some of the most common problems for this model year include transmission failure, repair costs, and durability.
The 2008 Acadia model had the highest reported cases of transmission failures. The repair costs soared to $4,000, and this problem came up at just around 75,000 miles.
2012 And 2013 GMC Acadia
Users experienced headaches as a result of similar connected problems in 2012 and 2013. The 2012 model was recalled about four times in about one year. That was due to engine failures, coolant leaks, etc.
The repair cost for these generations is estimated at a staggering $7,000. That is considered quite expensive for a car with about 90,000 miles on the odometer. The 2012 and 2013 GMC Acadia models are now on the "blacklist" because they have so many mechanical problems that will be expensive to fix.
2017 And 2018 GMC Acadia
For some years, the GMC Acadia models had no significant issues until the 2017/2018 models came with new problems. The most common of its problems is a faulty driveshaft.
A faulty driveshaft component seems to detach while in motion, causing a safety hazard for drivers. That is a major reason why these years have made our blacklist. This is proven by the litany of 2017 GMC Acadia problems documented over the years.
Final Thoughts On GMC Acadia 2010 Problems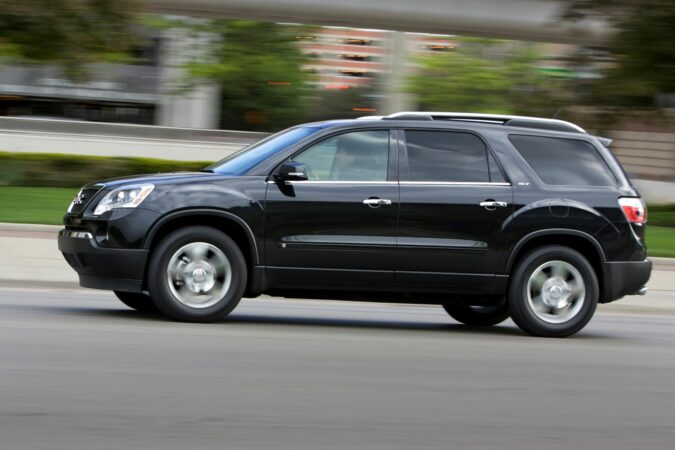 The 2010 GMC Acadia is among GMC's crossover vehicles. They provide excellent fuel economy and much-needed interior space for families. This mini SUV can comfortably sit about 7 people. As with all other cars, this vehicle comes with certain problems, as reported by users.
GMC Acadia 2010 problems most commonly reported include engine failures, transmission problems, faulty air conditioning equipment, and dim headlamps. You can solve these faults, but the problem lies with repair costs. Some cost up to $7,000 to fix.
Overall, the 2010 GMC Acadia is considered reliable and a good buy for families. We recommend that you avoid the above blacklisted year models when purchasing one.
FAQs About GMC Acadia 2010 Problems
Is GMC Acadia A Good Car
Yes! The GMC Acadia is a good car with excellent fuel economy, a large interior, and a good reliability score.
What Problems Do GMC Acadia Have
GMC Acadias have been reported to have engine failures, transmission problems, faulty air conditioners, and dim headlamps.
What Year GMC Acadia To Avoid
We recommend you avoid the following model years: the 2008 first generation, the 2012 and 2013 model years, and the 2017 and 2018 years.
What Year Did The GMC Acadia Come Out
The first GMC Acadia was produced in 2007.
Are GMC Acadia Reliable
Yes! The GMC Acadia has a good reliability score. They also offer much-needed fuel economy.
Image Notes:
GMC-Acadia-2010-Problems.jpg sourced from https://media.gmc.com/media/us/en/gmc/photos.html
GMC-Acadia-2010-Problems-1.jpg sourced from https://media.gmc.com/media/us/en/gmc/photos.html
GMC-Acadia-2010-Problems-2.jpg sourced from https://media.gmc.com/media/us/en/gmc/photos.html
GMC-Acadia-2010-Problems-3-1.jpg sourced from https://media.gmc.com/media/us/en/gmc/photos.html