General Motors is a very expansive company, with an umbrella wide enough to accommodate a huge roster of brands under its shade. Though what was once a defining symbol and pinnacle of the automotive world, the late 1900s and early 2000s haven't been kind to them. Still, things seem to be on the mend, as GM tries to find a place in this new world of EV and autonomous mobility. But in its rough spots over the years, many owners have wondered as to GMC Acadia problems.
It's a fair point to raise, as the Acadia remains on sale today after a decade and a half. Still, how does the GMC Acadia fare when it comes to reliability and maintenance? Is it atypical of the 80s and 90s GM build quality… Bits falling apart, and things generally not working as they were designed to? Or, could it be a sign that GM is finally becoming a world-class automaker again? Well, let's dive a bit deeper and have a peek into all the GMC Acadia problems that you should know…
What Do You Need To Know About The GMC Acadia?
Before we get into discussing GMC Acadia problems, we should take a moment to learn more about how it came to be. The Acadia is sold under the GMC marque, or General Motors (Truck) Company. The latter of whom is the heavy-duty division of the GM group as a whole. GMC mainly builds and sells vehicles like SUVs, pickup trucks, vans, and light-duty trucks. In the past, they've made vehicles spanning from fire trucks, ambulances, motorhomes, busses, and even military vehicles.
The GMC Acadia is technically a CUV, or crossover utility vehicle. Though it can sometimes be called a mid-size SUV, given its relative size and market segment. When it went on sale in 2006, the Acadia replaced quite a few different vehicles within GM. These include the GMC Safari and Pontiac Montana SV6 vans, as well as the GMC Envoy SUV. Originally built atop the GM Lambda platform, the GMC was developed and sold across two whole generations.
First-Generation GMC Acadia (2006-2017)
The first-generation GMC Acadia was in fact the first unibody-type design from GMC. Moreover, it also became the first front-wheel-drive vehicle from GMC, although it does have an all-wheel-drive option. It has seating for up to 8 people, and sits in between the smaller GMC Terrain, and the large Yukon. The first-gen Acadia is related to quite a few other GM-branded cars at the time that used the Lambda platform. These include the Saturn Outlook, Chevrolet Traverse, and Buick Enclave.
It's worth noting that sales of the GMC Acadia stopped for a few days in December 2006. This is due to an assembly error at the GMC plant. The cause of which is engine mounts that didn't have any holes drilled into them to release accumulated water. Also, there are possible faults with some rivets in the load floor along the rear. In all, the problem was fixed quite quickly. The early Acadia models all had GM's 'High Feature' LY7 3.6-liter V6 motor. It can output 275hp and 340lb-ft of torque.
The 2009 model year had a faster engine, with a slightly uprated 3.6-litre LTT V6. This motor can produce 288hp and 270lb-ft of torque. In its penultimate years in the 2016 model year, the first-gen Acadia then had one more engine upgrade. The final motor is 3.6-litre LGX V6, mustering 310hp and 271lb-ft of torque. All three of the engines were fitted with GM-Ford's 6-speed automatic, either the 6T75 or the 6T70 to be precise. Several cosmetic facelifts were done over the years.
Second-Generation GMC Acadia (2017-Present)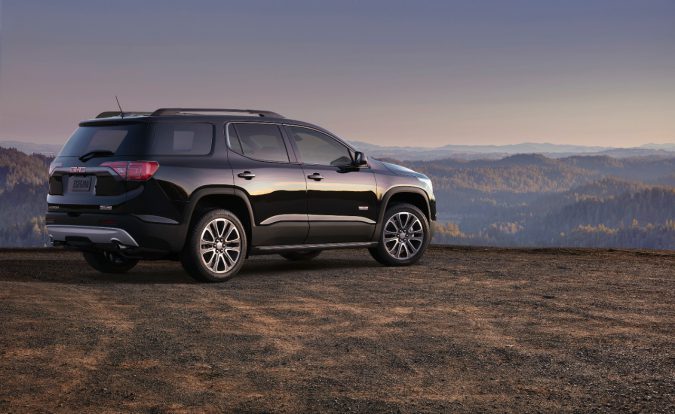 Now, we have the second-generation GMC Acadia, which still remains on sale today. This time, the Acadia went on a weight loss program, with the new Acadia significantly re-engineered. It's tinier than the old Acadia, and lost 700lbs in total thanks to new materials and its smaller dimensions. It's related to a few other GM cars, like the Cadillac XT5 and XT6. The list also includes the updated Buick Enclave and Chevrolet Traverse, as well as the Chevrolet Blazer.
Now positioned as a smaller mid-size SUV, the second-gen Acadia is sold at a lower starting price. You could as well get this new Acadia in a 5, 6, or 7-seater configuration. As for its powertrain, this refreshed Acadia had several options. You can opt for that old 3.6-litre LGX V6, or a new 2.5-litre LCV inline-4. The latter of which was sold as an option from 2017, up until the 2021 model year. Or, you could instead choose an even smaller 2.0-liter LSY turbocharged inline-4, offered from 2020 onwards.
Again, you can opt for a front- or all-wheel-drive option. Depending on the engine and drivetrain you choose, there are two transmissions to pick from. There's still the 6-speed GM and Ford built 6T50 and 6T70 from before. Alternatively, you can get a faster shifting dual-clutch 9-speed gearbox starting in the 2020 MY and onwards. In Australia and New Zealand, it was sold as the Holden Acadia. Several facelifts were done for the 2020, 2021, and the 2022 model years.
Is The GMC Acadia A Reliable Car To Consider Overall?
Prior to writing this guide on GMC Acadia problems, we looked at a couple of other cars from the same period. We discussed the reliability and maintenance aspect of the Jeep Patriot as a whole, and the 2015 Chrysler 200. Both were quite different in many regards when it comes to whether they are or are not reliable. By 2021, the old Jeep Patriot is already showing its age and is unwrapping some issues of its own. Nonetheless, it's generally not a terribly unreliable car, and not at all too bad.
The Chrysler 200, on the other hand, is a nightmare when it comes to reliability woes and repairs. Its 2015 model year in particular was a rabbit hole of potential faults and defects. But what about GMC Acadia problems? In this case, the Acadia in its entirety can be averaged in the middle of those two. It's not as okay-ish reliable as the Patriot, but miles better than the (2015) Chrysler 200. Still, this doesn't mean that you shouldn't be cautious when looking to buy or are caring for an Acadia.
The very recent 2020 model year Acadia was stung by critics. U.S. News wrote poorly on the Acadia's reliability, with a below-average score. Meanwhile, J.D. Power also gave it a fairly low rating, scoring it 2.5 out of 5 stars. This is thanks to not only the reliability, but with GMC's warranty service not being up to par. Consumer Reports gave it a low score, as well. They noted 17 trouble spots, with some owners reporting back squeaking and rattling from the cabin, and there being a few recalls.
What Are The Worst GMC Acadia Problems That You Need To Know?
So far then, it's good to be wary and cautious of potential GMC Acadia problems. But what exactly are these issues, and should you be terribly concerned? In short, you should. The data that we'll be referencing when looking more closely at GMC Acadia problems are from CarComplaints.com. They not only catalog complaints and reports from owners directly on its site, but also those filed with the NHTSA. From a glance, there's a lot to worry about here.
Using CarComplaints.com's PainRank reliability scoring system, they can measure the volume of complaints, as well as its severity, the cost of repairs, the mileage at the time of failure, the car's age, among others. Based on this analysis, the GMC Acadia scored dead-last within the GMC family, beating out the Terrain in second-last by a fair margin. The first-generation Acadia (2006-2017) was the worst offender of the lot.
Overall, the Acadia throughout its model years had a whopping 20 recall campaigns, and more than 1,950 different TSBs, or technical service bulletins. The latter of which are notices sent between the manufacturer (GMC) and its dealerships on how to diagnose and troubleshoot problems. TL;DR, it looks like the most pressing concerns with the GMC Acadia are two very major, and often very costly components to fix – the transmission, and the engine.
2007 GMC Acadia Problems (First-Generation)
The first Acadia models were sold in 2006, technically as the 2007 model year. Based on data from CarComplaints.com, the 2007 Acadia jotted down more than 730 complaints from owners, with more than 1,000 TSBs. There had also been 5 recalls. The most serious ones of the latter concerned failing liftgate struts, heated windshield washers short-circuiting, and heated wipers malfunctioning. As for the problems, it looks like the transmission takes the lion's share of the complaints.
Owners reported the gearbox having trouble shifting, or their Acadia stalling. It seems that some 2007 Acadias were subjected to problems relating to a cracked or fractured wave plate. Other technicians found metal shavings within the transmission. The result is total transmission failure, and needed a brand new gearbox fitted. The total cost of this replacement averages around $3,000. Some owners are more unlucky than others, with their gearboxes failing as little as 50,000 miles.
Another cause for concern is the engine, where numerous components can fail. The timing cover gasket could give way, causing a massive oil leak. The repair for this alone, which was originally done to replace a faulty timing chain, can spiral to at least $1,000 to $2,000. If not fixed, it can cause complete engine failure. The power steering pump is another key point of failure. It could stop working, causing accidents for their owners. A replacement is generally around $1,000 for this.
2008 GMC Acadia Problems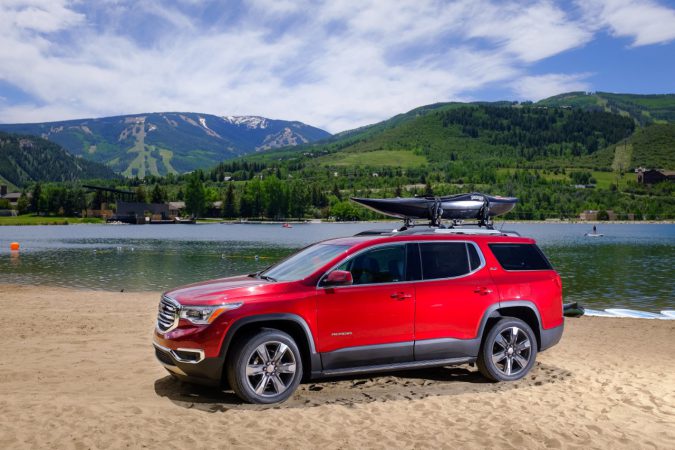 Following along with the 2008 model year, CarComplaints.com ranks this as the worst model year overall. This is owing to its sheer number of complaints, as well as the severity and costs associated with those defects. Once again, the transmission and engine woes carry over from the 2007 MY. First, the gearbox. Owner's noticed the gearbox unwilling to change beyond 1st or 2nd gear, and sometimes stalling the engine. It looks like the clutch wave plate from earlier is to be blamed.
One owner bought their 2008 Acadia used, and had the transmission fail under them less than 24 hours after purchase. Some owners had their transmissions fail twice in under 100,000 miles. On average, full transmission failure can happen in as little as just 75,000 miles. The repair costs do vary based on how quickly the issue was fixed. Otherwise, the whole gearbox could fail. If it was caught earlier on, then only the wave plate needs to be replaced, for at least $1,000.
If it's too late, then a complete swap of the entire transmission unit will cost you around $3,000 to $4,000. Another noteworthy of the 2008 GMC Acadia problems is with the engine. A check engine light might come on, followed swiftly by the engine shutting down while driving. It looks like some moisture can build up by the throttle body, causing it to fail. However, this can result in complete engine failure. The only fix is a brand new engine, costing at least $3,000 to $4,000.
2009 GMC Acadia Problems
According to CarComplaints.com, the top three problems with the 2009 GMC Acadia are a repeat of the previous two model years. Firstly, the transmission is subject to the same wave plate issues as before. In this thread, it looks like owners have been quoted a hefty $4,000+ repair bill to swap out for a new gearbox by GMC dealers. Although, independent workshops have quoted lesser costs at around $3,000. Next, we have the engine, which begins as a check engine light.
The causes vary everywhere from the catalytic converter, a failed oxygen (O2) sensor, that leaky timing cover, and more. Therefore, repair costs will differ wildly from just $500, to more than $2,500 depending on the source of the problem. Finally, the power steering makes a return. This time, a few owners reported that both the pump and rack had failed at the same time. As such, you can expect a bill of between $1,000 to $2,000 to have this one fixed in the 2009 Acadia.
2010 GMC Acadia Problems
Oddly, the transmission isn't a hugely talked about problem on the 2010 model year Acadia if the data here is anything to go by. The most familiar one we have here is that power steering pump and rack again. Several owners have gotten into accidents because of this, a reminder of how dangerous this power steering issue is. The necessary repairs and costs are similar… A replacement of either the pump or rack (or sometimes both) for a cost of around $1,000 to $2,000.
The most serious offender in the 2010 Acadia is definitely the engine. The timing chain is notorious for failing prematurely, and starts rattling in the engine bay. Since the fix requires dropping the entire engine, the repair bill can easily top $3,000. For some inexplicable reasons, the engines for a few 2010 Acadia owners could fail catastrophically. Once it's seized up or blown, you'll need a brand new engine, quoted at an eye-watering $7,000 to $8,000+ for a new one.
2011 GMC Acadia Problems
Repeating the trend of the 2010 GMC Acadia problems, 2011 saw little complaints about the gearbox. It looks like the engine is a culprit once more, proving to be highly susceptible to damage. It does at least have a similar precedent to before. Owners can see several warning lights – Park Assist Off, Traction Control Off, Service Stabilitrak, and Check Engine – come all at once or a few at a time. The causes for this vary but seems to have been pointed towards faulty catalytic converters.
At worst, you'll need a brand new motor, with the price hovering at around $7,000 to $8,000. Other than that, it looks like the timing chains have failed far too early on. The cam sensors sometimes need to be replaced too. Owing to the complexity of the repair, one can expect a repair bill of at least $3,000 or $4,000. On a side note, it seems like the running lights can burn and melt. This often requires you to change the entire lighting assembly, costing about $1,000 for a new one.
2012 GMC Acadia Problems
For the 2012 model year, a couple of faults carried over, but with slightly fewer overall complaints compared to before. The engine can fail, needing a completely new motor. It looks like the timing chain is to blame again. But once that goes, it can often already be too late to prevent major damage from being inflicted on the engine. A brand new motor is no cheaper than before, quoted to be around $7,000 or $8,000. The power steering pump and rack can still fail in the 2012 Acadia.
A costly replacement is needed, as with before. A new problem has emerged, and one which we'll be familiar with later on. A lot of owners have complained that their A/C isn't working well. Either it won't turn on, or it might emit a hissing sound. Indicative of a leak somewhere in the system, such as the evaporating coils or the piping. In any case, you may have to spend upwards of $1,000 just to have those numerous bits and pieces replaced, which can fail frequently enough.
2013-2016 GMC Acadia Problems
We're going to pile together all model years from 2013 through to 2016 together. This is since a lot of the GMC Acadia problems noticed here are either derivatives from before or similar ones. It looks like complaints regarding the engine or power steering have reduced drastically. Nevertheless, there are still problems with the transmission. Owners have reported not being able to shift properly, slipping gears, or stalling. One owner noticed metal shavings in their gearbox as it was being flushed.
Serious gearbox damage is followed swiftly by the need to rebuild the gearbox or to replace it. The costs are predictably high, somewhere around $3,000 to $4,000. The A/C problems from before continually plague these model years. There are leaks that abound somewhere within the A/C system. Often, it looks like the hosing or piping can leak, as well as the evaporator. Expect a repair bill of at least $2,000 for this one.
2017-2021 GMC Acadia Problems (Second-Generation)
As we mentioned earlier, reviewers and critics have been quick to attack even the fairly new 2020 MY Acadia for its many problems. However, most of the problems are fairly minor compared to the first-generation Acadias. Moreover, we can't accurately assess their reliability, owing to the fairly small sample set. It may be because they're a lot newer, and haven't yet been driven long enough for faults to appear. Or, it may be that GMC's done well to iron out the kinks from before.
Nonetheless, there is one particular issue that many Acadia owners have faced since the 2017 MY. This is regarding a "Shift To Park" error message appearing on their dash. It can sometimes have trouble locking into "Park", or sometimes getting completely stuck in it. A few owners could then wake up a dead car, as the battery drained while that warning message failed to go away. The fix is a brand new shifter switch, which can cost you at least $400 on average.
Conclusion
So then, how can we conclude our guide on GMC Acadia problems? Let's say you're planning to buy a GMC Acadia, used or brand new, should you be worried? Based on the data that we've found so far, you should absolutely do your very best to avoid getting a first-generation Acadia (2007-2016). There are far too many problems with that particular generation of Acadia. From transmissions and engines failing, to the power steering and A/C, these issues are far too expensive to justify.
Not only that, it could prove hazardous, such as leaving you stranded or left without controls over the car. If you are, however, tempted to get an Acadia, try to stick to the second-generation cars if you could. It seems like Acadias built since 2017 have generally been decently reliable, relatively speaking. Though issues are aplenty, they are nowhere near as pricey to fix, and are inconveniences at most. Plus, there's likely still some warranty coverage for those newer Acadias, too.
In all, the GMC Acadia is a cautionary tale. Now, it's certainly not the most unreliable car in the history of automobiles. That would be a stretch, and reserved for a few special cars like the Chrysler 200. However, the Acadia – the first-generation cars in particular – could be considered strong candidates for the most unreliable within GMC's stable. Be prudent the next time you start hunting the classifieds, or have been given the keys to a new-old Acadia.
Approved Tools
These tools have been tried and tested by our team, they are ideal for fixing your car at home.