Jeep has wowed the audience with its recent unveiling of the Avenger – the brand's first EV. No doubt, some Jeep fans and hardcore off-roaders were a tad concerned when they heard that it will feature a 4×2 drivetrain, instead of a fully-fledged 4×4. One might say that it's very unjeep-like, even. But rest assured, Jeep hasn't forgotten about its enthusiastic and adventurous fans, not just yet.
If anything, they're busy experimenting and conceptualising what the Avenger might be like if they fitted a proper 4×4 electric drivetrain. The result, which is only a concept, for now, is their uber-cool (yet simply-named) Avenger 4×4 Concept. It mostly looks like a typical Avenger. Yet, underneath it hides just enough capability to conquer any trail you want… But do it silently.
Not Just An Average Electric Crossover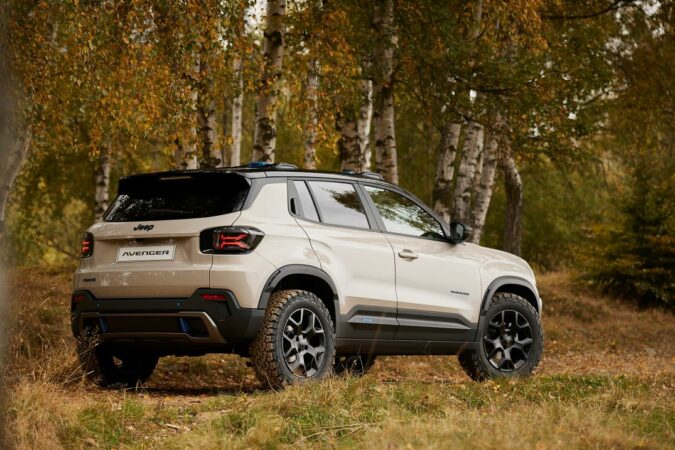 The Avenger 4×4 Concept has a wider track and equally thick tyres. Even its ground clearance has been upped a notch, bringing it to over 200mm of ride height. In addition, Jeep's updated the Avenger's approach angle to 21 degrees, with another 34 degrees of departure angle and 20 degrees of breakover angle. But just in case, there's a plethora of underbody protection.
You'll even get floodlights on the front for improved night-time visibility. Should you require a bit more cargo space, it also features a neat lightweight roof rack system. It's fair to say then that the Avenger 4×4 sounds like a total hoot to drive about with, regardless of how hard the terrain may be. Best of all, Jeep will be adding it to its line-up sometime in the near future.