The grounds of the Goodwood Estate has hosted never-ending automotive joy that traces its roots back to 1948. Since then, rich playboys, racing drivers, affluent magnates rocked up to Goodwood for a spot of racing… Or fling their cars into the nearest hedgerow trying. It's not entirely a surprise then that this most recent 78th edition of the Member's Meeting (MM) was just as exciting.
It marked a momentous occasion too, as big events like these are just about to make a post-COVID comeback. In the pastures of the Duke of Richmond, supercars, classic Le Mans racers, F1 cars, and racers aplenty lined up the grid. A personal favourite of mine is hearing the eardrum-piercing howl of Gordon Murray's T.50. It's not every day you hear a V12 rev up to 12,100 RPM, is it?
Race Cars, Past And Present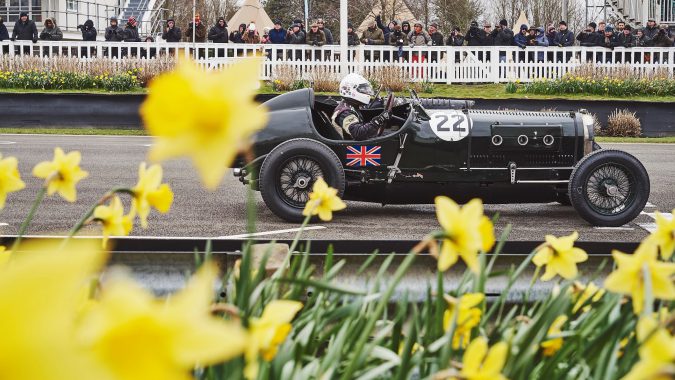 While Goodwood has hosted plenty of new cars, its highlights will always be dominated by classics. The oldest of which was a Mercedes 60hp from 1903, taking part in the S.F. Edge Trophy. If there's one place on earth where you'll find race cars from every generation parked together, Goodwood has to be it. From 60s muscle cars to post-war F3 championship winners, they have it.
1980s GP bikes made it there, too. Rally cars drove a flaming return to the Estate, as well. A fiery Toyota Celica GT-FOUR won the Group-B timed laps. Prior to this, it had to contend with a very loud and excitable Metro 6R4, and a Ford Escort Cosworth. Speaking of laps, the fastest lap of the Member's Meeting was held during the Gurney Cup, with a Ford GT40 clocking 1:20.853.
Jaguar's old XJR-15s had a reunion for the first time in a long while, taking to the tarmac together. For sheer emotional value, this is only eclipsed when Bruno Senna sprinted across Goodwood in a McLaren MP4/6. This was his uncle's – Ayrton Senna's – car, the last V12, manual Formula 1 racer. All the while wearing a replica of Ayrton's old helmet. Now that brought a tear to my eyes.