Upon unboxing, the INFINITY 1300, it instantly impresses with its sleek design and apparent portability. But, as we'll soon discover, it's the powerful performance that truly sets it apart in the portable power station market.
Performance and Power
Battery Capabilities: A Reliable Energy Reservoir
The INFINITY 1300's 1382Wh LiFePO4 (LFP) battery boasts a life cycle of over 3,000 cycles, a mark of durability that leaves many competitors trailing. It reliably stored and supplied power throughout our testing, whether for home backup use or outdoor excursions.
Charging and Output Abilities: Efficient and Versatile
Charging the unit proved speedy and convenient, with options to recharge via solar power, AC wall charging, or even a vehicle. The INFINITY 1300 truly shone in its diverse output options, simultaneously powering up to 14 devices with AC, DC, USB-A, USB-C, and wireless outlets – a versatile power solution for any scenario.
Charging can be done from 0-80% in around 1 hour and it also support up to 800W solar input, which could get you a full charge in 2.5 hours.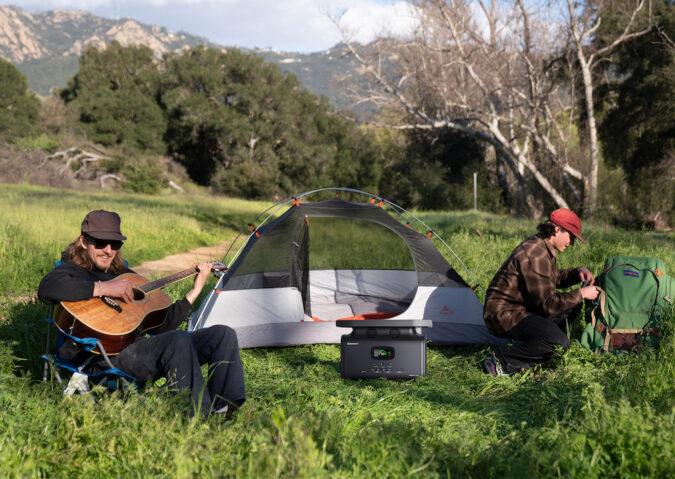 Intelligent Connections and Control: Power Management at Your Fingertips
Incorporating Wi-Fi and Bluetooth, the unit's dedicated app control is a standout feature. It offers real-time power consumption data, input/output wattage, and battery percentage level. The convenience of remote control and real-time monitoring certainly enhances user experience.
Practical Testing: Powering Up the VW Transporter Camper Van
During our review, we found a perfect real-world testing ground for the INFINITY 1300: a camping trip with the VW Transporter Camper Van. This scenario brought into focus the power station's utility for those always on the move or seeking the great outdoors.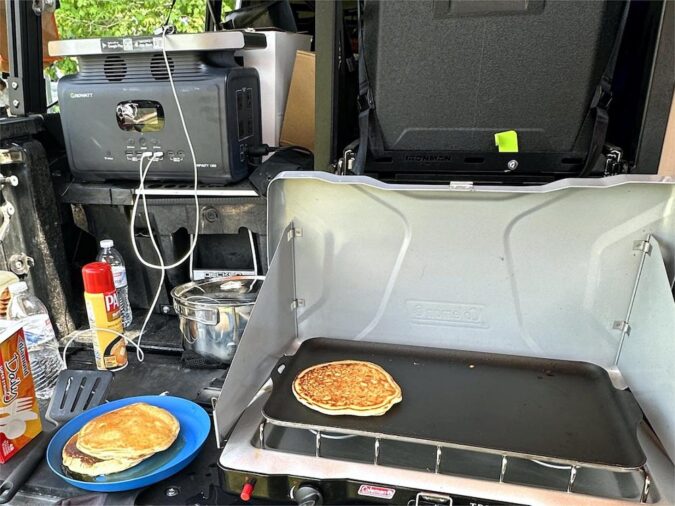 Cooking Convenience: No Compromises On The Road
With the INFINITY 1300, we could comfortably use an electric cooker. Preparing meals was a breeze, and the power station was more than capable of supplying energy to cook a variety of dishes without any interruptions or power shortages. Its ability to deliver constant, stable power to appliances with high power requirements like electric cookers was genuinely impressive.
Comfort and Warmth: Reliable Heating Anywhere
A fan heater might be essential for colder nights or early mornings while camping. The INFINITY 1300 handled the heater with ease, supplying a steady power flow that kept us warm and comfortable throughout the night. It quickly proved its worth as a reliable source of heat in remote camping locations.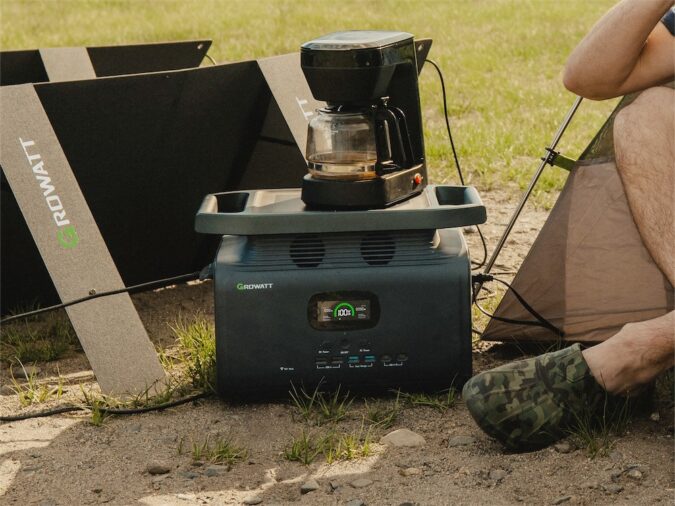 Steaming Hot Beverages: Kettle-Friendly
Brewing hot beverages on the go was equally straightforward with our electric kettle. The INFINITY 1300 showed no signs of struggle, even with the high instantaneous power demand of the kettle, delivering steaming hot water within minutes. It gave us the comfort of a hot drink, far from any traditional power sources.
Essential Gadgets: Phones, Drones, and More
The INFINITY 1300's multiple output options came in handy for charging our phones, flying our drone, and keeping other essential gadgets operational. The variety of ports ensured that we could charge and use multiple devices simultaneously, extending our drones' flying time and keeping our phones at full battery throughout the trip.
Illumination: Lighting Up The Nights
In terms of lighting, the power station effortlessly powered multiple lights in and around our VW Transporter Camper Van. Whether illuminating our campsite or providing interior lighting for the van, the INFINITY 1300 was more than up to the task.
Portability: Truly Mobile Power
While we were on the move, the INFINITY 1300's portability was a real boon. It easily fitted into the storage area of the VW Transporter Camper Van and was simple to set up at each new location. This mobility makes the INFINITY 1300 a real game-changer for long trips, camping, or any adventure on the move.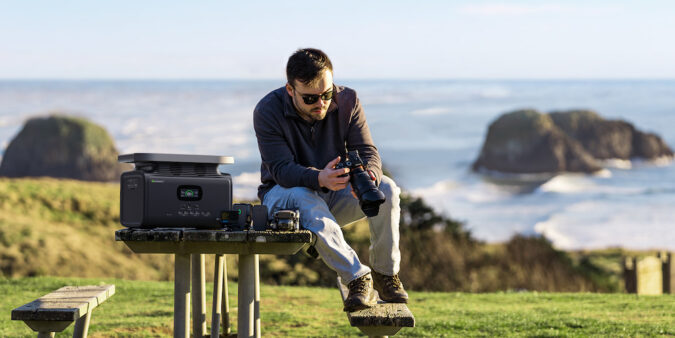 Highlight Features
Fast Charging: Power Up in No Time
With its bi-directional inverter technology, there is no need for an adapter that makes it more portable, the INFINITY 1300 outperforms many competitors, charging up to 200% faster when connected to AC current.
Extended Battery Life: A Companion That Lasts
The use of LFP batteries and a comprehensive internal battery management system (BMS) ensures that the INFINITY 1300's battery life surpasses typical portable power stations. This feature is particularly noteworthy for those who need reliable power over extended periods.
UPS Feature: Uninterrupted Power When You Need It Most
The Uninterruptable Power Supply (UPS) feature gives the INFINITY 1300 an edge over conventional power stations. This function ensured our devices ran continuously, even during power outages, a testament to its reliability.
Conclusion: An Exemplary Portable Power Station
In conclusion, the INFINITY 1300 exceeded expectations in both its design and performance. Its impressive battery life, diverse charging and output abilities, and innovative connectivity features make it a powerful contender in the portable power station market. A solid investment for anyone needing reliable, portable power, this unit truly lives up to its "INFINITY" name.
Prime Day sale: July 11-12, direct $340 off, apply 1300Primecode to get an extra $100 off.