Few automotive marques have as much venerability as Nissan's famed GT-R. Ingrained into our skulls from the influences of the petrol-powered trifecta that is Gran Turismo, Initial D, and the Fast and the Furious, everyone knows what a GT-R is. But sometimes, even the popularity and cult icon status that the GT-R regularly enjoys might not be enough to shield some of the hate towards the GTR R33.
But… Why? Why is it that I've seen quite a lot of comments saying how the GTR R33 was the weakest link in the GT-R chain? I've heard ramblings online about how some folks think the R33 was so bad, it may not even be worthy of the "GT-R" badge. Excessive, I know, but such chatter does exist on the interwebs. It does beg the question then, what did the R33 do wrong, and are all these people even right?
The prior R32 generation is well-recognized in the car community as the very genesis and foundation that every modern GT-R is built upon. And, it's the one recipe that was further refined and honed in with the later R34 GT-R, where that Skyline legend started to come alive, especially for us here in the West. In that regard, shouldn't the GTR R33 be just as deserving of that love, praise, and respect?
How Did The Skyline GT-R Become A Thing?
Before we dive deeper into the public reception and standing of the GTR R33, let's take a closer look at how it came to be. First, we'll discuss more about the Skyline, which at the time, was Nissan's line of upmarket sedans, coupes, convertibles, and so on. Fun fact for those of you who don't know, their luxury sister brand, Infiniti, markets some of their 4-door sedans and crossovers as Skylines in Asia.
But I digress. When Nissan started taking part in local, Japanese touring car racing events, their race cars were all based on the Skyline, back in the mid-1960s. That's where the name came from, GT-R… Or, in Italianised form, "Gran Turismo Racing". As innocent as its run-of-the-mill Datsun-Nissan Prince Skyline S54 may have appeared, whatever modifications that Nissan engineered into it worked.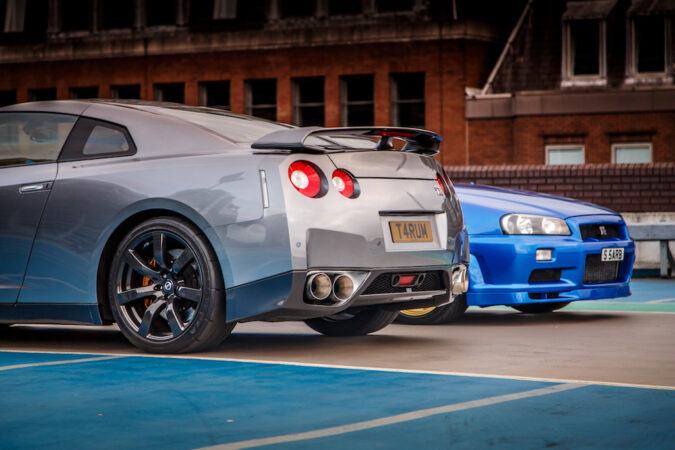 Rather, it worked a bit too well. The first run of Skyline GT-Rs, either in 2-door or 4-door form, started dominating domestic touring car races. By the time the "Hakosuka" Skyline GT-R was discontinued in 1972, it had achieved 1,000 wins. Alas, the second-generation GT-R arrived onto the scene right when the 1973 Oil Crisis was at its zenith. Thus, it killed the sports car market, taking the GT-R down with it.
It was so bad, that Nissan's GT-R line-up became vacant until the R32 came along in 1989. Between then, Nissan's Skyline models prospered, and also spawned several GT-R-esque cars. For example, the ultra-boxy R30 and R31. But as powerful and aspirational as they were, they weren't considered to be true GT-Rs in spirit. That is until the R32 was unveiled as part of Nissan's bid to enter Group A racing.
How Was Nissan's GTR R33 Born?
As the R32 was aging like fine wine, Nissan gave us its successor, the GTR R33, in 1995. It would stay in production until the R34 came along in 1999. For the most part, the GTR R33 was nearly identical to its older sibling, the R32. The design of the R33 is an evolution over that of the R32, and much of its power- and drive-train are practically similar, with only minute tweaks sprinkled about.
For instance, the engine(s) are similar between the R33 and R32, including the tune of the turbos. The manual gearbox was also a 1:1 match, though the R33 had more robust synchros. And, Nissan's now-famed ATTESA all-wheel-drive system, which made its debut in the R32, carried over, as well. At least, Nissan did make improvements to some of the lingering problems and reliability woes of the R32.
 

View this post on Instagram

 
The oil pump in the R32, which tends to fail prematurely owing to its flimsy design and build, was swapped out for a thicker and sturdier unit. Elsewhere, it's not as though Nissan went mad with the GTR R33 Skyline's pretentions, either. You could have it either as a 2-door sports car-slash-coupe. Or, perhaps as a 4-door family-friendly sedan, too. The latter is quite unusual to carry the GT-R badge.
Usually, all 4-door variants are sold as the Skyline, never as a GT-R. But anyways, the potency of the R33 was put to the test at the Nürburgring Nordschleife. Prior to its public release, Nissan conducted some performance testing there. With their test driver, Dirk Schoysman, at the wheel, that GTR R33 became the first production car to break under the 8-minute mark, with a time of 7:59.887 minutes.
What Makes A GTR R33 Skyline?
Now, let's learn more about what goes on underneath the Skyline GTR R33, shall we? As we detailed earlier, much of the R33's underpinnings are similar to the R32. The engine is still the same 2.6-liter, twin-turbocharged, inline-6. But it's not as though we can complain, given that it's the one and only RB26 motor, which stuck around from the R32 to the R34. It's that great of an engine, that's for sure.
Back then, all of the major Japanese automakers had a 'gentlemen's agreement' to limit their cars to just 276hp. Most likely, it was to curtail what was perceived as a dangerous game of chicken, making overly-fast cars for the public road. Nissan "claimed" that the GTR R33 had indeed complied with an output rated at 276hp, just like the R32 that came before it. In practice, however, it was one big lie.
On the dyno, folks are easily cranking out 330+hp from the R33, with a lot more torque and punch in its powertrain than the R32. Hence, why the gearbox had to be strengthened. In combination, Nissan engineered significantly more refinement from the R32, too. The ATTESA all-wheel-drive system had more advanced programming to manage power across all four wheels, with 4-wheel steering.
The GTR R33's brakes were enlarged and improved. More controversially, the R33's bodywork was a tad larger than the R32, as well. This was to accommodate a much wider track, and this enabled the R33 to be more stable and planted at higher speeds. Plus, Nissan's engineers had crafted more aero out of the body, reducing front-end lift. The one consequence is that the R33 is no doubt heavier.
What Are The GTR R33's Features And Specifications?
There were several different variants of the R33, which carried more power and other subtle tweaks dotted about. But for now, we'll stick with the regular, standard GTR R33, and detail you its specs…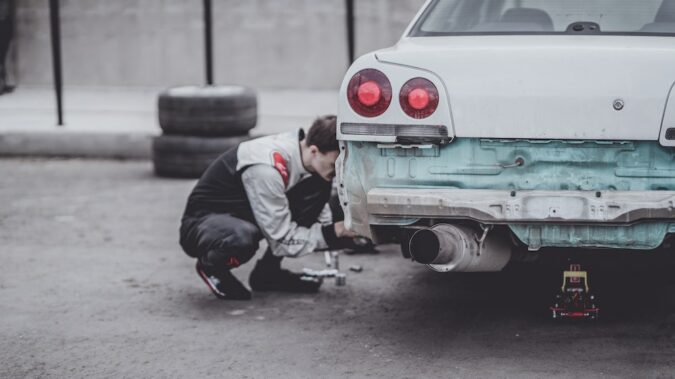 Engine:
Type – RB26DETT (aka the RB26)
Configuration – Inline-6 (24 valve, longitudinally-mounted)
Forced Induction – Twin-turbocharged
Displacement – 2.6-liters (2,568cc)
Bore – 86mm (3.39 inches)
Stroke – 73.3mm (2.87 inches)
Compression – 8.5:1
Performance:
Horsepower – 276hp claimed (in reality, more like 330+hp), with peak power at 6,800RPM
Torque – 260lb-ft claimed (likely higher, as well), with peak torque at 4,400RPM
Top Speed – 155mph
0-60mph – 5.0 seconds
Quarter Mile – 13.6 seconds
Transmission:
Gearbox – Manual, 5-speed
Drivetrain – All-wheel-drive
Dimensions:
Wheelbase – 272cm (107.09 inches)
Length – 467.5cm (184.06 inches)
Width – 178cm (70.08 inches)
Height – 136cm (53.54 inches)
Ground Clearance – 14.5cm (5.71 inches)
Curb Weight – 1,530kg (3,373lbs)
Brakes:
Front – 324mm rotors (vented)
Rear – 300mm rotors (vented)
Tires:
Front – 245/45 R17
Rear– 245/45 R17
Suspension:
Front – Coil springs, multi-link setup
Rear – Coil springs, multi-link setup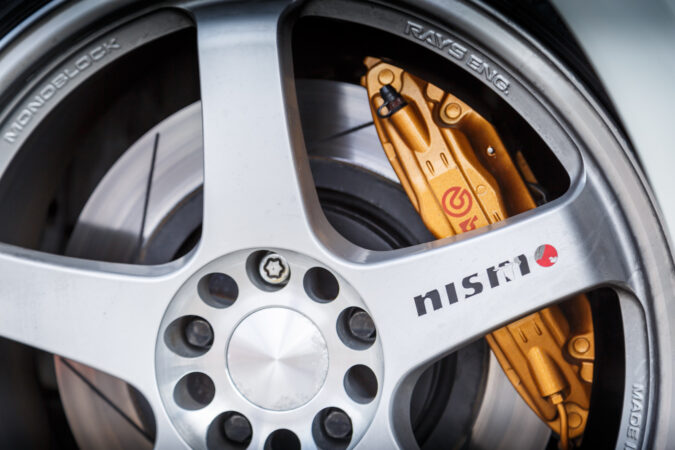 Besides the regular R33 GTR, Nissan also sold alongside it an even lighter and more track-focused V-Spec model. The R33 V-Spec is heavier by 22lbs (or around 10kg), as it carried a unique, more sporty suspension and chassis configuration. This helped to stiffen up the R33's road holding and lowered its ride height even further. You're then getting that ATTESA E-TS Pro system in the V-Spec cars.
In doing so, Nissan's added an active limited-slip differential, basically meaning that you could vary the level of traction from that all-wheel-drive system on the fly. The V-Spec N1 was unveiled later on, which was even more hardcore. It was lighter than either model, as the N1 threw out the A/C, ABS (anti-lock brakes), sound system, rear wiper, interior carpeting, and more to save weight.
Did The GTR R33 Skyline Go Racing?
It wasn't just the Nürburgring that was humbled by the R33, either. Throughout its lifespan, the GTR R33 had a pretty active life in motorsports around the world. Before it, the R32 had a very successful run in Group A racing. In particular, in the Japanese Touring Car Championship, which the R32 won 4 consecutive years. And, the iconic Australian Touring Car Championship, winning in 1991 and 1992.
At the time, the R32's outright performance, dynamics, and tech meant that nothing could stand in its way. Down Under, Nissan's top-dog R32s quashed the mighty Holden V8s in their own backyard. This prompted Aussies to nickname the monstrous R32 as the "Godzilla", a nickname that has stuck around till this day. Unfortunately, regulation changes meant that the R32 couldn't compete in 1993.
Or, elsewhere. Nissan was booted out of Group A, before switching to Group C… Before rule changes there meant that Nissan had to look somewhere else, again. Finally, Nissan placed its chips on GT1-class racing, starting with the BPR Championship. By now, the R32 was being phased out, as the GTR R33 entered the fray to take the lead on Nissan's premier-league motorsports commitments.
The GTR R33 LM was thus born, which was quite a radical departure from a standard R33. You're no longer getting Nissan's clever all-wheel-drive system, and its weight was reduced further to 1,150kg (or around 2,535lbs). The bodywork was widened and lowered respectively to aid in aerodynamics as well as add much-needed downforce. A lot of other changes were made elsewhere, too.
How Did Nissan's GTR R33 Fare In Racing?
For example, the engine is tuned to the abovementioned V-Spec N1's specifications. Thus, the R33 LM cranks out a whopping 400hp. It's paired with a specially-tuned 6-speed sequential manual gearbox made by Xtrac. Now, owing to homologation rules for GT1, Nissan had to make at least one road car equivalent of the GTR R33 LM. Nissan built that one example, which still remains in their collection.
The road-going GTR R33 LM was mostly similar to the race cars on the outside. Look underneath, and you'll see that the engine's been detuned to just around 300hp. But anyway, back to the racing. With the 1995 season of the 24-hours of Le Mans underway, Nissan sent 2 cars. Both numbered 22 and 23 on the grid, which was packed with other, more powerful cars from Ferrari and McLaren.
Specifically, we have the Ferrari F40LM and the McLaren F1 GTR. They proved to be a tad too much for the poor R33 to handle. The No. 22 GTR R33 LM was driven by H. Fukuyama and S. Kasuya, and qualified 34th on the starting row. They did decently well, finishing 5th in their class, with an overall position of 10th. They were behind 4 other McLarens, which was a respectable feat, no doubt.
The No. 23 car wasn't as lucky, despite supposedly being tuned to be slightly faster, retiring after 157 laps due to gearbox issues. Nissan planned on returning to the 1996 season but then ended up later canceling it. This was due to Porsche coming in with the 911 GT1, which leveraged loopholes in the FIA rulebooks to gauge every advantage it had. This meant that Nissan's R33 never had a chance.
What Are The Different Versions Of The GTR R33?
Thus far, we've looked at the base R33, R33 V-Spec, and the racy R33 LM. While that should've been a well-rounded line-up on their own, Nissan made quite a few other variants and derivatives of the GTR R33…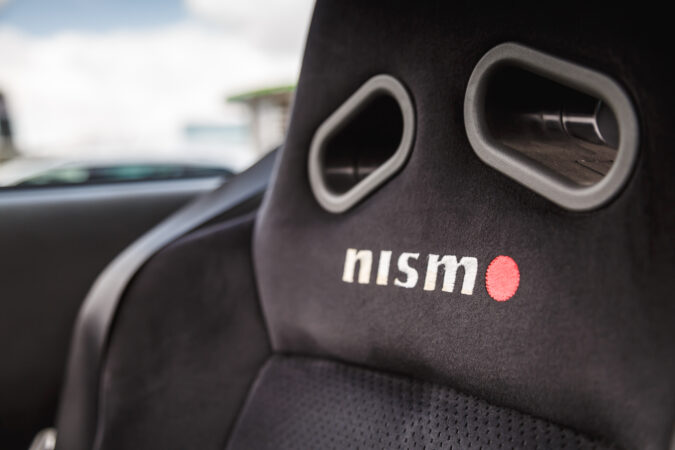 1. Autech 40th Anniversary
1997 marked the 40th birthday of the Skyline nameplate. Thus, Autech (a specialty Nissan tuner) had planned the best birthday party imaginable. Since Nissan never made a proper 4-door GT-R based on their Skyline line-up, Autech decided to make one. In the end, 416 super-fast sedans were made.
2. LM Limited
This was one of the most prominent limited edition variants of the R33, and also the first. It was, as you've guessed it, a celebration of Nissan's entry into Le Mans. Released in 1996, you could only get it in one color, this bright Champion Blue paintwork. It's Nissan's take on French Racing Blue.
As far as changes are concerned, there's a pronounced front-splitter to aid in cooling, intake, as well as frontward aerodynamics. Meanwhile, the rear featured a carbon-fiber rear wing, which included an adjustable Gurney flap. You'll find a lot more carbon trim and pieces all over the place.
Only 188 LM Limited variants were made in total. Of that number, 86 of them were the "regular" GT-R spec, while the remaining 102 carried the racier V-Spec configuration. You could alternatively get a few more options for the LM Limited, such as front brake cooling ducts, as well as special decals.
3. Nismo 400R
Now, we have the final boss of the dungeon, as the most powerful model to come out of the R33 GT-R family. Nissan called this beast the Nismo 400R, engineered mainly by their in-house motorsports and tuning division, Nismo. The powertrain, meanwhile, was further retuned by REINIK.
The engine saw the most number of changes from a regular R33. The bore has been widened, with a longer stroke, and longer forged pistons. The rods have been strengthened, with re-polished ports, a set of high-lift camshafts, not to mention updating the oiling system and exhaust manifolds.
As for the turbos, REINIK increased that to a higher-boost unit, combined with a larger intercooler. Alongside REINIK, Nismo then supplied an uprated exhaust system, and a new twin-plate clutch to make sure the transmission could handle the extra power and torque.
 

View this post on Instagram

 
How much, you might ask? A ridiculous 400hp and another 347lb-ft of torque. This gave the 400R a top speed of around 186mph. And, it could easily manage a 0-60mph sprint in just 4.0 seconds. To ensure that it could stop by the end of that, stronger Nismo-specific brakes were fitted.
The aerodynamics were massively revamped across the board, too. The bumpers, fenders, side skirts, and elsewhere were widened. On the front, there's a larger air intake system, with a carbon-fiber rear wing keeping the back planted. Only 44 Nismo 400Rs were ever made before the R33 died off.
Why Did (Some, Not All) People Hate The GTR R33?
This then, neatly segues us into what is perhaps the most pertinent topic yet; why do people hate it? Well, here are the most talked-about negative points on the R33, and my takes on it…
Point 1: It Has The Worst Styling Of Any GT-R, Ever
Okay, I get that design is subjective. Personally, I quite like the looks of the R33, and I also think that it's, on the contrary, the best-looking GT-R, ever. Sue me. It's aged better than either the R32 or R34, with its more classical and simplistic styling, without being too boring.
Point 2: It's Way, Way, Way Too Big For A Sports Car
Yeah, I can see where you're coming from. For comparison, the R33 is longer (and that accounts for the wheelbase, too), wider, and taller than the R32. The added dimensions have the effect of making the R33 look more porky. I suppose it's more of a fast grand-tourer than a plucky sports car.
Those long overhangs front and rear also make the R33 appear somewhat ungainly. While it's not that bad in person, Nissan trimmed it off in the R34 for a good reason. As a whole, the R33 got a bit fatter than the R32, by around 220lbs, which is certainly more consequential.
Point 3: It Handles Terribly Compared To The R32 And R34
That's simply untrue. Yes, the R33 is heavier than the R32, which would theoretically affect handling by a wide margin. However, make sure you take into account the R33's improved aerodynamics, chassis, brakes, suspension, steering, and that ATTESA all-wheel-drive system, over the R32.
 

View this post on Instagram

 
Specifically, the R33 featured the new and enhanced ATTESA E-TS Pro system, which could effectively manage the car's power delivery and traction, offsetting its heft and size. The longer wheelbase does mean that it doesn't drive as nimbly as an R32, but as far as performance is concerned, it's better.
Altogether, the way it handles and drives down the road isn't as raw, unfiltered, and track-honed as the R32. In contrast, and moving past the nuances, the R33 is more refined, comfortable, and feels a lot more stable at higher speeds. It also feels more rear-wheel-driven, which is a positive for me.
Point 4: It Doesn't Drive As Well As A Skyline GT-R Should
Really? To be fair, most of these comments come from folks who haven't really read up on what Nissan's done to improve the R33 over the R32. It may have a different driving characteristic from the R32, yet that isn't to imply that the GTR R33 is compromised in its personality.
Remember, it broke the Nürburgring lap record (20 seconds ahead of the R32) and was the fastest production car to lap it at the time. The R33 was only beaten (finally) by its own replacement, the R34. A successor which, despite how everyone lusts after one, is even heavier than the R33.
With that being said, I will give one to the "haters" here, the R33 isn't as nimble or as sharp as the R32. That added weight and size to lug around meant that it was better for high-speed driving. But in the corners, the R33 had a tiny bit more understeer than is ideally wanted.
Facts about the 1995 Nissan Skyline R33 GT-R:
The Nissan Skyline R33 GT-R has turned 25 years old and is now legal to import into the United States.
Toprank International Vehicle Importers is one of the country's leading importers of vintage GT-Rs and other Japanese performance cars from the 1980s and 1990s.
Any car 25 years or older can be brought into the country with exemptions from a range of NHTSA regulations, including emissions.
R32 GT-Rs have been legal in the U.S. since 2014, and as of January 2021, the 1995 R33 GT-R makes the cut.
Registering any of these right-hand-drive cars is a snap in 48 states, but California has its own set of rules, and Hawaii has some safety regulations that can make things a bit more difficult.
Prices for R33-generation GT-Rs average around $48,000, and prices continue to climb.
The R33 GT-R is mechanically similar to the R32 and R34, but it has a little more power and a little stiffer structure over the years.
The R33 GT-R features an all-wheel-drive system, electronic rear steering, and a twin-turbo RB26DETT engine, one of the greatest inline-sixes of all time.
The R33 V-Spec hit 60 mph in 5.3 seconds and covered the quarter-mile in 14.0 seconds at 104 mph.
Driving the R33 is visceral and mechanical, with quick and communicative steering and a chassis that corners flat with plenty of grip.
Final Thoughts, And Should You Get One?
Last but not least, we get to the burning question of should you get a GTR R33? Technically, you can now legally import a GTR R33 Skyline into the US, as it's aged past the 25-year rule. Albeit, only those earlier model years (1995, 1996, and 1997) could qualify. So, this begs the question… Should you buy an R33, or perhaps wait a few more years until the cult icon R34 becomes legal to import, as well?
Well, it's worth considering the price first. Excluding that one, low mileage Nismo 400R that's selling for $2.2-million, the R33 as a whole is definitely a lofty investment. On average, you could find a pretty decent R33 for $30,000 to around $35,000. However, low mileage and well-cared-for examples might cost you closer to $40,000. In the case of the rarer V-Spec model, you're looking at nearly $50,000.
In general, this is slightly higher than the R32. You could net a V-Spec R32 for just around $40,000 at the time of writing. This premium with the R33 is primarily attributed to its rarity. While Nissan made 44,000 R32s, they only built around 16,700 R33s. Plus, the R33 is newer, has more tech, and features that much more refinement over its predecessor. If you want a GTR, the R33 is a fairly solid choice to get.