Halima Sadia – Automotive Expert, Motor Verso
Hello there! I'm Halima Sadia. If you've landed on this page, you're probably curious about the person behind some of the detailed posts you've read on Motor Verso, whether you're looking to troubleshoot a problem with your car or would like to understand more about how a specific part works.
I've written a diverse array of guides here, from how to troubleshoot electronics and electrical systems in a car, to analysing the reliability of a specific car, as well as diagnosing any number of car-related issues. Well, let me take you on a journey through my life in the automotive world.
The Spark That Ignited My Passion
My love for cars didn't start in a showroom or on a racetrack. It began in the humble confines of our family garage. As a child, I would often find myself mesmerized by the sight of my father working on our old saloon. While an ancient Corolla might not sound interesting to most people, it meant a lot to me.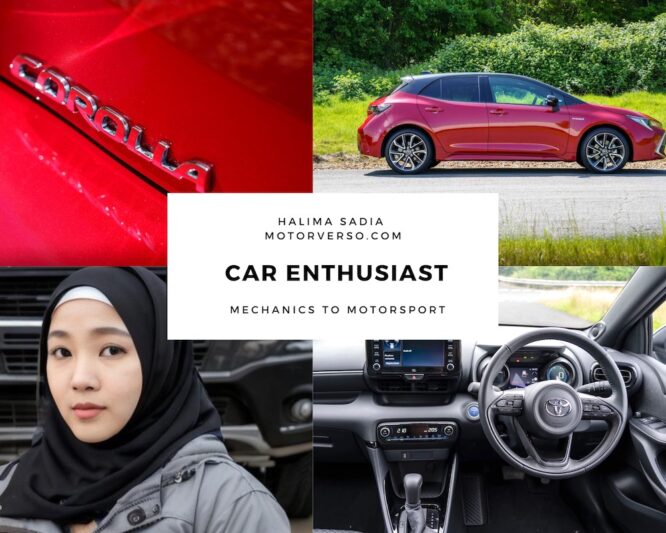 The way he would talk to the car, as if coaxing it to reveal its secrets, left an indelible mark on my young mind. Those early years were filled with the sounds of wrenches turning and the smell of engine oil. Little did I know, this would set the stage for my lifelong passion.
From Curiosity to Career
As I grew older, my curiosity about cars transformed into a full-blown obsession. I would spend hours reading automotive magazines, and lengthy repair manuals, watching repair tutorials, and even attempting minor fixes on our family cars. From small repairs, it turned to major rebuilds as time went on.
By the time I was in high school, I had become the go-to person for car advice among my friends and family. I also spent quite a few fortnights digging through the engine bay of cars that my neighbours passed to me, seeing if I could find out why it was driving weirdly or tracking down a peculiar noise.
In my neck of the woods, it wasn't as though high-tech solutions were always readily available. As such, DIY-ing a fix or repair and relying on the most barebones and rural alternatives were a necessity. Even today, I've learned how to make the best with as little as possible with what's around me.
If you ever need to MacGyver a repair, I'm usually the right person to call. My decision to pursue a career in automotive engineering was a natural progression. Throughout my academic years, I immersed myself in the world of engines, transmissions, drivetrains, electronics, and everything in between.
My hands-on approach and insatiable thirst for knowledge led me to internships at local garages, where I honed my practical skills. I've worked at a variety of mom-and-pop workshops as well as major first-party dealership service centres. These experiences have helped me immensely in learning more about cars.
Breaking Barriers in a Male-Dominated Field
Being one of the few women in a predominantly male industry came with its challenges. I often found myself having to prove my worth twice as hard. But every sceptical glance and doubting comment only fuelled my determination. I took pride in my work, and soon, my expertise spoke for itself.
My reputation as a reliable and knowledgeable automotive expert grew, and I began to carve a niche for myself. Here, at Motor Verso, I'm also among the few female automotive experts, but that doesn't stop me from doing my very best in providing you with the most insightful automotive guides on the web.
Joining the Motor Verso Family
When I stumbled upon Motor Verso, it felt like finding a kindred spirit. The platform's dedication to providing genuine, in-depth information mirrored my own values. I saw it as an opportunity to reach a wider audience and share my knowledge on a grander scale.
The team welcomed me with open arms, and I felt an instant connection. Together, we've embarked on a mission to demystify the world of cars for our readers. Whether you'd like to learn more about the issues on a certain car or if you'd like to fix an ongoing problem with your ride, this is the right place.
Since I joined, Motor Verso has continued to evolve to become one of the foremost destinations on the internet for all things related to automotive diagnosis, troubleshooting, and analysis. As of today, we've collectively written more than 2,000 of such posts, and quite a few of them were mine!
My Philosophy on Cars
To me, every car is a story waiting to be told. Behind every purring engine or squeaky brake lies a tale of design, engineering, and human ingenuity. My approach to car maintenance and repair is holistic. I believe in understanding a vehicle's history, its quirks, and its unique characteristics.
This comprehensive and meticulous approach ensures that I provide solutions that are not just effective but also sustainable. Sustainability means solving automotive problems in the most efficient, affordable, and least wasteful means possible. Why scrap a perfectly good car when you could keep it running with some simple fixes?
All it takes is some simple DIY techniques, and with enough time, energy, and patience, you could fix up your broken jalopy for far less money and in a more confidence-inspiring manner than just sending it over to a local dealership for a repair. Plus, you'd learn something new that you could apply elsewhere, too!
The Importance of Trust and Authenticity
In the vast sea of information available online, trust is paramount. I understand the responsibility that comes with being an automotive expert. Every piece of advice I give, and every article I write, is backed by years of experience, expertise and learnings accrued over 15+ years, and a genuine desire to help.
My commitment to authenticity and transparency has been the cornerstone of my career. I aim to share nothing more than the most insightful and helpful guides that you'll ever come across, and I'll keep trying until that's the case. Be it learning how a car ticks or fixing an annoying problem, I'm here to aid you.
Looking Ahead
The automotive industry is ever-evolving, with new technologies and innovations emerging every day. As we move towards a future of electric vehicles, autonomous driving, and sustainable transportation, my goal is to stay at the forefront of these changes and apply my past experiences in this new world.
I'm dedicated to continuous learning and adapting, ensuring that I bring the most up-to-date and relevant information to our readers. I've learned before that simply staying idle and resting on my laurels is never good, especially given how rapidly the automotive world is evolving and ever-changing.
My journey has been filled with challenges, learning, and immense satisfaction. Through Motor Verso, I hope to share my passion, knowledge, and experiences with all of you. Whether you're a seasoned car enthusiast or someone just starting out, I'm here to guide, assist, and journey with you.