If you're new to the muscle car world and you're wondering what a modern-day muscle car looks like, I'd advise you to take a look at the Dodge lineup. Specifically, the Dodge Charger Hellcat and the Dodge Challenger Hellcat. Both these cars are known for being the absolute reference in the muscle-car world. Also, these cars have been the basis of quite a few debates. All such debates lead to one final question: Hellcat Charger vs Hellcat Challenger. What's better?
Dodge has been making these cars, or rather 'cars on steroids', for quite a while now. Safe to say, they know exactly what their customers want. Each of these cars has gone through major developments and facelifts throughout its timelines. With every facelift, these cars keep on improving.
It all began in the 1960s when Ford came up with the Mustang, which had taken the market by storm. Dodge couldn't just let it go and soon came up with their answer: A Challenger. Little did they know that they'd go on to make these generations for more than five decades.
The newer Hellcats still light up a supercharged V8-lover's face the same way that an old challenger or a charger does. But, why is it so? What's so special about them? And, why are they known as the epitome of modern-day muscle cars? Well, this article intends to find exactly that.
In this article, we will journey through both Hellcat's legacy as well as the prominent features differentiating them. We'll also be diving deeper into the different versions of the Charger and Challenger that Dodge offers, before finally concluding the 'Hellcat Charger vs Hellcat Challenger FAQs'.
Dodge Charger Hellcat
To understand the 'Hellcat Charger vs Hellcat Challenger' equation better, we will be discussing each individual highlight of the Dodge Charger Hellcat. First of all, a brief history is a must. After all, the Dodge Charger Hellcat wouldn't even exist if it weren't for its predecessors.
Dodge Charger Hellcat – History
The Dodge Charger has seen a very rich history that consists of several generations and several facelifts. There's no denying the fact that Dodge has come a long way since it rolled out the first-gen Charger (1966).
Until the 1980s, Dodge came up with eight generations. You could spec each of these generations with a V8 engine. The V8 engine, otherwise known as the 'jewel' of muscle cars, was what defined an American muscle car.
Throughout its timeline, the Charger had to go through several events. For instance, the gas crises in the 70s caused the Charger's sales to plummet. The Charger's sales reached an all-time low until Dodge feared it was time to end the Charger's legacy. However, a change of management was all that Dodge needed to reassure its fans that the Charger was still alive.
Eventually, they came up with an economical FWD subcompact-hatchback coupe. As surprising as it may sound; yes, Dodge offered the Charger in an FWD drivetrain. The fifth-generation Dodge Charger looked different from its predecessors by retaining more of a boxy, short look.
Afterward, Dodge remained a bit quiet about the launch of the next-generation Charger. Us hardcore muscle-car fanboys had thought that this was it; this was the end of the Charger. But, about 20 years later we were proven wrong. In 2005, Dodge unveiled the sixth-generation Charger. But this time, the Charger featured 4-doors.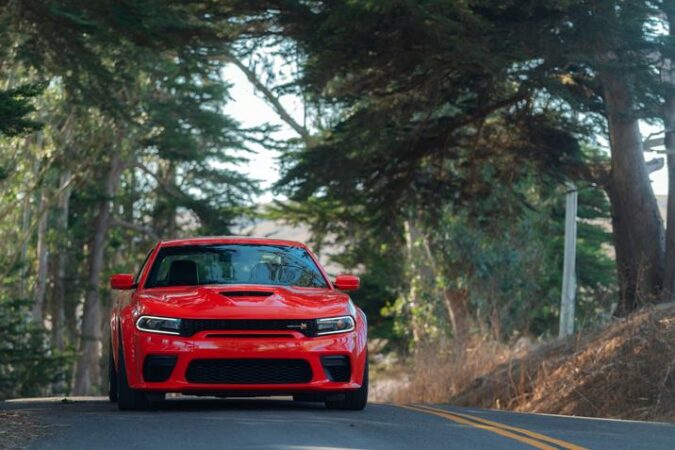 The sixth-gen Charger got the attention it deserved that encouraged Dodge to bring out more and more Charger variants. And, they did. Eventually, the Charger reached its seventh generation with noticeable styling and performance upgrades.
However, even after introducing several facelifts, Dodge still felt as if it was missing something. Soon enough, they found the last missing piece to their puzzle. Enter the 'Dodge Hellcat Charger'.
Dodge Charger Hellcat – Styling
Over the years, the Charger can be seen adopting different styling features. But, (hands-down) the second-gen Charger wins the award for being the most striking of all (Charger) generations by a quarter-mile.
The long, sleek body of the vehicle could cut through butter like a knife. Some more aerodynamic bits and pieces like the wing, and the Chargers had made their way into NASCAR. Even Dom Toretto rode a '68 Charger in the film Fast and Furious 9.
Speaking of Dom Toretto and Dodge Chargers, there is an evident love relationship between both in the Fast and Furious franchise. Throughout the franchise, Dom's pick has been the Charger in almost all cases thanks to the Charger's meant-to-be-taken-seriously look. In the film F9, Dom can be seen ripping a Dodge Charger Hellcat through a jungle. The ravine jump scene was spectacular, but the styling of the Dodge Charger Hellcat is what had our hearts.
The 2020 Dodge Charger Hellcat packs an aggressive front end. Dodge has slapped a big scoop on the Charger Hellcat's bonnet and some air inlets to feed that massive Hemi supercharged V8. The C-shaped LED DRLs give the Dodge Charger Hellcat's front end an even angrier and bulkier look. It's when you start moving towards the side where you start feeling the Dodge Charger Hellcat's broadness.
You can equip the Charger with stripes that run across the centerline of the vehicle. These stripes offer a tribute to the original Dodge Chargers and are an easter egg for us hardcore Charger lovers.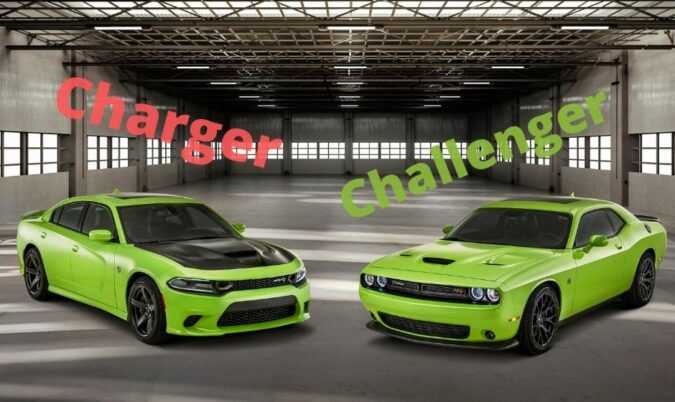 The 20" wheels sit perfectly under the widebody fenders, making the car look even meaner. As you move towards the back, some very Dodge-familiar taillights greet you. These taillights resemble the taillights of the SUV that Dodge offers in its lineup: the Dodge Durango.
Dodge Charger Hellcat – Performance
As standard, all Dodge Charger Hellcats come with a widebody kit. The kit Is used to accommodate the upgraded suspension (and tire) components that Dodge has added to the Hellcat Charger. Safe to say, Dodge has done an immaculate job in tuning the car's suspension to make the Hellcat nippier through the corners.
All earlier Dodge Chargers had a knack for generating unnecessary body rolls when being put through the corners. Also, too much power coupled with poor handling is the perfect recipe for disaster.
But, the Dodge Charger Hellcat changes everything. With the Hellcat version, Dodge has made the Hellcat Charger a lot more controllable at the corners. The Charger stays noticeably flat throughout the corners, hence making the experience less 'scary'.
Now onto the most important feature of the Dodge Charger Hellcat, and the only reason why people obsess about it: its 6.2L supercharged Hemi V8 engine. The V8 motor packs an impressive 717 brake horsepower and a mighty 650 lb. of torque. All that power is sent to the Charger's meaty rear wheels, which just pray that they grip.
The chunky rear tires help push the Charger from a standstill to 60 mph in 3.7 seconds. Under the right drag race conditions (and in a less crowded area…), the Dodge Charger Hellcat can put some supercars to shame.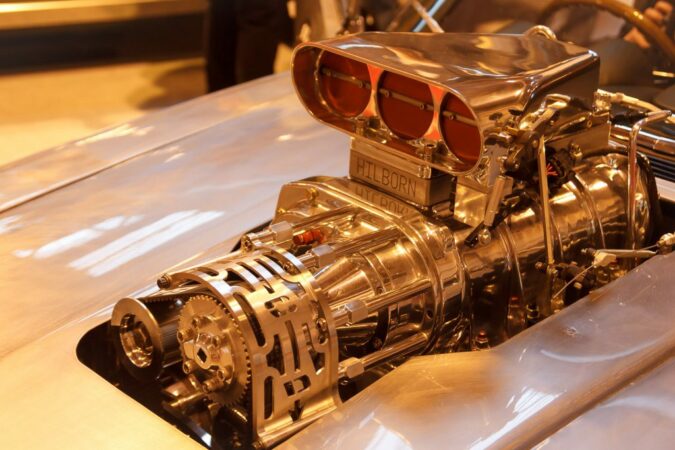 Yes, the acceleration may not be AS good as that of its German rivals, but the experience is every horsepower worth it. The screaming supercharger and the sheer, raw V8 power mean that the Charger Hellcat accelerates in style (and some drama).
Its German rivals, like the M5 CS and the AMG GT63s, are equipped with AWD drivetrains, hence their better acceleration. Also, about the drivetrain, the Charger Hellcat can only be specced in an RWD drivetrain.
Dodge Challenger Hellcat
Before this, we learned how the Dodge Charger Hellcat came into existence. We learned about the Charger's continuously-changing design language throughout its timeline. We then saw how (well) it behaves in terms of performance.
Now, we will be shedding some light on the same features of the Dodge's second weapon of its arsenal: the Dodge Challenger Hellcat. By the end of this section, you'll be capable enough to answer the equation 'Hellcat Charger vs Hellcat Challenger'.
Dodge Challenger Hellcat – History
As mentioned earlier, the Dodge Challenger was Dodge's answer to the Ford Mustang (especially when picking from the best Dodge Challenger years). But it had taken a couple of years for Dodge to put this into practice. Eventually, the Dodge Challenger came into existence in 1971.
As time went by, Dodge kept coming up with more and more Challenger variants to keep the model fresh and updated. For instance, in the late 1970s, Dodge came up with the track-oriented Challenger T/A, which helped the Challenger enter the motorsport world.
However, after the late-1970s, the demand for Challengers reached an all-time low. Unfortunately, Dodge was forced to let go of the Challenger variants one by one. Eventually, in 1974 Dodge had to cease production of its beloved Challenger.
Just when we had thought that the Challenger was dead, Dodge took us by surprise. It announced the second-generation Challenger in 1978. However, the second-generation Challenger was never the same as before. It had a massive downgrade in terms of both looks and performance. Basically, it was a rebadged Mitsubishi.
It took more than two decades for Dodge to set its priorities (and senses) straight. Dodge launched the Challenger for one last time, desperately hoping to redeem themselves in the eyes of Challenger lovers. And, safe to say, they did exactly that. The third-generation Challenger was the perfect blend between style and performance which gave the fifth-generation Mustang and Camaro a run for their money.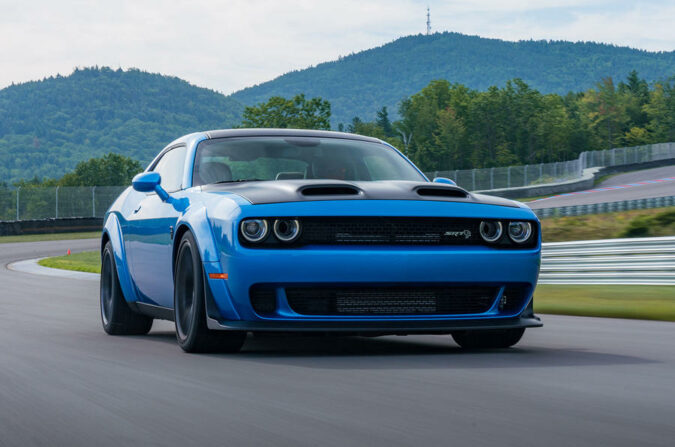 Soon afterward, Dodge released the SRT version of the Challenger that pushed out 470 horses from its 6.4-liter Hemi V8 engine. As if the 425 horsepower from its 6.1-liter V8 wasn't enough, Dodge decided to go even further.
In 2015, Dodge released the 'Charger Hellcat' to end the debate once and for all. It packed not 50 but 240 more horses than the SRT version.
Dodge Challenger Hellcat – Styling
Luckily the Dodge Challenger Hellcat retains a somewhat similar design language to that of its predecessors with a hint of futuristic design to keep the car fresh. With that said, the third-generation Dodge Challenger has been carrying pretty much the same design throughout its timeline with some very minimal cosmetic changes.
These cosmetic changes can only be seen in the more expensive Challenger variants. For instance, SRT Hellcat Widebody, SRT Hellcat Redeye, and Dodge Demon. Undoubtedly, the Challenger's front end carries a very bulky look and looks as if it would eat other cars for dinner – which it does.
The busy, yet minimalistic front-end makes way for several air inlets to feed as much air to its massive V8 engine as possible. These air inlets are in the form of two huge scoops slapped onto the Challenger's hood.
Like all Dodge Chargers, you can also equip the Dodge Challenger Hellcat with several customizable decals and unique paint jobs. The round LED DRLs glow red indicating the eyes of a cat that is ready to pounce on its prey. However, you'd only find these intimidating DRLs on the higher-specced Challenger Hellcat Redeye version.
In terms of the side profile, the Challenger still retains that hunched, and muscular look of its predecessors. Particularly the second generation. The Hellcat Challenger widebody kit makes the side profile look even wider and bulkier. However, we've seen such side profiles on the Challenger's main (American) rivals as well, such as Camaro ZL1 and the Ford Mustang GT500.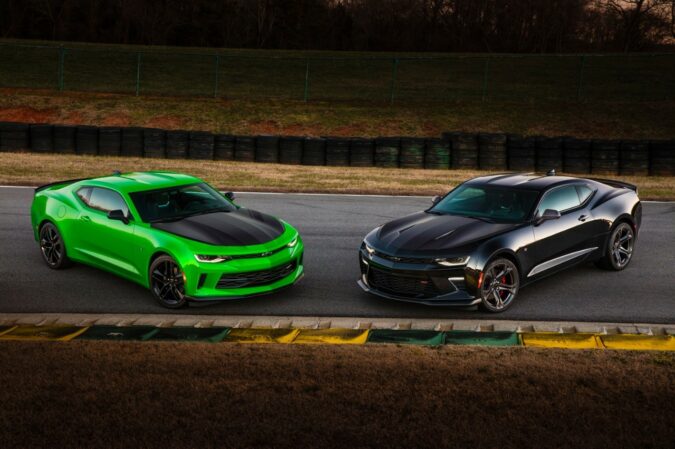 As we move on to the Hellcat Challenger's back, we see a very familiar taillight design. The Challenger uses the same taillight design philosophy as all the other cars in its lineup. Also, not to mention the boot lid spoiler for stability at higher speeds as well.
Dodge Challenger Hellcat – Performance
The Dodge Challenger Hellcat comprises a 6.2-liter supercharged Hemi V8 engine that makes a 'humble' 707 horsepower and about 656 lb. ft of torque. All 700 horses are unleashed to the Challenger's chunky rear wheels. One should not take these performance figures for granted.
Such figures help the Challenger achieve a 0 to 60mph time of just 3.7 seconds. Also, with the help of meaty tires and somewhat clever electronics, the Challenger Hellcat can run a quarter-mile in under 12 seconds. Let me remind you again that the Challenger is an RWD weapon that has a knack for spinning up its rear wheels.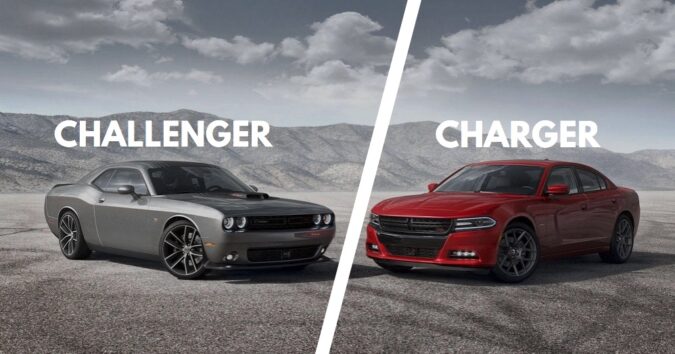 That said, by no means is the Challenger Hellcat fast through the corners. The Challenger Hellcat generates a body roll, despite its upgraded suspension components. The Dodge weighs just shy of 2 tons, which is a lot for a fast coupe. So, you should be expecting understeer in some cases.
Therefore, the Challenger Hellcat's rivals such as the Camaro ZL1 and the Mustang GT500 are far nimbler than the Challenger.
It uses the same engine as the other two Dodge Hellcats. These Hellcats include a 4-door sedan Dodge Charger and a three-row SUV Dodge Durango. Yes, you heard that right. A 4WD SUV with 710 horsepower. Just when we thought that Dodge had gone bonkers, Dodge decides to come up with an even better jaw-dropping answer…
A few years back, Dodge decided to come up with yet another Challenger variant. But this time Dodge decided to go all in and play all of its remaining cards. This gave birth to the Dodge Challenger Hellcat Redeye. The Redeye's main upgrade was the 90-horsepower gain over the Challenger Hellcat.
And with that, you have your answer to the equation 'Hellcat Charger Vs Hellcat Challenger'.
Hellcat Top Speed
Thanks to their beefy engines and aerodynamic design, both the Hellcats in question are capable of breaking the 200-mph barrier. Aerodynamic features such as the boot lid spoiler and the front splitter help keep the cars as planted as possible at higher speeds. The supercharger makes the experience a lot more worthwhile by providing a smooth linear buildup of speed until the Hellcat reaches a top speed of 203mph.
Scat Pack Horsepower
One of the reasons why Dodge is so popular with its vehicles is the diverse range of trims that you can choose from. From entry-level 3.2-liter V6 engines (around 303hp) that cost less than $29,000, to the more expensive SRT Challenger versions costing around $80,000, the list goes on and on.
Among these variants is the Dodge Challenger Scat Pack. The Challenger Scat Pack costs $42,000 (standard) and goes all the way up to $53,000 (including options). This engine trim comes with a Challenger body strapped to a 6.4-Liter Hemi V8 that produces 485 horsepower and 475 lb. of torque.
These figures help the Dodge Challenger Scat Pack achieve a standstill to 60mph time in just 4.2 seconds. Now, for an almost-500 horsepower naturally-aspirated engine (to learn more about it, check out our guide on what does naturally aspirated mean), it was really impressive. Also, for the price that you're paying, there's not much to complain about.
The Scat Pack can only be equipped with an RWD drivetrain, but here's the fun part. The Dodge Challenger R/T Scat Pack can be equipped with either a 6-speed manual or an 8-speed automatic. However, several car-reviewing YouTube channels have praised the ultra-quick automatic gear shifts as well, so the auto is not so bad after all.
A quick look at the dictionary tells us that 'Scat' is another word for 'leave (quickly)'. The Scat Pack intends to do exactly that; it scurries its passengers from point A to point B in a quick, fashionable manner. The theory is that the Scat Pack 'packs' neither too much power nor too less, but instead an adequate amount of power.
This helps bring the Scat Pack's price down by almost 40% of the more expensive Challenger SRT hellcat versions. So, the Scat Pack strikes a perfect balance between price and performance. Hence, offering you the bang for your buck.
Scat Pack Vs Hellcat
The only main difference between both trim levels is the inclusion of a supercharger. The more expensive Challenger SRT Hellcats have the added advantage of a supercharger. On the other hand, the Scat Pack Challenger has a naturally aspirated 6.4-liter Hemi V8 engine. Also, it may be one of the last few naturally aspirated V8 engines ever before forced-induction engines (or worse, electric cars) takeover.
I say this because quite sadly (and unfortunately) Dodge is pulling the plug for its Challenger by 2023. Apparently, Dodge is shifting its focus and resources to electric vehicles or plug-in hybrids because of the government regulations on battery-powered vehicles. So, for those who have money (and the guts to handle 700+ horses) enjoy the Dodge Challenger Hellcat while you can.
No such reason justifies buying a Hellcat unless you love the scream of a supercharger and have some extra cash laying around. Also, 800 horsepower is too much. Even for a muscle car. But, for those who are unable to afford a Hellcat, the Scat Pack should be your pick.
For about $50,000, you'd be getting your hands on a pure American-bred V8 muscle car. A (muscle) car that traces its roots back to a successful history of generations.
Dodge Charger vs. Challenger: Facts
The Bros Fourr Speed YouTube channel compares Dodge Charger SRT Hellcat Widebody and Dodge Challenger SRT Hellcat Widebody.
Both cars are powered by a supercharged 6.2-liter V8, generating 797 horsepower and 707 lb-ft of torque.
Charger comes with an eight-speed automatic transmission, while Challenger offers an automatic or a six-speed manual.
Charger has a modern exterior design with slit-style headlights and a single-bar taillight, while Challenger has a retro look with four round lights in the grille and dual oval taillight pods.
Charger is a four-door sedan, and Challenger is a two-door coupe.
Charger's doors have a wedge sculpted design to contrast with Challenger's simplistic side panels.
Charger starts at $78,000, and Challenger starts at $76,320.
Charger is longer than Challenger with a 291-inch overall length against 197.5 inches and has a longer wheelbase of 120 inches against 116.2 inches for Challenger.
Charger can hit a top speed of 196 mph and go 0-60 mph in 3.5 seconds, while Challenger can reach 203 mph but is 0.10 seconds slower to 60.
Choosing between the two cars comes down to personal preference, with the Charger being a family-friendly daily driver with track capabilities, while the Challenger is favored by those who prefer a manual transmission.
Hellcat Charger Vs Challenger FAQs
Here are some popular FAQs:
How Much Horsepower Does A Hellcat Have
A Hellcat makes a mighty 707-horsepower and an equally-impressive 656 lbs. ft of torque. The Hellcat owes this honor to its 6.2-liter supercharged Hemi V8.
How Much Is A Dodge Charger
Dodge offers the customer to choose from a variety of different engine trim levels from its Charger lineup. The Charger starts from a 3.6-liter V6 engine (@292 horsepower) that costs $31,000. The price then goes all the way up to $81,000 for the SRT Hellcat Redeye version of the Charger that produces 797 horsepower thanks to its 6.2-liter supercharged Hemi V8 engine.
How Fast Is A Hellcat
All SRT Hellcats – with their 6.2-liter supercharged Hemi V8 engine – are supposed to do a 0 to 60mph time in 3.7 seconds. However, varying surface conditions (or even fuel quality) may affect these times. With that said, these SRT Hellcats are supposed to run a quarter-mile time of 11.8 seconds. Thanks to their aerodynamic design language, these 707-horsepower spaceships are known to cross the 200-mph barrier. Eventually, the Hellcat will top out at 203mph. So, by reference, these machines are fast. Fast. In fact, under the right drag race conditions, a Hellcat can put a German AWD weapon to shame.
How Much Does A Hellcat Weigh
Dodge offers three different types of hellcats to choose from its lineup. Since each of the cars is based on very different platforms, hence their weight may differ. A 2022 Dodge Charger SRT Hellcat (4-door sedan) weighs around 4,586 lbs. This roughly translates to about 2 tons of weight. Similarly, a 2022 Dodge Challenger SRT Hellcat 4,415 lbs. thanks to its shorter coupe design. Lastly, a 2022 Dodge Durango SRT Hellcat weighs a whopping 5,710 lbs. because of it being an SUV. The Durango's weight translates to about 2.5 tons of curb weight.
How Much Horsepower Does A Scat Pack Have
A Dodge Challenger Scat Pack comes with a 6.4 Naturally-Aspirated Hemi V8 that pushes around 485 horsepower and 475-pound-ft of torque. These figures help the Scat Pack achieve a 0 to 60 time of 4.2 seconds and an equally-impressive quarter-mile time of 11.7 seconds.