Unleashing the Beast
Hennessey, the renowned high-performance vehicle creator, has started delivering its new 500 bhp VelociRaptor 500 Bronco Raptor to customers. With winter testing in Colorado's snowy mountains successfully completed, Hennessey's engineers have approved this enhanced Ford Bronco Raptor for production and deliveries from their Texas headquarters.
Power Boost for the Flagship Ford Bronco Raptor
Thanks to Hennessey's 30 years of experience in 'making fast cars faster', the SUV's 3.0-litre EcoBoost V6 engine received a significant power boost, resulting in improved drivability. A new high-capacity intercooler and proprietary engine management system tuning enhance output, giving the VelociRaptor 500 a dyno-proven 500 bhp and 550 lb-ft of torque.
Conquering the Elements
In challenging winter conditions, the VelociRaptor 500 Bronco Raptor's performance was put to the test in the Rocky Mountains. Despite snowstorms and freezing temperatures, the upgraded 4×4 confidently tackled Mother Nature's obstacles, fitted with unique Hennessey 20-inch alloy wheels and 37-inch off-road tyres.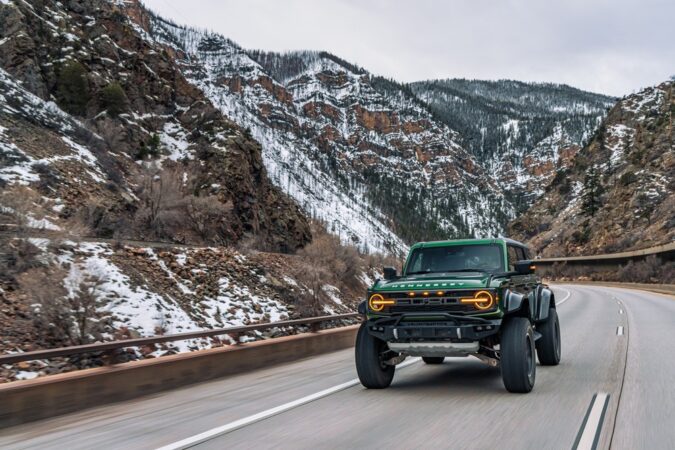 Pricing and Features
Priced from £22,000 (excluding the base Ford Bronco Raptor), the VelociRaptor 500 package includes an enhanced air induction system, a high-capacity intercooler with a blow-off valve, and an upgraded engine management system.
The exterior receives custom VelociRaptor bumpers, LED off-road lights, unique Hennessey 10-spoke alloy wheels, and VelociRaptor 500 Bronco badging. Inside, you'll find Hennessey-embroidered head restraints, all-weather floor mats, and a unique build number plaque.
Confidence Backed by Warranty
Hennessey backs each VelociRaptor 500 Bronco Raptor with a comprehensive 3-year / 36,000-mile warranty. Available for international shipping, this beast can be purchased through authorised Ford retailers or directly from Hennessey.
In conclusion, the Hennessey VelociRaptor 500 Bronco Raptor offers a perfect blend of power, style, and off-road capabilities, making it an exceptional choice for off-road enthusiasts seeking a thrilling and reliable ride.