While no one could ever claim that Hennessey's awe-inspiring Venom F5 is 'slow', it was never designed for track days or racing. If anything, just like other super- and hyper-car these days, it's built as a testament to human ingenuity… Ultimate speed, with no compromises. But, that would be a waste of a good platform, no? Well, Hennessey is off to solve that conundrum.
What they came up with in return is a track-focused, lap-record-munching Venom F5, which it calls, the Revolution. While it's based on the regular Venom F5, there have been many minute changes underneath. Its 'Fury' V8 powertrain has since been tweaked for competitive use, yet the twin-turbos and 6.6-litres are kicking out 1,817hp. Although, that's probably the easiest part.
Ready To Hit (And Destroy) A Track Near You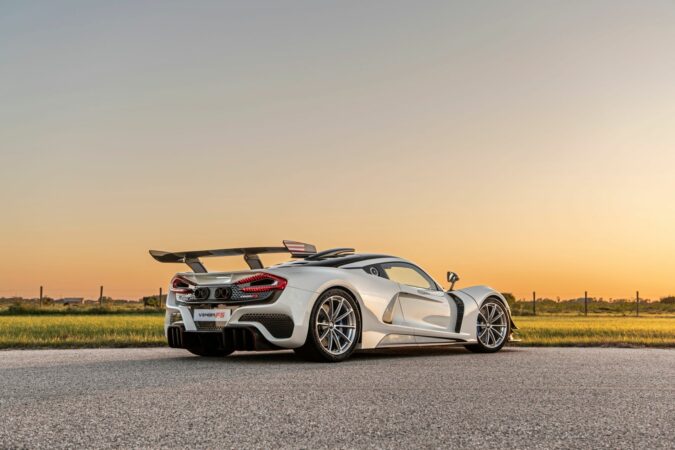 The team over at Hennessey have been busy removing excess fat from the Venom F5. With its new Revolution track toy, it weighs a relatively lithe 3,000 lbs. Still, you won't likely notice any of it, thanks to the heap of aero bits that they've smothered on top. Most notably, the big carbon rear wing. Altogether, the Revolution makes over 1,400lbs of downforce at a mighty 249mph.
Then, there's everything else… Carbon ceramic brakes, roof-mounted air intake, built-in track telemetry, as well as a revised suspension setup. The latter could be adjusted. So, if you feel it being a bit too tough on your back, you can re-tune it to be more manageable on the public road. Of course, this Revolution ain't cheap, with just 24 units to be built, costing $ 2.7 million each.