Many have come to wonder as to why SUVs and crossovers have become so popular these days. It's a valid question… Why is everyone lining up in droves just to get their hands on a big, bloated, and arguably less efficient vehicle than say, a station wagon? Besides the obvious bonuses like roomier interiors and better passenger safety, folks are also looking for the highest ground clearance SUV.
A tall ride is something no other vehicle, barring the SUVs, crossovers, pickup trucks, and off-roaders of the world can offer. But why bother with high ground clearance SUVs, anyway? Besides, most will only drive their 4x4s out on the street. Aha, well it turns out that urban jungles are just as obstacle-prone as an actual forest. Merely substitute all those boulders and rocks for a speed bump or two.
That's not to mention curbs, drains, pavements, potholes, and whatnot. Moreover, you may be quite tempted by the prospect of some outdoor excursions. Think of a picnic or a scenic detour across the mountain trails. Its do-it-all nature is one of the most quintessential reasons why everyone and their moms want an SUV. In particular, the highest ground clearance SUV on the market today.
Ground Clearance
But as we discuss the highest ground clearance SUV, we stumble on a peculiar train of thought. As we're discussing how high a vehicle's frame and bodywork ride off the ground… How high is too high, or just about high enough? More specifically, how many inches is the ideal amount of ride height should you desire? Oddly, this is a much harder question to answer than it might seem.
For starters, what part of the world are you in right now? Some countries have ridiculously tall speed bumps, while others may have roads that aren't entirely perfect. Or, what region of America do you reside in? Are you a city-born folk living in large cities or suburban areas, or are you a dweller living in small towns on the fringes of modern civilization? Then, we have to ask about your use case.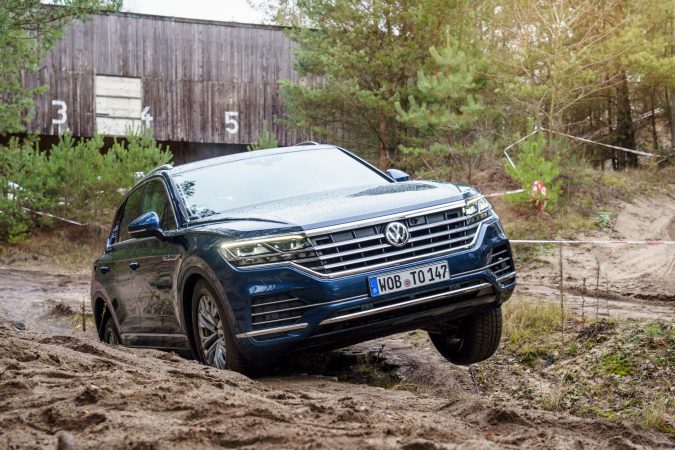 Do you frequently have the need to drive off the road? Or, are the urban obstacles around your local neighborhood rather tough to traverse? At the end of the day, there's no one-size-fits-all answer to how high of ground clearance is most ideal. It will all depend on key factors such as where do you live, the local geography, where do you intend to drive your SUV, or how you wish to drive said SUV.
Ask yourself these questions, and then decide whether or not the highest clearance SUVs are worth your time, or not. If you're mostly driving this SUV or crossover around town, with minimal off-road adventures, then a high ride isn't at all necessary. Otherwise, here are some general guidelines that you may follow:
Gravel paths or dirt tracks – 6.6 inches to 8.7 inches
Overlanding or general off-roading – 8.8 inches to 9.4 inches
Rock crawling or rocky terrain – 10.8 inches and above
SUV With Highest Ground Clearance
And while we're at it, why not get straight into the highest ground clearance SUVs, crossovers, and off-roaders worthy of your consideration? Since today's crop of high-riding models often blur the line between what is a crossover, SUV, or hardcore 4×4 off-roader, we'll combine them into a single list. In ascending order, the highest ground clearance SUV that you can find on the market are…
23. Hyundai Tucson & Kia Sportage – 6.4 Inches
We're clumping Hyundai's Tucson and Kia's Sportage together, as they are closely related, as part of the relationship between Hyundai and Kia. Nevertheless, these handsome compact SUVs have been redesigned for 2021, and include several goodies. The most notable ones are a decent ride height, as well as an all-wheel-drive if traction is needed, and mild- or plug-in hybrid variants made available.
22. Mazda CX-5 – Ground Clearance Of 7.5 Inches
Mazda's CX-5 is almost tall enough for some modest off-roading, but not much more. Although, it's optioned with an all-wheel-drive drivetrain if you so choose. It's a decently capable AWD system as well, with a dedicated off-road mode in its drive mode selector. Here, you can play around with the CX-5's traction assist to help you traverse through slightly muddy terrain, dirt paths, or loose gravel.
21. Ford Escape – Ground Clearance Of 7.8 Inches
Ford's Escape is its staple family SUV and wasn't at all primed to be an off-roader. However, some have given it the nickname of the "baby Bronco", suggesting that it's somewhat capable of light off-road use. To do that though, you should ideally pick the all-wheel-drive version, as well as the 6-cylinder version for that added grunt. A set of grippier all-terrain tires would also help quite nicely.
20. Honda CR-V – Ground Clearance Of 7.8 Inches
While it may have a decently tall ground clearance for a compact SUV, Honda's CR-V isn't made with off-road intentions in mind. Its turbocharged inline-4 is just about enough for regular use but isn't sufficient for even light off-roading. In addition, its all-wheel-drive drivetrain does have a real-time traction assist tech in place but is nonetheless only suitable for the urban jungle, or a bit of grass.
19. Volkswagen Tiguan – Ground Clearance Of 7.9 Inches
Although it may not seem like it at first glance, Volkswagen's Tiguan is surprisingly good at off-roading. So much so, that Volkswagen sells the Tiguan with a dedicated Off-Road pack straight from the dealer. It includes tougher skid plates and underbody protection, as well as a rugged blacked-out trim. 4WD comes standard, as well as a trailer assist, and an impressive 24-degree ramp angle.
18. Nissan Rogue – Ground Clearance Of 8.2 Inches
Nissan's Rogue is meant to be an everyday crossover, not a 4×4. With that being said, it performs okay enough off the beaten path. The AWD system uses a very clever electro-hydraulically controlled clutch to detect wheel slippage. Off the road, it works fine until you come across some tough terrain like steep hills, rocky surfaces, or large indentations. Still, it's good to have for those wintery months.

17. Toyota RAV4 – Ground Clearance Of 8.4 Inches
Unlike our previous contenders, Toyota's RAV4 is more than capable of tackling off-road excursions with ease. That's especially so if you get the TRD Off-Road package, which makes an even stronger 4x4er. It brings with it special trail-grade tires and retuned suspension all-around, which not only work wonders on a rough washboard-gravel road but also dampen urban tarmac beautifully.
16. Subaru Forester – Ground Clearance Of 8.7 Inches (Up To 9.2 Inches)
The regular variant might seem rather mild, but Subaru's Forester can be specified with a Wilderness pack. While still not a hardcore go-anywhere 4×4, its Wilderness-spec has a few vital upgrades. The most prominent is the beefier suspension which can raise the ground clearance even further to 9.2 inches. On top of that, you then get meaty all-terrain tires, a retuned gearbox, and all-wheel-drive.
15. Jeep Cherokee – Ground Clearance Of 8.7 Inches (Up To 10.8 Inches)
As with any of its stablemates, the Jeep Cherokee is an excellent off-roader even in its standard spec. Should you want something more though, they're happy to offer you the Trailhawk package. Among others, you'll be gifted an updated suspension, raising the ride height to a mighty 10.8 inches. You're also getting off-road tires, a reprogrammed traction assist system, and there's also a potent V6.
14. Toyota Land Cruiser – Ground Clearance Of 8.9 Inches
Naturally, Toyota's Land Cruiser had to make it onto this list. While more of a large-sized luxury SUV than a brawny 4×4, it's an incredibly proficient off-roader. If the UN thinks it's good to carry its staff and humanitarian goods across the most treacherous regions of the world, then it surely must be a good candidate for casual off-roading. This is partly thanks to its locking diffs and full-time 4WD.
13. Infiniti QX80 & Nissan Armada – 9.2 Inches
The Nissan Armada, and its sibling, the Infiniti QX80, are great off-roaders in their own right. They're sold primarily to more upscale clientele but keep themselves shockingly poised when the going gets a bit tough. You could option extra gadgets like a two-speed transfer case, as well as a 'hydraulic body motion control' system that keeps wheel articulation in check, and a locking rear differential.
12. Mercedes-Benz G-Class – Ground Clearance Of 9.5 Inches
Did you know, that the original Mercedes G-Class was built as a military truck? Fittingly, the newer G-Classes are exceptional off-roaders. Its boxy silhouette performs better once you consider the Trail package. It nets you adaptive suspension fine-tuned for off-roading and all-terrain tires. You're also getting a two-speed transfer case, a low-range gearbox, three lock differentials, and a monstrous V8.
11. Lincoln Navigator – Ground Clearance Of 9.6 Inches
It may seem unexpected out of a first-class luxury SUV, but the Lincoln Navigator does indeed work shockingly neat as an off-roader. As standard, you get all-wheel-drive. However, you can have the Navigator easily converted into a brutish over-lander. The suspension can be lifted quite readily, as well as fitting in off-road-spec tires. Go one step further, and maybe consider rally lights, as well.
10. Audi Q7 – Ground Clearance Of 9.6 Inches
The largest of its family, Audi's Q7 is a competent do-everything sort of car. You may gush at things like the adaptive chassis or four-wheel steering. But what truly entices the inner off-roader in you is the standard Quattro all-wheel-drive system. While not as all-conquering as the original Quattro rally car, the Q7 should handily manage a little bit of off-roading, especially with its air suspension.
9. Ford Expedition – Ground Clearance Of 9.8 Inches (Up To 10.6 Inches)
The Ford Expedition is the poster child of uber-large SUVs, with a long-wheelbase version capable of ferrying around 7 people. Nevertheless, Ford also offers the Timberline spec, which brings off-road trinkets such as a higher 10.6-inch ride height and gigantic 33-inch all-terrain tires. In addition, this includes a two-speed transfer case, reinforced underbody protection, and improved traction assist.
8. Toyota 4Runner – Ground Clearance Of 9.8 Inches
Unlike most other cushy SUVs, Toyota's 4Runner is a bona fide off-roader straight from the factory. It has a robust body-on-frame construction, solid rear axles, hardy suspension, and one of the best 4WD systems on the market. The standard V6 engine is also rather potent, aided by the locking differentials, and impressive front and rear departure angles, and could tow plenty of haulage, too.
7. Toyota Sequoia – Ground Clearance Of 9.9 Inches
You may see it as this lumbering, gargantuan 7-seater SUV, but the Toyota Sequoia is a fantastic off-roader, too. Its TRD Pro trim, in particular, is fitted with specialty suspension and hardened shocks to keep this body-on-frame 4×4 leveled over difficult terrain. There's a big V8 in the front, powering its AWD system that's also paired with a center differential lock and a two-speed transfer case.
6. Range Rover Velar – Ground Clearance Of 9.9 Inches
The baby Land Rover, the Range Rover Velar, might appear as a lux VIP mobile. Nonetheless, as with every Land Rover, it has off-road blood in its roots. You get all-wheel-drive by default, including a set of air suspension all-around as an option. The key to its supremacy on challenging surfaces is Land Rover's Terrain Response kit, which balances throttle, gearing, and suspension to match the terrain.
5. Volvo XC90 – Ground Clearance Of 10.5 Inches
Taking a break from all the off-roaders, we head back into the realm of sports utility vehicles with Volvo's XC90. Sure, it can handle a bit of off-tarmac driving, but it's not designed with that in mind. Where the XC90 is most comfortable at is day-to-day commuting, with the optional air suspension ironing out every imperfection seamlessly. On top of that, it's quite a speedy machine, too.
4. Jeep Wrangler – Ground Clearance Of 10.8 Inches
Unsurprisingly, Jeep's Wrangler makes it into this list, and it'll forever be one of the best off-roaders ever made. The basic Wrangler itself has a high-riding suspension, standard-fit trail tires, as well as a revised traction assist system to better suit the toughest terrain possible. Should this be insufficient for you, then remember that you have the option of tuning your Wrangler six ways to Sunday.
3. Land Rover Discovery – Ground Clearance Of 11.1 Inches
You can't not talk about high-riding SUVs without at least some mention of a Land Rover. Just like a Jeep, it was born for off-roading. The Land Rover Discovery is one exemplary inspiration, with 4WD that comes as standard, including a clever traction assist and hill descent control. Furthermore, it's got wade depth-sensing tech, off-road-ready air suspension, and an excellent transmission.
2. Ford Bronco – Ground Clearance Of 11.6 Inches
A newer entrant, but nonetheless built from the ground up to be a Wrangler-beating off-roader, we have the Ford Bronco. Already, many see it as the best 4x4er of our time, and it's not just the ground clearance that matters. It has a performant powertrain, which can be specified with off-road nice-to-haves like all-terrain tires, locking front and rear diffs, short overhangs, and a whole lot more.
1. Range Rover – Ground Clearance Of 11.7 Inches
The pinnacle of luxury 4x4s is reserved only for one vehicle, the Range Rover. As opulent as it is, the Range Rover has long been one of the best off-roaders on the market. It comes with air suspension as standard, with a terrain management system that can handle rock crawls as well as steep hills. A few other neat tricks are its low- and high-range gearing, and an abundance of other 4×4 goodness.
How To Increase Ground Clearance Of Car
But… You might say, I don't have the money to invest in one of those new highest ground clearance SUVs, crossovers, or off-roaders. Well, worry not! There have been many tried-and-tested methods of jacking up the ground clearance of your existing SUV. You could even practice doing this on a car if you're feeling rather bold. Granted, it'll still require an upfront investment to install these mods.
With a few quick mods, you too can have your very own highest ground clearance SUV. The primary goal here is to raise the ride height of your vehicle. This, in other words, entails lifting up the frame and bodywork of the SUV in question far above the ground. Remember, ground clearance – in inches or otherwise – is measured as the length between the surface below, and the bottom of your car.
Jacking up your SUV is a popular trick among off-road enthusiasts, or by those who regularly need to travel across difficult landscapes. In general, some of the tactics used while raising the ride height of your SUV predominantly include suspension and tires. Tires are the easiest option, as they're a relatively cheap mod to complete. Suspension modifications, meanwhile, are quite expensive.
Whether you're planning an off-road adventure with your buddies, or are struggling with the steep inclines of your driveway, here are 3 simple mods that you can do to raise the ground clearance on your vehicle…
1. Suspension Lift Kit
This is by far the most expensive modification that you can decide upon. Nevertheless, it's also the most comprehensive, which raises the whole bodywork higher off the ground. Most lift kits should be able to increase the ride height by another 2 or 3 inches. However, more specialized conversions could certainly jack it up even more. There are also other important benefits on top of this.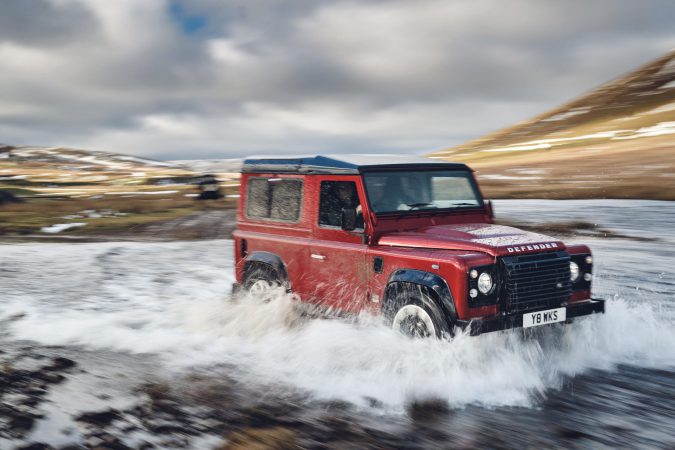 For example, a lift kit means you have more space to fit bigger tires. That should gain you another inch or two in the overall ground clearance. That's without considering other suspension-related mods, to up the ride even higher up. The cost will vary significantly. Simpler options can cost as little as $100 to $500. However, a detailed lift job can set you back anywhere from $1,000 to $5,000.
2. Coil Spring Spacers
A quick way to heighten the ground clearance a tiny bit more is by installing coil spring spacers. Or, as they're sometimes referred to, coil spring assisters. Essentially, they're a rubber piece that you'd slide between the coils within the suspension. By intent, its primary job is to reduce the expansion and contraction of the coils. In other words, your suspension won't bounce as much anymore.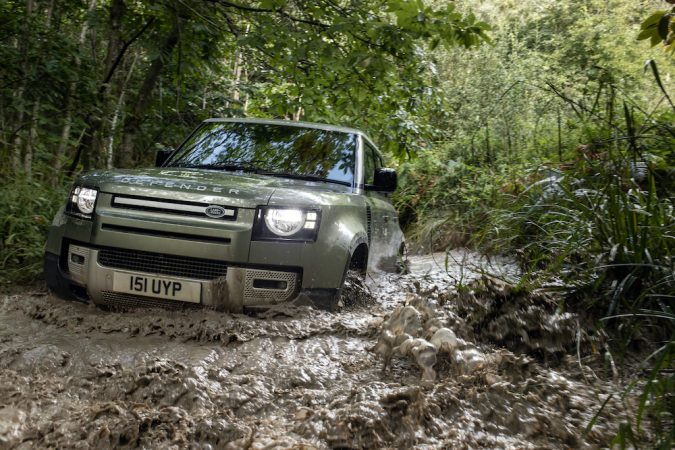 There are trade-offs, such as ride quality and comfort. On the flip side, coil spring spacers can lift the ground clearance by 10mm to 15mm (at most, around 0.5 inches). Not a lot, but it's one way to try and maximize ride height as much as you can. At the very least, it's a relatively cheap modification. You can easily find a whole set of coil spring spacers for just around, or mostly under, $100.
3. Bigger Tires
No doubt the most popular technique practiced by many to up the ground clearance on their SUVs is through purchasing larger tires. It's a simple tactic to ponder about if you're already needing a new set of tires, anyway. Simply pop in some meaty off-road or all-terrain tires, and that should be able to add another 1 or 2 inches to the ride height. Some tires, for example, might even give back more.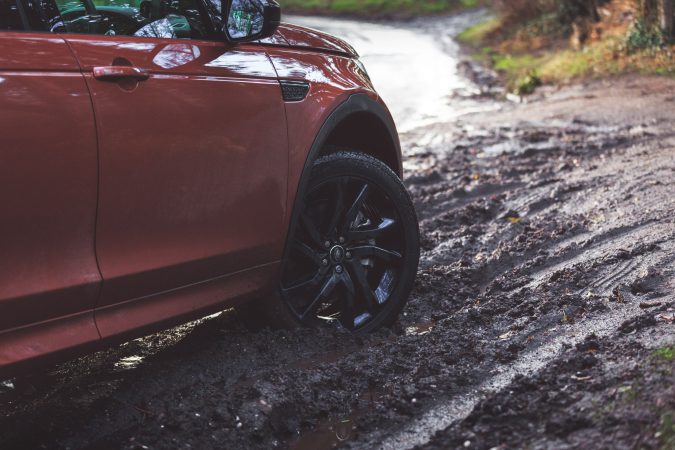 Although, you should err on the side of caution when picking out new tires, making sure they fit the vehicle properly. Tires that are too big will rub against the wheel well (or arches). Moreover, larger tires may also play foul with the handling, as your vehicle may longer maneuver as well as it did, and now has a compromised turning radius. Thus, we'd suggest being conservative on this part.
Pros & Cons Of Higher Ride Heights
Ground clearance refers to the height between a vehicle's lowest point and the ground. For SUVs, this factor often plays a critical role. Typically, SUVs designed for rugged terrain or off-road adventures sport higher ground clearances. Why? It enables them to navigate over rocks, roots, and uneven terrains without damaging the undercarriage. However, like all features, high ground clearance has its share of pros and cons.
Advantages of High Ride Height
Off-Road Capabilities: SUVs with high ground clearances shine on unpaved roads. Their elevated stature means they can tackle obstacles, such as large rocks or deep water, without hassle.
Better Visibility: Sitting higher means you get a better vantage point. Drivers can see further down the road, making it easier to anticipate and react to any potential issues.
Ease of Entry and Exit: For some, climbing into or out of a vehicle becomes much easier due to the elevated seat position.
Disadvantages of High Ride Height
Reduced Stability: As the ride height increases, so does the center of gravity. This shift can make SUVs more prone to rolling over, especially during sharp turns.
Fuel Efficiency: Generally, a higher SUV tends to have more wind resistance, which can decrease fuel efficiency. Over time, those extra costs add up.
Parking Troubles: Taller SUVs might face challenges in garages with low ceilings or height restrictions.
Factors to Consider When Choosing High Ride Height SUVs
Before diving into a purchase, consider the following:
Purpose: If off-roading isn't in your plans, perhaps you don't need the highest clearance. Remember, city driving has its own demands.
Safety Features: Given the slight risk increase of rollovers, ensure your SUV boasts top-notch safety features, like electronic stability control.
Driving Comfort: Test drive to see how you like the elevated view and handling of a higher SUV.
Maintenance and Care of High Ride Height SUVs
Even rugged SUVs need TLC. Here are some care tips:
Regular Undercarriage Checks: Higher clearance means more exposure. Regularly inspect for any damage, especially after off-road trips.
Tire Maintenance: Given the added strain, ensure tires remain in top shape, checking for wear and ensuring proper inflation.
Suspension System: The suspension plays a pivotal role in these vehicles. Stay on top of any signs of wear.
In the end, choosing an SUV with high ground clearance should align with your driving needs and lifestyle. While they excel in rough terrains, urban drivers might find the disadvantages outweigh the benefits. Nevertheless, armed with knowledge, you can make an informed choice tailored to your unique requirements. Happy driving!
SUVs with the Highest Ground Clearance – Facts
Jeep Renegade Trailhawk, a subcompact crossover, offers 8.7 inches of clearance, making it higher than the Mitsubishi Outlander Sport.
Subaru Forester Wilderness, a compact crossover, offers 9.2 inches of clearance, which is higher than the Toyota RAV4 TRD and Jeep Cherokee Trailhawk.
Jeep Grand Cherokee Trailhawk, a midsize crossover SUV, offers 11.3 inches of clearance, which is greater than the Toyota 4Runner TRD Pro.
Jeep Grand Cherokee L Summit Reserve, a full-size SUV, offers 10.9 inches of clearance, which is more than the GMC Yukon AT4.
Ford Bronco Wildtrak 2-Door, an off-road SUV, offers 11.6 inches of ground clearance, making it higher than the Jeep Wrangler Rubicon.
Volvo XC40, a luxury subcompact crossover, provides 8.3 inches of clearance, which is higher than the BMW X1 and X2.
Infiniti QX50, a luxury compact crossover, provides 8.6 inches of clearance, which is higher than the Range Rover Evoque and Volvo XC60.
Land Rover Discovery S P300, a luxury midsize crossover SUV, provides 11.1 inches of clearance, making it higher than the Range Rover Sport.
Rivian R1S, a luxury full-size SUV, provides 14.9 inches of clearance, which is greater than the largest Range Rover's clearance of 11.6 inches.
Final Thoughts
And there you have it, a quick list of the highest ground clearance SUV, crossovers, and off-roaders that you can find on the market today. There are countless reasons why a tall-riding vehicle could be the perfect choice for you. Maybe you're an avid off-road enthusiast, live out deep in the jungle, or are privy to a spot of picnicking. You'll want a vehicle that can ride and glide where no others could.
Perhaps the idea of over-landing never even crossed your mind. Instead, you just want something that could traverse across more commonplace obstacles. Be it speedbumps, pavements, curbs, big potholes, or a grassy knoll. Regardless, a high ground clearance SUV is always welcomed in these scenarios, where low-riding hatchbacks, wagons, sedans, or even vans can't drive through.
Signing off, here's a quick TL;DR list for the top picks of the crop in our aforementioned list on some of the highest ground clearance SUVs…
Compact Crossover SUV – Subaru Forester (Honourable Mention: Toyota RAV4)
Midsize SUV – Land Rover Discovery (Honourable Mention: Jeep Cherokee)
Full-Size Three-Row SUV – Toyota Sequoia (Honourable Mention: Ford Expedition)
Body-On-Frame 4x4s – Ford Bronco (Honourable Mention: Jeep Wrangler)
Luxury SUV – Range Rover (Honourable Mention: Volvo XC90)