When talking about family sedans, it is hard to find one more reliable than the legendary Honda Accord. For decades, this Honda has set the benchmark in affordable family transport. If you own one of these vehicles or are planning to purchase one, it might interest you to know the various reliability issues associated with it. Today, we'll be taking a look at one of them, which is the Honda Accord wrench light.
Dashboard warning lights are one of the most common ways used by a car to inform reliability issues to the driver. This ranges from a variety of symbols, letters as well as numbers. This is why it is important for every vehicle owner to have a clear understanding of them.
After doing through this article, you will know exactly what to do the next time a wrench light appears on your Honda Accord. So, without further ado, let's get started, shall we?
Honda Accord
As a start to our discussion about the Honda Accord wrench light, let's first take a brief look at the model itself. To date, there have been ten generations of this vehicle. The signature Honda reliability has contributed to the longevity of the Accord.
Oh, and before you move on, do consider checking out our other resources on the Honda Accord. Previously, we've looked at the best model year for the Honda Accord, in addition to the Honda Accord model years to avoid.
We've also discussed some of the more common Honda Accord problems. That includes the Honda Accord transmission problems, as well as seeing the 'check fuel cap' error message on your Honda Accord.
1. First Generation
The Accord badge made its first appearance on a Honda in 1976. However, the development of this model began four years earlier in 1972. Originally, the Accord was released as a three-door hatchback. A 1.6-liter CVCC engine with 68 horsepower lay under the hood, launching the Accord to 60 MPH in an adequate 13.8 seconds.
This engine could be had with a choice of either a two-speed automatic or a five-speed manual transmission.
Immediately upon launch, the Accord was a hit among consumers. It had a comfortable interior, and advanced technological features for the time like scheduled service reminders.
Due to popular demand, a four-door version of the Accord made its first public appearance in 1979. In addition to two more doors, this model provided owners with some extra luggage space as well.
Furthermore, a more powerful 1.8-liter engine was introduced this year too. An upmarket SE trim level along with a three-speed automatic followed the year later.
2. Second Generation
1982 was the debut year of the second-generation Honda Accord. Compared to the model it replaced, this Accord was bigger, sportier, and more fuel efficient. Not only that, but this was also the first Accord to be built in the United States as well.
In fact, the production of the Honda Accord at the Marysville, Ohio plant continues to this day. For the second generation, Honda restyled the exterior of the Accord. In addition, power was bumped up to 86 horsepower through the use of the 1.8-liter, 12-valve Prelude engine.
An even more powerful 101-horsepower engine with fuel injection became available for the first time in 1985. This powerful Accord was given the distinction of Accord SEi.
3. Third Generation
Hidden headlights made their first and only appearance on the Accord with the introduction of the third generation in 1986. Adding to the sportiness of this generation, a two-door notchback coupe was also introduced in 1988.
Under the hood of the third-gen Accord sat a 2.0-liter engine. In carburated form, this engine produced 98 horsepower. However, when paired with fuel injection, this figure went up to 110 horsepower.
The handling of this version was far superior to the models that preceded it. Moreover, it held the distinction of being the first Japanese car to be built in the United States and exported back to Japan.
4. Fourth Generation
In its fourth generation, the Honda Accord officially received the title of being a midsize sedan. Sadly, the hatchback and the pop-up headlights were discontinued. In their place was a more powerful engine, and an improved suspension system.
For the first time in its history, the Honda Accord became the best-selling car in the United States in 1990. It did so by beating out other popular sedans including the Ford Taurus and its fellow countryman, the Toyota Camry.
The fourth-generation Accord was the first to introduce a wagon to the lineup. Another impressive addition was the sport mode, which allowed drivers with the 4-speed automatic transmission to change gears as they pleased.
5. Fifth Generation
The highlight feature of the fifth-gen Honda Accord was the addition of VTEC technology. The boxy design was gone, replaced by a more round look akin to its competitors.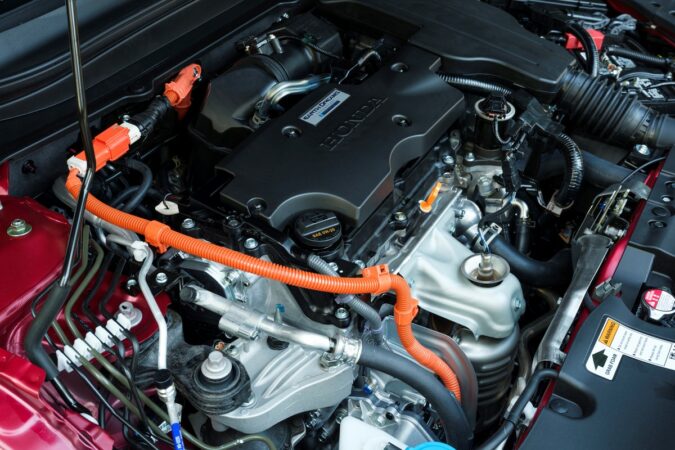 There were a few engine choices, including a 2.2-liter and a 2.7-liter V6 with 170 horsepower.
6. Sixth Generation
During the sixth generation, Honda did away with the Accord wagon. However, the sedan and coupe models remained on sale. The Accord coupe had a shorter wheelbase than its four-doored sibling, which improved its handling characteristics.
The same engines of the previous generation remained, but the power of the V6 was bumped up to 200. In 2001, the sixth-gen Accord received a facelift, only 3 years after its initial introduction.
7. Seventh Generation
In 2003, the seventh generation Accord was released in the United States. It had a roomy and comfortable interior, along with a number of powerful engine choices. This was also the first generation of the Accord to be launched with a hybrid powertrain too.
8. Eighth Generation
With a significant increase in its body dimensions, the Honda Accord became a full-sized car during its eighth generation. Here, the coupe had distinct styling to set it apart. The overall fuel economy of the model was improved compared to the previous generation as well.
9. Ninth Generation
Honda took a step back in size with the ninth-generation Accord, classifying the car once again as a midsize sedan. With this model, new technologies like electric power steering and all-strut suspension were introduced.
In addition, a new and powerful engine made its first appearance in an Accord as well. This 2.4-liter four-cylinder engine had direct injection technology, making it capable of producing 185 horsepower. There was a choice of several transmissions as well, including a six-speed manual, an automatic, or a CVT.
10. Tenth Generation
The most recent generation of the Honda Accord was released in 2018. Turbocharged four cylinders were now the only engine option, and the hybrid model remained in the lineup as well. In 2021, the tenth-generation Accord received a facelift, improving its looks to better compete with its rivals.
Now that you have a good understanding of the history of the Honda Accord, let us take a look at the different warning lights you may come across during your ownership of this sedan.
Exclamation Point In Car
The Honda Accord wrench light is not the only warning light associated with this family sedan. Another common symbol that has puzzled Accord owners for many years is the exclamation point symbol. Depending on the shape, the exclamation point can have one of two meanings.
Exclamation Point In Car #1 – Brake Problem
If the exclamation point is surrounded by a bright red circle, it indicates that your Accord is suffering from an issue associated with the braking system. This can either be a routing warning, or there might be an issue with one or more of the braking components.
Low brake fluid levels as well as worn brake pads (be mindful of how long do brake pads last and how long does brake pads last) are two possible causes of this issue. As the brakes are an essential safety system, we recommend you refrain from driving your vehicle with this light turned on.
If the brake fluid level is low, refill it to the correct mark and you are good to go. On the other hand, if the cause behind the issue is worn brake pads, have them replaced by a professional mechanic before going back out on the road.
Typically, the most common cause of low fluid levels is a brake fluid leak. If you're undergoing a brake fluid change or a brake fluid flush, make sure you're wary of how much brake fluid do I need.
Exclamation Point In Car #2 – Low Tire Pressure
In contrast, if the exclamation point is surrounded by a horseshoe shape, the tire pressure in one or more of your tires is low. This can happen naturally over time, due to cold weather, or because of a sharp object like a nail being stuck in a tire.
Needless to say, driving with a nail in your tire is a deadly idea. Low tire pressure has a significant negative impact on the handling characteristics of a vehicle.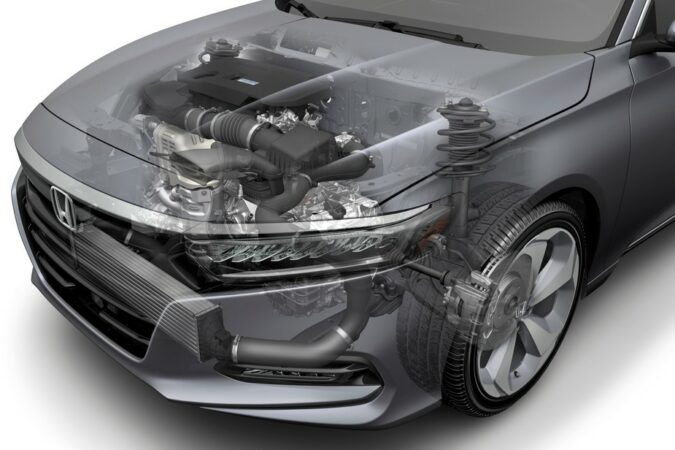 This danger only increases during adverse weather conditions. Rim damage and tire blowouts are all possibilities when it comes to low tire pressure. Hence, tire inflation every now and then is a great way to make sure that your tire pressure is optimal. Or else, you could invest in good tire pressure gauges, and check it every so often.
On top of that, low tire pressure can also affect the fuel economy of your Accord as well. If you are experiencing this warning light on your dashboard, have the tire pressures checked and fill under-inflated tires up to the manufacturer's recommended limit.
Honda Dashboard Lights Meaning
Every Honda Accord owner should have a good understanding of the different lights on the dashboard. Whenever your vehicle develops a fault, these lights are often the earliest indication. Knowing what they mean can often be the difference between having to spend thousands of dollars on repairs or saving all that money.
Mainly, there are two types of dashboard lights you might come across in the Honda Accord. The first type is called indicator lights, and they generally turn on when your vehicle requires some maintenance work.
However, indicator lights can turn on when certain vehicle features are being used as well. A few common Honda Accord indicator lights include,
Gear Position Indicator
Econ Mode On
Seat Belt Reminder
Low Fuel Indicator
System Message Indicator
Accord Indicator Lights #1 – Gear Position Indicator
As the name suggests, the great position indicator shows the gear your vehicle is currently in. Furthermore, this light indicates when the gears have switched to the next position as well.
Accord Indicator Lights #2 – ECON Mode On
If there is the symbol of a green leaf on the dashboard of your Honda Accord, your vehicle is now in ECON mode. This is otherwise Honda's version of Eco Mode in most other cars. As a result, it will perform efficiently and deliver the best possible fuel economy.
Accord Indicator Lights #3 – Seat Belt Reminder
No matter how short the journey is, you should always wear a seat belt. If someone inside the vehicle is not doing so, your Honda Accord will show the image of a person wearing a seat belt on the dashboard. Furthermore, this light will be accompanied by some beeping sounds to grab your attention.
Accord Indicator Lights #4 – Low Fuel Indicator
When the vehicle is running low on fuel, a yellow-colored symbol of a gas pump will appear on the dashboard. You should head to the nearest fuel pump as soon as this light appears, or else you run the risk of being stranded on the side of the road.
Accord Indicator Lights #5 – System Message Indicator
The Honda system message indicator takes the shape of a yellow "I" inside the shape of a circle. This indicates that there is a message about vehicle health to be seen on the multi-information display.
The other type of Honda Accord dashboard light is called warning lights. They are usually red in color, and warn drivers about some imminent threats that require their attention. Some warning lights you may spot during your ownership period are,
Check Engine Light
Brake System Warning
Low Oil Pressure
TPMS Warning
Charging System Warning
Honda Accord Wrench Light, Warning Lights #1 – Check Engine Light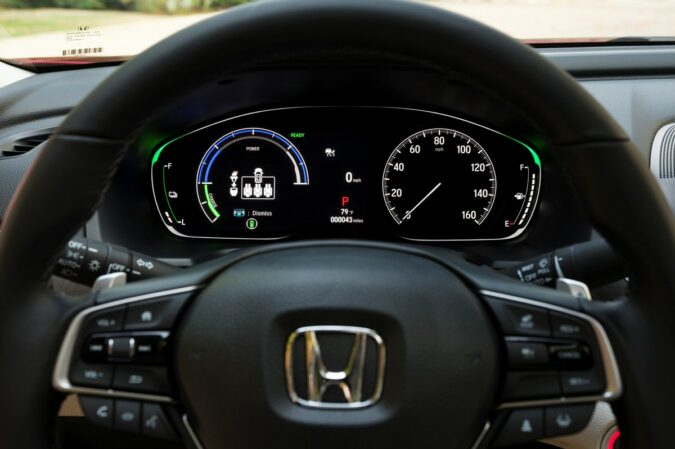 Also called the malfunction indicator, the check engine light turns on when there is an issue with the engine or its associated components. In the Accord, this light takes the form of an engine block.
Honda Accord Wrench Light, Warning Lights #2 – Brake System Warning
The word "BRAKE" in red shining on the dashboard indicates that your engine is running low on brake fluid. However, it can turn on due to other issues with the braking system too.
Honda Accord Wrench Light, Warning Lights #3 – Low Oil Pressure
When your Accord's engine is not producing enough oil pressure, the symbol of an oil can will appear on the dashboard. Low oil pressure can cause significant damage to your engine, so it is important that you get it sorted out as soon as possible.
As such, make sure you're cognizant of what is considered to be low oil pressure. Elsewhere, you might face issues such as low oil pressure at idle. This isn't just limited to the Honda Accord, as other cars might instead show the low oil pressure light or the 'oil pressure low stop engine' warning message.
Honda Accord Wrench Light, Warning Lights #4 – TPMS Warning
TPMS is an acronym for the Tire Pressure Monitoring System, which keeps an eye on the air pressure inside each of your tires. When there is an issue, a yellow exclamation point will be displayed on the dashboard.
Any services or repairs that you might have to undertake would typically revolve around the TPMS sensor. If you're curious about where to find them, head over to our detailed guide on where are the tire sensors located. Plus, we also looked into a tire pressure sensor fault (as well as our guide on how to reset TPMS), if that system's gone awry.
Honda Accord Wrench Light, Warning Lights #5 – Charging System Warning
A red battery symbol on your dashboard indicates an issue with the battery and charging systems. In this case, you'll face issues like stalling and have difficulties starting up the vehicle.
Wrench Light On Honda
With all that out of the way, let's focus our attention on the Honda Accord wrench light. The wrench light is a part of the Honda Maintenance Minder system, and it will come on when there is a problem with the vehicle's maintenance schedule.
If you spot that the Honda Accord wrench light has turned on, you should take the vehicle to your nearest Honda dealer as soon as possible. From time to time, the wrench light will turn on and remind you to service different parts of your vehicle. Some of the most common services reminders include,
Fluid Level Checks
Tire Rotation
Replacing Brake Pads
Oil Change
Speaking of, this Honda Maintenance Minder system might instead spew out specific service codes instead of a wrench light. For more insight, do check out our guide on the Honda Civic B12 service code, Honda Civic B13 service code, Honda B16 service code, Honda A12 service code, and Honda A13 service code.
Honda Accord Wrench Light #1 –  Fluid Level Checks
It is important to keep a close eye on the various fluid levels of your vehicle in order to ensure the longevity and reliability of your vehicle. A few essential fluids used by your vehicle are,
Brake Fluid
Engine Coolant
Transmission Fluid
Windshield Washer Fluid
When it comes to your Honda Accord, each of these fluids takes care of different tasks. The coolant takes care of engine heat dissipation, while the power steering fluid helps drivers to maneuver their vehicles more easily. Similarly, the brake and transmission fluids are essential for the correct operation of each of their respective systems.
The wrench light on your Honda Accord may turn on when the vehicle detects any of these fluids running low.
The way in which to check each of these fluid levels varies between each of them. For example, in order to check the coolant level of your Honda Accord, you'll have to either take a look at the coolant expansion tank or open the radiator cap and check inside.
On the other hand, there are dipsticks available to check both the transmission and power steering fluid levels (it's handy if you know how to check power steering fluid). We advise you to perform these fluid level checks regularly to save yourself from reliability problems down the line.
Honda Accord Wrench Light #2 – Tire Rotation
The Honda Accord wrench light may also turn on in case you have forgotten to perform a tire rotation recently. Your Accord monitors the tread wear on each tire, and when it detects that one has worn out more than the other, the wrench light will illuminate.
There are many benefits to performing tire rotations. It can increase your fuel economy, optimize traction as well as improve the handling of your vehicle. So, always remember to perform a tire rotation within the manufacturer-recommended mileage intervals.
If you're wondering how much might it cost you, do check out our guide on the average cost of a tire rotation. Otherwise, delaying it might see the outside of your front tires wearing. Alternatively, this is also what causes tire wear on the inside – also known as inner tire wear or inside tire wear.
Honda Accord Wrench Light #3 – Replacing Brake Pads
Over time, the brake pads of your Accord can wear out. This will reduce the braking performance of your vehicle, which is a potential safety hazard. The Honda Accord comes with sensors that monitor the condition of the brake pads. When these sensors detect excessive wear, the Honda Accord wrench light will illuminate.
If this happens, we recommend you take your Accord to a certified mechanic and get the brake pads replaced. This will prevent the occurrence of unexpected brake failures. So, make sure you're wary of the signs of worn brake pads and be attentive toward the thickness of your brake pad.
Your owner's manual can come in handy in these situations. Typically, most new-car owners are puzzled as to how often to change the brake pads, and how long should the brake pads last, as well as how long do brake pads last. If you'd like to save some money, you could even learn how to change the brake pads yourself!
Honda Accord Wrench Light #4 – Oil Change
The wrench light of your Honda Accord may also turn on as a reminder for you to perform an oil change. Ideally, the engine oil of a Honda Accord should be changed every 7500 to 10,000 miles to keep the engine running at its optimum. So, don't delay if you notice an oil change sign, prompting you to get it done ASAP.
Remember, it's a bad idea to test how many miles can you go over an oil change, and what happens if you don't change your motor oil. For those DIY-ers among you, it's not always necessary to get an oil change done at the dealership. If you're handy enough, it is cheaper to change your own oil, after all.
Failing to perform oil changes at the scheduled intervals can land you in some big trouble. Engine oil is essential for keeping the engine cool, and outdated oil may result in overheating. The lack of lubrication of old engine oil can wear out the internals of your engine, causing severe damages that can often take thousands of dollars to fix.
If you ignore oil changes for long enough, it can cause catastrophic engine failures as well. In this case, you would have no option but to go ahead with a complete engine replacement. Often, this will cost thousands of dollars, far exceeding how much does an oil change cost. Especially, a cheap oil change or the cheapest oil change near me.
So, if the wrench light on the dashboard of your Honda Accord has turned on, one of your first actions should be to perform an engine oil level inspection with the dipstick. So, figure out where should the oil be on the dipstick. And, make sure you're aware of whether you should check the oil when it's hot or cold.
You never know just when your vehicle may require an engine oil top-up!
Conclusion For Honda Accord Wrench Light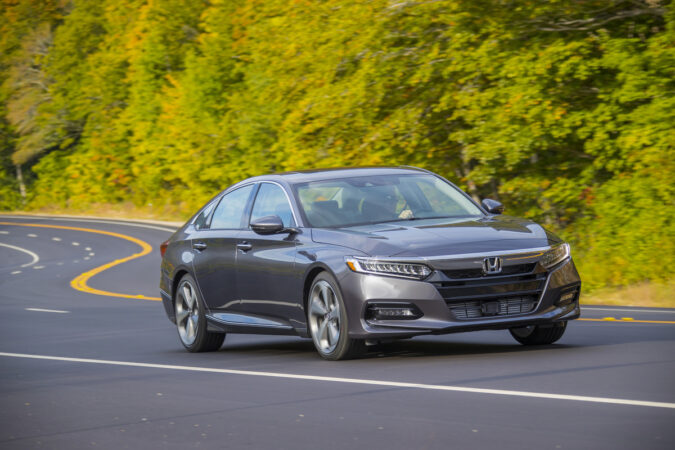 The Honda Accord wrench light can turn on due to one of several reasons. This light is mainly concerned with vehicle maintenance, so it will turn on you to remind you about oil changes, tire rotations, and fluid level checks among others. No matter the cause, you should always pay close attention to this light and be vigilant if it turns on.
FAQs On Honda Accord Wrench Light
What Does The Wrench Light Mean
On the Honda Accord, the wrench symbol acts as the Maintenance Minder indicator. This light will illuminate when your Honda is due for maintenance.
How To Reset Oil Life On Honda Accord
To reset the oil life on the Honda Accord, first press and hold the Enter button on your steering wheel until the Maintenance Reset menu appears. Then, scroll down to the Oil Life option, and press and hold the Enter button once again. This will reset the oil life of your Honda Accord.
What Does Dashboard Lights Mean
In essence, dashboard lights are one of the main ways in which a vehicle communicates with the driver. Mainly, there are two types of dashboard lights named warning lights and indicator lights.
What Does TPMS Mean On A 2008 Honda Pilot
TPMS is an acronym for the Tire Pressure Monitoring System. You can find this feature on almost all modern Hondas, and it alerts the driver when the air pressure inside a tire gets dangerously below the recommended value.
What Does CRV Mean In Honda
The Honda CRV is one of the best-selling family SUVs on the road today. The letters CRV stands for Comfortable Runabout Vehicle. However, there are some gearheads who believe it stands for Compact Recreation Vehicle as well.