Are you on the market for a Honda Super Cub? If that is the case, then you came to the right place because we are going to cover everything when it comes to this motorcycle. As well as the Honda Super Cub top speed. Because speed is one of the most important things when getting yourself a new motorcycle.
This small motorcycle is desired by a lot of people and is still one of the top options out there when it comes to Honda motorcycles. The timeless design has conquered a lot of young hearts during these long years of production and is still one of the best out there for people who want to enjoy that retro vibe.
This model is a true icon of the 20th century and the production run tells quite a lot about it. People simply cannot see enough of this motorcycle because it is so practical and very good-looking. Whenever there is a Super Cub, there is a crowd of people who want to take a picture of this motorcycle. And knowing this, you can be sure that you are going to meet a lot of friends while owning this motorcycle. And we are going to help you out with that.
In this article, we are going to learn everything when it comes to the Honda Super Cub. We will start from the history of this model and then we will cover the specs as well as the Honda Super Cub top speed. Then we will also the alternatives that you have there on the market when it comes to getting yourself a similar model. So, let's get started.
What is The Honda Super Cub?
The Honda Super Cub is an underbone motorcycle manufactured by Honda, that implements a four-stroke engine design with a single-piston from 50cc up to 124cc. But what is the Honda Super Cub top speed? More on that later, let's first answer the question of what is the underbone design?
The underbone motorcycle design is a quite popular motorcycle design in Asia and as well in Europe and other countries of the world since these motorcycles are easily imported almost everywhere.
But the word underbone can be misunderstood outside Asia because people think that underbone is any type of lightweight motorcycle and that in practice isn't true. Because the underbone motorcycle has special characteristics that make this motorcycle an underbone. So, which are these characteristics?
The underbone implements structural tube framing as the core of the motorcycle and then this core is covered by plastic. That's how the name underbone comes from. The plastic is there to improve the visuals of the scooter and also protect the internals from the elements and make sure that no water or other contaminants enter the engine.
In these motorcycles, the fuel tank is most often placed under the driver seat and this makes them quite easy to ride. All the other characteristics are pretty much the same. Namely the engine layout, the exhaust mounting, and other bits and pieces.
The engines that go on these motorcycles are somewhere between 50cc to 125cc. All of them are air-cooled in order to accommodate the cheap manufacturing price.
And the Honda Super Cub is one of these bikes. In the following chapter, we are going to cover the history of this model before we go into the specs and the Honda Super Cub top speed.
Honda Super Cub History
The Honda Super Cub was one of the first motorcycles with this idea of underbone design that as we said implements a steel tube design that is covered by a plastic shell. And also one of the most popular motorcycles when it comes to this design as well. With more than 100 million sold worldwide.
The first Honda Super Cub originated in 1958 when Honda firstly introduced this model to the market. This model was something special that haven't been seen before since it moved from the classic motorcycle design and implemented something quite different.
This underbone design made the motorcycles quite cheaper and more affordable for the average Joe that didn't have a lot of cash to splash on a new motorcycle. Making the Super Cub the perfect buy in Asian countries where it's much cheaper to run a motorcycle than getting a car. And the Honda Super Cub delivered quite a lot of performance for the money.
The first motorcycles started rolling out from the production line in 1958 which makes the Honda Super Cub design more than 60 years old and that is one of the longest production runs in history. Much like the Willy's Jeep or the VW Beetle.
The Honda Super Cub is assembled in more than 15 countries worldwide. And also there are a ton of copycats that are using this design for their motorcycles as well. This is because the design is timeless and this design made a great impact on the motorcycle culture in general. This made the Super Cub a true icon.
People just love it because it is so different and unique from anything else that is driving on American soil. And trust me, with this motorcycle, you are going to make a few friends.
Honda Super Cup Specs
We have covered a lot about history and legacy. Also, the design and the type of motorcycle the Honda Super Cub is. Now it is time to learn something more about the specs of this motorcycle. Because as we know specs are one of the most important bit when buying a motorcycle.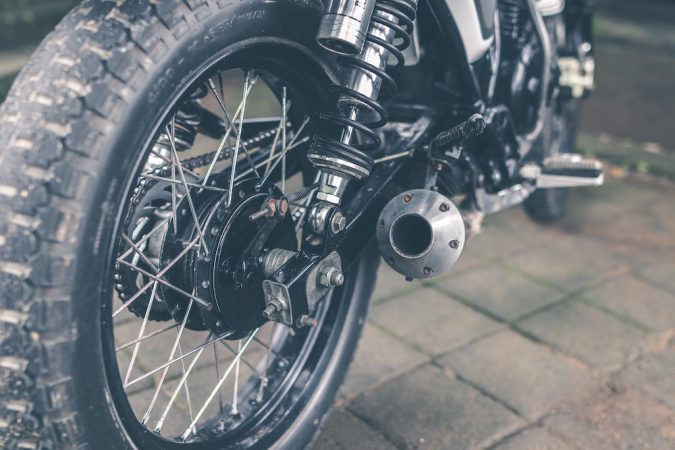 Without knowing the specs, you basically are buying blindfolded. And you can often get a product that under-delivers even though you paid quite a lot for it. In this chapter, we are going to cover precisely that and in the following chapter, we are going to learn the Honda Super Cub top speed. So, let's discuss.
Dimensions
We will start from the dimensions and then move on to more important bits like the performance of this motorcycle.
The offset of the rake on this motorcycle is about 26.5 degrees the trail is 2.8 inches. It has a wheelbase of 48.9 inches which makes it quite compact.
The seating position is not that high with only 30.7 inches. The fuel capacity is one gallon and the fuel tank is located right below the driver's seat.
The overall weight of the motorcycle is 240 pounds. It should be noted that this weight is with all the fluids that this motorcycle needs to run. And considering this, it is not that heavy after all.
Engine And Drivetrain
The Honda Super Cub implements a peppy 124.9cc single-cylinder four-stroke engine that is air-cooled. This engine has a bore of 52.4mm and a stroke of 57.9mm and a compression ratio of 9.3:1.
This motorcycle implements a single overhead camshaft also known as SOHC which makes this engine extra fuel-efficient. It also implements two valves per cylinder that guarantee that you have less frequent visits to the gas station.
This engine also produces 9.7hp which is not a lot but for this motorcycle is plenty to make it quite fast. But what is the Honda Super Cub top speed? More on that later, now let's see the transmission that this motorcycle is using.
In terms of transmission, this engine implements a 4-speed semi-automatic transmission with an automatic centrifugal clutch.
Overall, the engine is not a powerhouse. But it is quite good considering that the motorcycle is quite lightweight. This makes the Honda Super Cub top speed quite high but more on that later where we will cover that topic in detail. Now let's cover the suspension and brakes that the Super Cub is using.
Suspension And Brakes
The front suspension is a 26mm telescopic fork that has 3.5 inches of travel. This means that the amortization of the Super Cub is quite good, to be honest.
On the rear, there are two shocks with 3.6 inches of travel that make the long rides on bumpy roads extra comfy and pleasant.
In terms of brakes, the Super Cub has a disc brake at the front 220mm in size which is hydraulically operated. It also has some safety equipment as well. Namely, ABS or anti-lock brakes that will make you stop with ease in emergency situations.
The tire dimensions at the front are 70/90/17 and at the rear are a bit thicker with 80/90/17. This means that the rear tire is 10mm thicker than the front. Yeah, but what about the Honda Super Cub top speed? Well, more on that a bit later in the article after we cover the prices.
Price
The base MSRP price for this motorcycle is $3,749. In addition to this price, there is also a destination charge of $200. And as we said, this is an MSRP so, dealer prices can vary and cost a bit more than the base price. Since there are also some other small charges that have to be paid.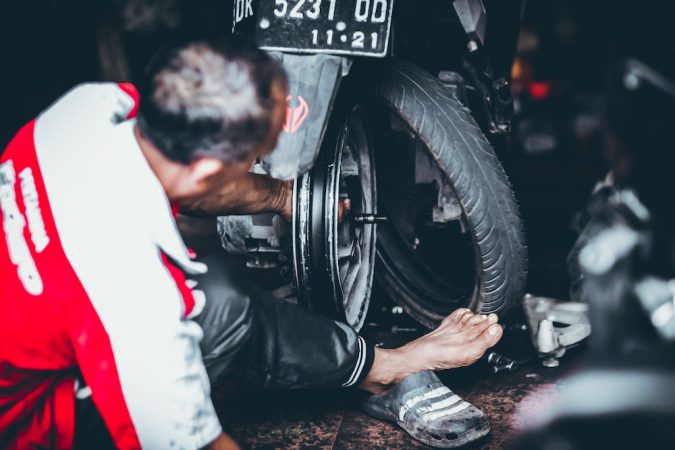 But overall, for a motorcycle like this, it's worth it in my opinion. Even though it is not the cheapest, it is still quite a good option to consider. Later in the article, we will also cover some of the other options that are there available for you.
Warranty
This model includes a one-year warranty by Honda if you purchase this motorcycle new from them. As they say, this warranty is an unlimited mileage but still a "limited" warranty in some way. There is also an option to extend the warranty if you go for one of their plans.
Overall, having a warranty is not a bad idea since you never know what could happen to your motorcycle and you could end up with a lemon. So, having this will make you sure that you don't get disappointed in the end.
For more information on the warranty, you should contact them and see what they say concerning this and what do they cover in terms of issues that could pop out.
Fuel Economy And Emissions
The fuel economy of this motorcycle is excellent. Getting astonishing 188.4 mpg. And personally, in my long career as a motor journalist, I haven't seen a vehicle that is so fuel-efficient and can deliver such a performance for this price. This motorcycle also meets all of the EPA standards in the US. But as Honda claims, the California model can be slightly different since in Cali there are stricter emission regulations.
So, if you want to get one of the most fuel-efficient motorcycles out there that is also quite quick, the Honda Super Cub is probably the way to go. And you won't make a mistake if you do so. But what is the Honda Super Cub top speed? The top speed of the Super Cub we are going to cover next.
Honda Super Cub Top Speed
So, we slowly came to the important bit and that is the Honda Super Cub top speed. And how fast is the Honda Super Cub?
The top speed of the Super Cub is 60 mph. Even though this model doesn't feel too comfortable at the top speed and it shakes a little bit, to be honest. That's why driving yours below 50 would be excellent if you don't want to feel discomfort and also drive yourself in danger.
Since the top speed in public areas is below 60 mph. Driving the motorcycle at top speed can also damage the internals and wear off the engine too quickly. So, driving it at a lower RPM would be the best idea. At least until the engine breaks in and all the components function properly.
There are faster motorcycles, of course. But there is something special with the Honda Super Cub that makes you want to get one for yourself. Personally, I would like to get one for myself. But how can I do that? In the following chapter, we are going to explain how this is done.
Can I Get One?
We have covered a lot of important stuff about the Honda Super Cub like the history and also the specs, as well the Honda Super Cub top speed. Now it's time to learn how you can buy one and from where.
In order to purchase one, you need to start looking online and learn more about the motorcycle dealers in your area. Learn which of them are working with Honda or even if Honda has an official dealership in your town would be even better.
Then you should pay them a visit and inform yourself about the prices and other important things like the warranty and what is covered under it.
Being properly informed is key if you want to get a good motorcycle that will serve you for a very long time into the future.
And if they have the motorcycle in their lot at the spec you want, you will be able to purchase it. Or if they don't have one they will order one from the factory. You might wait until the motorcycle comes to your local dealership.
But when waiting for a motorcycle like this is a time well spent. Because you know that you are going to get an excellent product for your money and you will get your new motorcycle for the new season right on time.
Alternatives To The Honda Super Cub Top Speed
We have covered the Honda Super Cub top speed and we learned quite a bit about this motorcycle. Now let's see what are the alternatives out there that you might want to consider when buying this or a similar type of motorcycle. This will be quite handy because on the market there is a ton of options that you can get and for a better price in some situations. So, which are they? Let's find out.
1. Vespa Primavera 150
Now let's cover another classic that is hugely popular on the market when it comes to scooters. And that is the classic Italian Vespa Primavera that debuted way back in 1967.
This is not the original Primavera. But a much better one. This new Primavera design is based on the original but quite improved in many aspects.
This Vespa is equipped with a punchy 155cc engine that has a top speed of 65 mph which is 5 mph more than the Super Cub from Honda.
This Vespa has also some other advantages over the Honda. Namely, double the warranty, bigger fuel tank. The fuel mileage is much below the Honda. The Vespa only manages to achieve 100 mpg and that is not bad at all.
There are also other features included like ABS brakes, LED headlight, and brake light. An ergonomic seat that will make your driving a lot more comfortable.
Overall, it is an improvement over the Honda. Not to mention the 4 different colors that you can choose from. There are also special editions that cost a whole fortune. But the MSRP for the base model is $5,349 plus the destination taxes that have to be paid. You can get yourself a Vespa for $5,900. But don't take my word for granted and check the prices at your local dealership.
2. Yamaha SMAX
On the market, there are also a ton of other cool scooters. And in this chapter, we are going to cover the Yamaha SMAX.
This is also another cool scooter that is available to purchase besides the Vespa Primavera 150 that we have covered earlier. But what makes the SMAX so special?
Since it is a Yamaha, this scooter is extra sporty and delivers quite a good punch. Even though it is only a 155cc engine it drives excellent.
As we mentioned, this motorcycle is equipped with a 155cc engine that is a liquid-cooled 4 stroke engine. It implements a SOHC head design with 4 valves. The compression ratio is rather high with 11.0:1.
It is also fuel injected with a digital TCI that controls the injection. The transmission on this scooter is an automatic CVT transmission that delivers extra smooth shifts every time. Overall, excellent scooter.
The fuel efficiency is also excellent with 81 MPG. It is slightly more than half of the Super cub. But sometimes you need to make some sacrifices. And fortunately, this is not a big one.
And the price is also rather good when compared to the Honda Super Cub. The MSRP price for this scooter is $3,799. It has a slightly higher destination charge of $375.
3. Honda PCX 150
Now let's cover another product by Honda that can be a good replacement for the Honda Super Cub Top Speed. And that is the Honda PCX 150.
This scooter is a much more modern design that implements a completely new approach and makes sure that you drive a 21-century design. The design language is excellent and this scooter looks like nothing else on the road.
What is common between the Super Cub and this scooter is the 150cc engine displacement. Which makes them have the same engine size. But the design of this new scooter is much more advanced and more modern. Making 13 horsepower compared to the 9.7 that the Super Cub makes. This also guarantees that this scooter exceeds the Honda Super Cub top speed by a slight margin.
In terms of features, there is LED lighting and an LED instrument panel in front of you and also a good amount of storage in order to store some groceries.
And it is also quite affordable considering the features that it offers. Costing $3,699 excluding the destination charge that can vary from model to model.
Facts about the Honda Super Cub:
The Honda Super Cub is a popular motorcycle and was once seen as a status symbol.
The Honda Super Cub 125 is a modern-day interpretation of the original 1958 model, but with a larger engine and four-speed gearbox.
The Honda Super Cub 125 is visually appealing and a keyless ride, with leg shields.
The Super Cub is renowned for its reliability and longevity, with Honda's fit and finish being of high quality.
The new Honda Super Cub has undergone some changes, including updates to the engine to meet Euro5 regulations, and improved comfort.
The Super Cub has a four-speed gearbox and a centrifugal clutch that almost turns it into a semi-automatic.
The new Super Cub is more powerful than the revamped Monkey model with the Super Cub making 9.6bhp and 7.67lb-ft of torque.
The Super Cub's engine is air-cooled, two-valve, and 125cc, and can trace its roots back to the 1950s.
The Super Cub offers excellent economy, returning 124mpg when ridden briskly.
The Honda Super Cub C125 is priced fairly affordably, making it more expensive than some of its competitors, but it offers more charm and at-the-bars pleasure.
Conclusion – Honda Super Cub Top Speed
In this article, we have covered a lot when it comes to the Honda Super Cub top speed. We have learned what is the Honda Super Cub history and the characteristics of these types of motorcycles which are also called underbone motorcycles.
Then we have covered the specifications of this motorcycle and the options it offers. We went through the dimensions, engines, suspension, and other important bits and pieces. The most important one is the fuel mileage that is more than 180 mpg which is insane.
Then we learned how you can get one for yourself and for what price. Then we listed three alternatives that you might want to consider in the same price ranking if you are not able to get your hands around a Honda Super Cub.