The title is one of the most important documents when purchasing a new vehicle. But were you aware of the fact that you have to pay a title transfer fee with every transaction? Furthermore, you should also be aware that this fee varies depending on the state you reside in too. So, how much for a title transfer in PA? If you are from the beautiful state of Pennsylvania, keep reading until the end to find out the answer.
Like any other state in the United States, the Keystone state has its own set of laws when it comes to owning an automobile. Here, we will be taking a look at some of the most significant ones, including the title transfer fee. We invite our readers from other states of the U.S. to also stay with us until the end. Who knows, maybe you'll find your future car from Pennsylvania!
What Is A Car Title
Before answering "how much for a title transfer in PA?", it is important for you to have a clear understanding of what a car title is. You see, in the United States, the title is the document that legally proves that you are the outright owner of a particular vehicle.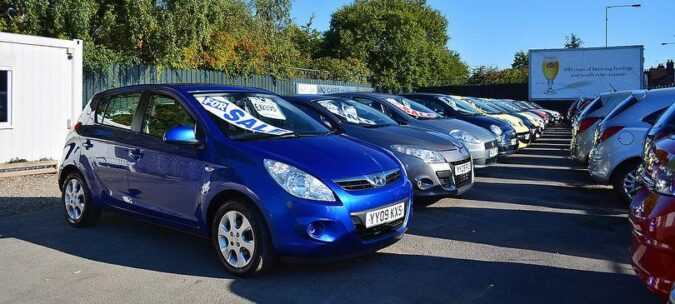 The car title is issued by the Department of Motor Vehicles (DMV) of the state where you purchase the car from. The title includes some key information related to the vehicle, including the,
Mileage When The Car Is Sold
Owner's Name
Information About The Buyer And Seller
Additionally, the title contains the lien holder's information if the vehicle you purchase has a lien against it. This ensures that the debt is settled before the vehicle is sold to a new buyer. This procedure remains the same for financed vehicles as well. When you finance a vehicle, the title will be mailed to you only after you finish the payments.
Contrary to popular belief, the title is not essential when you are getting insurance for the vehicle. As long as you have the required information like the VIN, as well as the necessary documents to prove that the vehicle is on a loan or a lease, you can get insurance.
As the vehicle ages, the title might be modified according to the vehicle's condition. Are you curious to know more about the different types of car titles? Well then, you're in luck!
Types Of Car Titles
Out on the market, you can find vehicles with a whole host of titles. The most widely used ones among them are,
Clean Title
Clear Title
Junk Title
Bonded Title
Rebuilt Title
Water Damage Title
Odometer Rollback Title
Reconstructed Title
Dismantled Title
Now, let's take a closer look at each of these titles. This will help you to understand the reasons why vehicles get these different titles. Not only that but it will also help you when the time comes to purchase your next daily driver as well.
1. Clean Title
If you are a gearhead, you would have probably heard the term "clean title" at least once. Every car starts off its life with a clean title. Typically if a vehicle has a clean title, you can be sure that the vehicle has not suffered from any significant damage during its life.
2. Clear Title
Many consider this to be the most desirable car title of them all. A clear title states that there is no outstanding debt against the vehicle. Furthermore, clear titles are the only ones that make a vehicle eligible for a car loan from most financial institutions.
3. Salvage Title
Vehicles that have had a significant value decrease due to theft or an accident are branded with a salvage title. If a vehicle loses over 75% of its original value, it will get a salvage title.
A vehicle with a salvage title is significantly less valuable than a similar one with a clean title. Additionally, most companies won't finance salvage-titled vehicles, so you'll have to purchase one completely on your own.
However, having a salvage title does not prevent it from being driven on the road. But, it will have to pass a safety inspection first. Insurance companies are the ones who typically issue salvage titles. On some occasions, these titles can be issued to cars with little to no damage too.
4. Junk Title
Some states consider junk titles to be the same as salvage titles. It is a common practice to sell very old or severely damaged vehicles to junk yards. There, these vehicles will get a junk title, and will either be sold as scrap metal or get disassembled to be sold as parts.
5. Bonded Title
There are some vehicles with missing or misplaced ownership documents. These vehicles get bonded titles, assuring current owners that they will get financial protection if any ownership claims arise in the future. In essence, bonded titles act as a form of security bonds. The validity of a bonded title is between three to five years.
6. Rebuilt Title
As you might have guessed from the name, rebuilt titles are issued by insurance companies to vehicles that have undergone a significant rebuild. Moreover, the body shop or the licensed vehicle rebuilder who took care of the rebuild process also has the authority to issue a rebuilt title to a vehicle. Once the vehicle passes a safety inspection, it can be legally used on public roads.
7. Water Damage Title
If you are buying a vehicle from an area prone to storms, floods, or hurricanes, you should keep an eye out for a water-damage title. Water damage can cause a whole host of issues in a vehicle, especially in the electrical system. So, if you are planning to purchase a vehicle with a water-damage title, we recommend getting it inspected before proceeding with the purchase.
8. Odometer Rollback Title
Rolling back the odometer is an illegal practice, yet this doesn't prevent some people from committing this crime for profit. When the odometer is rolled back, the vehicle indicates less mileage than what it actually has.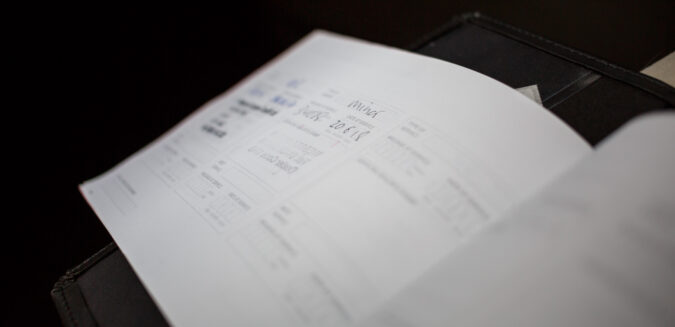 Skilled mechanics can determine whether the odometer has been rolled back or not, and issue the vehicle with an odometer rollback title.
9. Reconstructed Title
Reconstructed titles act in a similar way to rebuilt titles. These are for vehicles that have received significant transformations or have gone through significant repairs. Just like rebuilt titles, reconstructed titles are issued by either the insurance company or the place of repair.
10. Dismantled Title
Some accidents cause so much damage to the point where repairing the vehicles wouldn't make any financial sense. This is where a dismantled title comes in. In case the repair cost is higher than the value of the vehicle itself, it will be issued with one of these titles allowing the remaining valuable parts to be sold off.
Those were some of the most popular car titles you'll come across when shopping for a vehicle. No matter what title the car has, you'll have to transfer it in order to claim legal ownership.
Title Transfer
Oftentimes, transferring the title is one of the final steps in the process of changing the ownership of a vehicle. Both the seller and the buyer are involved in the process of transferring a car title. The seller has to release ownership of the vehicle, while the buyer should take the signed title of the local DMV office to register the vehicle in their name.
The state of Pennsylvania has a few title transfer requirements. They are,
Identification Proof
An Original Certificate Of Title
Moreover, the state will only accept a valid PA ID card, driver's license, or a valid U.S. Armed Forces Common Access Card as proof of identification.
Once you have all the necessary information at hand, you should proceed to fill out the title transfer form. When you are going through a title transfer in Pennsylvania, there are a number of factors you should keep an eye on. Let us go through them one by one.
How Much For A Title Transfer In PA, Factors #1 – Filling The Title Transfer Form
As we mentioned earlier, both the buyer and seller need to fill out the appropriate sections of the certificate of title document. This document acts as the DMV title transfer form in the state of Pennsylvania.
The document has several sections that should be filled out. The seller must fill in Section A, which is at the back of the title.
It should clearly indicate the vehicle's current mileage, and should only be signed in the presence of a notary.
On the other hand, Section D, which is on the front of the title should be completed by the buyer. The buyer is required to sign their name in the presence of a notary. Additionally, a lien release letter by the lien holder is required if the vehicle was under a loan that has now been paid off.
How Much For A Title Transfer In PA, Factors #2 – Transfer Fees
Here is the moment you all have been waiting for. The answer to "how much for a title transfer in PA?" is $53.  If you are the seller of the vehicle, you don't have to worry about this fee at all, as the buyer is the one who is responsible for paying it.
However, sellers will have to go incur the 6% sales tax enforced by the state of Pennsylvania, as well as notary fees. One of the best ways sellers can save money while a vehicle is being transferred is by dropping some insurance coverage (to learn more, check out our guide on is catalytic converter theft covered by insurance). As you aren't driving the vehicle, you will be safe with just the state's minimum required insurance.
If the vehicle being transferred has a lien on it, the cost will be slightly higher. The amount is set at $86, and the customer is responsible for paying it.
How Much For A Title Transfer In PA, Factors #3 – Transferring To A Family Member
The procedure for transferring the title to a family member is largely the same as what we discussed earlier. However, the seller has to pay a reduced sales tax on this occasion.
In the state of Pennsylvania, the sales tax is based on the fair market value of a vehicle instead of the sales price. As vehicle sales between family members have a lower purchase price, you can apply for a special exemption for the sales tax rule (unless you know how to avoid paying sales tax on a used car).
How Much For A Title Transfer In PA, Factors #4 – Transferring A Car With A Deceased Owner
There are several things to consider when the owner of a vehicle is deceased. For vehicles that are jointly titled, the Notification of Assignment/Correction of Vehicle Title Upon Death of Owner form (MV-39) should be filled out to transfer the title to a new owner.
In addition, an original death certificate should be included in the form too. If not, you can get a funeral director or a physician to complete the form for you.
How Much For A Title Transfer In PA, Factors #5 – Transferring Title As A New Resident
New residents of Pennsylvania should complete the title transfer and register their vehicles within 20 days of establishing their residency. After the registration process is completed, the vehicle should be inspected within 10 days.
How Much For A Title Transfer In PA, Factors #6 – Transferring Car Title From A Probated Estate
When there are no beneficiaries or a living spouse of a person that has passed away, a legal process called probate takes place. Here, the court will decide how the actions regarding an individual's property and belongings should be taken.
If the vehicle you are looking into purchasing is part of a probated estate, first you should get in contact with an attorney. Then, you should pay a visit to the Pennsylvania title office with all the necessary documents like the death certificate, odometer disclosure statement, and the order from the probate court in order to successfully transfer the title to your name.
Sell Car Without Title
Misplacing the title does not mean that your chances of selling a vehicle are over. But, if you are faced with this situation, you'll be glad to hear that you can indeed sell a car without a title. However, it isn't as easy as selling a car with one, and you'll have to go through a series of steps in order to make the sale a success.
In order to sell a car without a title, you have to live in one of the twenty-four states that have an Electronic Lien and Titling (ELT) program. This system allows dealerships to confirm ownership of a vehicle and transfer it to another person.
Additionally, some states offer exemptions for vehicles that don't have a title. There are some states that use a bill of sale form that allows the new buyer to register the vehicle. This exemption is mostly applied to older vehicles. On the other hand, states like Virginia have laws that make the titling of abandoned cars possible.
If you are planning to buy a car that doesn't have a title, there are some things you should keep in your mind. We'll tell you all about them in the next part of this article.
Buying A Car Without A Title
A car without a title seems enticing, but there are some things to look out for when going through a risky purchase like this one. The title may be missing due to a simple mistake like the user misplacing the title, or it can be a severe issue like the vehicle you are looking at being a stolen one. A nefarious seller who is trying to make some profit off of a car with a branded title can be trying to sell it as a missing title vehicle as well.
When you are buying a car without a title, getting the car inspected is one of the best things you can do. This is the easiest way to whether the vehicle in question has any possibility of having a salvage title.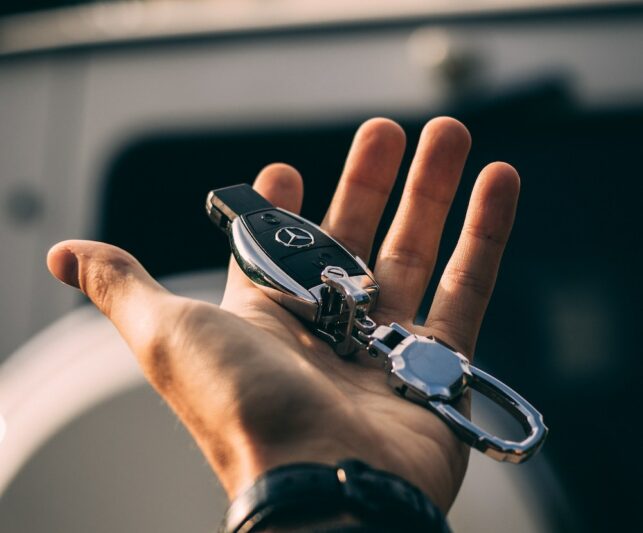 If you are purchasing a vehicle without a title from a car dealership, you can ask them for the contact information of the previous owner. Who knows, the previous owner just might have a copy of the title laying somewhere!
Checking whether the vehicle has any liens against it is another thing you should do when purchasing a vehicle without a title. There are several methods you can use to check for existing liens like running a VIN check at the DMV or acquiring a vehicle history report from a well-reputed service.
Additionally, writing up a bill of sales, checking the National Insurance Crime Bureau's (NICB) database, and acquiring a surety bond title will help you to protect yourself in case something goes wrong during or after the transaction.
Duplicate Title PA
If you misplaced the title of your vehicle, your best bet is to request a duplicate title from the Pennsylvania DMV. Although the process of requesting a duplicate title is simple, it can only be done through the mail. Additionally, you must be the owner of the vehicle in order to do so.
You should have the following things in your procession in order to request a duplicate title in PA.
Form MV – 38 D (The Application For A Duplicate Title)
Release Letter From The Lien Holder (If Applicable)
The Damaged Title (If Applicable)
The duplicate title fee in the state of Pennsylvania is set at $58. The owner should pay it to the Commonwealth of Pennsylvania either through a check or money.
Conclusion For How Much For A Title Transfer In PA
If you are hoping to transfer a car title to or from the state of Pennsylvania, be prepared to pay the state a title transfer fee of $53. However, this fee depends on a number of factors.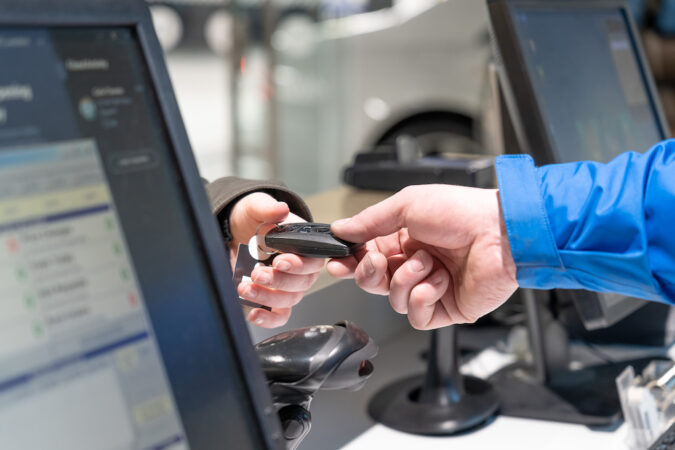 For example, if the vehicle has a branded title or has a lien against it. you'll have to pay a higher cost to get the title transferred in your name.
FAQs On How Much For A Title Transfer In PA
What Does A Car Title Look Like
The title is a document that proves your ownership of a vehicle. At one point in history, the titles were pink in color, which gave them the nickname pink slips. However, modern car titles are not pink and they look like any other certificate you may come across.
How To Get A Title For A Car
You can get a title for a new car at the time of purchase at your local DMV office. However, if you are buying a used one from a private seller, the seller is responsible for signing the vehicle title over to you.
Can You Sell A Car Without A Title
It is possible to sell a car without a title. But in order to do so, you should have proof of ownership. However, we recommend you avoid purchasing a car without a title if possible, as it can land you in trouble down the line.
What Does Car Registration Look Like
The appearance of the car registration certificate is different from one state to another. Some states issue car registration in the form of paper documents, while others prefer to use registration cards. Regardless of form, both these documents contain essential information about your vehicle like the VIN number, make, model, and information about the owner.
How To Sell A Car Privately
Selling a car privately is often the best way to make the most profit out of your vehicle. Once the transaction is done, you are responsible for signing the title over to the vehicle's new owner. As the seller, you don't have to pay any title transfer fees. However, you still have to pay the sales tax which is calculated according to the market value of the vehicle you sold.
How To Get A New Title For A Car
If you have misplaced your vehicle's title, you can request your DMV for a duplicate one. In the state of Pennsylvania, duplicate titles can only be requested by mail, and cost $58.