Bugatti is known primarily for making cars with a ridiculous top speed and even more ridiculous prices. But just how much is a Bugatti? While I was growing up there was only one Bugatti; the Veyron with its one million dollar price tag.
However, the Bugatti lineup is a little more complicated now. With the virtually unlimited resources of the Volkswagen Group, Bugatti has made several outrageous hypercars over the years—all of them with outrageous price tags. This post will discuss how much is a Bugatti, and everything else you need to know about them.
The Brand's History
We'll get to the prices soon enough. But let's learn a bit of history first to give you an idea of how the company became what it is today. Bugatti is a very old company, starting out as a German company founded by an Italian by the name of Ettore Bugatti in 1909.
It made mostly motorized tricycles and cars that aren't too interesting unless you like pre-World War cars. However, we have to note the racing success that Bugatti had. They won the first-ever Monaco Grand Prix in 1929 with the Type 35B. Then the Type 57 also won a couple of 24 Hours of Le Mans races in 1937 and 1939.
Fast forward to the 50s though, and the company was struggling financially. Ettore Bugatti died in 1947, while his son Jean Bugatti died earlier in 1939. Even though the youngest son, Roland Bugatti, took over, the company couldn't survive thanks to new tax laws from the French government.
The company was finally bought by a Spanish automotive-engineering company Hispano-Suiza in 1963, which was only interested in Bugatti's airplane business. Fast-forward to 1987, an Italian entrepreneur bought the brand and established Bugatti Automobili S.p.A., attempting to revive the brand.
It took a few years, and with the help of Paolo Stanzani and Marcello Gandini—the men responsible for the Lamborghini Miura and Countach—the first production car was finally unveiled in 1991 in the form of the EB110.
The EB110 had a 3.5L V12 engine with four turbochargers, a six-speed manual transmission, and a four-wheel drive system. They cost $500,000 when new, but you'll find them fetching up to $1.5 million in auctions these days.
The EB110 was relatively successful, and even Formula 1 legend Michael Schumacher himself bought an EB110. However, the car's timing was unfortunate.
Second Death And Revival
The EB110 went on sale just as the North American and European economies hit a recession. Ultimately, the company ceased production in September 1995. But not long after that, a German carmaker saw the potential of the brand and decided to buy the Bugatti brand for themselves.
The VW group was on a shopping spree in the '90s; acquiring Skoda, Bentley, and Bugatti to expand its portfolio. And they had big plans for the Bugatti brand. VW immediately established Bugatti Automobiles S.A.S. in 1998 and worked with legendary designer Giorgetto Giugiaro to produce several concept cars.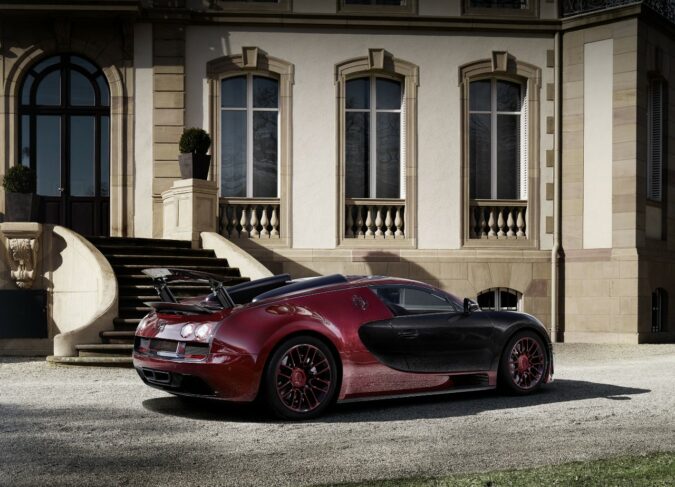 However, it was in 2005 when they finally unveiled the first production car under VW: the legendary Veyron. A hypercar with an 8.0L 16-cylinder engine and four-turbos that makes 1001 horsepower.
Many automotive journalists were skeptical when VW announced what the Veyron would be capable of, but eventually, VW proved them wrong when the Veyron was unveiled and broke the top speed record for production cars at 253 mph. A record that stood until 2007 until it was taken by the American-made SSC Ultimate Aero.
Since then, Bugatti has been trading punches with companies like SSC and Koenigsegg for the top speed record. But the important thing is that VW's strategy of making an outrageous hypercar for the brand has proved to be successful, as the company is now in a very healthy state.
Models & Prices
Okay, history lesson over, now let's get to why you're here in the first place: how much is a Bugatti? As mentioned, they've made several cars since their second revival.
Some are production cars with somewhat large production numbers, others are limited-production runs made only for the unbelievably wealthy. Let's list their most notable models and prices:
Bugatti Veyron Price
We start with the car that started the brand's second revival, the Veyron. Named after Pierre Veyron, a French racing driver that won the 1939 Le Mans race with Bugatti, the original Veyron 16.4 costs just shy of 1.25 million dollars when new.
Of course, with cars like this, buyers are expected to customize their car with optional extras, which easily brings the price to a little over 1.5 million dollars. As mentioned, the Veyron's top speed record was broken in 2007. But the company wasted no time in claiming that record back with the Veyron Super Sport in 2010.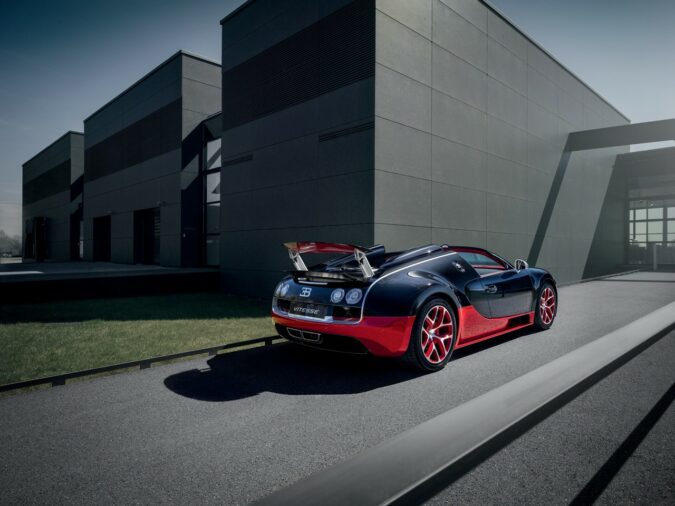 The Super Sport variant demanded a price tag of 2.5 million dollars. For this extra million-dollar you get around 200 more horsepower, 14mph faster top speed, and one of just 30 units available. In addition to the Super Sport, there are other special editions as well.
Some are one-of-a-kind specimens tailor-made for a client, others are made in collaboration with luxury brands. Examples include the Pur Sang, the Sang Noir, and Targa-versions of the car were called the Grand Sport. The weirdest one is probably the L'Or Blanc, with a body made from porcelain elements made in collaboration with the Royal Porcelain Factory in Berlin.
Most of the special editions cost between 1.5 and 2.5 million dollars. However, the price of certain 1-of-1 models such as the Grand Sport Vitesse La Finale isn't disclosed. And since all of them are very exclusive, they hold their value very well. Most Veyrons still cost around $1.5 million in the secondhand market.
Bugatti Chiron Price
The Chiron is the successor to the Veyron after it ceased production in 2015. It followed the same recipe: an 8.0L 16-cylinder engine with four turbos and a four-wheel drive system. But this time with just shy of 1,500 horsepower, and a slightly higher top speed of 261mph.
Much like its predecessor, the Chiron also has a Sport variant. However, neither the standard nor the Sport variant holds the official Guinness top speed record for production cars. That title still belongs to the Koenigsegg Agera RS.
The reason is that the Sport's official top speed is 273mph, while the Agera RS holds the record at 277mph. While the Chiron has broken the 300mph barrier, they did it with a bespoke Super Sport prototype that isn't going to production. This version has a longer tail, no rear wing, and a full roll cage amongst other performance upgrades.
Anyway, the ones that you can buy are the standard car and the Chiron Sport amongst other special editions. The standard car has a sticker price of $2.9 million, while the Sport and other limited edition variants cost a little over $3.8 million.
Actually, we lied, you can't buy the Chiron anymore. At least, not brand new. As only 500 of them will be made, of which 300 have been delivered and the rest are already in production. So, you're going to have to look at the secondhand market. But you'll find they still cost an eye-watering amount of money.
Bugatti Bolide Price
Are the Chiron and Veyron too comfortable for you? A little too road-worthy, perhaps? Then maybe the Bolide will pique your interest. The Bolide uses the same W16 quad-turbo engine as the Chiron, but it's a purpose-built track car.
The car is built from the ground up, only sharing the powertrain with the Chiron. But it still has the horseshoe grill just like any Bugatti, but the rest of the car looks like a concept Le Mans racer straight out of Gran Turismo.
This design means that the Bolide is not road legal. But since it's only for track use, this means they can easily sell it in any country without having to meet regulations set for road cars. Speaking of sales, only 40 of these will ever leave the factory. And you'll need $4.7 million of spare change to have one of these in your garage.
Yes, you're going to have to pay nearly a million dollars more than the Chiron if you want a car that you can't legally drive on the road. Sounds like a bad deal, but then again you'll be just one of 40 people to own this.
Bugatti Divo Price
If you still want to drive your Bugatti on the road but want something more track-ready than the Chiron, the Divo is for you. Mind you, the Bugatti Divo costs—prepare yourself—$8 million. Yes, an eye-watering, bank-breaking, logic-defying $8 million for this road-legal Bugatti.
To justify the price, this isn't just a Chiron with a new dress. The engine remains the same, but it has stiffer springs and dampers for better cornering. The body is slimmer, it's 77lbs lighter, and all those new inlets, vents, and gigantic permanent rear wing means it has much more downforce.
All this translates to a car that not only turns heads but also turns around corners incredibly quickly. While the Chiron will easily beat it in a drag race, the Divo will effortlessly produce faster lap times.
Bugatti Centodieci Price
Probably not a popular opinion, but I think the Centodieci is rather ugly. The headlights are very slim and it has a weird winged eyeliner. It also has the horseshoe grille, but much smaller and looks disproportionate to the rest of the car.
One thing I have to commend about the Centodieci is that it looks like a concept car, but it's a road-worth production car—albeit with very limited production numbers. Most production versions never look like anything like the concept car, but the Centodieci looks as if it was still in the concept design stage.
You can tell that it was based on the Chiron as the silhouette is still the same. But every single detail of the car looks significantly different, and while probably not to everyone's liking, it's definitely going to turn heads.
The price also isn't for everyone. They only made 10 of these, and each of them cost the owner around $8.9 million. Excuse me while I see if the spare change on my sofa can cover that.
Bugatti Trivia
Bugatti was my favorite car brand growing up. Simply because of how mind-boggling the Veyron was. While I've moved on and now prefer other brands, I still find the company and its products fascinating.
Since I have no friends to bore with car facts, I'm going to use this article as an excuse to talk about interesting trivia about Bugatti:
Why They're So Expensive
You might be wondering, aside from the performance and top speed, why are they so unbelievably expensive? There are a few reasons for this, first, they're very luxurious. You'll find the usual things you'd expect in a luxury car; hand-stitched leather seats, expensive materials, and virtually unlimited customization.
The next reason is the limited production of their cars. With limited supply, comes a higher price. But considering they have the resources of VW, Bugatti could probably make more than just 500 cars in five years.
For example, while not as expensive, Lamborghini made 5,000 Aventadors in just five years (2011 – 2016). The Aventador isn't as expensive or complicated to make, but it's still a supercar and it shows that VW probably has the resources to produce more Bugattis. However, they chose to limit it to make it an exclusive club.
Perhaps the biggest reason is just how well-engineered the car is as a whole. Going fast is one thing, but going fast while the car remains firmly intact with the road and does not feel like it's falling apart? That's a whole different matter.
You can watch in the Top Gear clip above, Jeremy Clarkson asked James May how the car felt at speed as most cars would feel like they're shaking apart at their top speed. But May noted that the Veyron was very controlled, only wobbling very slightly when the air brake deployed.
Bugatti SUV
The rise in popularity of SUVs means almost every carmaker now makes an SUV, even Ferrari is finally giving in and you can expect the Purosangue to make its debut sometime soon, probably towards the end of 2022.
Bugatti though is still uncertain about making an SUV. However, then-CEO Stephen Winkelmann (ex-top boss of Lamborghini by the way), did hint in 2019 that Bugatti is thinking of making an SUV.
It won't be a "true" SUV, but it's going to be more of a sporty crossover SUV sort of thing. We're thinking probably something like the Lamborghini Urus or Bentley Bentayga but a larger focus on sportiness and speed.
However, it's been three years since the comment with CAR Magazine and we've seen no further news about this SUV, so bad luck SUV buyers. But we're thinking it's probably best for the brand to just not attempt it.
Bugatti Oil Change Cost
An oil change is the most basic car maintenance that you should keep up with. And they're typically quite simple and cheap, costing no more than $80 if you do it yourself. But if there's something we've learned so far, nothing is ordinary with a Bugatti.
A typical oil change in a Bugatti is anywhere between $20,000 to $25,000. Why? Apparently, Bugatti cars have a total of 16 drain plugs on their oil sump, and you'll need to remove all of these to drain the entire system. And you'll need to disassemble the underbody to gain access to them.
Then you'll need to remove the grille, along with the fender liners, rear deck, and rear brakes to refill the oil. We're not quite sure how much or what type of engine oil it takes, but considering the car has 10 radiators, it's probably a lot and not cheap either.
Changing an engine oil usually takes no more than an hour, but in a Bugatti, this process can take up to 27 hours to finish. Thanks to the internet we can get a glimpse of the process. Watch the video above from Royalty Exotic Cars and you'll understand why it costs over $20,000 just for an oil change.
Would You Like New Tires Or A New Car?
Speaking of maintenance, guess how much it will cost you to replace a set of tires on the Veyron? Just a measly $42,000, the same sort of money for a new top-spec Hyundai Santa Fe. To be fair, that's pocket money for the typical Bugatti clientele.
The reason why it's so expensive is that the Michelin tires in the Veyron were specially made, and it's not cheap to produce tires that can handle over 250mph. Additionally, they glued the tires to the rims, so a lot of labor was involved in replacing them.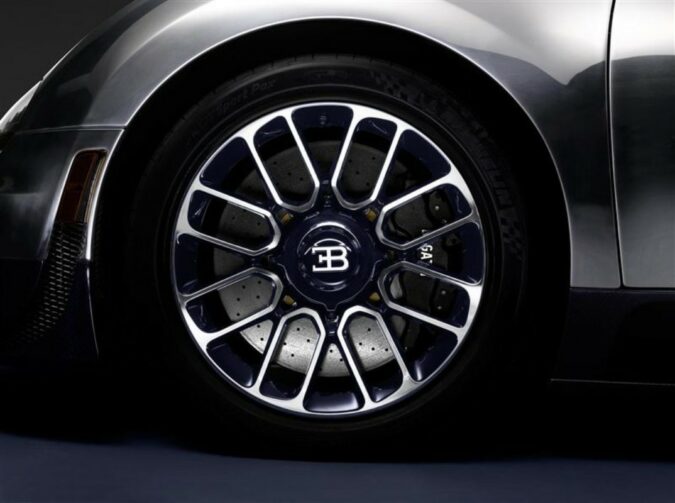 Thankfully, replacing the tires in the Chiron is a lot cheaper. While they're still bespoke Michelin Pilot Sport 2s, they don't glue the tires to the rims so the process is a lot simpler.
Still, you probably will need machines that you won't find at Walmart to replace the tires on them. And it's still around $8,000 for a set, which is the sort of money you spend on a beater car, not a set of tires.
Cheapest Bugatti
The cheapest Bugatti is still not cheap unless your name is Jeff Bezos. 'Less expensive' is probably the best way to describe it. In any case, the cheapest Bugatti you can buy is going to be a secondhand original Veyron 16.4.
These were the cheapest, to begin with, costing $1.25 million when new. Taking a look at some secondhand car websites, the cheapest one we could find is a 2008 Veyron 16.4 on CarGurus with 14,000 miles on the clock. Costs just a little over $1.3 million, but surely you can get a better deal with a bit of haggling.
Bugatti Car Prices and Models Facts:
Bugatti vehicles are expensive, with the cheapest model, the Veyron, costing over a million dollars and the lease price being $66,000.
The cars are hand-assembled by a team of 20 people, and less than 100 vehicles are produced each year, adding to the exclusivity of Bugatti models.
Bugatti cars have a rich history, with the Bugatti Type 35 dominating racing competitions in the 20s and 30s with a top speed of 135 mph.
The Bugatti Chiron cost originally 2.4 million euros and now has an estimated price of $3,000,000. There are also two Noire versions of the Chiron floating around, each fetching around $3,300,000, and the most powerful Chiron is the Bugatti Chiron Super Sport 300+ costing an estimated $4,000,000.
The Bugatti Veyron is estimated to be worth $1,900,000 and was named after French Grand Prix racer Pierre Veyron. Only three Veyrons were produced, each selling for over $3,000,000.
The Bugatti Bolide is limited to 40 units costing $4,800,000 each, and its name means "race car" in French. The Bolide was first teased as a concept car in December 2020.
The Bugatti Centodieci cost a relatively affordable $652,000 upon its release, but it's now valued at least $2,000,000, with only 10 units produced.
The Bugatti Divo is worth around $5,700,000 and is a one-off model named after French racer Albert Divo, with all 40 units purchased almost immediately.
The Bugatti La Voiture Noire is valued at a whopping $12,500,500, with the final price including necessary taxes at around $19,000,000. The La Voiture Noire is also a tribute to a Bugatti model from its earliest era, with only one model produced.
To buy a Bugatti, one must go through a lengthy application process, pay a hefty car payment of at least $250,000, and maintain a strict maintenance schedule.
Bugatti FAQ
Got any more questions about Bugatti and their ridiculous prices? The answer you're looking for is probably down here:
Where Is Bugatti Made
They're made in Bugatti's factory in Alsace, eastern France.
Is Bugatti French
Yes, Bugatti is now a French company. While it was originally German and founded by an Italian-born engineer, Bugatti is now a subsidiary of VW and established its headquarters in Molsheim, France during its second revival.
How Much Is A Bugatti Chiron
The base model Chiron starts at $2.9 million before you start customizing it, while the Chiron Sport with more power is just a little over $3.8 million. Other variants such as the 110 Ans Bugatti and Les Légendes du Ciel are usually around that mark as well. Fun fact: you need to put in a $200,000 deposit before purchasing one.
How Much Is A Bugatti La Voiture Noire
The La Voiture Noire is also based on the Chiron. It's built to celebrate the company's 110th anniversary and is inspired by the Type 57SC Atlantic Coupe, arguably Jean Bugatti's greatest creation. There's only one and made for one very lucky and wealthy individual. As with any one-off editions, price details are a bit hard to come by, but it reportedly cost the owner $18 million.
How Much Is Insurance On A Bugatti
Cars like these usually use an agreed value insurance policy, where the insurer and owner will agree upon a certain amount and the insurer will pay that amount in the event of a total loss regardless of depreciation. They determine the cost for this on a case-by-case basis. But ValuePenguin estimates that it will cost about $50,000 per year to insure a Bugatti.
Final Thoughts
If someone asks you how much is a Bugatti, you can now tell them it's anywhere between $1.25 to $8.9 million. And you can then bore them with the details of how much each model cost specifically, and other boring car facts about the hypercar company I've shared with you today.
One final thing I'd like to bore you with is the future of the company. With the Chiron and its spinoff models wrapping production, Bugatti now turns its focus to an electrified future. Yes, even Bugatti is going electric.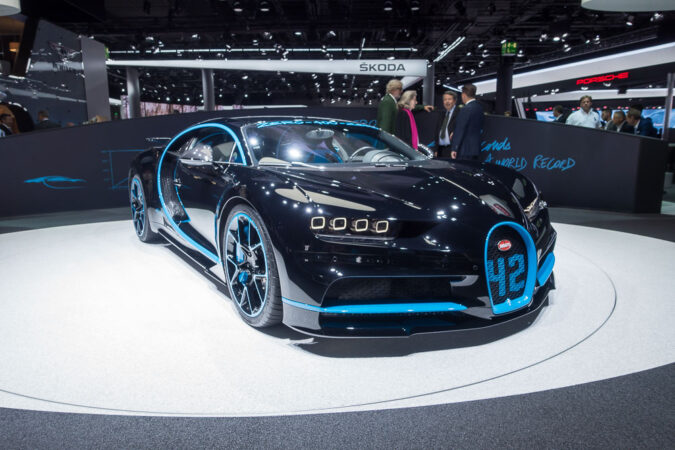 VW made a deal with Porsche and electric supercar maker Rimac a while back. It's all very complex, but the gist of it is that it's a joint venture and Rimac is merging with Bugatti. With Rimac owning the majority shares of Bugatti at 55%, Porsche owns the rest, and VW no longer has direct ownership of Bugatti.
It's all part of VW's efforts in trying to gain access to better EV technology. VW also no longer wants these lavish "hobby brands" acquired by its former CEO. However, since the Piech family (Ferdinand Porsche's descendants) still has voting rights in VW, they involved Porsche in the joint venture to ensure all parties are happy. Again, it's all very complicated.
Rimac and Bugatti will sell cars separately, but future Bugattis are likely to use EV powertrains from Rimac. It's a shame that the W16 1,500-horsepower engine will probably die soon. But Rimac has been making amazing electric supercars, so it seems like Bugatti is in good hands. Let's just hope there's a swan song for that glorious 16-cylinder engine.