How much is a GTR R35? The most anticipated super sports car in recent memory must be the GT-R. For quite some time, Nissan has been developing a whole new model of its flagship sports car.
When looking back at Nissan's history, the Nissan Skyline GT-R, a sports car line icon for a very long time, is currently in its third generation, having gone through two previous generations from 1989 to 2002 and 1969 to 1973.
The Nissan GT-R R35 now has one of the Japanese automaker's most prolonged product cycles, having been in production for 14 years as of its 2007 debut. Nissan has continuously updated the GT-R throughout the years, making small tweaks to this JDM jewel. It is now past time for a new design.
Nissan GTR
Nissan unveiled the GT-R T-Spec as a possible farewell to the aging Godzilla in its R35 form. It's unclear at this point whether the current generation supercar will receive a mild hybrid system or even a more potent Final Edition before it is discontinued in the upcoming years. After that, what happens?
Nissan Australia's regional division managing director Adam Paterson confirmed the performance engine's demise in a news statement about the 2022 GT-R. However, the fact that it will be discontinued in November because it won't comply with side crash standards does not signify "the end of the GT-R narrative in Australia."
The special edition T-Spec and Nismo SV, as if that weren't enough, were described by the speaker as "the last time a current-generation vehicle will be sold in Australia." Even though it's not an explicit confirmation, this is the closest thing to the R36 gen model. Everyone wants to know when Nissan will eventually release the new GT-R.
Another concern is how the next-generation vehicle would be "new," given that some rumors claim it will run on a revised platform similar to the one the Japanese manufacturer utilized for its other sports car, the 2023 Z.
The R36, which is expected to retain the 3.8-liter twin-turbo V6 engine that has been improved for efficiency to comply with stricter emissions standards, may receive the mild hybrid system we previously discussed.
Logic dictates that Nissan will first present a concept, as it did with the Z Proto. Therefore, the R36 is most likely years away. Going back in time, the 2001 GT-R and 2005 GT-R Proto ideas came before the R35, which was released in 2007 and is already 14 years old.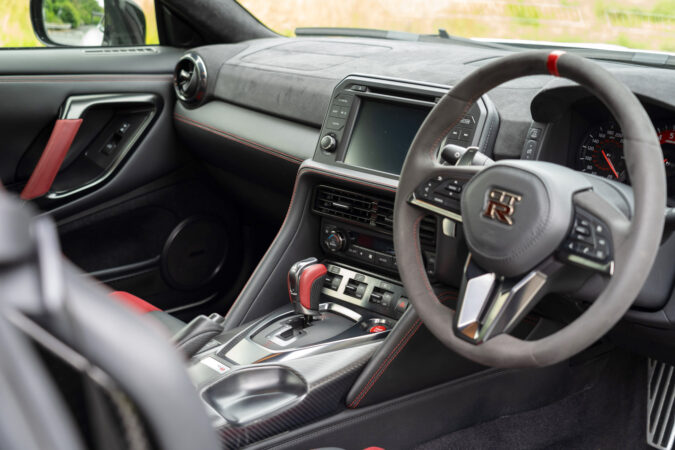 Nissan Skyline R34
The Nissan Skyline R34 GT-R is a high-performance sports car (1999 – 2002). Fifth and last of the Skyline GT-Rs (the R35 omitted the "Skyline" portion of the moniker), it served as the face of a generation that was raised on games like Gran Turismo, Fast & Furious, and a variety of other digital fantasies.
A four-seat coupe with a furious appearance that could, back in the day, carve out a lap time that belied its apparent lack of power thanks to Japanese mechanical prowess. A gap was quickly filled by a plethora of tuners who, inspired by the '32 and '33, recognized that the basic GT-R package was ideal for trickery and boost.
And over the years, like with every generation of GT-R, there have been some monstrously tampered-with specials. These have ranged in power from 400 bhp with a vague re-map to 500-600 bhp with some comparatively modest internals to 800-1000 bhp if you go all out and start forging things and walloping around with giant single blowers.
But even the most basic car is still an astounding piece of technology. The storied 2.6-liter RB26DETT straight-six twin-turbo engine (2.8 in some variations) is said to have produced a "gentleman's agreement" 276 horsepower at the factory.
However, this was rarely the case in practice. Most of them tested in the 330bhp area, although nobody officially confessed anything; perhaps the horses were just bred aboard the ship from Japan.
There are several intriguing acronyms, such as Super-HICAS four-wheel steer, ATTESA E-TS (Advanced Total Traction Engineering System for All-Terrain) four-wheel drive, and a limited-slip diff at each end, the rearmost of which is active on V-Spec vehicles.
It's a six-speed manual with plenty of attitudes that is currently diminutive in comparison to modern gear.
Nissan Skyline R33
The R32 and R33 Nissan Skyline GTR models are very similar to one another in many aspects. They both have the renowned RB26DETT 2.6-liter twin-turbo six-cylinder, for starters.
Both have all-wheel drive and 5-speed manual transmissions. Both vehicles are reported to have 276 horsepower according to a "gentleman's arrangement" between Japanese automakers at the time.
The R33 GTR is really more potent, according to Road & Track. According to Evo, its engine produces more torque and nearly 330 horsepower, a bit more than the R32. True, it is wider and heavier than the R32. But even so, the time to 60 is around 0.2 seconds shorter.
And the additional breadth is only one of many upgrades Nissan made to the Skyline GTR. According to R&T, in part because of the wider track, the R33 GTR is stiffer and more stable than the R32.
It has less front-end lift when moving at speed as a result of a more aerodynamic body. Additionally, it offers better handling due to reduced weight in the front despite being heavier than the R32. It also sports better transmission synchros and larger ventilated Brembo brakes.
According to Jalopnik, the V-Spec model's AWD was even programmable. Additionally, it had a stronger suspension as well as an active limited-slip differential. A/C and radio were not included in later V-Spec N1 versions in order to reduce weight.
However, they did include improved water pumps, metal turbo blades, better oil cooling, and enhanced engine parts. The 400R is another option. Its 395-hp 2.8-liter twin-turbocharged six-cylinder engine violated the gentleman's understanding.
It rode 1.2″ lower and had Bilstein dampers, lighter alloy wheels, and firmer springs. It ran from 0-60 in 4 seconds thanks to the added power as well as a carbon-fiber hood, wing, and driveshaft.
Nissan Skyline R32
When the R32 GT-R was released in 1989, it successfully carried on the legendary GT-R's championship-winning racing legacy. This car was only driven on the road because it had received the necessary street homologation.
It was built to Japanese Group A racing requirements. This is a street-legal race car with a 2.6-liter inline-6 engine that can produce more than 500 horsepower and one of the most sophisticated all-wheel-drive systems ever created.
Although the materials appear less expensive than in later versions, the interior impresses with superb ergonomics. On the other hand, the instruments are thorough and include extra front-torque and oil-temperature readings in the center console, which is very helpful for track use.
The car's athletic layout is reinforced by well-sculpted bucket seats. Which are a little short on lumbar support (which could be helped with a lumbar support cushion for car) and a leather steering wheel without an airbag. However, the R32 GT-R isn't completely track-specced. Due to the shared power pack and digital climate control, this car works well as a daily commuter.
The R32 has the least amount of headroom of any GT-R in the backseats, so if you intend to move someone there, make sure they are a youngster. Despite having a short trunk, Godzilla is still surprisingly practical for a sporty car.
Nissan GTR R35
When the R35 Nissan GT-R made its debut in Japan back in 2007, its specifications were out of a dream world. Its hardware list included a new twin-turbocharged V6 engine, a transaxle dual-clutch transmission, an active all-wheel-drive system requiring two prop shafts, and active differentials on both axles for total torque vectoring, which was shocking.
It appeared as though Nissan had overdone it and produced something artificial and excessively enhanced. When it first came to Europe in 2009, many people asserted that this was the case, but the truth was very different.
It was large and hefty, but it was also absolutely brilliant. It was anything but the anodized, characterless experience that some found all too easy to characterize. R35 Nissan GT-R was immersive in the extreme and capable beyond what the figures promised.
Despite never stopping in terms of development during those nine years, Nissan gave the R35 GT-R the most significant update in 2017. Since then, constant tweaks and adjustments to software and setup. In addition to gradual increases in power, have made it an unrivaled entity in high-performance engineering.
Nissan GTR Price
How much is a GTR R35? For the most recent models, which cost roughly $99,990 for a 2018 model, those looking for a Nissan GT-R for sale should be prepared to pay top dollar. The Nissan GT-R price for the 2019 model year has not increased for the first time in a number of years. The NISMO edition is excluded from this.
With a starting price of $175,540, this version with 600 horsepower boasts body panels made of carbon fiber. You will have a tonne of aftermarket upgrade options if you choose a 2012 model for under $100,000.
Even the early models have been in high demand, preventing depreciation. The normal GT-R R35 owner will use the vehicle for a few years before selling it for a profit.
Special Editions:
When it was unveiled in 2009, it had a carbon fiber interior and its unique shade of black, called LAC Black Opal. The engine remained unchanged, but it had bigger turbos that provided more boost in higher ratios.
How Much Is A GTR R35, Special Editions #1: Nissan GTR NISMO
When it was introduced in 2014, they used knowledge gained from the aftermarket to increase horsepower to 600. The Nissan GT-top R's speed is 196 mph due to the boost in torque to 481 lb-ft.
More substantial sway bars and stiffer springs could support less weight. Titanium is used for the exhaust, and carbon fiber for the trunk lid. Each body panel is welded entirely along every seam rather than using spot welds. It weighs 38 fewer pounds than any other GT-R.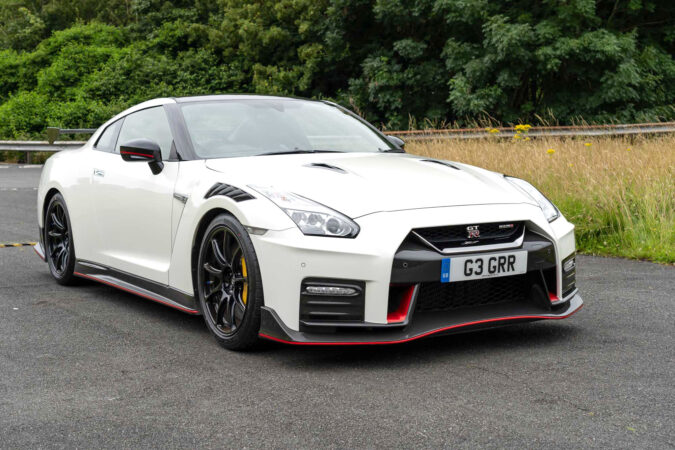 How Much Is A GTR R35, Special Editions #2: Nissan GTR NISMO N-Attack
To mimic the configuration of the Nürburgring, this package removes all non-essential systems. US customers can buy the conversion kit from Stillen Motorsports while having it converted by a Japanese dealer.
How Much Is A GTR R35, Special Editions #3: Nissan GT-R Black Edition
The Black Edition features Recaro seats, 20′′ Rays wheels, and 2-tone red/black leather for those with a dark heart. To provide the finest in comfort and safety, Nissan and Recaro collaborated to create seats that are not your typical Recaro buckets.
How Much Is A GTR R35, Special Editions #4: Nissan GT-R Track Edition
The Track Edition is a low-cost racer that uses the Nismo's rigid chassis and powerful brakes. With some of the unnecessary trim removed, the interior is sparse. An aggressive exhaust and hollow sway bars complete the ensemble.
Nissan GTR R36
According to the automaker's CEO in an interview with Autocar, the next-generation R36 Nissan GT-R is in development and will receive a new platform. Nissan CEO Makoto Uchida stated, "We designed a new platform, and our goal was clear: the GT-R had to be the fastest car of its kind. It needed to be tracked. And it had to engage in the technological game.
Although the story dates back to 2013, Uchida claims Nissan is considering a hybrid powertrain for the R36 GT-R and claims that it is unlocked. Nissan's performance objectives might not require electrification, he noted.
Hiroshi Tamura, the GT-R's chief product expert, indicated any decision to use a hybrid powertrain would be determined by consumer feedback in an interview with Motor Authority in 2019.
According to him, Nissan will implement the technology or provide a performance boost if a paying customer requests it. To fulfill upcoming pollution requirements, electrification in some form might be necessary, nevertheless.
Since the present R35 GT-R is a 2009 model, a replacement has long been anticipated. A new platform would represent a departure from Nissan's redesign of the similarly aged Z sports vehicle. A carryover platform is a foundation for the Nissan Z 2023, which features a new engine, improved technology, and a fresh appearance.
The new T-Spec and Nismo Special Edition variants are the only improvements to the 2021 Nissan GT-R at this time. The GT-R Nismo 3.8-liter twin-turbo V-6 still produces 600 horsepower and 481 pound-feet of torque despite being extremely old by industry standards; the base model produces 565 horsepower and 467 lb-ft.
Even though that is still a fantastic number, the R35 GT-R's age makes it more difficult to justify its six-figure price tag.
Nissan GTR Specs
Nissan will launch a Special Edition GT-R in 2022 that is based on the 600-hp NISMO grade. Only a small number of the vehicle will be produced, though Nissan has not yet specified how many will be sold in North America.
A carbon fiber hood, exclusive Stealth Gray exterior paint, and special 20-inch wheels coated in black with red accents will all be used to identify Special Edition cars.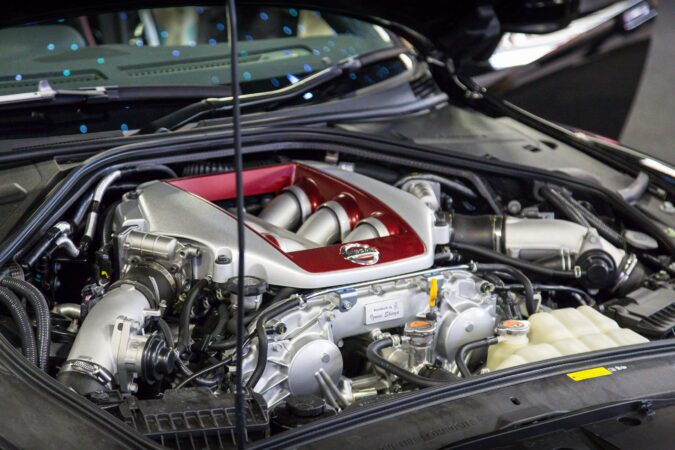 How Much Is A GTR R35, Features And Specs #1: Engine
The Nissan GT-R is absolutely stunning from the outside, but its true heart is hidden behind the hood. A massive 480 horsepower and 430 lb-ft of raw torque are produced by a 3,799 cc (3.8 liters: 231.8 cu) twin-turbo V6 VR38DETT engine.
The car can accelerate from 0 to 60 MPH in as little as 3 seconds flat despite having a curb weight of about 3850 lbs thanks to the turbocharged beast. The VR38DETT keeps going strong as the GT-R soars down the road and reaches a top speed of 195 mph. It is a colossal improvement over the Nissan Skyline it replaces.
The Nissan GT-R posted a lap time of 7 minutes and 29 seconds around the Nurburgring because of its capacity to maintain exceptional speeds. Top dog automakers like Ferrari and Audi took notice of Nissan's achievement, which was no small task.
Special edition versions now feature engine upgrades that dramatically increase both horsepower and torque.
How Much Is A GTR R35, Features And Specs #2: Horsepower
The 2021 GT-R's twin-turbo 3.8-liter V-6 engine cranks out a potent 565 horsepower as standard. All of that power is then sent to the ground by a six-speed automatic transmission connected to an all-wheel drive system. The GT-R went from 0 to 60 mph in less than 2.9 seconds.
Due to its quick steering, sturdy body, and adjustable suspension, even rookie drivers can feel heroic when operating a GT-R. For a closer look, look for the 600-horsepower Track Edition and NISMO models. The thrum of the GT-R's engine doesn't damage your ears while you're going along the highway, either.
How Much Is A GTR R35, Features And Specs #3: Top Speed
Although the GT-R was never designed with straight-line performance in mind. It can accelerate from 0 to 60 mph (97 km/h) in 2.7 seconds, with some sources even claiming 2.48 seconds in the correct circumstances. The maximum speed is 315 km/h (195 mph).
How Much Is A GTR R35, Features And Specs #4: Cargo, Comfort, & Interior
Although the front seats in the GT-R's interior are roomy, only young children could feel comfortable in the back seats. The inside is attractively decorated and comes with a tonne of standard features, but those expecting a luxurious setting akin to the Mercedes-AMG GT or the Audi R8 will be disappointed.
Dual-zone climate control, leather and suede upholstery, and heated front seats are standard on every model. The only inside cubby storage choices are two small center console bins and big door pockets.
How Much Is A GTR R35, Features And Specs #5: Connectivity & Infotainment
Every 2022 GT-R comes with a standard 8.0-inch touchscreen that can alternatively be controlled by a rotary knob on the center console. Android Auto is not an option, but Bose audio, Apple CarPlay, and built-in navigation are all standard. Despite its infotainment system's unattractive graphics and menus, it is simple to use.
How Much Is A GTR R35, Features And Specs #6: Modifications
To tune and maintain your GTR to the best standard, you can also opt for custom modifications for the Nissan GTR, like body kits. Examples include the Nissan GTR Liberty Walk kit.
A Nissan GTR Liberty Walk in complete dry carbon costs $73,570. This complete kit is priced shockingly at $33,480 for the FRP version and $73,570 for the full carbon model. It is available in various trims, from an FRP (fiber-reinforced plastic) version to full dry carbon.
FAQs On How Much Is A GTR R35
How Much Is A GTR
The 2023 Nissan GT-R is now available for purchase at a limited number of Nissan dealers in the United States, with a starting Manufacturer's Suggested Retail Price (MSRP)1 of $113,540.
What Is A GTR
The 2022 Nissan GT-R, known as 'Godzilla,' is a powerful and quick sports car that is capable of up to 600 horsepower. Unfortunately, despite making its debut in 2009, compared to the sports cars it competes with, its design hasn't changed all that much.
What Does GTR Stand For
The Skyline GT-R gave rise to the acronym GT-R, which stands for Gran Turismo-Racing. Although Nissan's vehicles aren't the only ones with the GT-R/GTR badge, they are frequently associated with the designation. BMW, McLaren, Mercedes, and even Isuzu are just a few of the manufacturers who have given their vehicles the 'GTR' treatment.
Is A Nissan Skyline R34 Legal In The US
A Skyline GT-R R34 can legally be brought into the US and used for racing or drag racing. It can be bought as a show car as well. However, you cannot drive it on public roads because it is not street-legal.
How Much Is A Nissan
The type of vehicle determines this. However, the initial price is projected to be $15,580, and so on.
How Much Is A Nissan Skyline R34
According to classic.com, a base-model R34 Skyline GT R is available for a little over $110,000 in fair condition, but a better-preserved version typically costs around $188,500.
When Will R34 Skylines Be Legal In The US
The first legally permitted sales of R34 Nissan Skylines in the United States will take place in 2024 because the R34 was created between 1999 and 2002.
Is A GTR A Supercar
Visually, the GTR is more of a sports car than a supercar. This is due to the supercar's price and appearance when compared to Lamborghini, Ferrari, or McLaren. This is not to argue that, with its astounding 0-60 mph pace of 2.8 seconds, it isn't a supercar killer.
How Much Does A Twin-Turbo Cost
A C6 Corvette twin-turbo kit would probably fall within that price range. Twin-turbo kits can cost anywhere from $1,000 to $10,000. High-end turbo kits with more cutting-edge technology typically cost more, as you might anticipate.
Is A Skyline A GTR
The GTR and Skyline are from distinct automobile categories. Nissan's Pre-R35 cars are referred to as Skyline. Despite the fact that both the Skyline and R35 models use the GTR suffix. The Nissan R35 GT-R is a member of a distinct series from the Skyline GTR. Additionally, they are very dissimilar in terms of configuration. Although the Skyline had gone through numerous stages, the true predecessor to the modern GT-R was unveiled in 1989. The R32 Skyline GT-R was an all-wheel drive vehicle with a 280 horsepower Nissan RB26DETT inline six engines.
How Much Do Nissan Skylines Cost
Nissan's (Skyline) GT-R Premium variant starts at a base price of $113,540 in 2021. The manufacturer suggested retail is $210,740 for the NISMO trim model.
How Fast Is A Nissan GTR
Although the GT-R was never designed with straight-line performance in mind, it can accelerate from 0 to 60 mph (97 km/h) in 2.7 seconds, with some sources even claiming 2.48 seconds in the correct circumstances. The maximum speed is 315 km/h (195 mph).
Are R32 Skylines Legal In The US
Currently, it is completely legal to import and own a Nissan Skyline R31 or R32 GT-R in the US (with the exception of California, which has its unique problems).
How Much Horsepower Does A GTR Have
A mind-blowing 3,000 horsepower is available in the Nissan R35 GT-R.
What Engine Does A GTR Have
At every stage of the creation of the Nissan GT-R, Nissan broke with tradition. The now-sold-out Nissan GT-R is propelled by an ideal-sized, twin-turbocharged 3.8-L V6 that generates a phenomenal 565 hp and an equally phenomenal 467 lb-ft of torque instead of a big, heavy engine that is fuel-hungry.
What Engine Does The R34 GTR Have
The RB26DETT engine found in the Nissan Skyline GTR R34 was also installed in the R32 and R33 GTR Skylines. A 2.6 liter (2568cc, to be exact) twin-turbocharged inline-six engine is the RB26DETT. The cylinder head is made of an aluminum alloy and has a total of 24 valves. The engine block is made of cast iron (DOHC, 4 valves per cylinder). A pair of parallel T25 ceramic twin-turbos are used for turbocharging.
What Is The Fastest Nissan
Active sound cancellation allows the 2022 Nissan GT-R NISMO to accelerate from 0 to 60 miles per hour in only 2.9 seconds while retaining cabin silence. An all-wheel-drive six-speed automatic transmission provides the ultimate driving experience with manual shifting mode.
How Much Is A GTR R35: Final Verdict
How much is a GTR R35? The Nissan GTR range is renowned for its amazing sports cars. The first model in the series was the 1969 Nissan Skyline, which was only offered to Americans. However, the GTR range, which includes models like the original Skyline and the GTR R35, is now offered globally.
Comparing the GTR R35 to the original Skyline, Nissan has a completely fresh design. Because of the GT R's history, the 2007 R35 model's chassis code, CBA-R35, has been carried over to the all-new variants. Now you can clearly examine the Nissan GTR R35 in more detail and its current price.