Few sports car names are quite as popular and desirable as the Supra. But how much is a Supra? Will it break your bank account? Prepare yourself—and your bank account—cause it's not going to be cheap nor for the faint-hearted.
Since there are quite a few generations of the Supra, we're going to discuss the prices of each generation in this post. And pretty much everything else you'll want to know about the Supra. Here's our table of contents:
Toyota Supra
The Supra began life in 1978 as a longer version of the Celica liftback. It was around 129.5mm longer than the Celica and had different engine options. But the two shared many components. It was sold as the Celica XX in Japan.
Toyota introduced the second generation A60 Supra in 1981. It was a massive redesign, giving the car an entirely new bodywork with pop-up headlights. It still had the liftback design, but there were more engine options ranging from a 2.0L straight-six to a 2.8L DOHC straight-six.
The generation you're more familiar with is probably the Mk. III A70 Supra. This was the generation where the Supra and Celica separated, sharing little parts between them. It looks largely similar to the A60, with a liftback design and pop-up headlights. But with a boxier design distinctive of the 80s.
Then the legendary Mk. IV generation A80 Supra was born in 1993. The legendary Supra that every gearhead grew up with in the 90s and 2000s. Gone were the pop-up headlights, and in came a more rounded design, a big spoiler at the back, and that legendary 3.0L 2JZ straight-six engine.
In case you're not familiar, the Supra is incredibly popular partly thanks to its highly-tuneable 2JZ engine. The standard engine was admittedly a little wimpy, but the 2JZ-GTE twin-turbo version produced a very healthy 276 horsepower. And both engines are highly tuneable, surely you've seen all those drag-racing Supras with up to a thousand horsepower under the hood?
The Fast & Furious franchise was also partly to thank for the Supra's popularity. While the franchise has declined in quality, the first few movies help to raise the popularity of Japanese imports. And the Supra benefited from this, as it was Brian O'Conner's (Paul Walker) choice of car.
2022 Toyota Supra
Toyota eventually stopped selling the Supra in the United States in 1998 and ceased production entirely in 2002. As you'd expect, it was due to declining sales. In the US, this was due to the stronger Yen which drove up the price of the Supra in markets outside Japan.
Additionally, sports coupes were declining in popularity in general during this period. Partly thanks to the rise of SUVs. And partly due to the '98 Asian financial crisis which drove buying power down and buying an impractical sports car just didn't make sense anymore.
Fast forward 17 years later, Toyota finally unveiled the J29 MK5 Supra. As part of its new branding initiative, Toyota technically calls it the GR (Gazoo Racing) Supra, their motorsport and performance car division.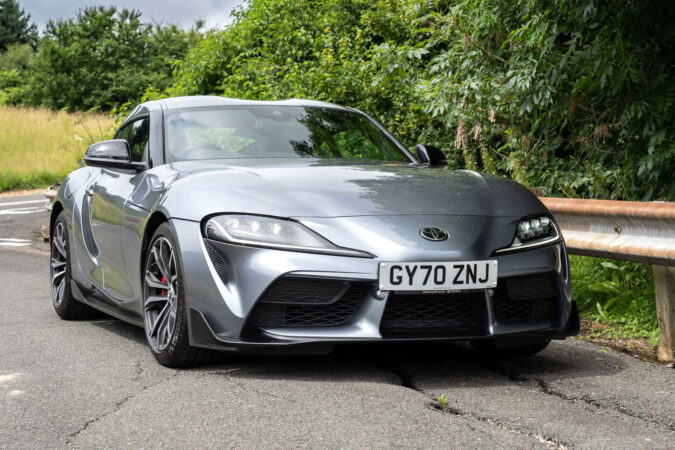 As you probably know, the GR Supra was developed in collaboration with BMW. It shares the same platform as the BMW Z4, and even uses the same engines as the Z4. The base model comes with a 2.0L turbo four-cylinder engine, and there's BMW's 3.0L B58 straight-six available as well.
The GR Supra received a lot of criticism from enthusiasts. Many gearheads and die-hard Supra fans complained about how it feels too much like a BMW on the inside. Additionally, the straight-six engine was great, but it doesn't have the same tuning potential as the 2JZ engine.
The criticism is warranted, as tunability was the biggest appeal of the MK4 Supra. But when you view it simply as a sports car, the GR Supra is one of the best sports car money can buy. The straight-six packs plenty of punch, the handling is brilliant, and it's very well-built.
How Much Is A Supra? Prices For The Classics
Since there are a few generations of the Supra, let's take a look at their pricing by each generation:
MK1 Supra
The MK1 Supra will be very difficult to find. We couldn't find any currently on sale or auction in the US, so you're going to have to import one yourself.
Even finding ones on sale in Goo-net Exchange (a website containing used cars for sale in Japan) is extremely difficult. But we did see some on classic.com but they have all been sold.
 

View this post on Instagram

 
Higher mileage ones are sold for around $14,000. But there are low-mileage specimens that have been sold for $33,000. It seems pretty pricey, but we think this is a perfectly reasonable price for a classic such as this.
However, you'll need to prepare an extra $5,000 if you want to import a car from abroad, possibly more. You'll need to pay for shipping, a handler to ship the car, and pay 2.5% on top of the car's price to Customs & Border Protection (CBP).
MK2 Supra
The MK2 Supra is still incredibly difficult to find. But somewhat easier than the MK1. We found a couple of units on sale on classic.com at the time of writing, but they're asking for $34,900 with 70,000 miles on the clock.
The price varies greatly though, as some have been auctioned for as little as $7,700 even with just 35,000 miles on the clock. The key here is patience.
If you really want one, you'll need to wait until a desirable specimen either goes on sale for a reasonable price or on auction. You can import one as well from Japan, but they're likely to cost about the same. Additionally, they're pretty hard to find even in Japan.
MK3 Supra
The MK3 Supra isn't quite as popular as the MK4 Supra, but those in the know will, well, know, that this is still a fantastic sports car. It doesn't have the same tuning potential, but it's still fantastic to drive.
The price is also still very reasonable. It'll cost around $22,000 in decent condition, and slightly lower if you find a higher mileage one. However, there is one problem: almost all of the units we found are automatic.
Not a big deal if you want a cruiser, but if you want a sports car, you'll want the manual version. Old automatic transmissions aren't exactly very sporty. At least, they're not in our experience.
There are a few manual ones on sale right now, such as the one we found on Autotrader. However, it's asking for $35,000 which is well above the average for the automatic version. That being said, it's still a pretty reasonable ask for a classic. Unlike the MK4:
MK4 Supra
This is the legendary Supra that pretty much every gearhead adores—or at least respects—and is the darling of the JDM tuner scene. So, prices aren't going to be cheap. Its price ranges anywhere from $55,000 to an eye-watering $300,000. Yes, it's THAT expensive.
For around $50,000 to $70,000, you can get both the turbo (2JZ-GTE) and the non-turbo (2JZ-GE) models. But they're going to be high-mileage specimens, often over 100,000 miles on the clock.
You can get a turbo model with lower mileage on it for around this price. But chances are it's going to be the less desirable 4-speed automatic version, such as the one we found on Bring A Trailer currently on auction, with a current bid of $66,000.
If you want the turbo version with a manual, and with less than 50,000 miles on the clock, that's going to set you back at least around $130,000. And the pristine ones will set you back between $200,000 and $300,000.
Worth the price? Overrated? You decide. A cheaper option might be to import one yourself from Japan. We did find some desirable specimens for around $60,000 with relatively low mileage on the Goo-net exchange.
One thing for sure is that you'll want the manual transmission version. The automatic feels a little clunky to use and makes the Supra feel less sporty. And it can't handle as much power as the manual. Either the turbo or non-turbo is fine, as both have the same tuning potential.
Importing A Supra
By now you're probably thinking you're better off importing a Supra rather than buying one that's already here. But as mentioned, prices are about the same. And most of the units you'll find in Japan will have somewhere around 85,000 miles on the clock.
We think it's only worth it when you can find the RS-Z (entry-level turbo model) or up. One of those with manual transmission for around $60,000? That's a bargain.
Of course, there's the business of importing to the States. It sounds pretty simple, but in reality, it's likely to cause a lot of headaches.
The video above explains the process of importing a car from Japan. In a nutshell, you'll need a broker to handle the shipping here. Since Japan isn't open to tourists right now, you're going to need someone you can trust.
Then you'll need to pay for shipping, the duty to CBP, the broker fees, and pay for inspections and paperwork. Shipping is usually $1,200, and we'd recommend you prepare around an extra $5,000 to import the car here. You can learn more about this in Doug DeMuro's experience importing a Nissan Skyline (aka a Nissan Skyline GT-R) to the US.
How Much Is A Supra – Pricing For The 5th Generation
So the ever-so-desirable MK4 Supra is incredibly expensive. Even ones that aren't movie stars can fetch hundreds of thousands of dollars, and we can't help but think that sort of money is best spent on a supercar. Or maybe a house?
So, if you want a Supra, then maybe buying a brand new MK5 Supra is a better idea. It doesn't have the heritage of the MK4, but it's still a Supra and it's a wonderful sports car.
2022 Toyota Supra Configurations
Since the GR Supra is available in several configurations, the price ranges between $44,000 and $60,000. Here's a look at the currently available Supra configurations:
2.0. This is the basic GR Supra with the 2.0L engine and 8-speed automatic transmission starting at $43,540.
3.0. The base 3.0L straight-six model receives an Adaptive Variable Sport (AVS) suspension and is available with a 6-speed manual transmission. Starting at $52,500.
3.0 Premium. This gets you 14-way power-adjustable black leather seats, a 12-speaker JBL sound system, and Brembo 4-piston disc brakes. The price starts at $55,650.
A91-MT. Essentially the same as the 3.0L, but with hazelnut-colored seats, red strut tower braces, red 'Supra' badging, and only available with the 6-speed manual transmission. Prices start at $58,345.
Note the prices above are the Manufacturer Suggested Retail Price (MSRP) which is the price that Toyota recommends dealers sell the car at. However, thanks to the so-called "market adjustment" prices, you're likely to find dealers selling them at a much higher price.
This is due to supply chain issues—remnants of the COVID-19 pandemic—and the bottleneck is usually with the computer chip supply. Modern cars require computer chips for their entertainment system, engine control unit (ECU), and other electronics in the car.
While the technology industry seems to have resolved this issue, carmakers are still struggling to get back up to speed. As a result, supply can't keep up with demand and prices go up thanks to this.
Thankfully, it's not as bad as it used to be. But you can still expect dealers to charge around 20% on top of the original MSRP. And expect higher price-gouging for the new A91-MT.
Is It Worth It?
I have my own gripes with the Supra. The styling is nowhere near as good as the original FT-1 concept car; it looks too small, and there are too many fake vents around the car that feels like an unnecessary design feature.
Then there's the interior. Technically there's nothing wrong with the BMW-like interior. BMW makes great, ergonomic, and high-quality interiors. But put this in a car with as much heritage as the Supra, and it feels like the interior is lacking character. I can't help but think I'd be happier in a similarly-priced BMW M2.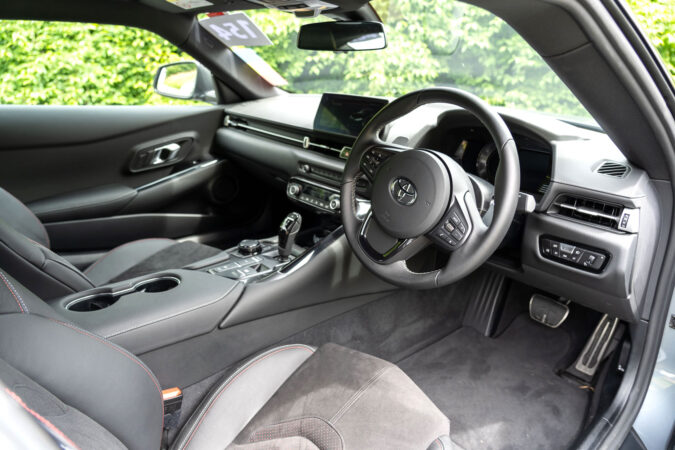 However, the Supra is a good sportscar in its own right. It's a different enough car to the Z4, thanks to the hardtop roof and Toyota's own tuning to the suspension. Couple that with the fantastic BMW drivetrain, and you have a sports car that will put a smile on your face when you take it for a drive.
Sure, the B58 straight-six doesn't have the same tuning potential as Toyota's 2JZ engine. The 2JZ had a cast-iron block, whereas the B58 uses aluminum hence it can't handle as much horsepower. But the B58 engines are fantastic as it is.
We think the price is worth it. Some of us here at MotorVerso still prefer something else, but the GR Supra is a good car worth considering.
Go to a dealer, and take a look for yourself. See if you like the interior, ask for a test drive, and see if you like it. If you're happy, then the price is worth it. If you want to learn more now, you can read our review of the 2021 GR Supra.
The Nemesis: The Nissan Z
However, before you pull the trigger, consider its current nemesis: the Nissan Z. The Nissan Z lineage was never a direct rival to the Supra, but considering how similar they are (six-cylinder engine, rear-wheel drive, two-door body style), you should at least take a look at the new Nissan Z before buying a Supra.
Reviews of the new Nissan Z have been overwhelmingly positive. The V6 engine is brilliant, the ride is comfortable but still has great driving dynamics, and both the exterior and the interior design feel distinctive and characterful. Nissan has done a particularly great job incorporating the 300ZX's rear design in the new 400Z.
The GR Supra is technically still faster, thanks to its lighter weight and punchier engine. But the Nissan Z is a distinctive sports car that Nissan builds from the ground up, making it more characterful than the BMW-based GR Supra.
The Nissan Z is available starting at $41,015. But the version you want is the $51,015 Z Performance trim. The engine remains the same, but you get a sportier suspension, limited-slip differential, better brakes, and a smattering of luxury features and cosmetic upgrades.
FAQs About How Much Is A Supra
Got any more questions about Supra prices and Toyota in general? We answer some frequently asked questions below:
Does Toyota Own Subaru
You'd be forgiven to think so because of the Toyota GT86 and Subaru BRZ partnership. While Toyota owns a 20 percent stake in the Subaru Corporation and is a majority owner, it acts more as a partner than an owner. Aside from the GT86 and BRZ, the two companies rarely share parts and designs in their cars.
What Does Supra Mean
In the case of the Toyota Supra, it's a Latin word meaning above or transcending. Fitting for a sportscar that's so popular.
How Much Is A 2JZ Engine
A non-running engine will cost a relatively affordable $400. Meanwhile, a running 2JZ-GE is around $2,000, and the twin-turbo 2JZ-GTE will cost up to $4,000. If you want a running engine and transmission assembly, that can set you back up to $7,000. Toyota currently doesn't offer brand new crate engines.
How Much Horsepower Does A Supra Have
Current versions now have 255 horsepower for the 2.0L version, and 382 horsepower for the 3.0L version. Meanwhile, the popular MK4 Supra has 220 horsepower for the non-turbo 2JZ-GE version. And the twin-turbo 2JZ-GTE has 321 horsepower.
Are Supras Legal In The US
Yes, they did sell the Supra back in the day up until 1998. If you're thinking of importing one, then you'll need to find a 1997 model year or older. The ones after that are still less than 25 years old, and the Department of Transportation currently prohibits importing a car less than 25 years old. You technically can, but modifications to meet various regulations are required and it's not worth the time.
How Fast Is A Supra
The current 3.0L GR Supra has an electronically limited top speed of 155mph and goes from 0-60mph in about 4.3 seconds. An aftermarket reflash of the ECU should be able to remove this top speed and the Supra can reach 163mph. Meanwhile, the ever-so-popular MK4 Supra can reach 155mph, but as per Japanese regulation, the JDM version can only reach 112mph.
What Engine Is In The New Supra
The Supra comes with either a B48 turbocharged 2.0L four-cylinder engine or a B58 turbocharged 3.0L straight-six. Both engines are from BMW. All Supra models come with an 8-speed ZF automatic transmission, except for the A91-MT which has a 6-speed manual from BMW and is only available with the 3.0L engine.
Why Is The Supra So Popular
The two main reasons for its popularity are its tuning potential and its appearance in the Fast & Furious franchise, as driven by the late Paul Walker's character, Brian O'Conner. The franchise single-handedly raised the JDM tuner scene's popularity in the US. Combine that with Supra's wide range of modification options, and you have one of the most desirable cars in the eyes of car enthusiasts.
Why Are Supras So Expensive
Its popularity means that it's a desirable car that everybody wants. When high demand meets limited supply, well, that's a recipe for expensive price tags. Price gouging from car flippers has also affected this.
Final Thoughts
Thanks to its tuning potential and appearance in the Fast & Furious franchise, the MK4 Supra is now one of the most desirable—and expensive—cars on the market. Fetching a minimum of $50,000 for the automatic models, and over $200,000 for the turbo with a manual in pristine condition.
To be honest, we think that's just a little too much money for what is essentially a nearly three-decade-old Japanese sports car. The modern GR Supra offers better value for money and is a fantastic sports car. If tunability isn't important to you, then we're sure you'd be perfectly happy with it.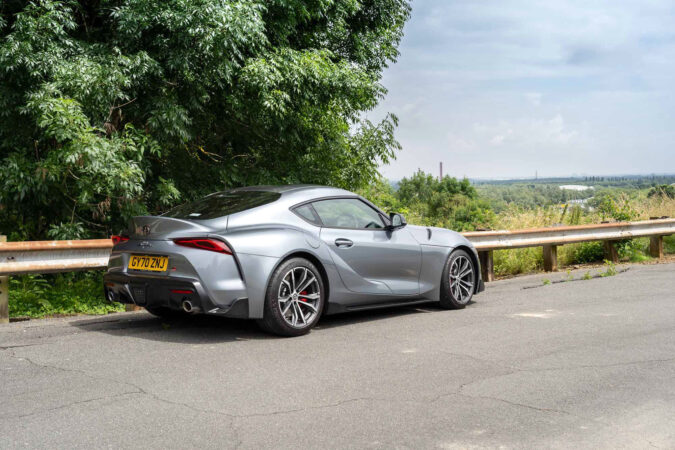 If you're adamant about getting an MK4 Supra, then we'd leave you to start saving up now. Or maybe consider getting the Lexus SC300? It's the Supra's grand tourer sibling; the chassis was different but it came with the same 2JZ-GE engine. And yes, there are manual versions.
In any case, if someone asks you "how much is a Supra?" you can now answer them and show off your car knowledge. If you can't afford it, at least hopefully this article has been helpful for you.