Solutions For Painting A Car With Chrome Paint
Besides the traditional chrome plating techniques, there are several solutions to achieve what is called a chrome car paint. In this article, we will focus on techniques that have proven their effectiveness, leaving aside the cheap chrome car paint sold in supermarkets, which are not what they claim.
So there are 3 different chrome effect car paints that can be done more or less easily, and which, as often, each have their advantages and disadvantages.
First of all, there is the professional chrome paint which is a liquid paint that can be applied with a spray gun, airbrush or even an aerosol can.
It is a somewhat demanding process, which consists of 3 coats (2K basecoat + chrome paint + topcoat)
The result is a mirror effect of 70 to 90% depending on whether the paint is unvarnished or varnished. This chrome effect paint has an excellent resistance to UVs, but also to weathering and abrasion, when varnished. It is therefore suitable for all projects on car bodies or motorcycles for example. We note that there is a version of chrome paint colored by coloring the finish topcoat with a Candy ink.
Other Types Of Chrome Car Paint
There is a chrome paint, much simpler to apply and succeed, accessible to a greater number of users who do not have an airbrush or spray gun: it is the chrome paint « floating ». This product offers the advantage of being a single coat, which can be applied even with a brush, on almost any surface, without even a preparatory base coat.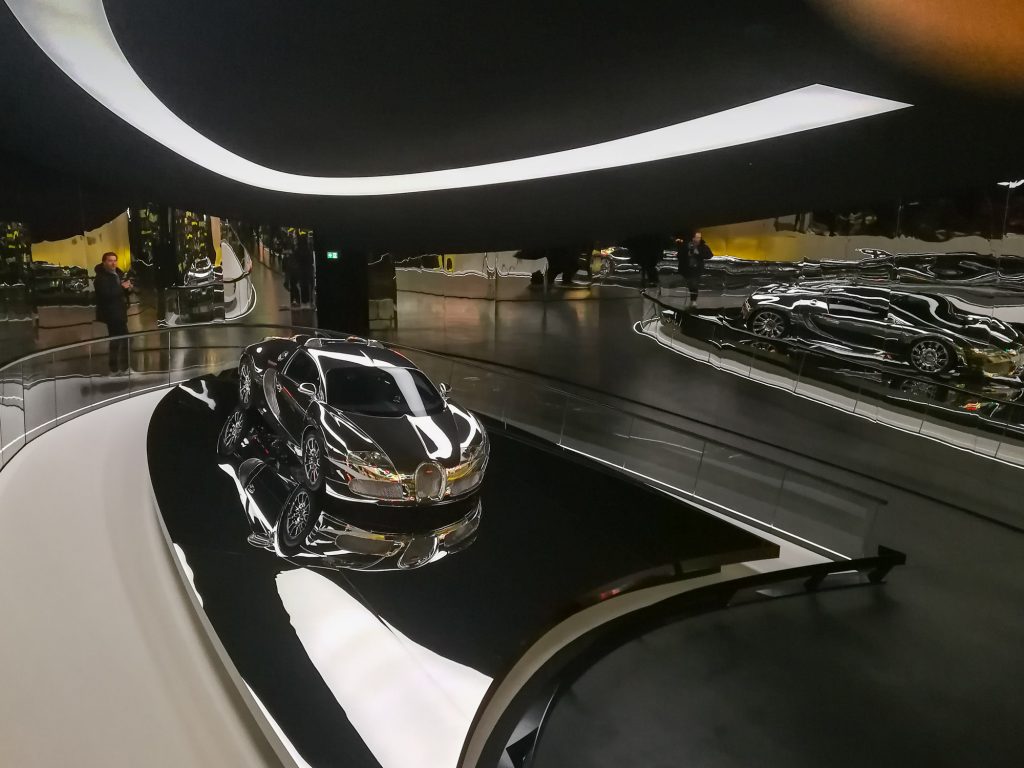 This amazing paint creates a floating mirror on the surface in a few seconds.
Its chrome mirror effect is amazing (90% of real chrome) and allows a strong reflection of light. The chrome car paint "GO" is therefore a suitable solution to redo the interior of the headlights.
However, it is not very resistant and this decorative paint cannot be used as chrome car paint for the exterior.
What Is Chrome Spraying On A Car?
This old technique, well known to manufacturers since the 1900s, is called silver plating. More recently, the process has been adapted to chrome plating all types of surfaces and shapes, using spray machines.
It is a chemical process quite distinct from painting techniques: even though spray guns are used in these impressive demonstrations, the products that are sprayed are water with chemicals. More precisely, solutions of Silver (Ag), the precious metal, deposited in nanometric thickness on the surface of the objects.
Silvering: The Pros And Cons
Not very accessible to amateur painters, this technique is demanding, complex and requires a machine. There is a "portable" version without a machine, for the curious and the amateur chemists.
It allows a silver mirror deserving of the best chrome and can be applied on many surfaces. It gives wonderful results on perfume bottles, statues and works of art, among others… Unfortunately, this chromium plating solution is not suitable for outdoor use, as Silver is naturally fragile and turns yellow with time, especially in sunlight.
Do not hesitate to watch this video to better understand how to paint a car in chrome but with an aerosol.
AI Car Expert Thinking 

.

.

.