If you have to transport your bikes using your truck, the first thought that probably crosses your mind is throwing them into the truck bed. However, this idea is not as fantastic as it may seem.
This is because your bike will be thrown all over the place and get bumps and scratches. In addition to that, your pricey vehicle will also develop ugly scratches and get damaged too.
The only solution to this problem is securing your bicycles in the truck bed to ensure that they do not get tossed all over the place, especially while driving on a dirt road.
According to ClaspAuto the best way to secure a bike in a truck bed is to use a best truck bed bike rack for this job. Using a rack will increase the safety of the bike and the truck body color as well. You can read more on recommendation of truck bed bike rack and buying guide at ClaspAuto.com.
Keep reading this article, and you will get vital tips on securing your bike to the truck bed.
Reasons For Securing Your Bikes To The Truck Bed
Why do we insist that you secure your bike to the truck bed before you embark on your journey? We have answered the question for you below.
1. Reduce Theft
With your bike tightly secured to the bed with a chain or locks, any individual thinking of snatching it will be deterred instantly. This is because the stealing would have been more complex since the thief would need to do more and use more tools.
2. Minimize Accidents
If you don't secure your bikes to the truck bed properly, they could fall off and collide with other vehicles on the highway or other pedestrians. In addition to that, the bicycle could get damaged and leave you with unplanned costs.
3. Insurance Cover
It is always a good idea to get bicycle insurance to protect yourself if the worst happens, and your bike falls off to get damaged or cause accidents. So, if you present yourself as a low-risk person, insurance companies won't have an issue providing you with the cover you need for your bikes.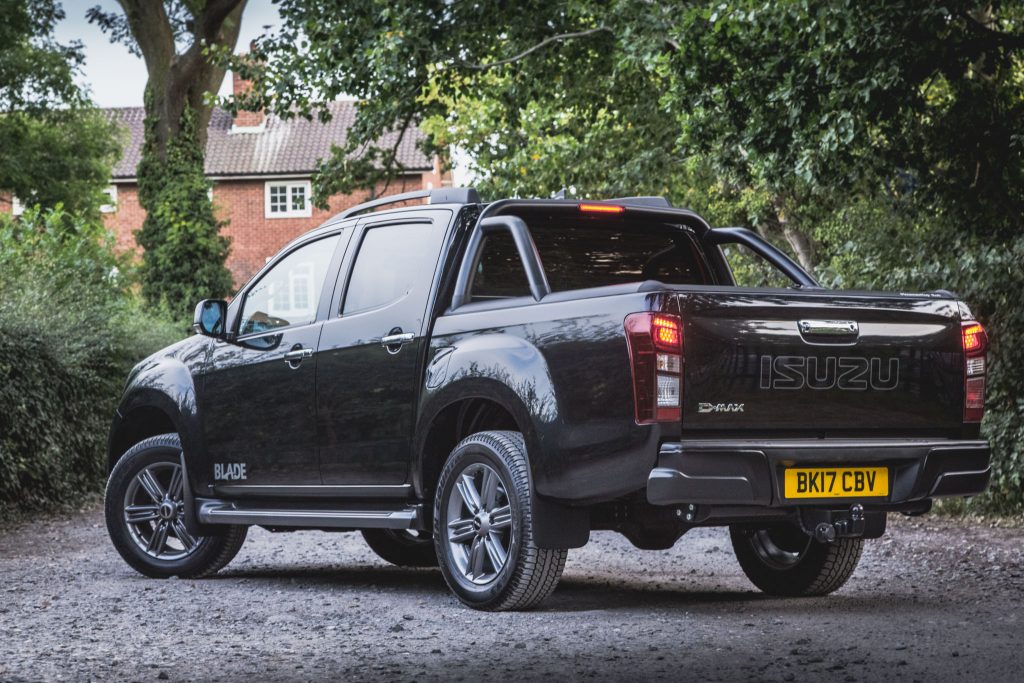 Ways Of Securing Your Bikes To The Pickup Bed
Let's now look at the various options available that you could use to ensure your bicycles remain intact on your pickup's bed.
1. Straps And Tie-Downs
Those tie-down hooks that you often use to transport motorbikes could also work for your bicycles. And since bikes weigh less than motorcycles, you will only need soft cords or bungee straps to secure them properly.
You should be keen to tie the straps tightly to ensure that the bikes don't move around or vibrate when driving on a rough trail or strong winds.
The only problem with this method is that it only tends to be effective in transporting single bikes.
2. Bike Racks
Secure your bike in the truck bed by using a bike rack. You can use a fork mount or a trunk mount bike rack to carry your bike in your truck bed.
Bike racks are ideal for transporting multiple bikes, and they come in different designs. Check out the different types of bike racks and their pros and cons so that you find out which one works for you. Follow the ClasoAuto as we mentioned above.
Fork-Mounted Racks
These racks require the front tire to be removed so that you can secure the front truck to the truck bed. Once the bike is attached, it won't move around when you hit the road, nor will it be stolen easily.
However, these mounts are axle-specific, and you have trouble finding the perfect fit for your bike.
Rail-Mounts
The next type of rack is designed to run along the entire distance of your truck bed. In most cases, a fork mount is included in the system to boost stability.
The main advantage of this design is that it does not occupy a lot of space on your truck bed. In addition to that, it is easy to install plus has universal compatibility to accommodate most of the bikes out there.
However, some rail mounts require permanent installation, which may be inconvenient when you no longer have to haul bikes.
Roll-on Mount
If you don't want to disassemble your bike during transportation, this rack would be perfect for you. Here, you only have to roll the tire into place and then secure the clamp around the sides, making it one of the easiest-to-use racks around.
The only problem is that roll-on mounts are too large, and you may have trouble finding sufficient storage space to accommodate them when not in use.
Side Clamp Racks
These types of racks install onto the truck bed's side and make use of the ratchet holders to keep your bike in place. They are pretty portable, and you won't have a lot of problems with the storage.
You will also like the versatility since the racks could help you secure other bulky items you need to transport on your truck bed.
However, you can only transport a maximum of two bicycles with this rack since you can only install two of them on the truck bed at a go.
3. Tailgate Pad
This is another popular way of securing your bike to the truck bed, and it enables you to toss a bicycle over the truck's tailgate without damaging the paint (bike's and vehicle's).
Many truck owners like it due to its affordability, ease of use, and design that ensures both your bike and truck's paint are well-protected.
Final Word
Now that you know the various options available for securing your different types of bike in a truck bed, it is up to you to decide which one is most convenient for you. Consider the number of cycles that you have to transport, the weight, and the ease of installation for your peace of mind.
And with your bike secure, you won't have to worry about it falling off or being grabbed by thieves.