Hyundai announced their new collaboration with the Dutch marine conservation group Healthy Seas.
This new partnership is part of the company's sustainable initiative "Progress for Humanity", its vision for humankind's future and this planet.
The President and CEO of Hyundai Motor Europe, Michael Cole, had the following to say:
As a purpose-driven company, Hyundai understands that recycling and sustainability aren't trends but rather a need for our society. Through our progressive, inclusive, and responsible spirit, we are committed to the development of a sustainable society. This is why our strategy tackles environmental problems head-on and works with communities to safeguard a sustainable future.
Hyundai is very vocal about its vision for the future. To quote them,
Hyundai Motor Company is striving to provide freedom of movement to everyone by investing in mobility services… The company will play a pivotal role in global society's transition to clean energy by helping make hydrogen an economically viable energy source.
While many of the big car companies have – so far – decided to head in the direction of plug-in battery-powered electric vehicles, Hyundai currently believes hydrogen power is more sustainable.
Reading through the company statements, one gets a strong understanding of its importance on environmental sustainability.
The soon-to-start work with Healthy Seas is an excellent step in this direction.
Initially, the organisations have agreed to a one-year-long contract with the option of an extension.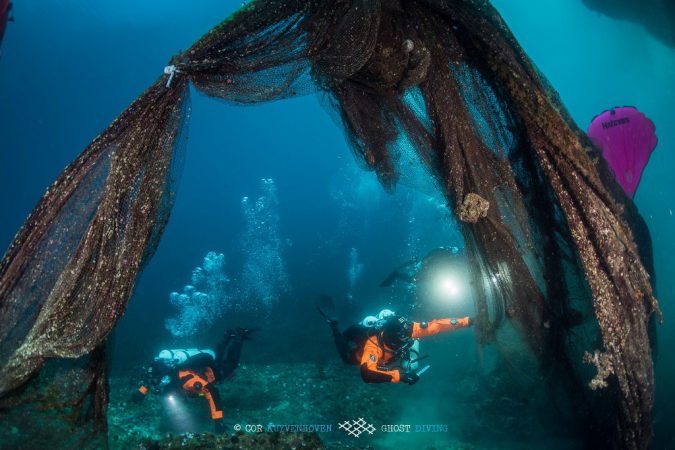 What Is Healthy Seas About?
You can find a link to the Healthy Seas website at the start of this article.
The primary aim of Healthy Seas is to combat the "ghost fishing" phenomenon.
"Ghost fishing" refers to the futile deaths of marine life caused by discarded fishing nets, traps and other gear.
When the gear reaches the seabed, it smothers, traps and potentially kills fish, animals and habitats. It doesn't simply sit there, too. Ocean currents drag the equipment around the ocean floor until it permanently snags on something or breaks down. But many of these nets are thought to take more than 600 years to break down.
This type of pollution causes death needlessly and is thought to be responsible for around 10% of marine litter per year. That's about 580,000,000 kg dumped in the oceans.
According to this article from World Animal Protection, more than 136,000 whales, dolphins, turtles, and seals are killed each year due to ghost fishing. It would be impossible to number the fatalities in fish, plant life and habitat.
In terms of sustainability, it's an utter nightmare.
Healthy Seas is one of a few organisations that works on combating this issue, specifically. For this reason, Hyundai has chosen to partner with them.
How Does Healthy Seas Combat Ghost Fishing?
There are three main areas of activity with Healthy Seas. They all point towards the same aim: the clean-up and prevention of ghost fishing.
They work with Ghost Divers, a charitable organisation, to clean up ghost fishing hot spots such as shipwrecks and coral reefs.
By going into schools and teaching young people about the impact of ghost fishing, Healthy Seas hopes to educate future generations on this issue. The more that people know about it, the more work can be done to combat it.
They collaborate with local communities and fishers to make sure there's a sustainable, cost-effective fishing gear disposal method. For example, the plastic from nets and other waste can be turned into Econyl®, a type of recycled nylon, by Aquafil. BMW has used Econyl to make the floormats for the BMW i3 and BMW iX since 2016.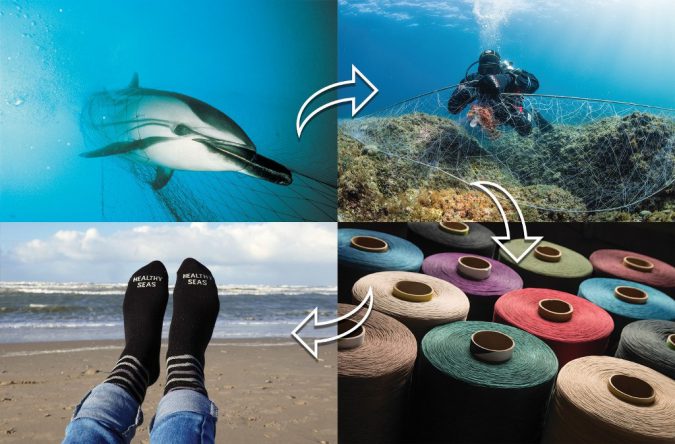 What Will The Partnership With Hyundai Allow Healthy Seas To Do?
The first activities will begin this month.
The first clean-up activity is scheduled for early summer in Greece. Following this, many other countries will feel the benefit of Healthy Seas' presence, in association with Hyundai:
… Norway, Germany, the UK, the Netherlands, Spain, Italy, and France, as well as in the North and Mediterranean Seas.
A partnership with Hyundai will allow Healthy Seas to stretch its reach all over Europe.
Hyundai's primary role in the agreement is to provide the funding, with Healthy Seas broadly in charge of the activities.
Sustainability And The Automotive Industry
Environmentally sustainable models, sponsorships and production methods are becoming more and more common within the automotive industry.
The move towards electric cars doesn't yet represent a carbon-neutral process, but it's a step in the right direction.
Climate change due to human-made pollution is undeniably changing our planet, and we're seeing the effects of it increase exponentially.
It's nice to see so many automotive organisations put these kinds of things into practise to this end. More could be done – by everyone! Without doubt. But, like many things, it's a step on the right path – a path we need to keep on pushing down.
Let's just hope it's enough.