Owing to their immense and widespread popularity, automakers are more than happy to keep shilling out SUVs left and right. So much so, that some of the most popular brands out there have not just one or two. But, sometimes upwards of half a dozen SUVs within their line-up at any one time. It thus leads to some consumers being rather confused, such as picking between the Hyundai Tucson Vs Santa Fe.
It's not unjustified, mind you. Hyundai currently has a whopping seven different SUVs in their current model range. It starts with the Venue and Kona, rounding off their smaller city-dweller crossovers. Then, we have the Tucson and Santa Fe, slightly larger SUVs. Next, we get to its Palisade, a gigantic 8-seater SUV, not to mention the IONIQ 5 electric SUV, and the NEXO hydrogen fuel-cell SUV.
Looking at a Hyundai dealer's brochure, therefore, can be perplexing. Do you want a bigger, roomier, more usable, and perhaps more capable crossover-slash SUV? Or, could you instead spare a few bucks with something smaller, more economical, and maybe faster, too. Hence, leading us into discussing a fight between the Hyundai Tucson Vs Santa Fe. So, which one of these is the best pick for you?
What Is The Hyundai Tucson Vs Santa Fe, Anyway?
Before we take a closer look at the Hyundai Tucson Vs Santa Fe, we should first discuss more of its respective background, and how both models came to be. Both SUVs have existed in Hyundai's stable for a long, long time, since the early 2000s. It's quite clear based on their naming that both the bigger Santa Fe and its smaller sibling, the Tucson, are both designed and built to cater to the US market.
Of course, we're looking back at the city of Tucson in Arizona, and the city of Santa Fe in New Mexico, respectively. The big Santa Fe came around first, as it was unveiled in 2000 (for the 2001 model year) as Hyundai's first-ever SUV. It was a big deal, as Hyundai was in muddied waters financially speaking at the time, and it just so happens that the SUV trend is catching on fire here in the US-of-A.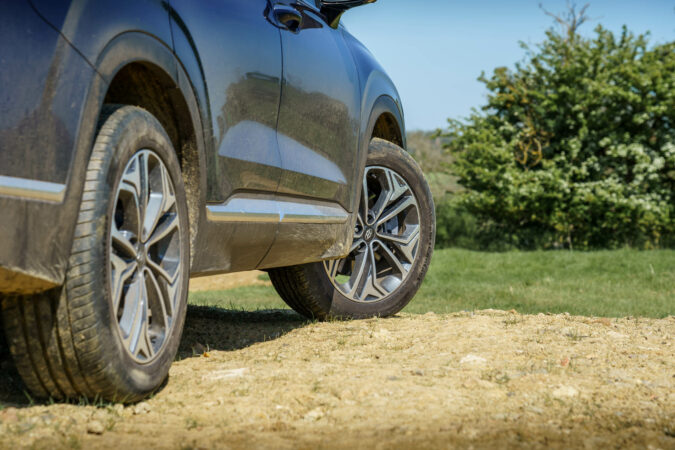 Just as the Santa Fe launched, American buyers lapped it all up by the bucket loads. It was, after all, a pretty good contender within the market for cheap, practical, do-everything, and spacious SUVs. The Santa Fe even came with three-row seating, which made it all the more sought after as a family car. Since the Santa Fe came around, Hyundai's been emboldened to design and build even more SUVs.
One of the first from this endeavor was the Tucson, sitting right below the Santa Fe in scale. It was a bit smaller, befitting its placement in the burgeoning compact crossover SUV class. Since the first was released in 2004, Hyundai's managed to rely on the Tucson for a big chunk of their global sales. It was their best-selling SUV, as over 7-million of them have been sold since then, and still going strong.
What Is The Hyundai Santa Fe (A Bigger Tucson, Essentially)?
To best compare them, we'll be looking at the most recent generation of the Hyundai Tucson vs Santa Fe, for those of you keen on getting one soon. For the larger of the two, we're going to take a peek at Hyundai's fourth-generation (TM series) Santa Fe. It was first introduced in 2018 (for the 2019 model year) and remains to this day. Not long after it launched, the Santa Fe soon reached US dealerships.
Initially, the 4th-gen Santa Fe was offered only in a two-row guise, missing its third-row seating. In its place, Hyundai continued to offer the third-generation (DM or NC series) Santa Fe specifically for this. The latter was badged as the Santa Fe XL, which had a longer wheelbase and three-row seating. Yet, it was only on the market for a little while through the 2019 model year, before it was then replaced.
 

View this post on Instagram

 
Now, if you want a gargantuan, three-row SUV that could seat 7 or 8 people, you'll have to opt for the Palisade, instead. But anyway, back to the 5-seater (current-generation) Santa Fe. In 2020, the Santa Fe went through an early mid-cycle facelift and refresh. The most consequential change here was the swapping of the Santa Fe's underlying platform, from the Hyundai-Kia Y6 platform to their new N3.
This N3 platform finally allowed for easier integration of both hybrid and plug-in hybrid layouts. In doing so, Hyundai also took the opportunity to redesign its exterior, in a bit to make it fresher. Its new Santa Fe (2021 model year and later) carried an all-new T-shaped lighting signature and jeweled-like front grille. This refresh also brought along a lot of interior tech and safety/driver aid improvements.
What Are The Variants Of The Santa Fe (Compared To Hyundai's Tucson)?
To best cater to as many would-be buyers as possible, Hyundai's Santa Fe comes in three unique and distinct variations. In general, differing between its powertrains. You have the base-level Santa Fe, as it continues to adopt an internal combustion engine. Step it up further, and you could instead get the Santa Fe as both a hybrid (MHEV) and plug-in hybrid (PHEV) model, as well.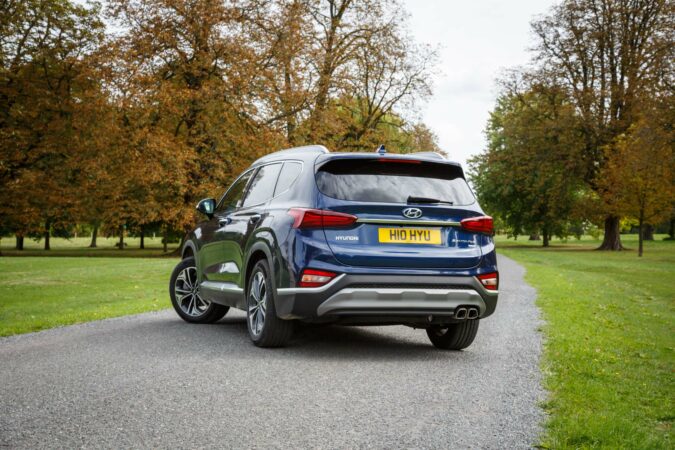 Just to give you a rough idea of where they're placed, here's how the starting price works (MSRP, not accounting for dealer mark-ups, at the time of writing):
(Gasoline) Santa Fe – $27,400
Santa Fe (Mild) Hybrid – $33,900
Santa Fe Plug-In Hybrid – $39,500
Here's a brief rundown of each variant-slash-trim of the 2022 model year (it hasn't yet been updated to a 2023 model year, as of writing this) Hyundai Santa Fe. In addition, taking a look at the features and unique touches each model has…
1. Hyundai Santa Fe
The Santa Fe range starts from an attractive sub-$30,000 price range. For that expense, you're on the cusp of getting one of the prettiest and boldest-looking SUVs on the market today. It has a daring and aggressively muscular appearance, foreshadowing its surprisingly capable traits. The most talked-about USP of the new Santa Fe is Hyundai's HTRAC all-wheel-drive system, built for any terrain.
In practice, it is genuinely rugged and has a bit of off-road personality to it, as much as a mostly city-borne SUV can be. As such, you could comfortably rely on its AWD system for those outdoor camping excursions, even when the going gets (slightly) tough. Albeit, know that this HTRAC system is optional on the lower trim levels. This is then paired with a modest amount of hitching and towing capacity.
With the smaller engines, the Santa Fe is readily capable of towing 2,000lbs. Or, step it up to 3,500lbs with its larger 2.5-liter engine. Hyundai's embedded a 'Trailer Sway Control' system into it, as well. It's able to detect if your trailer is swaying, and intervenes to keep it under control. Primarily, it works by managing the electronic stability control, alongside reducing your throttle and pumping the brakes.
Naturally, tech is a key focal point of the Santa Fe. It has a 10.25-inch (8-inch by default) infotainment screen, on top of a 12.3-inch all-digital dashboard. Wireless connectivity for Apple CarPlay is available in addition to Android Auto. Moreover, you're able to use your phone as a key, alongside a vast array of safety systems and driver aids. Altogether, keeping you aware and safe while on the road.
1.1 Santa Fe Trim Levels
The non-hybridized Hyundai Santa Fe comes with five different trim levels:
SE ($27,400) – Here's the entry-level trim into the Santa Fe lineup. As expected, it comes with more of the simpler features. You get the tinier 8-inch infotainment screen (Android Auto and Apple CarPlay), and a small 4.2-inch LCD for its semi-digital instrument cluster. In addition, there are (two rows worth of) cloth seating (it helps to learn how to get stains out of car seats), HTRAC all-wheel-drive (optional), but at least you also get most of the safety aids.
SEL ($29,150) – You're still getting an 8-inch infotainment screen, 4.2-inch LCD semi-digital dash, and seating made from cloth. However, there's significantly more tech available. Most notably, SiriusXM radio, a set of heated seats, and keyless go (with push-button start). Furthermore, there's Hyundai's Bluelink connected car mobile app made accessible, with options such as a Harman Kardon stereo system.
XRT ($32,450) – It's Hyundai's idea of a rugged, outdoorsy Santa Fe. They offer you blacked-out trim, a hardy skid plate (front and rear – handy for a skid plate to protect catalytic converter), roof rails (in black, naturally), and side steps. This makes it the ideal companion for tackling some off-road terrain and adventures. Additionally, you can now access more of the nice-to-haves. For instance, the 12.3-inch digital dash, dual-zone climate control, and more.
Limited ($39,110) – At a much higher cost, you can begin to tap into the creature comforts. By default, you'll get the 10.25-inch infotainment system, a lovely set of 19-inch wheels, leather seats (no longer optional), and a panoramic sunroof. There's a lot more included, such as a surround-view camera, or its unique blind-spot camera system, not to mention remote parking assist, memory seats, and so on.
Calligraphy ($41,110) – Here on out, the Santa Fe becomes a luxury car. There are quilted Nappa leather seats, in addition to a heads-up display (HUD), bigger 20-inch wheels, and a shiny grille. You'll spot a set of interior ambient lighting, the full spectrum of big screens, as well as parking distance monitors. The little touches are welcomed too, such as rain-sensing wipers, heated rear seats, and more.
2. Hyundai Santa Fe Hybrid
At just over $33,000, the Santa Fe Hybrid is a pretty compelling deal. That's especially you consider its standard set of features, such as the (once optional) HTRAC all-wheel-drive system. Despite that, this hybridized Santa Fe could more than readily tow, with a payload rating of 2,000lbs. Impressive, given its tiny 1.6-liter (turbocharged, inline-4) engine, although mated with a meaty 44kW electric motor.
Combined, it could output a modest 226hp from its mild-hybrid powertrain. You're then greeted with a 1.5kWh battery pack, which could be charged up thanks to regenerative braking. Altogether, aiding to improve your fuel economy of up to 36MPG. Regardless, the (mild) hybrid version is just as capable off the beaten path as the ICE model. Plus, it's also offering a 10-year (100,000-mile) battery warranty.
2.1. Santa Fe Hybrid Trim Levels
You're only able to choose from just three trim levels with a mild-hybrid Santa Fe:
Blue ($33,900) – A lot of the optional packages from the ICE Santa Fe are now standard. For example, its HTRAC system, accompanied by the full-on 12.3-inch digital dash. Alas, you're still stuck with cloth seats (leather is optional), and the tinier 8-inch infotainment (by default). At the very least, most of its safety aids are standard, as are dual-zone climate control, connected apps, heated seats, and so forth.
SEL Premium ($37,960) – Move it up a notch, Hyundai gives you a set of 19-inch wheels, that nice and expansive 10.25-inch infotainment, alongside leather seats. Harman Kardon audio is available, with a panoramic roof, and highway driving assists (essentially, a smarter cruise control). Parking monitors come as standard, besides its trailer pre-wiring system, in-app connectivity, digital keys, and more.
Limited ($40,310) – The top-of-the-range Santa Fe Hybrid has nearly the entire roster of options ticked. A remote smart parking feature lets you move the car forwards and back using the key fob. As you're doing that, the Limited trim comes with its blind-spot cameras that appear in the dash. Surround-view cameras make it easier to see what's around you, with all the bells and whistles that you'd want.
3. Hyundai Santa Fe Plug-In Hybrid
Ah, but what if you want to be able to drive electrically, without powering on the gas engine? Well, a Santa Fe Plug-In Hybrid is made just for you. With its gasoline engine (a similar spec to its mild-hybrid sibling), it's paired to a 66.9kW electric motor, and (much) larger 13.8kWh battery. The latter affords you a 30-mile all-electric range. While not mind-blowing, it should be sufficient for most commutes.
Once again, it can tow (up to 2,000lbs), with HTRAC all-wheel-drive kicking in to provide you with that all-terrain traction. You'd also enjoy the rest of the nice-to-have techy features that we mentioned in the earlier Santa Fe models. Besides letting the regenerative braking charge up the batteries, you can instead plug it in. With your typical 220V or 240V household charger, you can top it up in 4 hours.
3.1. Santa Fe Plug-In Hybrid Trim Levels
This time around, you only get two trim levels with the plug-in hybrid model:
SEL Convenience ($39,500) – HTRAC is a standard fitment, as is the bigger 12.5-inch digital dash. App-based connectivity and keys are a given, as with other gadgets like a rear-view camera. By default, it still comes with cloth seats, but they're at least heated. A lot of safety systems and driver aids are a standard inclusion, which is nice. Plus, Hyundai offers you an electronic push-button shifter.
Limited ($45,510) – Mostly, you're including more electronics into the mix. For example, it's got that remote parking assist, blind-spot camera system, and a bigger 10.25-inch infotainment screen. A set of leather seats is expected, alongside a premium Harman Kardon audio system, and parking distance monitors front and rear. Oh, and let's not forget Hyundai's clever highway driving assist (HDA).
What Is The Hyundai Tucson (A Smaller Santa Fe, Pretty Much)?
Comparing Hyundai Tucson Vs Santa Fe is fairly tough, given that the cheaper Tucson is a derivative of the bigger Santa Fe. Unveiled in 2020 (for the 2021 model year), this new Tucson has that familiar design ethos of the already-available Santa Fe. Crucially for our comparison, this fourth-generation (NX4) Tucson rides on a similar, shared platform. Specifically, a shortened version of the N3 platform.
Nevertheless, Hyundai did make the Tucson in both a short and long-wheelbase variant depending on the region. We here in the US got the long-wheelbase model. Elsewhere, the Tucson could be had as a gas-powered model, (mild) hybrid, or plug-in hybrid. In other words, similar to the Santa Fe. Even with the engines, transmissions, and the rest of the powertrain's tuning, are nearly identical, too.
 

View this post on Instagram

 
The key difference is the Tucson's more compact dimensions. Its weight savings ensure that the Tucson could eke out better driveability, performance, and fuel efficiency compared to the Santa Fe. Or in hybrid terms, marginally greater all-electric range, as well. For the most part, however, there's not much a whole lot more that we could add into discussing the Tucson, over the prior Santa Fe.
For instance, you're able to get Hyundai's HTRAC all-wheel-drive system in the Tucson, to manage traction and torque off-road. With that being said, the biggest missing feature in the Tucson would be its ability to tow. It's only available as an optional extra. Still, the Tucson was never made for it and is prime to be more of an urban, sporty, and compact (yet very practical and sophisticated) crossover.
What Are The Variants Of The Tucson (Compared To Hyundai's Santa Fe)?
As we looked at beforehand when comparing Hyundai Tucson Vs Santa Fe, the Tucson crossover can be had in three flavors. Once again, varying primarily in its powertrain setup. Their starting price as of writing this (MSRP, not accounting dealer mark-ups) are: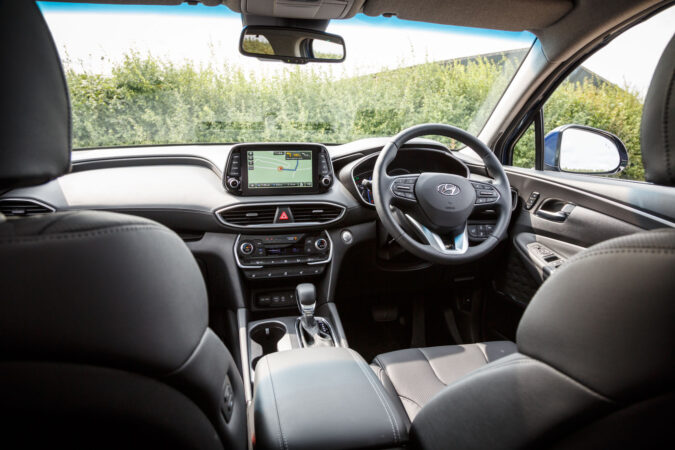 (Gasoline) Tucson – $25,500
Tucson (Mild) Hybrid – $29,350
Tucson Plug-In Hybrid – $34,900
Similarly, Hyundai hasn't yet updated the Tucson for the 2023 model year (just 2022, as of writing). In looking at the trims and features of each model, we found…
1. Hyundai Tucson
We won't be spending that much time here, as we've covered most of them with the Santa Fe. A key differentiator is its design language, which has a bolder and angrier look compared to the Santa Fe. Inside, the interior trim is mostly familiar too, but at a much cheaper price point. The central display is that same 10.25-inch unit. But, it's now complemented with a bank of buttonless, touch controls.
Haptic feedback aside, the Tucson comes with upgraded climate control. Its 'Multi-Air Mode' helps to evenly distribute and soften up the airflow. Technology such as built-in wireless charging, remote park assist, phone-based connectivity and keys, and much else are carried over, as well. Perhaps the most exciting feature (for me, anyway) is the N-Line trim, carrying that sporty and edgy look.
1.1. Tucson Trim Levels
As with the Santa Fe, the entry-level Tucson has five different trims to pick from:
SE ($25,500) – Here, you have the smaller 8-inch infotainment, which has wireless Apple CarPlay and Android Auto. And, you only get that tiny 4.2-inch semi-digital dash. Still, it's nice of Hyundai to give us most of the important safety systems and driver aids as standard. HTRAC is optional, though.
SEL ($26,800) – Going up one level, you get fancier inclusions such as keyless go, 8-way adjustable seats, rear air vents, and smart cruise control. The latter could even manage automated stop and go. App-based connectivity is expected, although you'll have to spend a lot more to get the rest.
N-Line ($30,900) – Being a sportier package, the exterior trim is darker and more assertive and has a neat-looking set of 19-inch alloys. To emphasize the sportiness, there's a twin-exhaust, rear spoiler, a couple of sports bucket seats, not to mention aluminum pedals, red stitching, and a special shifter.
XRT ($31,550) – In stark contrast, the XRT is a rugged, off-road-focused configuration. There's matte black cladding on the fenders, side skirt, and underbody. Besides that, you get the small 8-inch display for the infotainment, a larger 10.25 fully-digital dash, the option to get a tow hitch, among others.
Limited ($35,000) – At the top end of the Tucson line, you're mostly batched with much of the options from the earlier trim. The infotainment is now upgraded to a 10.25-inch unit. You get a surround-view camera system, parking monitors, a panoramic roof, hands-free tailgate, leather seats, and more.
2. Hyundai Tucson Hybrid
A natural step-up from that would be the Tucson Hybrid, with its mild-hybrid powertrain. It has that same 1.6-liter turbo engine as the Santa Fe Hybrid, with a similar electrified setup. One major point of difference is the Tucson's 'e-Handling' tech, which works in conjunction with the standard HTRAC all-wheel-drive unit. In practice, it conjoins the Tucson's traction control with that hybrid electric motor.
To this effect, you get a tighter and sharper cornering response. Being a hybrid, you can expect an improved fuel economy (up to 38MPG), and a mild increase in horsepower (up to 226hp), too. Looking inside, it's uncanny. The same big screens, haptic feedback, and buttonless controls, as well as its new-fangled climate control. Of course, all the connectivity, tech, and safety systems carry over.
2.1 Tucson Hybrid Trim Levels
You get three trim levels with the (mild) hybrid Tucson:
Blue ($29,350) – Here, you get a smaller 8-inch infotainment screen and a tinier 4.2-inch semi-digital dash. Yet, there's a rear-view camera system, electronic shift-by-wire gear shifter, and LED daytime running lights by default. Hyundai also offers you keyless go, heated seats, paddle shifters, and more.
SEL Convenience ($31,950) – In this trim, you could access Hyundai's digital keys (through an app), and be able to gaze through a panoramic roof. Elsewhere, there's ambient interior lighting, a larger 10.25-inch fully-digital dash, rear occupancy alert, hands-free tailgate, leather steering wheel, and more.
Limited ($37,650) – The top-of-the-line Tucson Hybrid now brings with it that larger 10.25 multimedia screen, leather seating, and a surround-view camera system. There are heated front and rear seats, as well as Bose premium audio, highway driving assist, remote parking, blind-spot cameras, and more.
3. Hyundai Tucson Plug-In Hybrid
Finally, we end off our comparison of Hyundai Tucson Vs Santa Fe on the Tucson Plug-In Hybrid. Yes, it has the same plug-in powertrain from the Santa Fe, etcetera. There's the same battery warranty, and a (similar) roughly $7,000 in tax credits and incentives that you could claim from the government. The crucial variable is that the Tucson, being smaller, is a tad bit lighter and pluckier than the Santa Fe.
This means that it could manage a longer 33-mile (compared to 30-mile) all-electric range. HTRAC is a standard inclusion, alongside the aforementioned e-Handling tech from the mild hybrid Tucson. Thus, you could argue that it's easier and more fun to drive than the Santa Fe. As for charging, a 240V plug can top up the batteries with a full charge in just two hours, supplemented with regenerative brakes.
3.1 Tucson Plug-In Hybrid Trim Levels
Just like the Santa Fe, two trim levels are available for the plug-in hybrid version:
SEL ($34,900) – Most of it is familiar by now, as the base-level model gets you an 8-inch infotainment screen, HTRAC all-wheel-drive, and that small 4.2-inch semi-digital dash. Elsewhere, most of the aids you need are included, alongside connected apps, rear-view parking cameras, and more.
Limited ($42,700) – As you pay more, you now get the full assortment of 10.25-inch infotainment and the 10.25-inch fully-digital dash. In addition, you'll get a hands-free tailgate, surround-view cameras, blind-spot in-dash cameras, and a panoramic roof. Leather seats are now accessible, and much more.
Which One Should You Get, The Hyundai Tucson Or The Santa Fe?
At this point, you should be well acquainted with Hyundai Tucson Vs Santa Fe. We've looked in-depth as to what feature-set each model offers, and how they differ. But if you're keen on making a decision right here and now, here's a quick TL;DR list:
Performance
By default, and trim-for-trim, both the Santa Fe and Tucson have the same engine and transmissions. However, the Santa Fe does give you the option of that meatier, turbocharged 2.5-liter engine for up to 277hp.
Fuel Economy
Both the Tucson and Santa Fe should comfortably get past the 30MPG barrier. Albeit, the gas-powered ones might be just under that threshold, around the high-20s, realistically. If you want the best miles-per-gallon, get the mild-hybrid Tucson. Or, the mild-hybrid Santa Fe.
Interior Space
Of course, the bigger Santa Fe affords you more interior room. There's more legroom front to back, more headroom (oddly, there's less of that in the back). Therefore, passengers are likely to be cozier in the Santa Fe than the Tucson.
Cargo Capacity
Despite the Santa Fe's larger dimensions, it actually has a smaller cargo area than its Tucson sibling. It's between 36.4 cubic feet in the Santa Fe, versus 38.7 cubic feet in the Tucson.
Towing
As mentioned, the Santa Fe comes standard with towing, while it remains an optional extra for the Tucson. While the top-end Santa Fe could tow up to 3,500lbs (2,000lbs standard), the Tucson could only top 2,000lbs.
Technology
Technically, there isn't much difference here either. The Santa Fe does give you a larger infotainment screen if you option it right. Plus, the Santa Fe does get more of the driver aids (such as smart cruise control) by default, whereas it's an option on the Tucson.
As a whole, comparing Hyundai Tucson Vs Santa Fe is much more nuanced than it might appear. Our bottom line remains to be that unless you need the towing capacity, extra grunt, or interior space, get the Tucson. It's better value than the Santa Fe, and it's not as though you're leaving that much on the table. If anything, the Tucson is just as capable, economical, and practical, but for a lot less money.
Hyundai Crossovers: Tucson vs. Santa Fe – Facts
The Hyundai Tucson is newly redesigned for 2022, while the Santa Fe's design dates back to 2019, with a refresh in 2021.
The starting price for the 2023 Tucson has yet to be released, but it is expected to be several thousand dollars less than the Santa Fe's base price of $29,495.
The Santa Fe can be optioned into the upper $40k-range, while the Tucson does not cross the $40k mark unless you opt for the plug-in hybrid model.
The Tucson has more cargo space than the Santa Fe, with 38.7 cubic feet of cargo area that expands to 74.8 cubic feet with the seats folded.
The Santa Fe still holds the towing advantage, with a capacity of 3,500 pounds compared to the Tucson's 2,000 pounds, but it requires the larger turbocharged engine.
The Tucson has a cleaner, more modern interior design than the Santa Fe, with a low smooth upper dashboard panel, while the Santa Fe's dashboard has greater depth and bulkier details.
Both the Tucson and Santa Fe offer a range of luxury features, including a panoramic sunroof, heated rear seats, a 10.25-inch infotainment touchscreen, and a surround-view camera.
The two Hyundais' hybrid powertrains bring improved efficiency and more power, with the Tucson returning about 37 MPG and the Santa Fe achieving 32 MPG.
The Tucson's plug-in hybrid powertrain can travel about 33 miles on electric-only and return 80 MPGe, while the Santa Fe's plug-in hybrid can travel 31 miles and return 76 MPGe.
Overall, the Hyundai Tucson is less expensive, more fuel-efficient, and has more modern styling and cargo space than the Santa Fe. However, a new Santa Fe is expected soon, which may bridge the gap between the two models.