Looking for an authentic off-roader with 4×4 that's got a short wheelbase and is also brand new? You can count the contenders on one hand.
On the first finger we have the Suzuki Jimny, and on the second finger, we have… well, nothing actually. The Suzuki Jimny is the only short wheelbase 4×4 on the market at this price. It's a class-leader in a class of one.
Not a faux off-roader
As a small SUV, on paper, the Jimny competes with so-called 'soft roaders' (crossovers with AWD) but in reality, the Jimny's skillset is very different.
You can think of it as a specialist at off-roading and a serviceable road car. Reverse that for a soft-roader, and you can see the difference.
This focus is what makes the Jimny so special. It is built for off-road ability first. You won't find this compromise made by any other manufacturer today. Everyone is intent on making a luxurious 4×4, while Suzuki's intent on just making a good one.
And good it is. Excellent, in fact. Suzuki would tell you it's built on a ladder chassis, boasts three ample body angles and runs on a 3-link rigid axle suspension with coil springs. We'll just say it's an incredible off-road machine, everywhere.
An impressive package
The ALLGRIP Pro 4WD system with a low-range transfer gear is part-time on road, and full time off-road. In the 4H mode, the 4×4 system works smarty to shuffle torque around the wheels. But slip the system into 4WD- low gear mode, and the off-road ability intensifies by such a margin even wet sand and mud can be conquered.
The all-terrain tyres and 205mm ground clearance add to this ability. But what's most telling is the short wheelbase. This dictates the approach you take to off-road terrain, and it has a few advantages over a long wheelbase – notably lighter weight, less chance of being marooned on rocks and an exceedingly tight turning circle.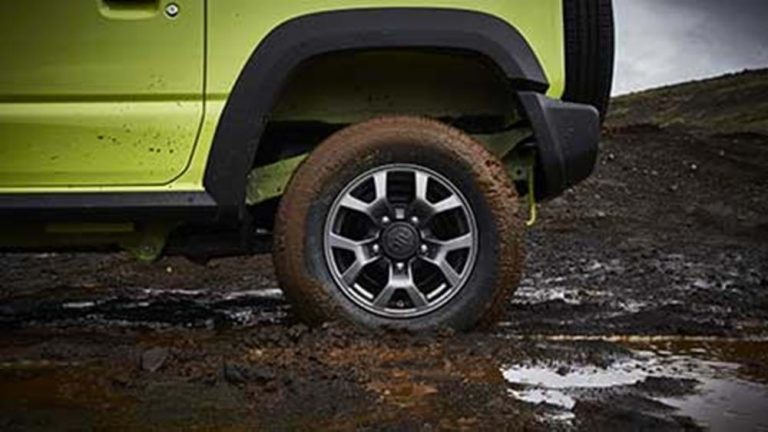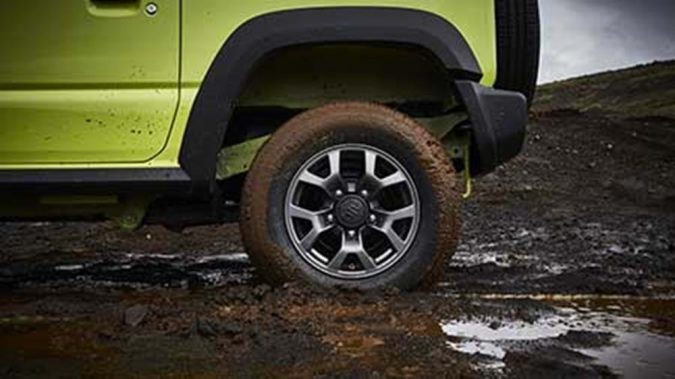 These benefits are why the Jimny has been an off-road favourite since 1970.
For road users who live in rural areas or any area where snow flurries are common, the Jimny is an assured choice. For serious off-road use, the Jimny is, again, an assured choice. But what about regular motorists?  
You know, it's pretty good. The 1.5-litre petrol engine doesn't rely on a turbo so offers linear, instant performance, and you have a choice of a five-speed manual or four-speed automatic gearbox. It leans in bends and fidgets on road, but this is (probably) a price worth paying for that superior off-road capability.
Elsewhere, it's got a 377-litre boot, four seats (the back two have ISOFIX) and the back seats can be folded flat for your stuff.
Kit wise, there's automatic climate control, a touchscreen system with Apple CarPlay, automatic LED headlights and synthetic leather upholstery. These come as standard on SX5 models, which is the trim to go for.
The best part? All this is wrapped up in an incredibly stylish, retro body. The round headlights and boot mounted tyre, chunky body mouldings, mud flaps, bulging fender flares and skid plates make this a 4×4 that's as visually appealing as it is capable. In the end, it's a car that's impossible not to love. It's a triumph.