In recent years, there has been a growing demand for compact hybrid cars that are eco-friendly and efficient. One such car that has gained popularity in this category is the Toyota Aqua Hybrid—also known as the Toyota Prius C in some markets.  
Toyota Aqua Hybrid is based on the Toyota B platform, shared with several Toyota models, including the Vitz, Belta, Ractis, Porte, Axio, Succeeds, and Probox. Only the Toyota Aqua two-wheel drive has the electric continuously variable transmission (CVT).  
With a power output of 73KW, the Toyota Aqua is powered by a 1.5-liter 1NZ-1LM engine. It boasts an excellent fuel economy of 35.4 km/liter and sophisticated onboard comforts. Furthermore, it can propel the car from 0 to 100 km/h in 10.7 seconds.   
There are three major competitors to the Toyota Aqua Hybrid: Mazda Demio, Honda Fit, and Nissan Note.   
If you're canvassing for your next car, and want to know if a Toyota Aqua Hybrid is an excellent compact car for you, check out its features below.  
1. Compact Size And Easy Maneuverability  
The Toyota Aqua Hybrid is a compact car that's easy to maneuver in tight spaces and park in smaller spots. Its small size makes it a perfect choice for urban environments where parking can be challenging. Despite its compact size, the Aqua Hybrid has a spacious interior that comfortably accommodates up to five passengers.
Moreover, the Aqua Hybrid has a smooth and responsive ride, making it an excellent choice for those seeking a car that's easy to drive and handle. It's simple to navigate corners and narrow streets because of its size.  
2. Eco-Friendliness And Fuel Efficiency   
The Toyota Aqua Hybrid's appeal is derived from its fuel economy and eco-friendliness. It's a gasoline-electric hybrid vehicle powered by a 1.5-liter gasoline engine and an electric motor. Because of this feature, the car's fuel efficiency can reach up to 35 kilometers per liter, or roughly 82 miles per gallon.   
This fuel economy is significantly higher than most gasoline-powered vehicles, making the Aqua Hybrid a great option for people looking for a cost-effective car.  
Furthermore, the Aqua Hybrid emits lesser CO2 and other pollutants than conventional gasoline-powered vehicles. It's a good option for people looking to decrease their carbon footprint and contribute to a cleaner world.  
3. Reasonable Price  
The Toyota Aqua Hybrid is a low-cost vehicle that provides exceptional value for money. Its price is much lower than other hybrid automobiles, making it a great alternative for individuals searching for an affordable car.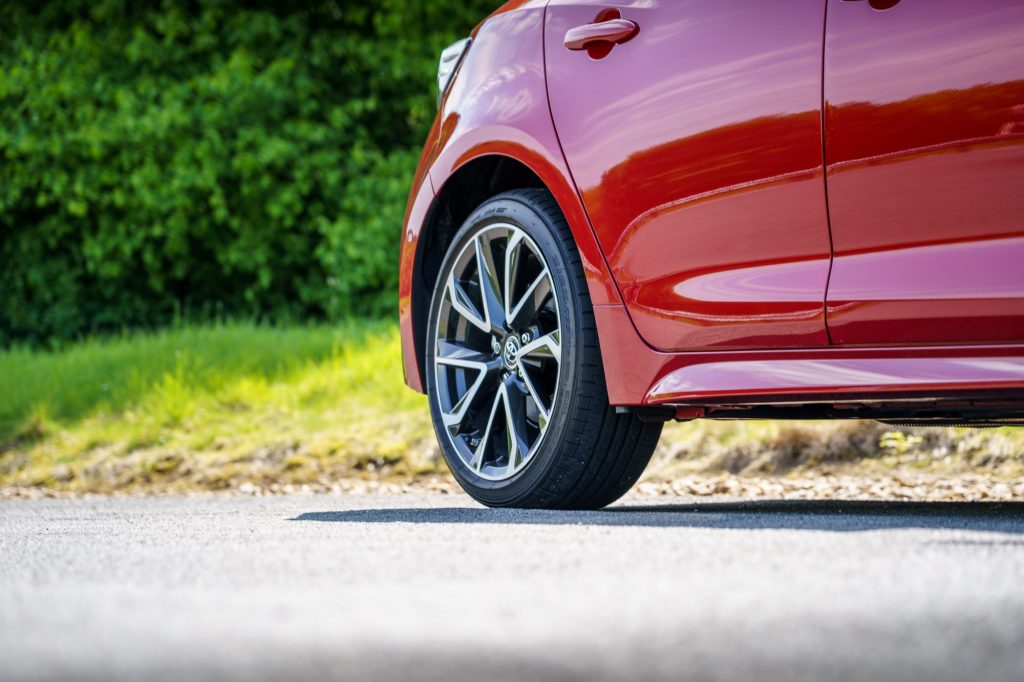 Moreover, the Aqua Hybrid's minimal maintenance costs and fuel efficiency result in long-term cost savings.  
4. Reliability And Safety  
Toyota is renowned for its high-quality and reliable automobiles, which include the Aqua Hybrid. It has various safety features, such as airbags, anti-lock brakes, stability control, and a backup camera. It's, therefore, a safe and reliable car for daily use.   
One of the reasons for the Aqua Hybrid's reliability is its hybrid powertrain technology. Toyota takes pride in the latest version of Toyota Safety Sense in the new models of the Aqua Hybrid. It's the first tiny Toyota car with Toyota Teammate Advanced Park and Parking Assist Brake.   
Aside from pre-collision safety functions, it can aid in preventing accidents at intersections where other vehicles turn left or right. Moreover, various parts such as the steering wheel, brake, accelerator, and gear shift can assist with all parking functions.  
4. Sophisticated Design And Refined Body Structure  
The Aqua Hybrid's aerodynamic body shape is one of its most notable design elements; the high-rigidity body gives a sophisticated, dramatic, and energetic wow factor.   
The car has a sleek, sloping roofline that improves its visual appeal and reduces wind resistance. It even has a cohesive interior design with rear fenders reaching the sides. Furthermore, the car's body is made of lightweight materials, which enhances its efficiency and agility.   
This compact car's TNGA (GA-B) platform provides outstanding quietness and a steady ride. Even with the same compact body size, the wheelbase has been expanded by 50mm, providing more space for rear seat passengers and storage space.   
Nine high-quality shades are available for the Aqua, including a new Clear Beige that provides an impressive secondary impression that pairs with the car's sleek design. 
Conclusion  
In conclusion, the Toyota Aqua Hybrid (also known as Toyota Prius C) is an excellent choice for those seeking a compact, eco-friendly car with a sophisticated design. Its fuel efficiency, compact size, affordability, reliability, and safety make it a popular choice for city dwellers and eco-conscious individuals. 
If you're looking for a car that's easy to drive, eco-friendly, and budget-friendly, the Toyota Aqua Hybrid is an excellent choice.