This week, American brand Jeep announced its new Grand Cherokee Trackhawk. The brand has not actually confirmed whether it will make its way across the pond to the UK, so you may be wondering why I'm bothering to waste your time with this.
707 Reasons
Well there are quite a for reasons why it's worth bringing this car to your attention. In fact, there 707 of them. This is because this new Trackhawk – pretty cool name by the way – has a whopping 707 bhp with a healthy dollop of 845 Nm of torque. It will smash 60 mph in just 3.5 seconds and will continue to blast on to a top speed of 180 mph. In a Jeep? This eyebrow-raising power means that this is now the most powerful SUV money can buy.
So that's faster than cars such as the Range Rover SVR, the Porsche Cayenne S and the Bentley Bentayga, and it's not like any of those are slouches are they? The source of this power is a 6.2 litre supercharged V8 engine, which is fed to a 8-speed automatic gearbox, and of course, four-wheel drive. It will have a decent amount of stopping power too, thanks to chunky Brembo brakes. The model also has over 70 safety and security features to help contain the car's fury.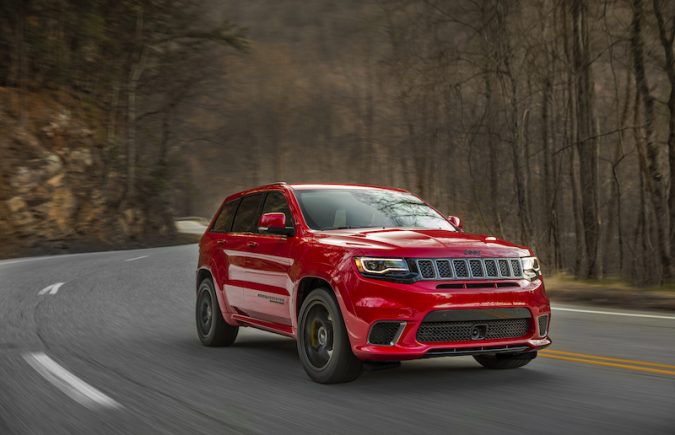 The Trackhawk can also offer drivers a choice of five driving modes – Auto, Sport, Track, Tow and Snow, although drivers can also create their own custom settings to give a more bespoke driving experience. Other features to be enjoyed inside the cabin include an 8.4 inch infotainment system with smartphone integration, a 7 inch digital instrument cluster, the usual mod cons, plus leather and suede seats finished with an embroidered 'Trackhawk' logo on them.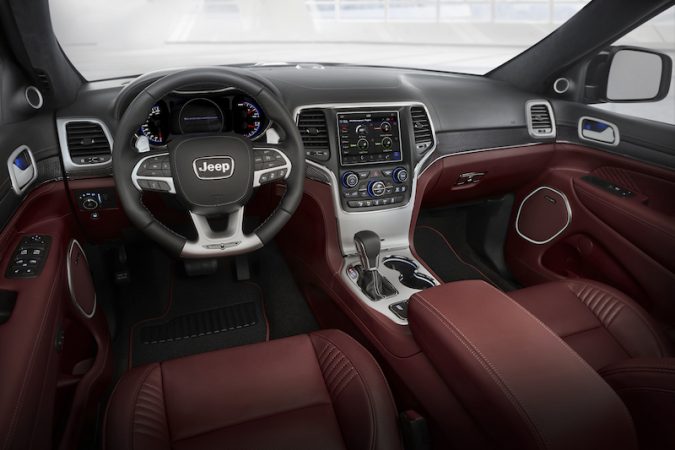 Will it come to the UK? How much? When? Tell me!
Well as mentioned at the top of the article, Jeep has not confirmed whether the Trackhawk will be making its way to the UK, but hopefully it will. Until then, we cannot confirm a price, although we do know that production will start in Detroit rather soon and it will hit US showrooms towards the end of the year.
If you are interested in buying a Jeep take a look at our Jeep reliability guide before making that big decision.