In a world that now embraces clean air and sustainable energy, diesel cars are fast becoming extinct. They're not as a dime a dozen as they used to be, especially not after Volkswagen's Dieselgate scandal came to light, muddying the future for all diesel vehicles. But if you need a great used car that's cheap, is fuel-efficient, robustly-built, fairly durable, and is fun to drive, could VW's Jetta TDI be your go-to?
Yes, getting a diesel car from the very same company that destroyed any goodwill or image that diesel has built up over the years… I know, that sounds like a terrible idea, seeing how their diesel engines seem to pollute more than entire powerplants. Okay, that's an exaggeration, but there's a logic behind it. For starters, most of those overtly-polluting diesel have since been patched up by Volkswagen.
So, the biggest hurdle (aka thick, black, sooty diesel emissions) has since been removed. What's left is a machine that's built to last. Yet, it still carries that same oft-high MPG figures that diesel engines like to brag about. Plus, they're a lot of fun to drive, with that low-end torque, and are now much cheaper to get into. So, is Volkswagen's Jetta TDI a steal of the century, or should you avoid it like the plague?
Volkswagen Jetta
With all that being said, what is the VW Jetta TDI, anyway? For starters, the Jetta is a compact car, as it's among the smallest models in Volkswagen's US-market offerings. Most might consider the Jetta as its entry-level vehicle, seeing how the base-level Golf (read: non-GTI and non-R trim) is no longer sold here. If you need an affordable (but still pretty decent) VW, the Jetta is as low as it gets these days.
However, the latest generation A7 Jetta is no longer sold with a TDI (this is what Volkswagen calls its diesel cars) badge. It's likely due to backlash from Dieselgate, and VW's own commitments to head to all-electric cars in the future. To properly learn about the Jetta TDI, we'll have to head back to the old A6 Jetta. It had a moderately long lifespan, being sold from 2010 and all the way through to 2019.
For us here in North America, it's sold between the 2011 to 2018 model years. If you want to go even further, you could also look at the A5-generation Jetta, sold from 2005 to 2010. Back in the A5 days, the Jetta was seen as nothing more than a Golf, stretched into a three-box compact sedan to fit in a trunk. Since the A6 came along though, the Jetta has a bespoke bodywork and chassis built for it.
Going back to the A5 for a moment, VW also made a station wagon (aka estate) version of one, called the SportWagen. The Jetta is an important model for the US market, reflecting Volkswagen's desire to sell more cars here. That's until their crossovers and SUVs gained in popularity, putting even the new Jetta on the backburner. Nevertheless, that raises the question, is a VW Jetta TDI a good buy?
Volkswagen Jetta TDI
First, let's take a closer look at the nitty-gritty of what a Jetta TDI really is. Volkswagen pitched their Jetta as a rival to the Toyota Corolla, Honda Civic, and Nissan Sentra. To power this, pretty much all Jetta TDIs (both A5 and A6) here in the US market had the same engine. That being a 2.0-liter 'TDI' inline-4. This tiny engine should be good for around 115hp and 125lb-ft of torque in the later A6.
Mind you, this was the base-level engine for the lower trims. What you really should be aiming for is the 'turbo-diesel' 2.0-liter engines that were upgraded and refreshed later on. These could crank out a fairly healthy 140hp and 236lb-ft of torque. While that might not appear like a lot, plenty of owners, as well as pundits, praised this powertrain above all else. But more on that later, so let's move on.
Volkswagen wanted the Jetta (TDI and its gasoline, as well as hybrid variants) to sell in large numbers. One consequence is seeing how the interior quality dropped from the A5 to the A6. You can't get that nice leather trim anymore, just cheap leatherette. As standard, you're getting cloth upholstery. More consequentially, VW's cost-cutting also meant that the multi-link rear suspension is now gone, too.
Though, they brought it back in 2014 (for the 2015 model year). But how about Dieselgate, you might ask? After VW was caught red-handed in 2015, they began a process of buying back and fixing issues pertaining to emissions cheat devices in affected cars. Of the 590,000 cars that they fixed here in the US market alone, the Jetta TDI made up a bulk of it. Most of them today are now fully compliant.
How Does The VW Jetta TDI Drive, And What Do People Think?
We mentioned earlier that a lot of people adored the Jetta TDI, be it the older A5 or the more modern and contemporary A6. Heck, there's even a very large tuning community built around the old A5 Jetta, in particular. That goes to show how much of a cult following it's accrued over the years, despite how Dieselgate has tarnished its good name. So, what do people make of the Jetta TDI, in general?
In summary, one of the most noteworthy highlights is its powertrain. That 2.0-liter diesel is praised by practically everyone who drives one for its smooth power delivery and strong torque. Of course, we're looking at this in relative terms, as the Jetta TDI is by no means a sports sedan. But for a budget eco-car (or "econobox", as they say), you could still have a fun and engaging driving experience with one.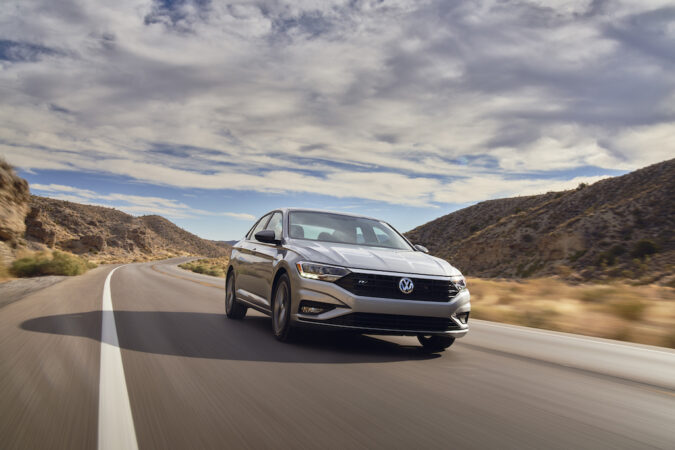 On first impressions, it's somewhat dulled by the 6-speed DSG gearbox. In its automatic shifting mode, it's slow and lazy with gear changes. This is no doubt to help save fuel economy wherever possible, as well as cutting down on emissions. Plus, it tends to stick within certain gears for too long, and you can only induce it to shift down by nailing your foot hard on the gas. That's not to say it can't shift, though.
Set the gearbox into its manual shifting, and change the gears yourself, it finally processes that diesel power at speed. There's great linearity and progressiveness to the torque delivery, as you keep rising up to redline. Elsewhere, and beyond its frankly enjoyable powertrain, the rest of the Jetta is okay. Its fuel economy is pretty remarkable as well; another strong pro for getting that diesel TDI engine.
Well, here's our TL;DR takeaway:
1. Fuel Economy – A Strong Contender, With Great Range And MPG
It's got the legs for a long drive, with impressive fuel economy and range. Despite the Dieselgate fixes having apparently knee-capped the official EPA fuel-efficiency figures, most folks who've driven a Jetta post-Dieselgate are handily beating that. We're still looking at the mid-40s to low-50s in MPG terms. Even in the worst conditions possible, you're still looking at the high-30s in MPG. Impressive, overall.
2. Engine – Lots Of Torque And Power, And You Can Certainly Have Fun
Give it a hard stomp on the gas pedal, and the Jetta really flies (relatively speaking, of course). Once again, post-Dieselgate fixes which on paper watered down the performance didn't change that much. There's a lot of low-end torque and grunt to shove you onwards. There's a lot of flexibility and pliability with this engine. While not a thoroughbred sports car by any means, you could have loads of fun with it.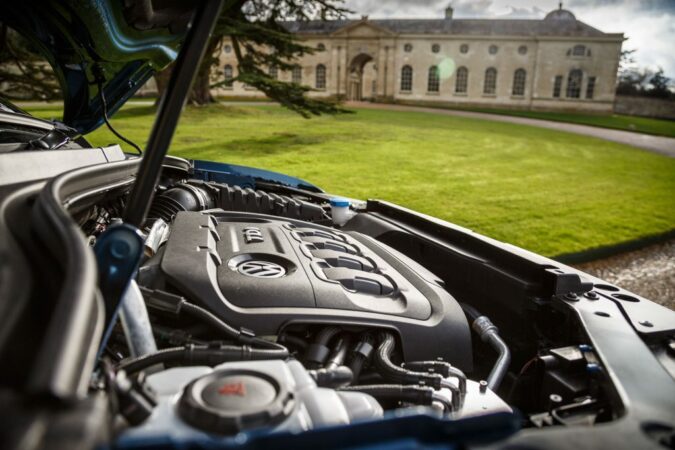 3. Transmission – A Bit Lazy At First, But It's Better In Manual Mode
Although the A5 Jetta came with a slow-shifting and lethargic gearbox, it's been improved massively in the A6. Now, you're getting a 6-speed DSG (dual-clutch, automatic) transmission on the front axle. Below 2,000RPM or so, the Jetta can feel a bit lazy to conserve fuel. But in Sport mode and opting to change gears manually, the Jetta finally comes alive, with strong power and linear acceleration.
4. Handling – Comfortable And Refined, But Nowhere Near Sporty
While its powertrain has the chops to bring a smile to your face, the handling falls flat somewhat. The chassis lacks any sporty or racy refinement (after all, it was never intended for speed). Therefore, any sharp cornering can feel soft and spongy. In addition, the steering isn't precise and requires plenty of turning to go from lock to lock. Dynamism isn't the Jetta TDI's strong suit, but it's decent enough.
5. Comfort – Soft And Spongy, Great For Day-To-Day Driving
Comfort-wise, the suspension is at least soft (not good for sporty driving, but is better tuned for most day-to-day commutes). This helps it to soak up the bumps and undulations on the road pretty neatly. The interior comes with some respect for ride comfort. Although, the budget nature of the Jetta makes itself apparent once you get going. There's a lot of road noise that permeates through into the cabin.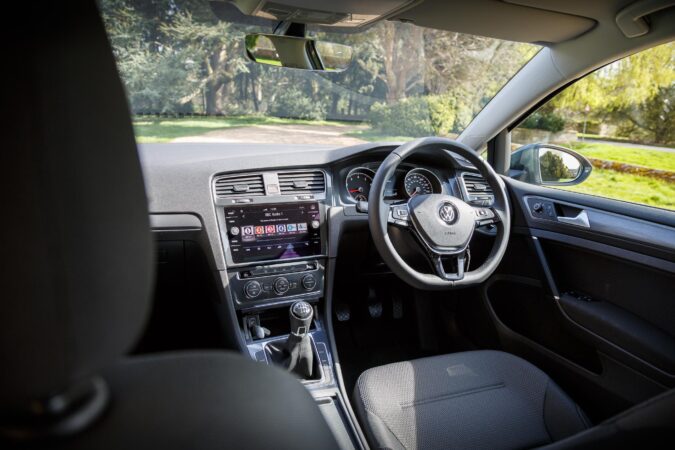 6. Design – Simple And Basic, With Not A Whole Lot Of Frills
The Jetta is as basic as it gets. Its exterior design is fairly bland, with not much flair or look-at-me to make it at least interesting to look at. Moreover, the interior is certainly cut-down from Volkswagen's higher-end models. You get a normal key (not keyless), with hard plastic all over the trim. The cloth seats (especially in Tartan) are surprisingly nice and don't warrant spending more on leatherette.
7. Technology – Just As Rudimentary As The Rest, But Still Okay
On the lower trim levels, you can also expect fewer tech to go along with it. You have a very simple radio and stereo system, with AM/FM, SiriusXM, CD playback, and Bluetooth connectivity. There's no fancy touchscreen infotainment display here, just a black and white screen with plastic buttons for controls. The sound system is comparatively rich and has a strong bass with most music tracks.
Should You Get A Used VW Jetta TDI?
Now, we come to the tough question of should you add a used Volkswagen Jetta TDI to your garage? Our answer would be… Yes, but pick the later model years. To be specific, the 2015 model year Jetta TDI and later. You might be asking… Why? As we highlighted earlier, the A6 (or Mk.6) Jetta was, in more ways than one, a downgrade over the A5. The latter used to be a premium compact sedan.
Unfortunately, VW's cost-cutting measures hit hard with the early A6s. For example, the A5 had four-wheel disc brakes, whereas the A6 had drum brakes in the rear. The A5's multi-link rear suspension was thrown out in favor of old-school beam axles. The A6's interior was no longer as sophisticated, nor was its build quality as above-average as the A5. It simply was never as good as the A5, period.
Mind you, Volkswagen took note and made changes. As the A6 progressed throughout the model years, it continually gained more features and upgrades. The peak, as many pundits and owners agree, was the 2015 model year. The interior carried over some improvements from the Mk.7 Golf. This meant it had a slightly upscale and elegant look. Then, we have to talk about its multi-link rear suspension.
The 2015 model year, in particular, had some of the best suspension geometry and fine-tuning that it inherited from the Mk.7 Golf. It's now stiffer and more responsive. The 2015 cars had an updated and revised frontal crash structure. Not only did this improve its crash-test safety scores, but it also helped to cut down on all that road noise we complained about earlier. Next, we have the gearbox to look at.
Is The 2015 Volkswagen Jetta TDI The One To Get?
While you could still get the DSG, the 2015 model year introduced a manual (read: stick shift) option. Next up, we'd be remiss to not mention the engine. It's still the same 2.0-liter TDI, but currently in its 3rd-generation. There's a new water-to-air intercooler for the turbos. In short, you're gaining a bit of power and responsiveness at lower RPMs, mostly thanks to the immense reduction in turbo lag.
You have access to another 10hp (now 150hp) to play around with and get this, higher MPGs. With the stick shift variant, folks are finding it easier to crack into the 50+MPG range. At a 10% efficiency gain, it's somehow more effortless to break into the mid-50s. Volkswagen's really made that much of a difference with simple tweaking of its ubiquitous EA288 TDI engine in the 2015 model year and up.
We're talking about a redesigned crankshaft, smoother roller bearings, potent cooling solution, higher fuel injection pressure, and re-tuned variable valve timing, among others. Better still, you needn't have to worry about emitting too much diesel smoke. VW's included their new Selective Catalytic Reduction (SCR) catalytic converter system. Not to mention, a refreshed exhaust gas recirculation (EGR) unit.
This allowed the 2015 model year to further reduce emissions, and increase fuel economy. Finally, VW rounded off the changes in this mid-cycle refresh with some new driver aids. There's now a blind-spot monitor, rear-cross traffic alert, and forward-collision warning. With the enhancements made to the engine, transmission, suspension, among others, the 2015 model year is the best Jetta TDI to get.
Our Quick Buyer's Guide On The VW Jetta TDI
Suffice it to say, a Jetta TDI should certainly be on your list as one of the better deals out there, though that's assuming you're okay with a diesel. On top of that, a diesel that you know once should've failed its emissions test, but cheated its way out of it. But we wouldn't worry too much about that, as all the Dieselgate-affected examples have since been fixed. As such, you could find plenty of great deals.
Currently (as of March 2022), the used car market is a bit mad, at the moment. To get a 2015 Jetta TDI (the best model year, and we stand by that), you're looking at spending around $15,000. In the not-so-distant past, you could've had a 2015 Jetta for closer to $10,000. Whether or not you're okay with that high dealer mark-up, it's your choice. If fuel economy is your game, the Prius is another alternative.
However, Priuses at that $10,000 to $15,000 price point are usually high-mileage examples. With over 200,000+ miles on the clock, there's a host of mechanicals and electrics that you'll have to restore and fix down the line. Plus, that's not to mention a replacement of the hybrid battery, which will be rather costly, to say the least. Should your budget not permit the additional expense, diesel is the way to go.
And if that's the road you're going down on, the Jetta TDI is among the best options on the market. It has fantastic fuel economy, with a robust build quality (if not a tad on the cheaper side), and is quite a lot of fun to drive. Moreover, the Jetta TDI is known to be fairly reliable and dependable. Most owners can get 200,000, 300,000, and sometimes over 400,000 miles out of one, with minimal issues.
2015 Volkswagen Jetta TDI SEL
2015 Jetta TDI SEL
Engine
Type
2.0-Liter Inline-4
Fuel Type
Diesel
Horsepower
150hp (Peak At 5,300RPM)
Torque
236lb-ft (Peak At 1,750RPM)
Transmission
6-Speed DSG Automatic (Or 6-Speed Manual)
Drivetrain
Front-Wheel-Drive
Steering
Type
Rack And Pinion
Turning Radius
36.4ft
Wheels And Tires
Front Wheel Size
17-inches x 17-inches
Rear Wheel Size
17-inches x 17-inches
Front Tire Size
P225/45HR17
Rear Tire Size
P225/45HR17
Suspension
Front
Strut
Rear
Multi-Link
Fuel Economy (EPA)
Combined
36mpg
City
31mpg
Highway
45mg (or 46mpg with the manual gearbox)
Fuel Tank Size
14.5 gallons
Range (City)
449.5 miles
Range (Highway)
652.5 miles (or 667 miles with the manual gearbox)
Dimensions And Interior Room
Length
183.3 inches
Width
70.0 inches
Height
57.2 inches
Wheelbase
104.4 inches
Ground Clearance
5.2 inches
Seating
5 persons
Front Legroom
41.2 inches
Front Headroom
37.0 inches
Front Shoulder Room
55.2 inches
Rear Legroom
38.1 inches
Rear Headroom
37.0 inches
Rear Shoulder Room
53.6 inches
Trunk Space
15.7 cubic-feet
Curb Weight
3,296lbs (or 3,241lbs with the manual gearbox)
Infotainment Features
Bluetooth
Yes, standard
Premium Sound
Yes, standard
SiriusXM Satellite Radio
Yes, standard
Aux Audio Input
Yes, standard
MP3
Yes, standard
Comfort Features
Navigation System
Yes, standard
Power Mirror
Yes, standard
Climate Control
Yes, dual-zone
Cruise Control
Yes, standard
Heated Seats
Yes, only for the front seats
Keyless Entry
Yes, and keyless ignition
Powered Seats
Yes, only for the front driver's seats
Safety Systems And Driver Aids
Back-Up Camera
Yes, standard
Cross-Traffic Alert
Optional
Blind-Spot Monitor
Optional
Forward Collision Warning
Optional
ABS (Anti-Lock Brakes)
Yes, standard
Tire Pressure Monitor
Yes, standard
Stability Control
Yes, standard
Traction Control
Yes, standard
Additional Packages
Driver Assistance And Lighting Package ($1,690)
Includes multi-function display, blind-spot monitor, rear-cross traffic alert, bi-xenon headlights (with adaptive lighting), forward collision warning, interior ambient lights, and LED daytime running lights (DRLs)
Crash Test And Safety Scores
Overall Rating
5/5 stars
Frontal Barrier Crash
4/5 stars
Side Crash
5/5 stars
Rollover
4/5 stars
Airbags
Driver, front (head), front (side), passenger, rear (head)
Warranty
Basic
3 years (or 36,000 miles)
Corrosion
12 years (or unlimited miles)
Drivetrain
5 years (or 60,000 miles)
Maintenance
1 year (or 10,000 miles)
Roadside Assist
3 years (or 36,000 miles)
Facts: Buying a Used Volkswagen Jetta TDI as an Alternative to Hybrid Cars
The Volkswagen "dieselgate" scandal involved the German automaker using devices to cheat emissions tests on their diesel vehicles in 2015, leading to a stigma attached to diesel cars.
Volkswagen was forced to buy back or fix some of the 590,000 diesel vehicles, including the Jetta TDI, Golf, and Jetta Sportwagen TDI models, that were found to be non-compliant with emission standards.
The Volkswagen Jetta TDI was produced from the early 2000s up to 2015 and is available in sedan, hatchback, and sportwagen body styles.
Some of the benefits of buying a used Jetta TDI include its fuel economy which can save around $1,500 in fuel costs per year, diesel engines' durability, and the solid build quality at a low price.
The Jetta TDI can easily drive up to 500 miles between fill-ups and can last up to 200,000 to 300,000 miles or more.
The turbocharged 2.0-liter diesel engine on every Volkswagen diesel car produced 150 hp and 236 lb-ft of torque and could achieve up to an EPA-estimated 31 mpg in the city and 43 mpg on the highway.
Diesel engines provide far more torque than most hybrid and gas cars, making it more suitable for driving with heavier loads.
The 2015 models of Jetta TDI sell for anywhere between $5,000 to $10,000 nationwide, which is cheaper than an equivalent Toyota Prius that may need hybrid battery replacements in the near future.
The disadvantages of buying a Volkswagen diesel include the slightly higher cost of diesel fuel and the smell of diesel fuel (not to mention wondering why is diesel so expensive), which could take some time to get used to.
Repair Pal gave the Volkswagen Jetta TDI a four out of five for reliability and estimated an average annual repair cost of $609.
Final Thoughts On The Jetta TDI
Well then, that just about rounds up our look at the VW Jetta TDI. As a whole, it's a great value buy if you're looking for a dependable used car, which costs little to run and maintain down the road. Plus, it might even save you a whole chunk of cash with its uber-diesel fuel efficiency. On the surface, and this is reflective on first impressions, the Jetta TDI seems fairly bland and dull, with not much to speak of.
The design is inoffensive, but also uninteresting. The interior is passable, and it handles just about half decent. A noteworthy highlight of the Jetta TDI is no doubt the engine, which delivers quite a kick and one-two-turbo punch if you're feeling sprightly. Paired with a lively transmission (if you manually shift gears), you can genuinely have a lot of fun behind the wheel. Just make sure you get a 2015 one.
Frequently Asked Questions
Here are some popular FAQs:
What Does TDI Stand For VW Jetta
The 'TDI' moniker has a long history in Volkswagen's line-up. Most people will think that 'D' stands for 'Diesel'. In actuality, 'TDI' is short for 'turbocharged direct injection', which is how the engine has been designed. To ensure optimal performance and efficiency, VW's diesel engines leverage turbocharging (for forced induction) and direct injection (how the fuel injector sprays, for a more complete burn).
Jetta TDI For Sale
Right now, you can find loads of old A6-gen and earlier Jetta TDIs for sale. With today's (March 2022) wild used car pricing, an A6 in the top-tier SEL trim will set you back around $15,000 to $16,000. The cost will vary slightly depending on the options and trim. Prior to the COVID-19 pandemic and the rise of used car prices, you could've gotten a decent 2015 Jetta TDI for just $5,000 to $10,000.
2021 Volkswagen Jetta
With a starting price of just over $20,000, the new 2021/2022 Jetta is VW's entry-level model here in the US. As we mentioned earlier, you can no longer get a diesel TDI version of the new A7 Jetta. This is owing to slow and lackluster sales of the later A6 Jetta TDIs. Now, only gasoline versions exist. If you'd be keen on spending upwards of $30,000, you could instead get the sportier and racier Jetta GLI.
Volkswagen Models
Here in the US, Volkswagen has a variety of vehicles of all shapes, sizes, and forms to choose from. Its latest Jetta is the cheapest of the lot, as your budget-friendly introduction to the VW brand. From here on out, and if you prefer crossovers, they've recently unveiled the Taos. At just over $23,000, it's their most attainable crossover-SUV. If you need something bigger, there's the Tiguan and the Passat.
VW GLI
'GLI' alternatively stands for 'grand luxury injection'. It denotes Volkswagen's sportiest and luxurious trim, of which the new Jetta could be had in. For the money, the (2021/2022) Jetta GLI is one of the most fun and engaging cars that you could find. The engine is more powerful, with retuned steering and suspension, on top of a lot of fine-tuning. The result is a zesty little smile-inducing machine.