Are you planning to purchase a unique luxury sedan and the Kia K900 is the model that caught your eye? Well, if that is the case, then you are at the right place because, in this article, there will be quite a bit to cover on the Kia K900 model.
Before purchasing a new or a used vehicle, doing your own research is probably one of the things that you want to do in order not to end up with a bad model. A thorough and proper research will help you to determine whether or not this model is the one for you.
And when you are spending this amount of money on a car, you understand why this is necessary. Nowadays cars are getting more and more expensive and if you don't make the right call, you might end up in a money pit full of problems.
Or even worse, end up with a car that depreciates like crazy. And the value of your vehicle would be completely gone after a few years. So, this is why you need to learn more about the K900 and its main features, and the numbers it delivers. So, let's see what we are going to cover in this article.
First, we are going to learn more about Kia and its business model in the US. Then we will cover the Kia K900. We will learn more about the specs, including dimensions, size, engines, fuel economy, safety, as well as price. Then we will cover the problems and see whether the K900 is the right model for you. So, if you want to learn more, follow along.
Who Is Kia
Now before we dive into the Kia K900 model and learn more about it, let's first introduce ourselves to Kia and learn more about this carmaker. Why do we think that this is essential?
Well, mainly because Kia is one of the brands that are still quite new on the US market, and even though they sell really well nowadays, there are still a lot of people that are not quite familiar with them.
So, who is Kia? Well, Kia is a carmaker from South Korea. This is a multinational corporation that is based in Seoul. And they serve the global market except for a few countries like North Korea.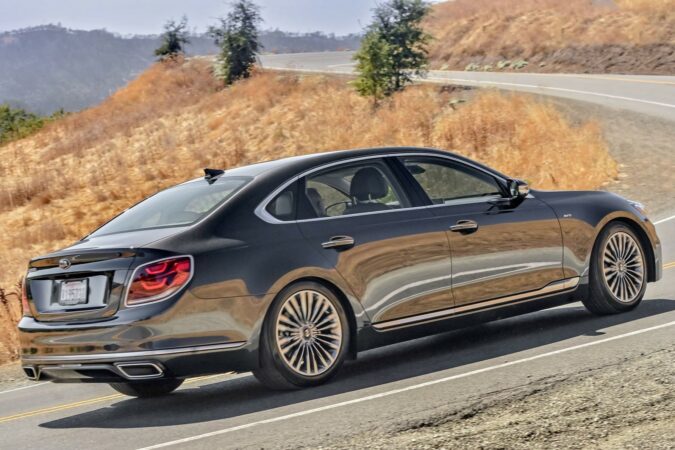 This company was founded in 1944 and through the years has developed quite substantially. Its name derives from the Sino-Korean characters "ki" which means "to arise" and "a" which refers to the continent Asia. So, the rough translation of the Kia name would mean something like "Rising From Asia".
What is interesting about Kia is that they are quite successful in the Asian and also the European markets before it came to the US in 1992. The first models that they introduced in the US market were the Kia Sportage and Kia Sephia and these two models became a real hit.
But this success was short-lived because in 1997 Kia filed for bankruptcy. So, what happened is Hyundai took over 51% (so, Kia and Hyundai are practically the same company) of the Kia assets and Hyundai basically acquired and owns Kia. And even as of 2022 Hyundai has reduced its stake in Kia to about 33%, they are still a major shareholder.
Kia K900
So, we introduced ourselves to Kia and learned that Kia is one of the two major Korean carmakers along with Hyundai. Now let's take a look at the Kia K900 and learn more about this model.
So, what is the K900? Well, the K900, also known as K9 or Kia Quoris in other markets is a full-size sedan. And the K900 is not your ordinary sedan but a luxury one.
The K900 is a model that is aiming quite high and is meant to compete with other luxury carmakers like Mercedes Benz and BMW. Even though not as successful as the Germans, the K900 is still a really good deal. And a true bargain if you want to go for a full-size luxury sedan. But more on the pricing, we are going to elaborate later on.
The K900 is a model that was introduced in 2012 and as of 2022, there are a total of two generations of this model. The current model that we will discuss was introduced in 2019.
What is important to note about the K900 is that this model is closely related to the Genesis brand that Hyundai markets as its luxury division.
Namely, the K900 shares quite a lot with the Genesis models such as the G80 and G90. These cars are based on the same platform and share a lot of the componentry like the engines, transmissions, and technology.
But what about the specs of this Kia model? Well, more about the specs, we are going to cover in the following chapters, where we are going to elaborate on everything quite thoroughly and learn what the K900 has to offer to you as a potential buyer.
Kia K900 Specs
So, we learned more about the basics of the K900 model and we understood that this model is a full-size luxury sedan made by Kia. Now we can slowly move on and understand more about the specs of the K900 and see what are the main features of this vehicle and why you should opt to get one.
The current model of the K900 was introduced in 2018 and the 2019 model year was the first production year of this vehicle. As we noted previously, this model is based on the same platform as the high-end Genesis models. So, we can say that these vehicles share quite a bit of the technology and engines between them.
The important thing to note is that this model is assembled in Gwangmyoeng, South Korea. So, we can say that it is imported here in the US.
The powertrain layout in which this model is sold is usually either front engine rear-wheel-drive or front engine all-wheel-drive. In 2021, there was a facelifted model introduced to the market. This new facelifted model basically gave the Kia K900 a new life.
The looks now are much sharper and the overall visual presence of the model is quite improved. That wider grille created a big impact on the visuals. Also, inside the car, the new model is featuring an improved interior with a large 14.5-inch screen. But more on these updates, we are going to cover later on when we are going to discuss the interior of the K900.
But what is really unfortunate is that Kia did cancel the model in 2020 for the US market. And you cannot purchase this model new from the showroom floor. This is a bummer but that's how it is, unfortunately.
Kia K900 Dimensions, Size & Practicality
We covered the basic specs of the model and learned that this is a full-size sedan that is intended to compete with the BMW 7-Series and the Mercedes-Benz S-Class, now let's move on and discuss the dimensions of this Kia K900 model.
This model has a quite long wheelbase of 122.2 inches and an overall length of 201.6 inches for the pre-facelifted version and an overall length of 202.4 inches for the facelift model. The model is 75.4 inches wide and 59.3 inches tall.
What is worth noting is that this model is also quite heavy. The curb weight of the K900 is between 4,222 lbs and 4,775 lbs. The weight depends on the engine that you choose because not all engines are the same. The 5.0L is a rather heavy engine. Also, the AWD system increases the weight of the vehicle quite substantially.
When it comes to cargo space, it is worth noting that this model has a trunk capacity of 15.9 cubic ft. Not a significant amount of storage. But still quite a substantial amount for getting groceries. The Kia K900 is the perfect luxury grocery-getter.
Kia K900 Interior
We have covered the dimensions of the Kia K900 and learned more about the dimensions that this model comes in. Now let's discuss more on the interior features of the model. As we noted, the K900 is not imported anymore in the US, so we will cover the models that were imported in the US.
Nevertheless, this model included quite a posh interior as the Brits would say. It has heated and cooled front seats. The driver's seat is 12-way adjustable while the passenger seat is 8-way adjustable.
Inside you also have a power tilt/telescoping steering wheel, the steering wheel is made of beautiful leather and is also heated. So, you should not worry about your hands freezing up in the winter.
Other interesting features that you might be interested in are that this model includes rear sun shades, cup holders, an ashtray, and a lighter if you are a smoker. There is also a compass and proximity key for unlocking the doors and also a push-to-start feature.
For entertainment, there is a big 9.2-inch display for navigation and multimedia, with a 17-speaker Lexicon audio system. You also have wireless Bluetooth connectivity, Sirius XM, and USB and also auxiliary jacks to plug in your phone.
Overall, the Kia K900 is a nice place to be as a driver with a lot of soft-touch materials. It is very comfortable and perfect for long-distance journeys. But what are the engine options that were included in this model? Well, let's elaborate more on that next.
Kia K900 Engines & Transmissions
So, we covered the interior specs and learned in which specs this model comes in, now let's take a look at the powertrain options that were available with this model.
There were a total of two engines included on the K900. The base engine was the 3.3L Lambda V6 GDI engine. This is a naturally aspirated V6 with direct injection that produces about 250hp and 256lb-ft of torque.
There is also a turbocharged version of the 3.3L that is making 365hp and 376lb-ft of torque.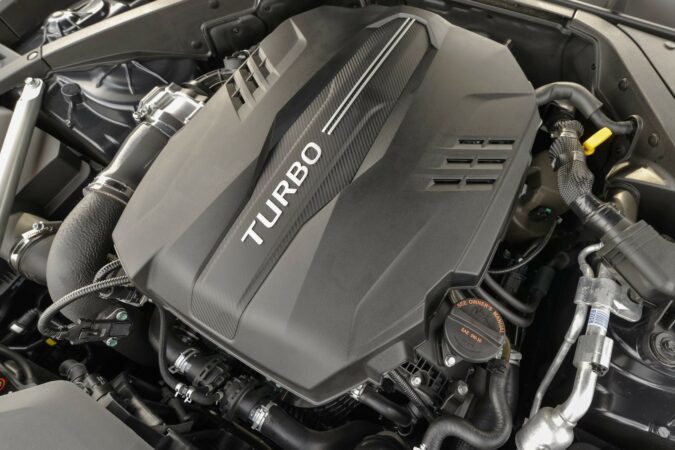 When it comes to Kia K900 V8, unfortunately, in the US, the V8 model was not available for some reason.
In terms of transmissions, there is a single 8-speed automatic transmission to choose from.
When it comes to the 0 to 60 times, the 3.3L turbo engine accelerates from 0 to 60 in 5 seconds. While on the standard naturally aspirated 3.3L engine, the 0 to 60 is 8 seconds. And the top speed of the Kia K900 is electronically limited to 149 mph.
Kia K900 Fuel Economy
The fuel economy of the K900 is decent for its size. The model gets 18 mpg in the city, 25 mpg on the highway, and 21 mpg combined. The gas tank size is 20.3 gallons.
It is worth noting that the K900 is not the most efficient model out there in this aspect. But this is expected since it packs a lot of power and also it weighs a lot. Other competitor cars like the G80, G90, 7-Series, and S-Class, all perform in a similar fashion.
This is why if you want something more fuel efficient, we would recommend going for the Kia Stinger. This model can be purchased new and performs quite similarly to the K900, even though the Stinger is more performance-oriented.
Kia K900 Safety
In terms of safety, unfortunately, we couldn't find any representative data on this model because it wasn't tested by the IIHS, nor by the NHTSA.
Mainly because the model was sold in relatively low numbers and probably there wasn't a need to do these tests. Even though, the model is rather well equipped when it comes to safety features.
It has a collision avoidance system, pedestrian detection, lane keep assist, blind spot monitoring, and collision avoidance. Surrounding cameras and also a reverse camera which is standard. Parking sensors and much more.
Still, the specs might vary depending on how well the car was optioned out. Some cars are fully loaded while some could be lacking some of these features. This is why we would recommend being more diligent with the Kia K900's options. They can be found as a true bargain nowadays. And how much, we are going to learn next.
Kia K900 Price
Now let's take a look at the Kia K900 price and learn more about how much money this car can be found on the used market.
And we can honestly say that these cars are a true bargain on the second-hand market. So, if you want to get one for yourself, you can snatch one for a really good deal.
On Autotrader.com, there are more than 80 listings. And low mile 2019 models can be found for about $39,000. Overall, the cost for good cars with low mileage is somewhere between $38,000 to $45,000.
We would recommend that you go for a newer model year because you never know what could happen to some of the worn-out vehicles. And in most cases, these low-mile cars come with a warranty. Which can be rather handy when it comes to issues popping up with the car.
Kia K900 Problems
We have covered the Kia K900 specs and learned about this model and its main features. Now let's discuss the problems that this model has. We will focus on both generations of the model.
2015 was the most problematic year. There were reports concerning the headlights being too dim and also for failures on the headlamps.
The 2015 model also had problems with the steering column pulling on one side. And this was a serious safety hazard. Many blame the roads but this problem is rather common in this model with four reports on it.
Other problems with 2015 included the check engine light, problems with the navigation system, and the seat fans.
On the 2016 model, there was a report for water in the trunk lid, again a report on the steering pulling to the side, and other minor problems.
The second generation, more precisely the 2019 model year had turbocharger issues. These problems concerned the turbine. More specifically when the turbo overheated it started to create noises. And a lot of owners reported a need for a turbo replacement to solve the problem.
Also, some owners reported cracks on the top roof trim and also other minor electrical problems with the Kia K900.
Kia K900 Recalls
When it comes to recalls, it is worth noting that there were not a lot of recalls for the K900 model. There were only two recalls.
One of the recalls was done in 2016 for models produced between 2016 and 2018. This recall concerned the headlights because of an electrical fault that could make them flicker or turn off while driving. A potential hazard, especially when it comes to driving at night.
The second recall was done in 2022 for vehicles that were produced between 2016 and 2018. More specifically, for the Hydraulic Electronic Control Unit (HECU). This component was prone to shorting out and causing an engine fire. Another potential hazard.
So, before purchasing a used K900, we would advise that you make sure that the model had all the recalls done to it. Or if it did not, you should take your car to the nearest Kia dealership and get things sorted out since both of these problems are rather dangerous and a potential hazard for you as a driver and also for the passengers.
Kia K900 Reliability
So, what is the overall reliability of the Kia K900? Is this model a good purchase on the used market or you should focus on something different?
Well, the answer to this question really depends. I would personally not get one of these cars unless it comes with a warranty.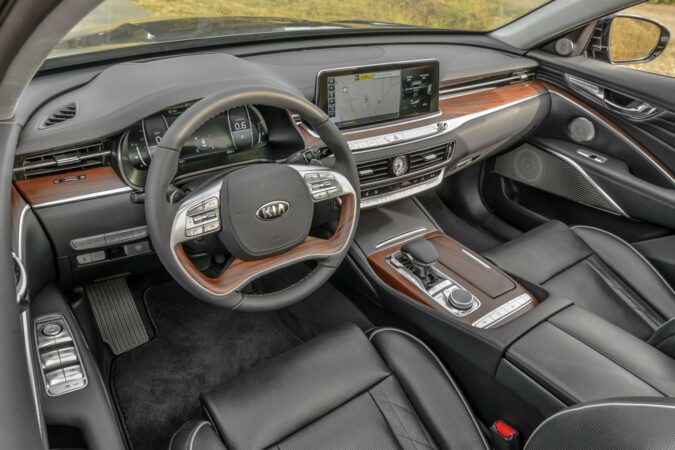 Whether it is a powertrain warranty or a complete bumper-to-bumper warranty. It is much better to have some security when it comes to these cars. Mainly because they can be very expensive to fix. This is why we recommended getting one in the range of $38,000 and $45,000 because these cars have the lowest mileage possible.
Or on the other hand, if you want something new and different, we would recommend going for a Genesis G80 or Genesis G90. These two luxury sedans are probably one of the hottest models on the market right now and choosing one of them new is always a better idea than going for a used model. Also, the Kia Optima is a good replacement. Now let's conclude this article.
Final Conclusion
In this article, we have covered quite a bit when it comes to the Kia K900. First, we learned what is the K900 and why this model is so good. Then we covered the specs of the K900 model and learned about the engines, equipment, and the rest of the specs. As well as the price of the model.
Then we covered the common problems of this model for both generations as well as the recalls that were done to it. Lastly, we gave you our thoughts on the reliability of this model.
Frequently Asked Questions
Now let's answer some frequently asked questions.
Who Makes Kia
Kia is owned by Hyundai. Hyundai has 33% of the stake in Kia and basically is running the company. Still, Kia models are visually significantly different than Hyundai, except for platforms and powertrain options.
Is Kia Korean
Yes, Kia is a Korean carmaker. They have presence in the US market since 1992 and currently, they have a very large lineup of models in almost all of the segments except for the luxury sedans where now the Genesis brand has the leading role.
Does Kia Have A Luxury Brand
Kia does not have a luxury brand. But Hyundai does. And this is the Genesis brand. This is a brand that was created quite recently by Hyundai to compete in the more upscale luxury segment. Now they offer a couple of models.
Are Kias Good Cars
Kia makes good cars. Even though some people love it and some people hate the brand. It really depends on how lucky you are to get a good car since some of them have some issues. This is why thorough research is needed to determine more about the problems that the model has.
Which Is Better Hyundai Or Kia
They are practically both the same. All the mechanics under the hood are pretty much the same deal. The main differences are the exterior looks and also the options that are included with the car. So, this should be your main focus when buying a Kia or a Hyundai.
How Much Is The Kia K900
A low-mileage 2019 model usually goes somewhere between $39,000 and $45,000. We would recommend going for a low-mileage car because higher-mileage vehicles can have more problems and can be a real nightmare to fix.
Image Notes:
Kia-K900.png sourced from https://www.kiamedia.com/us/en/models/k900/2020/gallery
Kia-K900-1-1.jpg sourced from https://www.kiamedia.com/us/en/models/k900/2020/gallery
Kia-K900-2.jpg sourced from https://www.kiamedia.com/us/en/models/k900/2020/gallery
Kia-K900-3-1.jpg sourced from https://www.kiamedia.com/us/en/models/k900/2020/gallery