South Korean automakers have been dominating the market in recent years because of their high-quality construction and fun-yet-affordable vehicles. The two major competitors, Hyundai and Kia, are closely connected corporately and have a lot of similarities. Both companies have introduced subcompact crossovers with multiple powertrain options. It is Kia Niro versus Hyundai Kona, both of which are the major players from each brand.
They could appear very similar, and they actually have many of the same qualities and features. But to what many purchasers would believe, there are more differences between the two crossovers. We did discuss is Kia and Hyundai the same company and Kia owns Hyundai, and we can definitely see the similarities between them.
Both the design teams at Hyundai and Kia had complete creative flexibility in how to approach the specifications of their vehicles. As a result, there are a number of significant distinctions between them, despite being close corporate siblings.
Despite being excellent inexpensive crossovers, each is geared toward a slightly different market. Let's compare them to see which one suits you the best. The Hyundai Kona comes with some major updates for the latest model year while the Kia Niro has been fully redesigned entering its second generation.
This suggests that the Kia might have the upper hand; or does it? Let's dig in.
Kia Niro vs Hyundai Kona
You're likely to compare the pros and cons of the Kia Niro and the Hyundai Kona if you're looking for a small crossover SUV. Both are more recent products on the market and will interest you if you're seeking a subcompact yet capable crossover.
The Niro and the Kona are worth taking into consideration if you're packing for camping vacations, driving kids to activities, or just want a compact family car. But there are a lot of distinctions between them. This comparison will provide you with all the information you need to pick between the Niro and the Kona.
First of all, both of these crossovers are offered multiple powertrain choices. The Hyundai Kona offers two gasoline-powered engine options. These include a naturally aspirated base engine and a stronger turbocharged motor that is offered in higher trims.
The Kia Niro doesn't have a gasoline variant. The powertrain choices include a base hybrid engine and a plug-in hybrid version offered at a higher price. The most similar counterparts of these siblings are their EV versions. If you're unsure about hybrids, our guide on the pros and cons of hybrid cars ought to help clear that out.
Both the Kona and Niro are offered as EVs and they compete with each other directly. On top of all of this, there is also a 276-horsepower high-performance gasoline-powered version of the Kona named "Kona N". This one will be covered separately as it is clearly an enthusiast's choice and not a basic commuter.
Both the Kona and Niro are fun to drive and get excellent fuel economy. They were designed to navigate congested metropolitan streets and busy highways with ease. With their intrinsic passion for customer pleasure, they are aware of the path to success and are capable of taking it.
Hyundai Kona
Let's see how these two crossovers compare in their various guises and in various terrains.
The subcompact 2023 Hyundai Kona, sometimes referred to as a low-riding SUV or a tall hatchback car, is a practical and entertaining car to drive. The 2.0-liter four-cylinder base engine only produces 147 horsepower. But the optional turbocharged motor spices it up to match the Kona's agile handling.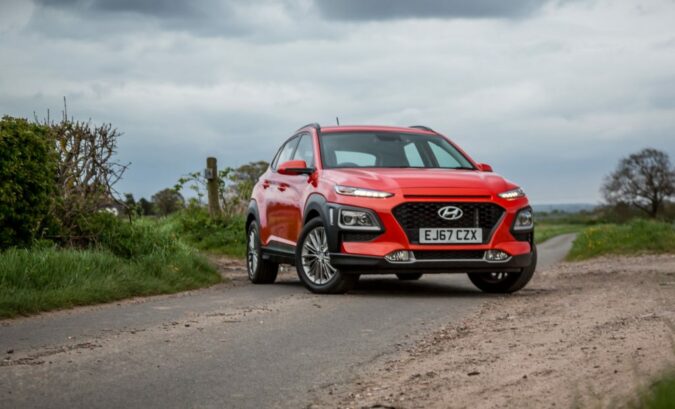 The Kona, like other Hyundai vehicles, is loaded with a long list of standard amenities, including infotainment and driver-aid technology, at a better-than-fair price. Even if you're on a tight budget, you might find it simple to rationalize splurging on a higher-trimmed Kona model.
This is given that competitors like the Kia Seltos and the Volkswagen Taos cost thousands more, to begin with. It may not have as much passenger or cargo room (so, definitely not the SUV with the most amount of cargo space) as some of its larger competitors but it is a bundle of feisty, funky joy to drive.
Regardless of whether you consider the Kona to be a hatchback, crossover, or hybrid SUV, it is practical and you are sure to enjoy it on the road. For 2023, Hyundai's safe-exit warning system, blind-spot monitoring, and rear cross-traffic alert will all be standard on the Kona.
This system keeps an eye out for oncoming vehicles or cyclists and alerts the driver and passengers when it's time to get out of the car. The previously optional Tech package for the N-Line trim has been deleted, and its components are now either standard or not available on that trim.
For instance, the N-Line now comes standard with a sunroof and a larger 10.3-inch touchscreen system, but the Limited model is now the only one with a Harman/Kardon radio and adaptive cruise control.
Kia Niro Versus Hyundai Kona, Specs #1: Hyundai Kona Trims And Pricing
The Hyundai Kona is offered in five trim levels: SE ($23,285), SEL ($25,095), N Line ($28,995), Limited ($30,095), and the high-performance "N"(35,995). Except for the Kona N (which is FWD-only), all versions come standard with front-wheel drive (FWD) while all-wheel drive (AWD) is optional.
We'd recommend getting the nearly fully equipped Limited model. Because it provides almost all of the most desired equipment without being too pricey. A sunroof, automatic climate control, fog lamps, leather upholstery, and a power-adjustable driver's seat are all included as standard features.
By choosing the Limited, we also get the N-Line trim's spirited turbocharged four-cylinder engine.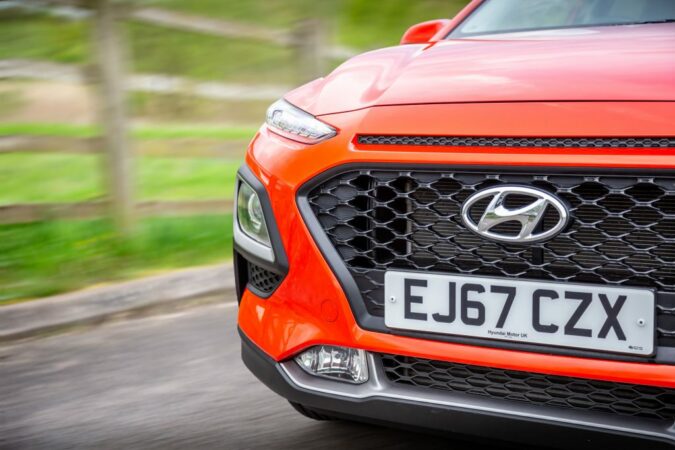 Kia Niro Versus Hyundai Kona, Specs #2: Hyundai Kona Performance And MPG
The base SE and SEL trims are powered by a 2.0-liter four-cylinder engine (147 horsepower, 132 lb-ft of torque) mated to a continuously variable transmission, or CVT. The turbocharged 1.6-liter four-cylinder (195 horsepower, 195 lb-ft) in the higher-end N Line and Limited trims comes mated to a seven-speed dual-clutch automatic transmission.
The high-performance Kona N uses a turbocharged 2.0-liter engine mated to an eight-speed dual-clutch automatic transmission and puts out 276 horsepower with a temporary boost to 286 horsepower.
The base models need 9.2 seconds to accelerate to 60 mph. The far more potent Limited and N-Line trims can complete the 60-mph dash in 7.3 seconds. Once moving, the seven-speed dual-clutch automatic struggles at low speeds in parking lots and bumper-to-bumper traffic.
It is reluctantly engaging and disengaging first gear (almost akin to how a transmission shifts hard from 1st to 2nd) until the driver applies more throttle. The Kona offers surprising amounts of excitement and agile handling. This doesn't translate to a bumpy ride on choppy roads.
On the contrary, the suspension offers quite the opposite. It smooths out vibrations and gives passengers a cabin that is well-insulated from flaws in the tarmac. The Kona has good EPA ratings. But compared to its competitors in this class of fuel-efficient mini-SUVs, they are only mediocre.
Despite this, the Kona outperforms a large portion of its rivals. The standard model with front-wheel drive, which is rated for 30 mpg city and 35 mpg highway, is the most economical option.
With front-wheel drive, the turbocharged variant can achieve up to 29 mpg in the city and 35 mpg on the highway; with all-wheel drive, those ratings drop to 27 mpg in the city and 32 mpg on the interstate.
Kia Niro Versus Hyundai Kona, Specs #3: Hyundai Kona Interior
Hyundai's designers succeeded in balancing comfort and convenience with the challenging task of conveying the appeal of the Kona's outward design to the interior. Keeping up with the Kona's funky exterior, its high-quality interior materials, superior ergonomics, and soft seating gives a sophisticated and grown-up impression.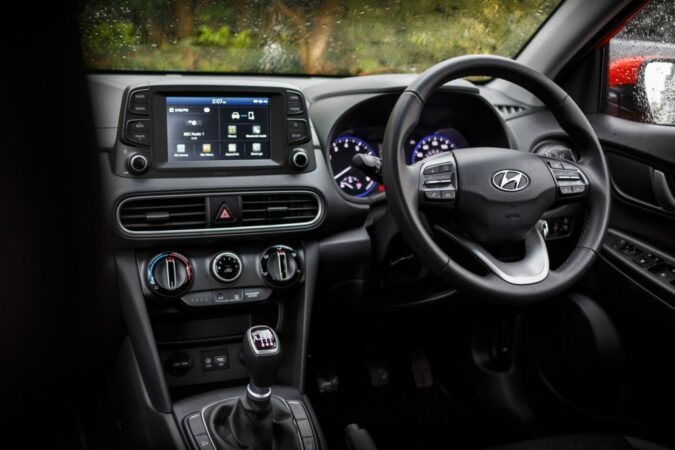 The steering wheel has integrated controls for the cruise control and audio settings and is covered in nicely-grained leather with contrast stitching. The Kona's cargo room is ideal for those upgrading from a small hatchback or sedan. But buyers downsizing from a larger SUV will probably feel a bit cramped.
Kia Niro Versus Hyundai Kona, Specs #4: Hyundai Kona Cargo Space
The Kona only falls short when directly compared to class leaders in terms of functionality. All variants of the Hyundai Kona including the EV has a cargo space of 19.2 cu-ft. The trunk is simple to operate due to a low liftover height and a large load floor.
However, it lacks the maximum cargo capacity of competitors like the Chevrolet Trailblazer and Volkswagen Taos. There are numerous water bottle-sized pockets in each of the four doors.
There is also a small cellphone tray in the front, a small center console, and a small glovebox. Small-item storage is therefore adequate, although some small SUVs are better at it. The car seat anchor points are conspicuously marked, close to the ground, yet concealed by sturdy cushions.
Hyundai Kona N
After its debut in 2022, Hyundai has largely maintained the same design for the Kona N. This year's sole minor equipment upgrade is the Kona N's map and navigation system's ability to receive updates over the air.
A 10.25-inch infotainment touchscreen and 19-inch wheels with Pirelli P-Zero performance summer tires are included on the Kona N as a fully outfitted single-trim model. Although we favor Racing Red over the other exterior color options, such as Ultra Black or Lunar White, every Kona N has the same dark black theme inside.
This makes it as simple as selecting one of three paint colors to choose a Kona N. The sole trim of the Kona N is impressively priced at $35,995 which makes it even more special.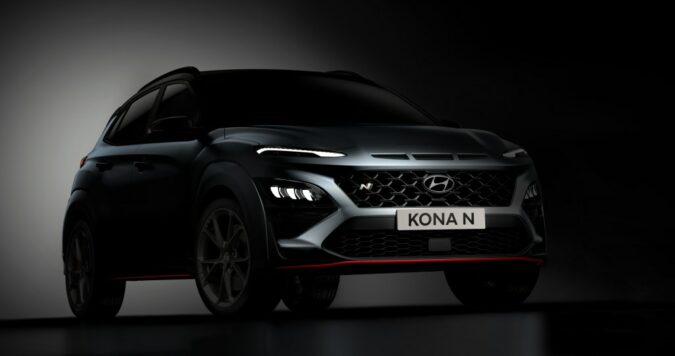 The identical turbocharged 2.0-liter four-cylinder powerplant that propelled the sportiest Veloster is housed behind the aggressively styled, well-vented nose of the Kona N. It produces 276 horses in normal circumstances.
But if you click the red button on the steering wheel, you may summon an additional 10 horses for a 20-second period. The Kona N rockets to 60mph in just 4.8 seconds. Unfortunately, the crossover does not have a manual transmission like the Veloster N.
The single transmission used is an eight-speed dual-clutch automatic that sends power only to the front wheels. According to the EPA, the Kona N should get 20 mpg in the city and 27 mpg on the highway, which is much less efficient than the standard model.
But this doesn't stop it from being an amazing machine with incredible performance and thrilling handling. Overall, the Kona N is a spirited animal and an excellent choice for an enthusiast at a reasonable price.
Kia Niro
The Kia Niro has undergone a complete redesign and will be available in three trim levels: hybrid, plug-in hybrid, and full-electric. In addition to new styling and updated electronics, it also gets more space for people and baggage.
The wheelbase of the new Niro is just under an inch longer and the body is altogether 2.5 inches longer. As a result, the maximum cargo capacity has increased from 100.9 to 105.1 cubic feet, and the rear legroom has increased by 2.4 inches.
The previous-generation Niro's base model lacked several of the common driver-assist features provided by rivals. Kia fixed this by making forward collision and rear-cross traffic warning systems, as well as blind-spot monitoring, standard on every trim level.
While there are still many things to admire about the outgoing Niro, which made its debut in 2017, it was starting to feel a little boring in comparison to younger, trendier competitors.
This comprehensive redesign hopes to change that perception, and if more recent Kia vehicles like the EV6, K5, and Telluride SUV are any clue, the most recent Niro should perform admirably.
1. Kia Niro Hybrid Trims And Pricing
The Kia Niro Hybrid is available in five trims which are LX ($27,785), EX ($30,445), EX Touring ($32,745), SX ($33,785), and SX Touring (36,085). The EX with the Touring package, in our opinion, offers the best value out of all of these.
The base LX model lacks a number of desirable extras, such as a sunroof, fog lamps, rain-sensing wipers, 18-inch wheels, and the larger 10.3-inch infotainment display. The EX Touring comes packed with all of these characteristics.
2. Kia Niro Plug-In Hybrid Trims And Pricing
The Kia Niro Plug-In Hybrid is offered in two trims that are EX (35,035) and SX (40,785). Among them, the EX is the obvious choice as it offers an impressive feature set at a reasonable price.
3. Kia Niro Hybrid Performance And MPG
The revamped Niro hybrid will use the same 139-hp hybrid drivetrain as the 2022 model. This combo has a 1.6-liter four-cylinder with an electric motor. The Niro will only be available with front-wheel drive and come standard with a six-speed dual-clutch automatic transmission.
Driving the Niro is not really exciting. The 0-60 time of 9.7 seconds is a little slow. But that will still get you where you need to go. Although the dual-clutch automatic transmission shifts relatively slowly, it does so smoothly and without jerks.
Compared to the typical continuously variable gearboxes seen in most hybrid vehicles, this one is preferred. The Niro is simple to drive on the highway or in a parking lot because of the adequately weighted steering.
The handling of the Niro is surprisingly nimble. But it is less interesting to drive due to a lack of road feedback from the steering. Although the emergency stopping performance is subpar, at least the brakes are manageable for smooth stops throughout your everyday journey.
The Niro's base model gets an EPA-estimated 50 mpg combined (53 city/48 highway), making it the most economical trim. Although undoubtedly economical, it ranks fairly low in the hybrid class, which also includes vehicles like the Honda Insight and Toyota Prius.
Due to its larger 18-inch wheels, the mid-range Touring trim has the lowest efficiency at 43 mpg (46 city/40 highway).
4. Kia Niro Plug-In Hybrid Performance And MPG
For 2023 the more energetic plug-in hybrid version gets adds a stronger electric motor, increasing power to 180 horsepower. The 11.1 kWh battery pack that powers the plug-in hybrid model is expected to provide about 33 miles of electric driving range on a single charge.
According to Kia, the battery can be recharged in less than three hours when the vehicle is connected to a Level 2 charger.
5. Kia Niro Interior
Inside the redesigned Niro, a more sculptural interior design imparts a more modern vibe. For the headliner and upholstery, Kia employed recyclable materials and organic fibers like eucalyptus leaves.
It won't be the roomiest crossover on the market because passenger space is predicted to be approximately the same as that of the outgoing Niro. But it should have enough for four adults and a cargo section large enough for a lengthy supermarket run.
A rotary shift knob will take the place of the present model's lever-style gear selector, and ambient interior lighting adds a premium touch.
6. Kia Niro Cargo Space
The brand-new Kia Niro gets an increased cargo space of 22.8 cu-ft which is considerably larger than the Kona. This is because as we mentioned earlier, the redesigned Niro is larger than its predecessor. The Niro has a large wide and upright cargo area, especially when the adjustable rear load floor is lowered.
The 60/40-split back seats can be folded down to increase the cargo capacity. The hatch's dimensions are comparable to those of the competitors, unlike the Kona. If you don't have passengers in the back, the flat rear seat floor is helpful for adding even extra space. The rest of the car's storage is adequate, but nothing particularly noteworthy.
Although the armrest bin and door pockets are somewhat small, there are places to put your phone or sunglasses. For a little bit of added functionality, the cupholders can be tucked away. Overall the new Niro trumps the Kona in terms of passenger and cargo space.
Kona EV
The Kona Electric is a cute and efficient little crossover that adheres to the notion that electric cars ought to function just like gas cars. But it is propelled by electrons rather than petroleum.
It incorporates all of the quirky, gas-powered Kona's qualities. But switches out the four-cylinder, fossil-fuel-burning engine for a lithium-ion battery pack and a permanent-magnet synchronous AC motor.
The resulting power output and predicted driving range, are important considerations for the majority of consumers when deciding which EV is best for them. These are realistic and reasonable enough, as is the price of the electrified Kona.
In comparison to its compact EV rivals, it still holds up quite well. Credit goes to its obedient on-road characteristics, feature-rich interior, and industry-leading warranty coverage.
Kona EV Trims And Pricing
With only minimal modifications, the Kona Electric is carried over to the 2023 model year. The SE trim ($34,845) replaces the SEL and the SEL ($38,595) trim replaces what was once known as the SEL Convenience Package trim. The Limited ($42,845) is still the top of the line.
Along with a rear USB port, automatic up-down power front windows, heated front seats with eight-way power adjustment, and lumbar support (unless you want a lumbar support cushion for car) for the driver have become standard features now. Instead of simply the Limited model, the 10.3-inch display with integrated navigation is now standard on both SEL and Limited variants.
The SEL model, which now comes with a sunroof, a wireless smartphone charging pad, and heated front seats as standard equipment, is what we would recommend getting.
Niro Electric
The new Kia Niro EV is much more apparent on the road than its predecessor thanks to its fascinating new design language and two-tone body panels. The interior of the all-electric subcompact SUV is also snazzier.
It also features a unique style and technologically advanced gauges. Kia also boasts about the widespread usage of recyclable materials there.
The inside of the Niro EV is entirely different from that of its forerunner. The top of the dashboard and the door panels have slanted surfaces. The infotainment screen and digital instrument panel draw attention to the cabin's technological feel.
The central console houses a rotary shifter in addition to various auxiliary controls, and the steering wheel has a distinctive two-spoke design. According to Kia, the inside is made up of recyclable materials, and the seats' fabric is made from eucalyptus leaves.
With what appear to be big door pockets and practical cubbies in the center console, there is a lot of room for small items to be stored.
Niro EV Trims And Pricing
The Niro EV for 2023 comes in just two trim options. These are named Wind ($40,745) and Wave ($45,745). As upgrading to the Wave model doesn't result in any improvements to driving range or performance, we'd recommend getting the base Wind trim.
A 201-hp electric motor, front-wheel drive, and a 64.8-kWh battery pack are standard on both variants. The Wind even while it's the base trim, comes loaded with a plethora of luxury features as standard equipment.
These include a huge 10.3-inch infotainment screen with navigation, heated front seats, ambient interior lighting, dual-zone automatic climate control along with a number of driver-assistance functions.
Kia Niro EV vs Hyundai Kona EV
The Kona And The Niro directly compete against each other only in their EV forms. Other variants of these crossovers have different powertrains while the electric versions are powered by the same motor and battery pack.
However, the Niro has been fully redesigned while the Kona carries over with minor changes. Let's look at various aspects that make these siblings similar as well as different.
Kia Niro Versus Hyundai Kona: Performance And MPG
The front wheels of both the Niro EV and the Kona EV are powered by a 201-hp electric motor that is fueled by a 64.0-kWh battery pack (all-wheel drive is not available). The Kona Electric reaches 60 mph in 6.4 seconds, 0.2 seconds faster than the standard Kona. The Niro a slightly behind it, taking 6.7 seconds to achieve the same feat.
Like the normal Kona, the electric model has brisk handling characteristics. This makes it enjoyable to scamper down a winding two-lane. Although it doesn't provide sports-car-level thrills, it is an enjoyable subcompact SUV to drive. The same can be said about the Niro EV too as it also isn't a slouch to drive.
The anticipated range of the Niro EV is 253 miles per charge. This is a 14-mile improvement over the 239-mile range of its predecessor. The 64.8 kWh battery pack in the Niro EV is believed to be able to charge the vehicle from zero to eighty percent in around 45 minutes when it is linked to a DC fast charger.
In the Kona EV, pulling the paddles behind the steering wheel allows the driver to regulate the intensity of aggressive regenerative braking. This helps increase the driving range to a claimed 258 miles. According to Hyundai, the same 64.8 kWh battery pack in the Kona EV charges at a 100 kW DC charging station from 10% to 80% in 47 minutes.
The Hyundai Kona earns an EPA rating of 120MPGe combined while the Kia Niro is rated at 113MPGe. Although not a huge difference, the information might be useful for potential buyers. But do understand that from a performance and efficiency standpoint, both these EVs are in the same ballpark.
Kia Niro EV vs Hyundai Kona EV: Overall Comparison
Both of these electric crossovers are very similar in terms of their powertrain, performance, and efficiency. However, the Niro has been fully redesigned and hence it looks and feels more modern and superior. This also means that the Niro is significantly more expensive. Its base variant is almost $6,000 more expensive compared to the Kona.
The Niro comes loaded with much more standard features. Its base Wind trim itself is more loaded than the mid-level SEL trim of the Kona. But if your want to spend only around $35K for your new EV, the Kona electric is your only choice. However, if you are ready to spend just above $40K, the refreshed, more spacious and better-looking Niro is for you.
Hence, if you're looking to buy a brand-new EV, we would recommend getting the more updated Kia Niro. But if you want the same powertrain and performance and are ready to sacrifice some aesthetics and a little space inside the cabin, the Kona would be a better deal.
However, if you're in the market for a used EV, both of these are excellent choices and you can choose according to your brand preference.
Kia Niro Versus Hyundai Kona: In Conclusion…
Both the Kia Niro and the Hyundai Kona are two similar yet versatile small crossovers available at an affordable price. There are multiple iterations of both of these vehicles offered with different powertrains at various price points.
Choosing one would depend entirely on your needs and preferences. This is applicable to all models except the EVs which we have already covered. If you want a gas-powered crossover, the Kona is the obvious choice. There are three engine options offered with it.
We would recommend getting the N-Line or Limited trims with the turbocharged mill under the hood. And for breathtaking performance and a thrilling driving experience, you could always get the even stronger and sportier Kona N by spending a little more.
Similarly, if your need a hybrid or plug-in hybrid, the Niro is the obvious choice. Both these versions are reasonably priced and offer excellent fuel efficiency. On top of that, the Niro comes impressively redesigned and offers more space inside the cabin.
Overall, both these cars are excellent choices and you can't go wrong with both of them.
FAQs On Kia Niro Versus Hyundai Kona
Which Is Better Kia Or Hyundai
It would be difficult to find two automakers more similar to Hyundai and Kia other than maybe Chevy and GMC. As corporate cousins, the two have similar platforms, powertrains, and features. In almost every segment, both manufacturers offer vehicles at astoundingly low prices. Ultimately, choosing one among these would trickle down to your brand and aesthetic preference.
Which Is More Luxurious Kia Or Hyundai
Hyundai and Kia both provide comparable automobiles. But Kia's models offer better value. They are better made and offer a more exciting driving experience. Simply put, no matter what you value most in a car, Kia cars are better overall.
How Much Is A Kia Niro
The basic price of the 2023 Kia Niro is $27,785, which is less than the list price of almost every other hybrid SUV. Prices for the Niro hybrid's higher trim levels range up to roughly 36,085. The price of the Niro plug-in hybrid ranges from 35,035 to around 40,785.
Is Kia Niro A Good Car
Yes, the 2023 Niro hybrid is an excellent one. Even while it isn't very exhilarating to drive, it isn't completely boring either. Its fuel economy is out of this world at more than 50 mpg. The Niro also boasts good passenger space in both rows, a tastefully decorated interior, and a simple-to-use infotainment system.
Is Kia Niro AWD
Only front-wheel drive will be available in 2023 for the Niro. It will come standard with a six-speed dual-clutch automatic transmission. A more potent electric motor is added to the mix for a total of 180 horsepower in the plug-in hybrid powertrain.
How Does The Kia Niro Charge
The EV and PHEV are both incredibly simple to charge at home. The PHEV's smaller battery allows it to add 26 miles in roughly 2.5 hours with a Level 2 charger. However, the EV can add miles slightly quicker, obtaining a full 240-mile charge in under 10 hours using a 240V Level 2 charger.
Is The Hyundai Kona A Good Car
Yes, the 2023 Kona is a fantastic SUV. It boasts a base engine that is fuel-efficient and comes jam-packed with standard equipment. It also provides a pleasant ride in addition to competent handling. Additionally, it comes with some upscale options including leather and suede upholstery and powerful turbocharged engines. The only real drawbacks are limited cargo room and a comparatively cramped second row.
How Much Is A Hyundai Kona
With front-wheel drive, the base SE model of the 2023 Kona costs $23,285. Starting prices for midrange models range from $25,095 to $28,995. While the top-tier Limited trim has a base MSRP of $30,095, the performance-focused Kona N starts at 35,995.