Why not consider a 2022 Kia Telluride Nightfall Edition if you're shopping for a new SUV? The front grille, alloy wheels, and other accessories all get exclusive black highlights in this special version of Kia's best-selling SUV.
The experts have applauded the Telluride for its smooth ride quality, luxurious interior, and a third row that can comfortably accommodate adults. It also boasts a long list of standard features as well as the most up-to-date safety technology.
On the Telluride in 2022, there will be some slight alterations in the badging. Kia's logo has been updated, and the Telluride badge on the back has a new font and larger spacing. All versions now incorporate a 10.25-inch touchscreen display with navigation and automated climate control as standard equipment.
To understand more about the 2022 Kia Telluride Nightfall Edition, keep reading this article.
What Exactly Is The Kia Telluride Nightfall 2022?
Kia Telluride Nightfall is a special edition or add-on package that includes exclusive black treatments on the exterior and inside of several Kia cars. The Kia Telluride Nightfall 2022 adds character to the already well-appointed SUV and makes it stand out even more. Kia Telluride Nightfall Edition is offered as a package on the AWD EX premium package, and SX trim levels of the EX premium package.
The Kia Telluride Nightfall Edition adds the following distinctive amenities, in addition to the standard equipment:
The exterior trim is gloss black, and the roof rails are gloss black.
Radiator grille in black with a substantial rectangular design.
Door, window trim, skid plates, and badging are all gloss black.
Finished in black Alloy 20-inch wheels
Black inner bezels on headlamps and fog lamps
Differences Between The 2021 Kia Telluride And The 2022 Kia Telluride Nightfall?
The most visible outward modifications for the 2022 model year are a minimally restyled front grille and the new-age Kia emblem, which replaces the old oval one. The cheapest two trim levels have also been improved, replacing the previous eight-inch unit with a new 10.25-inch split-screen infotainment display.
More safety features, such as adaptive cruise control that can slow down for curves, are available on the LX and S models, as well as climate control with automated temperature management for the back passengers. A wireless phone charger is included with the S trim. All trims now include navigation as standard equipment.
The Exterior Of The 2022 Kia Telluride Nightfall
It distinguishes itself amid the more competitors in the market, having pioneered a dramatic new design style for the company. Nonetheless, Kia chose to add the Nightfall Edition Package to the SUV to make it even more adventurous. The 18-inch wheels on the LX and EX are smaller than the 20-inch wheels on the S and SX.
A motorized sunroof is standard on the S and EX models, while the top-tier model has two sunroofs. The base-level headlights can be upgraded to LED clusters on the EX trim and LED fog lights are only available on the SX.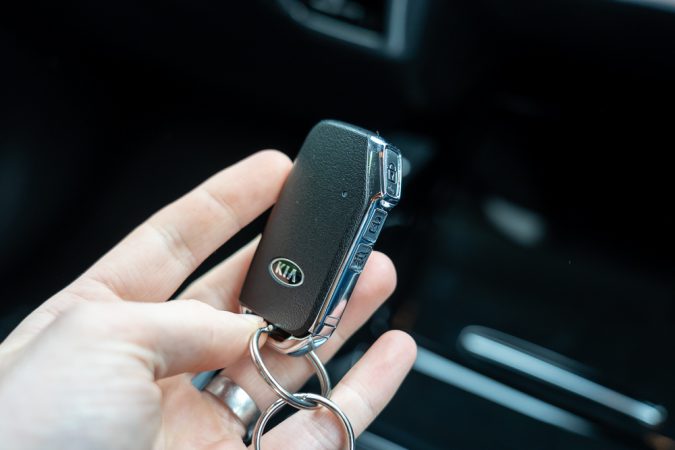 There are eight color possibilities available across the range, albeit not all are accessible on every trim. For the basic LX, Everlasting Silver, Gravity Gray, Sangria, Ebony Black, and Glacial White Pearl paint are available, with the first two costing an additional $495. If you prefer Black Copper, you'll need to upgrade to at least the S trim level and pay an additional $495 for premium paint.
At this level, Dark Moss is likewise included, but at no cost. The $495 Wolf Gray exterior color is the final option. But it requires the Nightfall Edition package and the premium package to be installed on your EX or SX. The Snow White Pearl from last year is no longer available.
Interior Of The Kia Telluride Nightfall
The Kia Telluride Nightfall offers a nice, middle-class cabin that compares favorably to more expensive competitors, while not being a premium vehicle. Three rows of chairs provide plenty of room, and the slightly crowded third row isn't uncommon in this class. All of the features are luxurious, with various upholstery options and additional functions such as heating and cooling.
From the touchscreen infotainment system to the many charging connections and conveniences, the features, of which there are many, are all laid out with the simplicity of access in mind. The package as a whole is superb, and the design is appealing.
Interior Space And Seating
SUVs with a third row are known for their passenger capacity, but not always for the available room in the back seat. This is where the 3-row Kia Telluride Nightfall distinguishes itself from the competitors. Although the front two rows receive the largest share of the head- and legroom, all three rows are actually useful.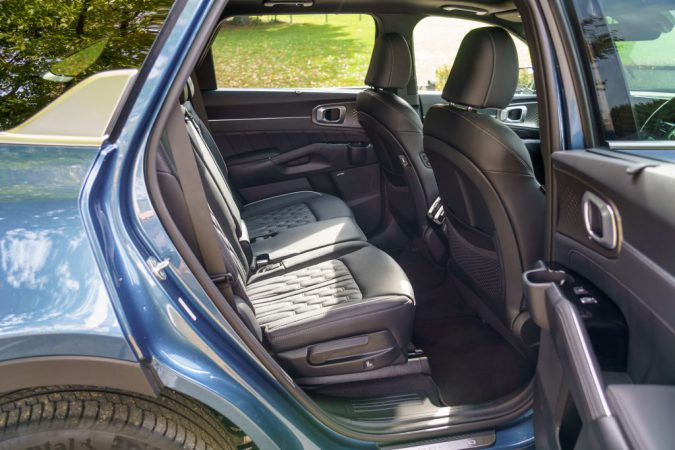 The Kia Telluride Nightfall's third row is also simple to reach due to a one-touch slide and fold feature for the second row. On the S and SX trims, swapping out the middle bench with captain's chairs makes it even easier, however, it reduces seating capacity from eight to seven.
The LX and S have four-way electrical passenger seat adjustment, while the EX and SX have eight-way. Depending on the trim, heating and cooling are offered for both the first and second rows.
Quality & Comfort
Because the Kia Telluride Nightfall is long and broad, it can comfortably accommodate up to eight passengers. It's a 9 for comfort because it's well constructed and rigged, with enough cargo room to boot. With a 114.2-inch wheelbase and a 196.9-inch total length, the Telluride is nearly identical to its Hyundai Palisade sibling.
The base crossovers have synthetic leather front seats that can be adjusted manually, but the S model adds an eight-way motorized driver seat. Leather interior and a motorized passenger seat are standard on the Telluride EX and SX SUVs, with leather as an option on the SX. We've been impressed by the driving position and space surrounding front passengers in every Telluride, as well as the small-item storage for keys and smartphones.
The second row can be set up as either a bench seat or two captain's chairs. The Kia Telluride Nightfall, in either case, provides enough room for large adults. The seats fold and glide forward for easier access to the third-row seat, which can also accommodate adults for short journeys.
Cargo And Trunk Space In The Kia Telluride Nightfall
The crossover's ability to seat eight people within the cabin isn't its only family-friendly feature. If you plan to take the family on a road trip or even perform some household chores around town, you'll need plenty of space in the back.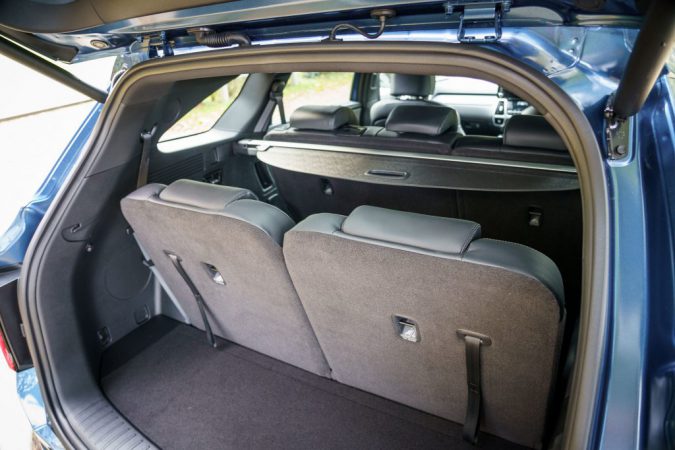 The midsize SUV once again impresses with its utility, outperforming even the Hyundai Palisade in a similar configuration. In its standard form, the Korean car can take up to 21 cubic feet of cargo, which is more than enough for your weekly shopping or a few carry-on bags for a quick vacation.
Folding down the third row frees approximately 46 cubes when preparing for a more extended vacation with a family of five. All of the rear seats may be folded down to create an 87-cubic-foot space for genuinely heavy-duty needs. For added convenience, the cargo floor is also dual-level. Smaller objects can be stored in a number of little locations throughout the cabin.
The glovebox, as well as the storage nook in the center armrest, are both rather large. Each row has two cup holders, and each of the four doors includes a pocket that can be used. A small storage container for loose cash or cell phones is located on the control panel, and sunglasses are stored in an overhead storage compartment.
Driving And Handling Experiences
Smart, Eco, Sport, and Comfort are the four drive modes available, each with distinct settings for the powertrain, drivetrain, and steering effort mapping to deliver the desired driving experience. AWD drivers can choose from two different modes for specific driving circumstances, "Snow" and "AWD Lock," in addition to the four standard drive modes.
While it is intended to transport the family about town or across the country safely, the Kia Telluride Nightfall is no slouch on the road. The SUV's light steering lends it to a city living in Comfort mode, but switches to Sport, and the steering tightens up a bit to give it a bit more feel.
It provides a smooth ride regardless of the setting, with most minor road abrasions being unnoticed by passengers. They can even go off-road if necessary while maintaining a high level of balance.
It never feels as enormous as it is, and despite its size, it handles remarkably beautifully. It's hardly a sports SUV, though, and enthusiasts will have more fun driving a Mazda CX-9. When designing the Telluride, the engineers had one goal in mind: to provide a comfortable driving and riding experience for the whole family. It certainly delivered on that claim.
Performance Of Kia Telluride Nightfall
Given the vehicle's size, we'd prefer to see it with a slightly more powerful powertrain, but the naturally aspirated V6 isn't bad. While many manufacturers are moving away from six-cylinder engines in favor of turbocharged four-cylinders, traditionalists will appreciate the SUV's features. It won't shatter any land-speed records with a 7.5-second 0-60 mph sprint time, yet it never seems underpowered. It rides along fairly comfortably once you reach top speed.
Despite the weight difference, both the front-wheel-drive and all-wheel-drive versions of the family carrier have a 5,000-pound towing capacity. Genuine 4WD off-roaders have an edge off-road and when towing, but they lack the comfort of the Telluride.
Transmission And Engine Of Kia Telluride Nightfall
For the new year, the powertrain remains the same, which isn't always a bad thing. The 3.8-liter V6 engine develops 291 hp and 262 lb-ft of torque. We'd like to see a turbocharger installed at some time, but the current configuration is more than adequate for moving the large crossover. Both the Honda Pilot and the Hyundai Palisade are powered by a similar engine, and neither is expected to change it unless the Honda Pilot's somewhat less powerful V6 configuration is enhanced.
Its engine is coupled to an eight-speed automatic transmission that sends power to the front wheels in the standard configuration; all-wheel drive is available as an option on all models.
The AWD has no discernible effect on the engine's performance, and the Korean vehicle gets around town without difficulty. On the highway, it takes a little skill to accelerate or overtake more sporty SUVs, but it's hard to criticize as a commuter vehicle.
Safety
The NHTSA gave the 2022 Telluride FWD and AWD variants five stars for overall safety. The IIHS has not yet released ratings for the 2022 Telluride, although it did name last year's model a Top Safety Pick for 2021.
The 2022 Kia Telluride Nightfall comes standard with automatic emergency braking, lane centering with departure warning, and blind-spot monitoring. Adaptive cruise control, rear cross-traffic braking, and parking sensors are also included. On the top-of-the-line SX model, automatic high lights and 360-degree vision cameras come standard.
Many of Kia's Drive Wise driver-assist systems are included on all trim levels of the 2022 Kia Telluride Nightfall, which is impressive given that many SUVs in this price range simply offer the bare minimum. Standard Highway Driving Assist on all models is new for this year, and it gives speed restriction information for your location as well as the ability to change the Telluride's cruising speed as needed. The following features are included as standard safety features:
Forward Collision Warning
Rear Cross-Traffic Collision-Avoidance Assist
Lane Departure Warning
Lane Keeping Assist
Forward Collision-Avoidance Assist (Pedestrian and Cyclist)
Blind-Spot Collision-Avoidance Assist-Rear
Lane Following Assist
Navigation-based Smart Cruise Control-Curve
Parking Distance Warning-Reverse
Rear Occupant Alert with Ultrasonic Sensors
Driver Attention Warning
Rear View Monitor with Dynamic Parking Guidance
Safe Exit Assist
Kia Telluride Nightfall Infotainment And Features
Features
On the Telluride, Kia doesn't provide many choices; instead, it combines them into packages. From its standard features to its outstanding infotainment interface to its 5-year/60,000-mile bumper-to-bumper guarantee, the 2022 Telluride is a terrific value.
With its standard active safety systems, power features, eight-passenger seating, keyless entry, and its newly standard 10.3-inch touchscreen with Apple CarPlay and Android Auto, the $34,015 Telluride LX does not disappoint. Spend an extra $2,000, and you'll get an all-wheel drive.
Heated front seats, a motorized driver seat, 20-inch wheels, and second-row captain's chairs are all standard on the $36,515 Telluride S. The manufacturer appears to be attempting to convey that you don't have to pay a lot of money to get the most bang for your buck, with even the entry-level LX offering some fantastic technology.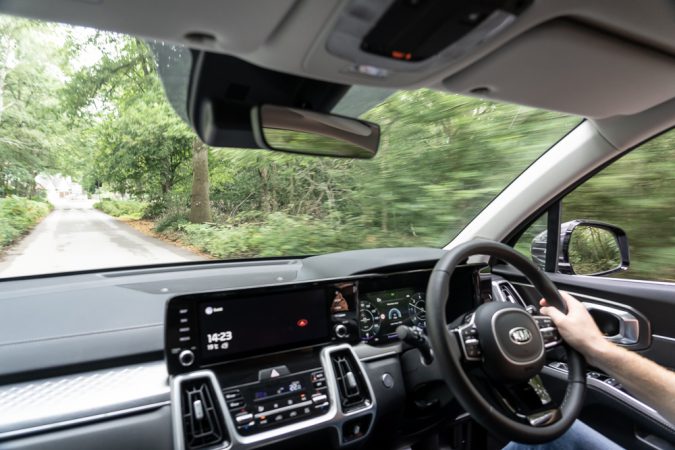 Keyless entry and push-button start and remote engine start, three 12-volt power outlets, dual-zone climate control with rear-seat controls, and a one-touch sliding second row are all included.
Forward collision avoidance, pedestrian and cyclist recognition, blind-spot monitoring, driver attention warning, navigation-based adaptive cruise control with curve control, and parking distance warning are among the driver-assist features that come standard.
A motorized sunroof, climate-controlled front and center rows, an auto-dimming rearview mirror, a surround-view camera, and a blind-spot vision monitor are available as trim levels rise. Optional upgrades provide extra power outlets and a head-up display to the vehicle.
Infotainment
It comes with a sophisticated infotainment package as a car developed with families in mind. Last year's eight-inch touchscreen displays on the LX and S have been improved to 10.25-inch panels this year, in keeping with the rest of the lineup. Apple CarPlay, Android Auto, and Bluetooth are all included, as well as a six-speaker sound system. Six USB ports are available to keep everyone's devices charged.
The EX features a second USB port as well as wireless charging. At the top of the line, the SX replaces the standard six speakers with a Harman Kardon ten-speaker system. A rear entertainment system is available on every trim, and a Driver Talk in-car PA system. Which amplifies the driver's voice over the speakers, is now standard on all trims.
Whereas it was previously only available on the EX and up. The back speakers can also be turned off in 'Quiet Mode,' according to the maker.
Mileage On A Kia Telluride Nightfall
All economy figures are carried through from the earlier models because nothing mechanical has changed in the latest generation. This is a good thing because the thrifty car has managed to keep up with its main competitors. The EPA estimates that the midsize vehicle will get 20/26/23 mpg city/highway/combined in its base FWD configuration. When you switch to the heavier AWD setup, your gas mileage drops somewhat to 19/24/21 mpg.
The almost identical Palisade falls just short in comparison, with the FWD achieving 19/26/22 mpg. While the popular Pilot FWD achieves 20/27/23 mpg. The 18.8-gallon tank, full to the top, lasts 433 miles before running out of gas.
Comparisons Of The Kia Telluride Nightfall
Hyundai Palisade vs. Kia Telluride Nightfall 2022
For the 2017 model year, neither the Telluride nor its companion, the Hyundai Palisade, have experienced any significant changes, so what was true last year is true this year. The Palisade and the Kia Telluride Nightfall are even priced similarly. Despite sharing an engine with the Palisade, the Kia is slightly more practical, with slightly greater trunk capacity, passenger room, and better fuel economy. It's also less costly due to Hyundai's focus on providing a more sumptuous cabin with excellent basic amenities.
To be honest, there isn't much to choose between these two cars. So it'll mostly come down to personal preference and brand affinity. Neither has a true four-wheel-drive system, but both have an all-wheel-drive. Overall, we believe the Telluride offers somewhat better value for money.
Honda Pilot vs. Kia Telluride Nightfall 2022
The Honda Pilot was trendy before the Kia SUV arrived. Honda's market supremacy was challenged two years ago, and the company has little attempt to reclaim it. It has just made a few changes to put itself closer to the Telluride in terms of value rather than surpassing it.
The Honda is much more expensive at a $39,060 starting price while having a smaller 16.5-cubic-foot trunk compared to the Hyundai's 21 cubes due to the elimination of the base LX and EX trims for 2022 and no sight yet of the speculated replacement base model.
It does, however, have a lot of essential features and has virtually identical scores as the Telluride. So, in the end, it's a question of which vehicle checks the most boxes as a family car. Because of its higher amounts of real estate for both passengers and their belongings. The Kia Telluride remains the SUV to beat if you're seeking the ideal family vehicle.
Kia Telluride Nightfall vs. Subaru Ascent
The Subaru Ascent has a few advantages over the Telluride. Such as standard all-wheel drive and a little greater ground clearance, making it a little more capable off-road. In almost every other way, the Kia Telluride Nightfall is the superior option. It boasts a more upscale cabin and a more advanced infotainment system, yet it costs roughly the same as the Ascent. Although the Subaru is a good buy, the Telluride is a better all-around vehicle.
Facts: The Kia Telluride
The Kia Telluride is a well-rounded package with handsome styling and a bargain price.
The Telluride offers a generous set of standard features throughout its range and has a top trim that delivers an elevated experience that's comparable to SUVs that cost twice as much.
The Telluride is powered by a naturally aspirated V-6 that makes 291 horsepower and 262 pound-feet of torque, which pairs with an eight-speed automatic transmission that feeds the front wheels in the standard format—all-wheel drive is also optional across the board.
The Telluride X-Line can tow up to 5500 pounds and boasts up to 8.4 inches of ground clearance for off-road excursions.
The EPA estimates the Telluride's fuel economy at 20 mpg in the city and 26 mpg on the highway for the front-drive version and 19 mpg city and 24 mpg highway for all-wheel-drive models.
The Telluride's interior is upscale and comfortable, with attractive materials and plenty of desirable features. It is several inches longer than the seven-passenger Kia Sorento, making its cabin even more spacious.
The Telluride has a robust infotainment system that features a 12.3-inch touchscreen with popular content that includes Apple CarPlay, Android Auto capability, in-dash navigation, and onboard Wi-Fi.
The Telluride has a comprehensive suite of driver-assistance technology that comes standard on all models and includes forward-collision warning, automated emergency braking, lane-departure warning, and lane-keeping assist.
Kia provides a limited warranty that covers five years or 60,000 miles and a powertrain warranty that covers 10 years or 100,000 miles. However, it lacks the complimentary scheduled maintenance of some rivals.
The SX trim of the Telluride delivers a near-luxury experience with all the bells and whistles at a still-reasonable price.
Final Verdict:
It certainly made an impact in 2020, and the aftershocks aren't going away anytime soon. Every feature of the midsize SUV appears to work together to give a superb package at a low price. The 2022 Kia Telluride Nightfall three-row crossover SUV seats seven or eight people. Features luxury touches on top models and has won the Best Car To Buy award and others since its debut in 2020.
You get a robust V6 engine that is fuel-efficient, plenty of passenger and cargo capacity, a good list of standard equipment, and plenty of driver-assist technology. Which is even more prevalent this year on the base variants. If you desire near-luxury comfort and elegance, the top-tier trims are still much less expensive than premium SUVs. It's easy to see why the vehicle is so popular when you consider the vehicle's tempting warranty plan and high reviews.
Approved Tools
These tools have been tried and tested by our team, they are ideal for fixing your car at home.
AI Car Expert Thinking 

.

.

.