I had the opportunity to test out the Kingslim D6 Dual-facing 4K UHD Dash Cam and I must say, I am thoroughly impressed with its performance. The D6 is a dual-wide angle dash cam with 4K ultra high resolution, perfect for capturing every detail on the road and inside the car. The road-facing camera records detailed 4K driving footage, while the cabin-facing camera records clear 1080p details inside the car, both with a 170° recording angle. This makes the D6 an ideal choice for taxis and families.
Kingslim Essential Features
One of the things I love about the D6 is that it has all the essential features that a dash cam must have like loop recording, night vision, parking monitor, speed display, audio ON/OFF, screen saver, date & time stamp, and even a "fatigue driving reminder". The included suction cup and adhesive sticker mounting brackets make installation a breeze.
WiFi and GPS
Another standout feature of the D6 is its built-in WiFi and GPS. The built-in WiFi allows you to access the recorded videos and photos easily on your phone through the free "Kingslim" app, making it convenient to share your driving experiences on social media. The included GPS module accurately records your driving location, speed, and route, and you can view the driving data using the phone app or download the playback on your computer.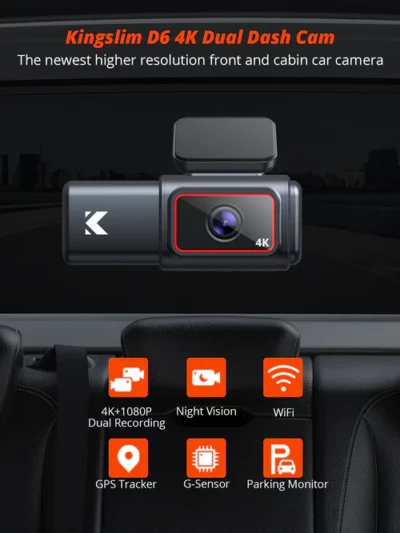 Easy Installation
The D6 is also very user-friendly. The box contains all the accessories you need for installation, and it is easy to use on a daily basis. If you need to upgrade to a 3-channel dash cam, you can purchase the rear camera separately. The dash cam offers various recording options, including 2-way 4K+2K front and rear or 4K+1080P front and inside, or 3-way 2K+2K+1080P front, rear, and inside.
Modern And Up To Date
Finally, the D6 comes with a Type-C charging interface, which is faster and more convenient than the old Mini USB used by other driving recorders. This also helps reduce unnecessary interface wear and prolong the service life of the dash cam. Kingslim also provides an 18-month warranty and lifespan technical support for the product, ensuring that any questions will be answered within 24 hours and any problems will be solved in the best and fastest way possible.
Overall, I highly recommend the Kingslim D6 Dual-facing 4K UHD Dash Cam to anyone in the market for a high-quality, feature-rich, and user-friendly dash cam.
15% off discount code of Kingslim D6:
Promotion:15% off
Start date:04/07/2023
End date:05/06/2023
Promotion code:15APRD6PROMO