Are you in the market for a new Lexus and you are interested in the Lexus fastest car out there? Well, if this is the case and you want to learn more about which is the fastest model made by Lexus, then you are in the right place because this article will be all about Lexus's fastest cars.
Doing the proper research before you decide to spend a lot of money on a car is really important. Especially nowadays when cars cost a whole fortune to purchase. And frankly, high-performance cars are getting more and more expensive and more difficult to obtain.
But what is good with modern sports cars is that they drive really well in comparison to sports cars from back in the day. Nowadays, car manufacturers are really looking to cut those extra tenths of a second and bring a faster 0 to 60 time for their customers.
And if a proper sports car in the past needed 5 or 6 seconds to accelerate to 60 mph, nowadays the benchmark is 3.5 seconds. And that is a lot of time when it comes to speed. But more on that later on.
First, we are going to learn who makes Lexus cars and whether or not these cars are any good. Then we will discuss the reliability, and the Lexus lineup and then we will cover the Lexus fastest car. We will discuss all the categories where Lexus has an offering and we will learn more about the 0 to 60 times that these cars make as well as the price and other specs. So, if you want to learn more about this topic, follow along.
Who Makes Lexus Cars?
Now before we dive into more complex topics like the Lexus fastest car, let's first focus on some of the basics and discuss more about who makes Lexus cars? Knowing this stuff will be extra beneficial for people who are not into cars and want to learn more about the background of this brand. So, let's begin.
Lexus is a Japanese car manufacturer. They don't have a long history as many other carmakers do. But even though they are a fairly new brand, they created a big impact during these years and created a regular clientele of customers that return to them in order to purchase the newest models.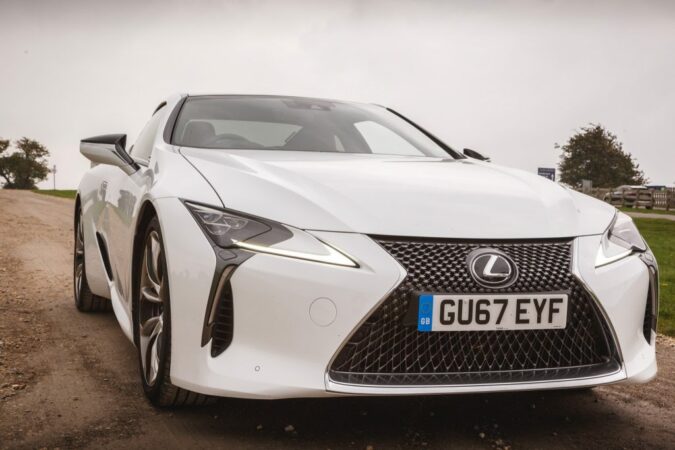 Everything started in 1989 when this brand was first introduced into the market. This was the time when a lot of Japanese carmakers introduced a sub-brand focused on luxury. Nissan created Infiniti, Honda created Acura and Toyota created the Lexus brand. And we can honestly say that the Lexus brand is probably one of the most successful out of the bunch.
So, when it comes to the answer to the question of who makes Lexus, we can say that Lexus cars are made by Toyota.
Nevertheless, the first model that Lexus introduced was the LS400. This model was created as a competitor to the S-class by Mercedes and BMW's 7-series. And frankly, they nailed it. Some of the examples of this model have even reached 1,000,000 miles. And we are serious. Just browse it on the web and you will see it.
Soon after, Lexus diversified and nowadays they have a whole lineup of cars. We are going to cover that later on before we learn more about the Lexus fastest car.
Are Lexus Good Cars
Now let's cover another topic before we dive into the Lexus fastest car and learn more about the fastest models that they are offering on the market right now. And this topic is the one that bothers a ton of owners. Namely, whether or not they are good cars or not. What is the case actually when it comes to this brand? Let's elaborate.
Lexus since its inception is aiming toward quality as its number one priority. They are a luxury brand and unlike most luxury car makes that often break down and are expensive to repair, it is not the same case with Lexus.
As we explained previously, Lexus is a Toyota brand and Toyota is highly regarded as the staple of quality. They simply don't rely on luck and rigorously test their vehicles until they break down and find what are the weak points in their cars.
In addition to this, the build quality is really important to Lexus. So, on these cars, you will not face gap issues between the panels like in Tesla vehicles for example. Or panels in the car start to rattle or the whole interior falls apart after a few years like on some other brands.
When it comes to Lexus, it is important to know that this brand delivers. And delivers really good products that are highly ranked.
For example, JD Power ranked the Lexus brand as the most dependable of all the other automotive brands in 2021, including Toyota. So, you understand why this brand is really praised by automotive critics and also by different magazines. But is the same case with the customers? Let's find out more on that next before we cover the Lexus fastest car.
Why Lexus Is So Popular?
Now let's discuss more about why the Lexus brand is really popular. This topic is really important for you to know because this will help you determine if you need a Lexus in your life or if you will leave this place for some other brand. So, let's cover this real quick.
When it comes to Lexus and its popularity, we can easily say that there are a couple of factors that come into play when it comes to this car maker.
The first factor is the looks. We all know that looks sell. So, in terms of looks, we can say that the Lexus brand is covered really well. Lexus models look really spectacular with those sharp aggressive lines.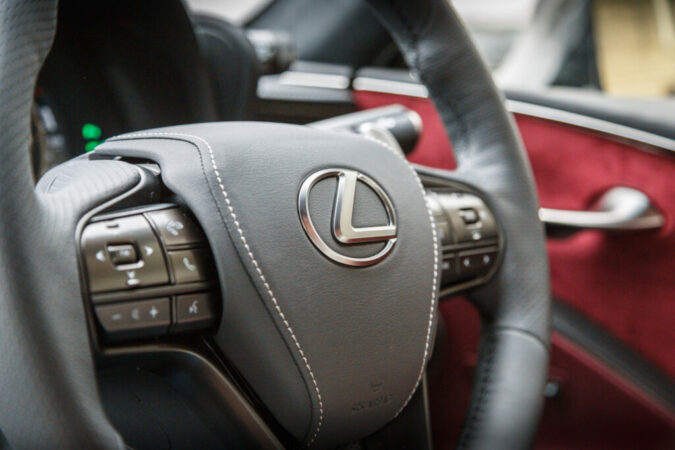 This way of styling attracts a lot of younger buyers who are looking for a car. A Lexus is not your average retired grandpa type of vehicle. When we talk Lexus, we talk aggressiveness and really good looks.
The second most important factor when it comes to Lexus is the interior quality. These vehicles are really comfortable. They include leather interiors with soft-touch materials all over. And sitting in a Lexus is a nice place to be. I personally have driven some of their cars and I can say that when it comes to comfort, they are not a lot different than Mercedes and BMW.
But here is the catch. Even if you have a really quality car and you price it on the same level as BMW or Benz, you will not be able to sell it. So, what Lexus does is lowering the pricing a bit. So, their cars get more attention. This means they give excellent value. But what about Lexus fastest car? More on that in a bit.
Lexus Reliability
Another topic that we would like to discuss before we cover the Lexus fastest car is the Lexus reliability. So, is the Lexus brand reliable or not? Let's find out.
When it comes to reliability, we can say that Lexus is really strong in this aspect. It is basically the same deal as if you purchase a Toyota. But even better in some aspects since these models are rated really high in the market and they need to be better performers to sell well.
So, when it comes to reliability, we can say that you will not make a mistake if you go after a Lexus. In addition to this, Consumer Reports have praised Lexus as the most reliable car brand.
And on top of that Lexus was ranked as the brand to have the best dealership experience of any brand.
Dealership experience is really important because if something breaks down under warranty, they need to fix it and not make any excuses. So, props to their dealerships when it comes to this aspect.
And the last thing that we would like to cover in this chapter is affordability. Even though Lexus is a luxury car brand, they are still one of the cheapest luxury brands around to purchase and also to maintain. Owning a Lexus is only a bit more expensive than owning a Toyota for example.
The repair costs are relatively low in comparison to BMW, Mercedes Benz, Land Rover, and other European carmakers which can be rather expensive to deal with when it comes to maintenance. But what is the Lexus fastest car? More on that we are going to cover in a bit.
Lexus Car Lineup Of Cars
Now before we learn more about the Lexus fastest car, let's take a look at the lineup of vehicles that Lexus has at the moment. We think that this will be really useful information for the people who want to get a Lexus but they don't want to get anything that is really fast. So, let's go through the models really quickly.
When it comes to the choice of cars that you can get from this brand, we can say that the options are enormous. Lexus has an offering in basically every segment possible. So, we will focus on two main categories in this chapter, which are sedans and SUVs. While in the following chapter, we will dive into high-performance vehicles.
Nevertheless, let's start with the sedan models. When it comes to sedans, we can say that there are three main models. The IS is the entry-level model in this segment and is comparable to a Mercedes C-class or a BMW 3-series. Then there is the ES which is comparable to an E-class or a BMW 5-series, and the top-of-the-line model is the LS, which is comparable to a 7-series or an S-class.
Now let's move on to SUVs and this is frankly the segment where Lexus gets the most sales on their cars.
The smallest SUV is the UX. This model is comparable to the Honda HR-V or a similar subcompact SUV. Then there is the NX which is comparable to a Toyota RAV4 (make sure you're aware of the 2007 Toyota RAV4 problems) or a Honda CR-V.
Then as we climb on the ladder, there is the bigger RX model. This is a midsize 7-seater SUV. And the top of the line biggest in this class of Lexus cars are the GX and LX.
Lexus Fastest Car
Since we covered the lineup of models that Lexus has, we think that now it is time to discuss more about the Lexus fastest car.
And when it comes to Lexus, we can say that there are a few Lexus fastest cars out there. They fall under different categories and this is why we will cover them separately in the following chapters and we will learn more about their specs, performance numbers, and price. So, you don't want to miss that.
Lexus Fastest Car #1: Lexus IS 500
Now let's start with the first Lexus fastest car and that car is the IS 500. As we mentioned previously, the IS lineup is a direct competitor to the 3-series by BMW and the C-class by Mercedes. And this IS 500 model directly targets the BMW M3 and the Mercedes C63 AMG. And frankly, it is really good.
The IS 500 starts at $57,999, making it a lot more affordable than the competition. So, if you want to get a Lexus fast car, this model is the way to go if you are asking me. It delivers everything that the competition does at a lower price. But what about the specs?
Well, the IS 500 comes equipped with a naturally aspirated 5.0L V8 engine that is producing 472hp and 395lb-ft of torque. Which is quite a lot. The engine is a DOHC type of engine with 32 valves and a dual variable valve timing system.
The acceleration from 0 to 60 mph is about 4.4 seconds and the top track speed is 149 mph. All this is possible with the low drag coefficient of 0.29.
And not only that the low drag coefficient makes this model quick off the line, but it also makes it really fuel-efficient as well. The IS 500 produces excellent numbers when it comes to fuel economy. With 17 mpg in the city, 25 mpg on the highway, and 20 mpg combined is one of the best performers in its class of Lexus fastest car. Now let's move on to the next model.
Lexus Fastest Car #2: Lexus LC500
Now let's move to the next Lexus fastest car and that is the LC 500. The LC 500 is probably one of the most luxurious coupes that were ever produced. This model is simply stunning from every possible angle. There are simply no bad lines when it comes to the design language of this model. But does this model worth the $105,000 price tag? Let's elaborate.
The LC 500 is really expensive and practically, this is almost a supercar territory since you can get yourself a Lamborghini or a similar supercar for a little bit more cash. So, you need to learn whether or not this fast Lexus is worth it or not.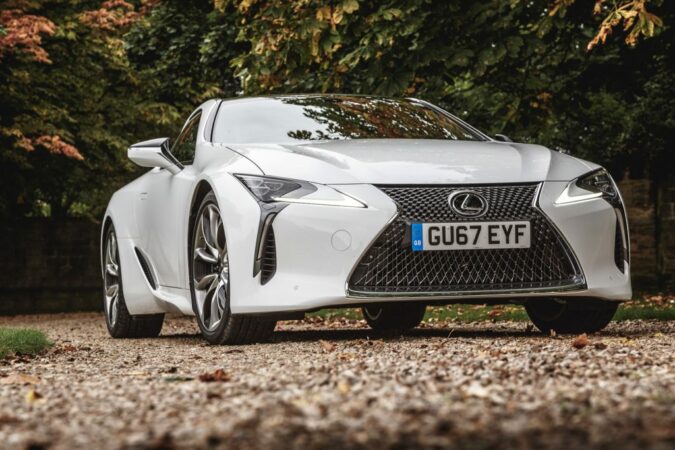 The powerhouse of this model is the same 5.0L naturally aspirated V8 engine that is powering the IS 500. This engine produces 471hp and 398lb-ft of torque in the LC 500. The engine is a quad-cam with four valves per cylinder and dual variable valve timing. All these technologies make this engine very efficient considering that it is a 5.0L V8. But how fast the LC 500 is?
Well, we can say that it is crazy fast when you consider that this is a naturally aspirated engine. The time from 0 to 60 is 4.4 seconds and the top track speed is 168 mph. All, this by the good aerodynamic drag coefficient of 0.33. Also, the fuel economy of this Lexus fastest car is also excellent.
The model gets 16 mpg in the city, 25 mpg on the highway, and 19 mpg combined. But it is worth the $105,000 price tag? Well, that's questionable, and it is up to you to decide.
Lexus Fastest Car #3: Lexus RC F
The next Lexus fastest car that we would want to discuss is the Lexus RC F Fuji Speedway Edition. Why this edition? Well, because the standard RC F even though fast accelerating from 0 to 60 in 4.2 seconds, is not even near to the Fuji Speedway Edition which is crazy fast. But more on the top speed, we will cover it in a bit.
What is important is that this special edition model starts at $102,000, which is crazy expensive compared to the standard RC F which begins at $67,000. But what about the specs?
This model comes equipped with a 5.0L V8 that is producing 472hp and 395lb-ft of torque. Quite similar to the previous models that we have covered. This model is also 32 valve with dual variable valve timing and a compression ratio of 12.3:1.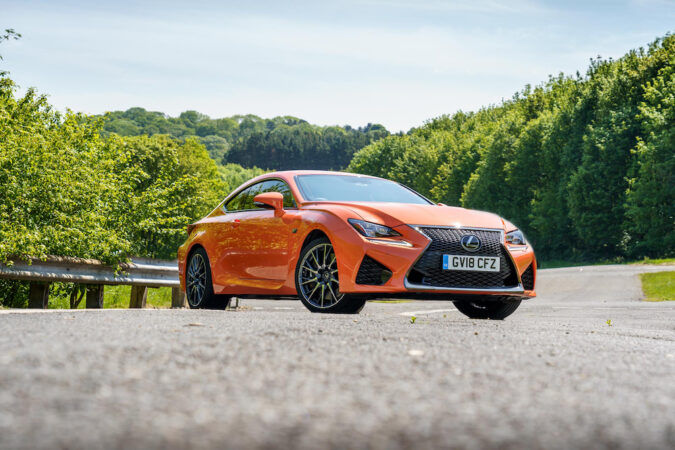 What is different though is the 0 to 60 speed. And from 0 to 60 this model accelerates in 3.96 seconds and has a top track speed of 168 mph. Considering this, the Fuji Speedway edition is the Lexus fastest car in production. But is there anything faster Lexus has produced? Of course, there is more that we are going to cover in the following chapter.
What is important when it comes to this RC F, we think that it doesn't worth the effort to go for the special edition. First, it is crazy expensive, and second, you don't get much of a performance improvement.
Lexus Fastest Car #4: Lexus LFA
Now let's cover the Lexus fastest car ever. Which is the fastest car that Lexus ever produced? The crown of the fastest Lexus ever goes to the Lexus LFA. The LFA was Lexus's first proper supercar. And they nailed it. They have been preparing this model since 2000 but released the LFA in 2010. Unfortunately, the LFA had a short production run of only two years and in 2012 it was canceled.
What is important is the cost, and new this model costs about $375,000. And nowadays these cars are crazy expensive. An LFA in good condition costs 1.1 million dollars as of 2022. These cars are really desired because they are extremely rare and fast.
The engine in the LFA is a 4.8L V10 which sounds incredible. This engine produces about 560hp and this engine is paired with a 6-speed Aisin automated manual transmission.
But how quick is the LFA? The 0 to 60 on this model is 3.8 seconds and the top speed of this model is 202 mph. So, the Lexus fastest car is the LFA. If they were building it today, I'm sure that they would make it even faster than this. Now let's conclude this article.
Luxury Lexus Performance Cars: Facts
Toyota created the luxury brand, Lexus, in the 1980s, as it saw the American luxury market being dominated by European offerings and forgettable automobiles.
Practicality, reliability, safety, cabin comforts, and a fuel-efficient, extremely tranquil ride were key factors in making Lexus successful.
The Lexus IS F, a V8-powered sport sedan, was launched in the fall of 2008, breaking critics' and consumers' perception of Lexus's disinterest in producing performance vehicles.
Toyota President Akio Toyoda declared "No more boring cars" and focused on enhancing Lexus's performance capabilities.
Lexus's performance cars offer a wide range of acceleration speeds, from 5.6 seconds for the RC 350 F Sport and the IS 350 F Sport to 3.6 seconds for the LFA supercar.
The 2008-2016 LS 600h was one of Toyota's first hybrids designed for performance and torque, allowing it to accelerate from a standstill to 60 in just 5.5 seconds despite its 5,159-pound weight.
The Lexus GS F offers a very engaging driving experience, a 5.0-liter V8 engine generating 467 horsepower, and can reach 60 in 4.4 seconds.
The Lexus RC F, which shares the same powertrain as the GS F, can reach 60 in 4.3 seconds, owing to its series of traction settings and slightly less weight.
The LC 500, with a V8 generating 471 horsepower and 398 pound-feet of torque, can reach 60 in as little as 4.3 seconds and has a striking low-slung design.
The LFA, a limited-edition supercar, was created to compete with Ferrari, Porsche, and Lamborghini and has a F1-derived 5.2-liter V10 engine that can reach 60 in just 3.6 seconds, while the LFA Nürburgring Performance Package, which features a re-calibrated transmission, more aggressive aerodynamics, and track-tuned suspension, set a record at the Nürburgring for a car with non-competition tires, lapping it in a mere 7 minutes and 14 seconds.
Conclusion To Lexus Fastest Car
In this article, we have covered quite a bit when it comes to the Lexus fastest car. First, we learned what is Lexus and why this brand is so popular. We covered more about the reliability and the reputability of Lexus as a brand as well.
Then we covered the Lexus fastest car. We listed out the fastest cars that this brand has in a few different categories. Namely, sedans, coupes, and proper supercars.
F.A.Q To Lexus Fastest Car
Now let's answer some frequently asked questions.
Who Makes Lexus Cars
Lexus is a luxury brand that is owned by Toyota Motors. They are basically the luxury division of Toyota. They produce only luxury cars. Mainly sedans and SUVs. But they also have some sports cars as well.
What Does Lexus Stand For
The name Lexus stands for luxury and elegance. Toyota basically combined these two words to create this legendary name and make Lexus a staple when it comes to cars and car manufacturing.
What Lexus Has A V8
Many models have a V8 engine. Namely, the IS 500 has a 5.0L engine. This engine is also used on the LC 500 and also on the RC F model. Also, the GX SUV implements a V8 engine.
Are Lexus Good Cars
Yes, they are fairly good cars. Really reliable as any other Toyota product and some of the owners say that these cars are even better than the standard Toyota models. Also, a ton of customers have praised their dealerships for the service they got.
Does Toyota Make Sports Cars
Technically, Toyota makes sports cars but actually does not. There are two sports cars that are badged under the Toyota name. These are the GR86 and the Supra. But both the GR86 and the Supra are based on other cars. Namely, the Subaru BRZ and the BMW Z4. So, even though these cars are branded by Toyota, all the mechanical components are made by other companies.
What Is The Fastest Lexus
The fastest Lexus is the discontinued Lexus LFA. This model achieves a top speed of 202 mph and accelerates from 0 to 60 in 2.8 seconds.