Ever wondered what parts of the UK have the highest risk of second-hand cars being written off? Ok, so the answer is very likely to be no, but if you're looking for a second-hand car it could prove vital. Data from My Car Check is now able to reveal this and it turns out that the best and worst places for write-off risk cars are only separated by 30 miles.
Where are they?
The data shows that the place with the lowest used car write-offs is Farnborough, Hampshire, where just 5% of accidents there result in cars being written off. Sudbury (Suffolk), Burnham (Buckinghamshire) and Treharris (South Wales) weren't too far behind with 6% and Maidenhead, Berkshire completed the top five with a score of 7%.
Let's have a look at the other end of the spectrum shall we? Billingshurst in West Sussex tops the table with most write offs – 42% to be exact. Dewsbury, West Yorkshire comes in second place with 36% and one of my local towns Morden, (cockney accent) Saarf London with a score of 35%. Halifax (West Yorkshire) and Blackpool (Lancashire) complete the top five, both scoring 34%.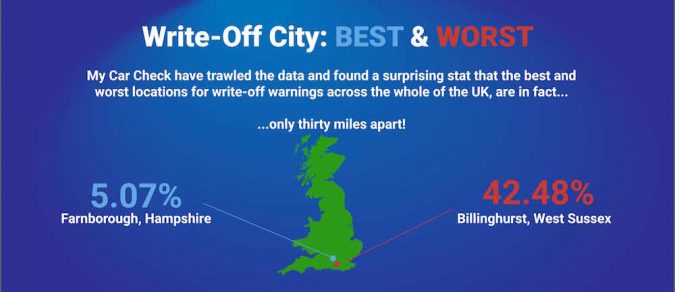 Head of My Car Check, Roger Powell, said: "We have only recently started analysing our data by location and were surprised to discover a substantial variance in the write-off risk across large UK cities.  Around 1 in 4 cars checked in London and Birmingham over the last year were found to have been written-off, compared to only 1 in 7 in Glasgow, Edinburgh and Bristol. When you delve into the data for smaller towns the disparity is even more pronounced. Used buyers in Billingshurst face an alarmingly high 2 in 5 risk, whereas for buyers in nearby Farnborough the risk is only 1 in 20."