Lotus' recent shakeup, with a brand new sports car, SUV, and ambitious goals of returning to the forefront of performance, is nothing short of remarkable.
But it wouldn't be a Lotus without at least making some plays towards racing. It's in their blood, after all, having practically re-invented Formula 1 back in the day, among countless other racing disciplines. In that case, consider the Emira GT4 then, a return to form for the brand. Simply put, the Emira GT4 is a racier version of the Emira, quite literally. It's all you wanted from a Lotus but turned up to 11.
As a homologated race car, just 40% of its innards are shared with the road-going Emira. Meanwhile, the other 60% is brand-spanking new and has been engineered specifically to conquer the hardened world of GT racing. It sees a culmination of everything that Lotus has experienced, learned, and evolved over the past decades. If you want to see Lotus at its finest, the Emira GT4 is basically it.
The recent launch of the Emira GT4 marks a huge occasion for Lotus, as well. Remember, this is their return to the glory of motorsports, and once again in the business of making competition-spec cars. I had the chance to see this monster first-hand, being invited to the unveiling of the Emira GT4.
A Major Milestone For Lotus
Just so we're clear, I wasn't able to drive the Emira GT4 myself. Still, I was treated to something which was more exciting. I strapped myself in the passenger seat and sitting behind the wheel, there's the one and only Gavan Kershaw. He's a key player at Lotus, as the Director of Vehicle Attributes. In short, every Lotus for the past 20 years or so drives as brilliantly as they do because Mr Kershaw demands it.
Plus, he's a British GT Championship winner, so it's fair to say that he knows a thing or two about racing and dynamics. With him in the driver's seat, the Emira GT4 has a lot to prove for itself, in addition to having to cross a pretty stringent yardstick. Besides the quick spin around Lotus' famed test track, I was also given a tour of the rest of their facilities there, such as its historic collection and factories.
But for now, that's something that I'll share at another time. So, let's take a closer peek at the Emira GT4, shall we? We'll begin by what this car means to Lotus, seeing that it's the first all-new model to come from Lotus Advanced Performance. Launched earlier this year, this would soon be Lotus' sole division dedicated to bespoke vehicles and experimental engineering, such as working on Lotus' race cars.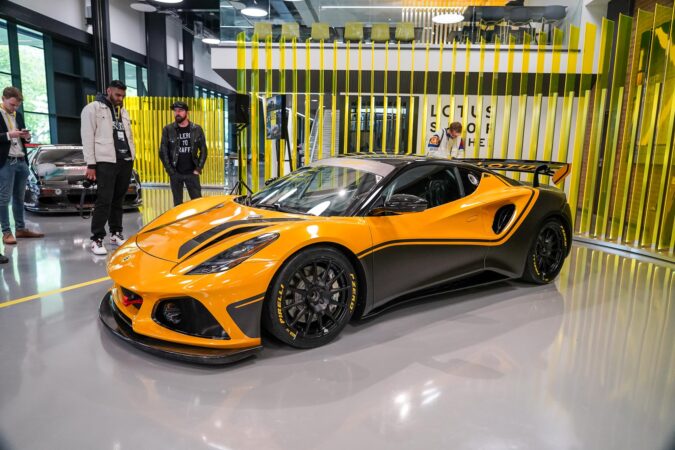 So popular was the Emira GT4, that its £165,000 price tag didn't stop it from being entirely sold out for its first production year. Currently, Lotus is busy fulfilling all customer orders within 2022, though they'll be increasing production for 2023. Before this, the Evora GT4 had distinguished itself within the British GT, Dubai 24hrs, Barcelona 24hrs, European GT, Sepang 12hrs, and Pirelli World Challenge.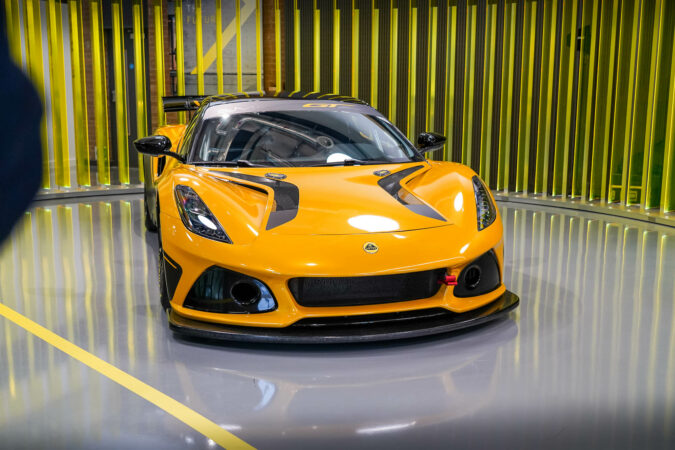 A Long Road To Development
Conceiving the Emira GT4 wasn't as easy, either. Each unit will be built to meet homologation as well as GT regulations. The entire project was a collaboration between Lotus and the RML Group. In those months following Lotus' announcement of the Emira GT4 back in September, much has been going on behind the scenes. Primarily, testing and fine-tuning it to be as near-perfect as it could've been.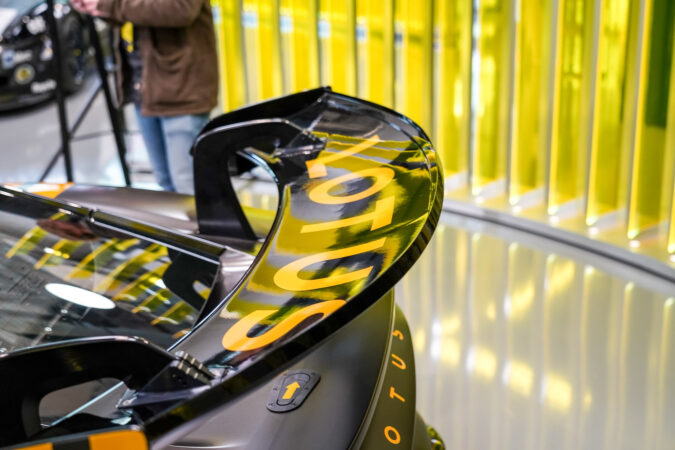 Gavan Kershaw commented on this, saying:
We knew we had an excellent starting point for the Emira GT4 because of all the work done to make the road car such a great performer. Showing off the GT4's dynamic capabilities on the Hethel test track – which has shaped countless race cars and their drivers since Lotus moved to the site in 1966 – is a very special moment for me and all the team involved.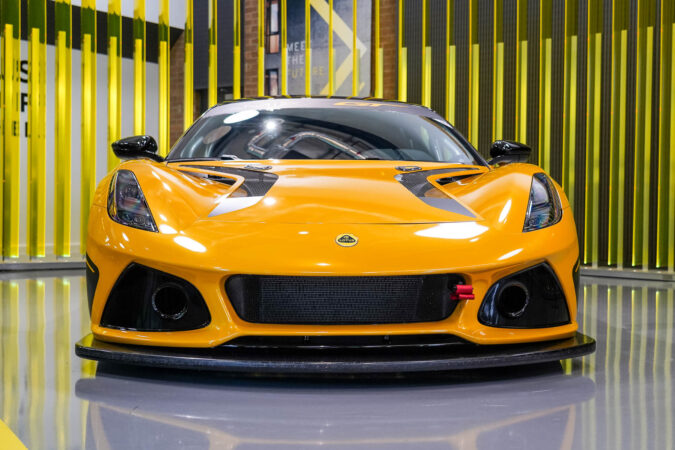 Hundreds of hours of work have been put into validation testing, both in regards to dynamics and high-speed stability. It wasn't just at Hethel, either. Throughout the winter, Lotus had sent the Emira GT to the Portimão circuit in Portugal. It's among the trickiest tracks in Europe, making it an ideal place to see just how well that aero works. Not to mention, whether the components could stay working reliably.
Richard Selwin, Lotus' Race Programme Manager, commented:
We're delighted with how the Emira GT4 programme has progressed. We have an appealing spec and a level of performance that's going to thrill both customers and spectators around the world. I believe in the Emira GT4 we have a car that promises to be more than competitive.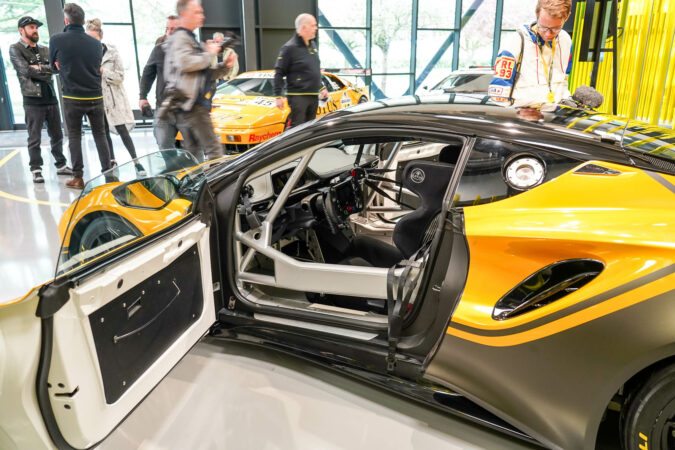 Ready For A Spot Of Racing
The Emira GT4, while designed to compete in the lower tiers of the GT series, is nonetheless a serious brute. Right behind you, there's that familiar Toyota-sourced 2GR-FE V6 engine. The regular Emira is fitted with a similar motor. The standard tune is more than sufficient for storming across a set of bends, but that's not enough here.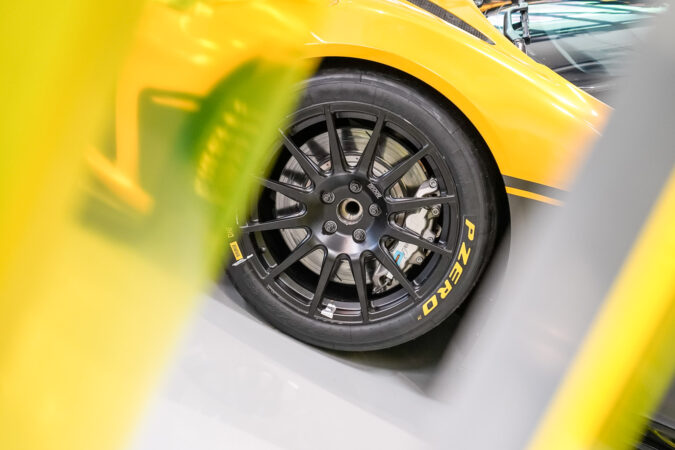 At least, not sufficient to win trophies with. Instead, Lotus' engineers have been hard at work fettling around with that engine. Now, it's cranking out 400hp and is capable of revving up to 7,200RPM with all 3.5-litres of displacement. Although, these figures are merely placeholders for now. Depending on where the Emira GT4 is expected to race, it can be tweaked to meet the organisers' regulations.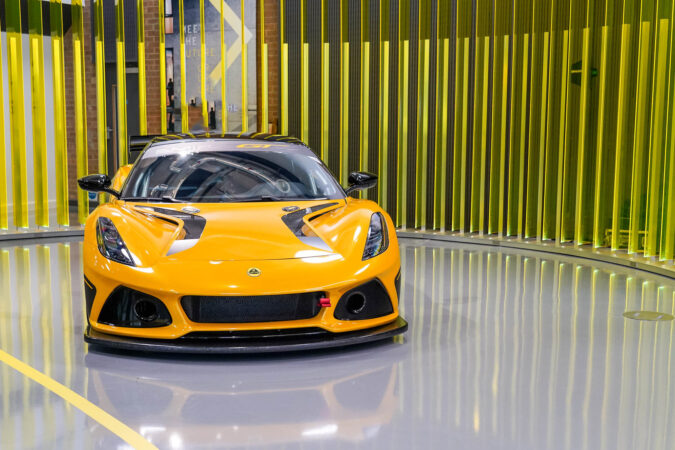 Therefore, you might see the actual output vary below or above 400hp. That dry-sump engine is then mated with Motec electronics and management. As well as, a revised Harrop TVS 1900 supercharger. It's then paired with a state-of-the-art Xtrac 6-speed sequential gearbox, which could be actuated with a set of paddle shifters. The drive goes exclusively to the rear, and through a limited slip differential.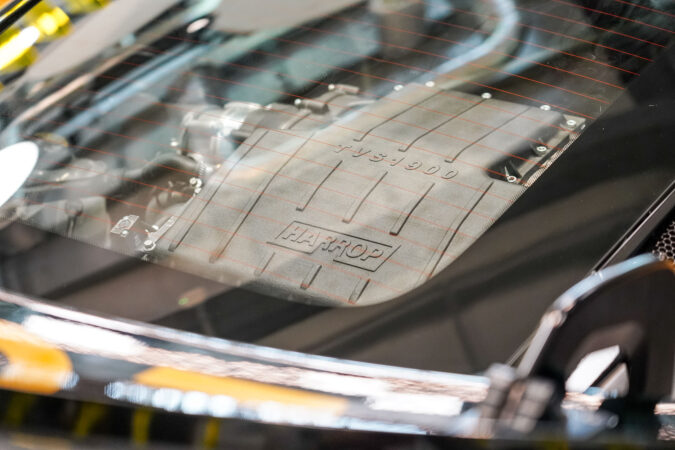 As we'll discover later, power is just half of the story with the Emira GT4, as there's a lot more going on underneath. Lotus has a lot of expectations for the Emira GT4 too, with Simon Lane, Director of Lotus' Advanced Performance division, adding:
Lotus' commitment to motorsport is world-renowned and is one of the key elements of enhanced customer engagement within this recently launched division of the business. We have exciting plans for Lotus Advanced Performance – there is much more to come.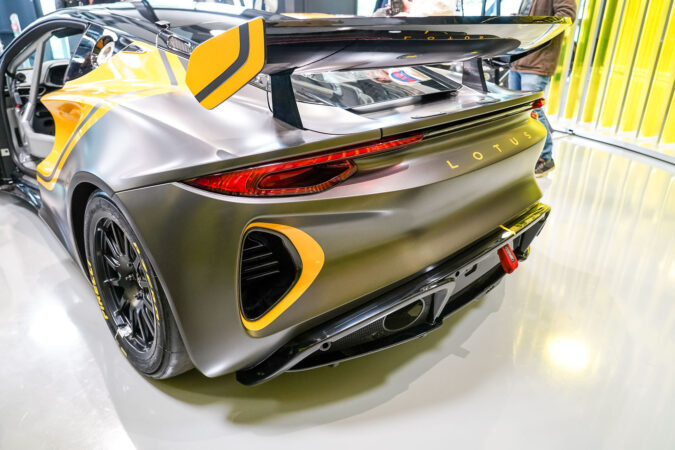 Made To Conquer Tarmac
Being a race-ready unit, the Emira GT4 will of course come with all the FIA-mandated goodies. These include roll cages, racing seats, six-point harnesses, fire suppression systems, isolator switches, other safety equipment, and so on. It has a dry brake fuel filler system for quick fill-ups. Moreover, it comes with a 96-litre FIA FT3-approved fuel tank. The Emira GT4 is pretty repairable from the get-go, too.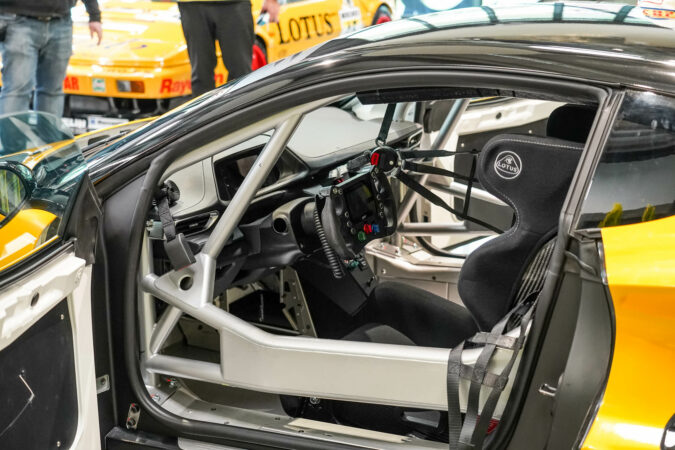 Lotus has made it so that entire panels could easily be removed and swapped out in a pinch if you've dinged it. Furthermore, if you'd want to review some telemetry data later, there's a Motec-spec dash fitted with a data-logging kit and sensors. At this point, we may as well discuss the rest of it, which is a nerd-fest, to put it lightly. The Emira GT4's construction is mostly shared with its road-going sibling.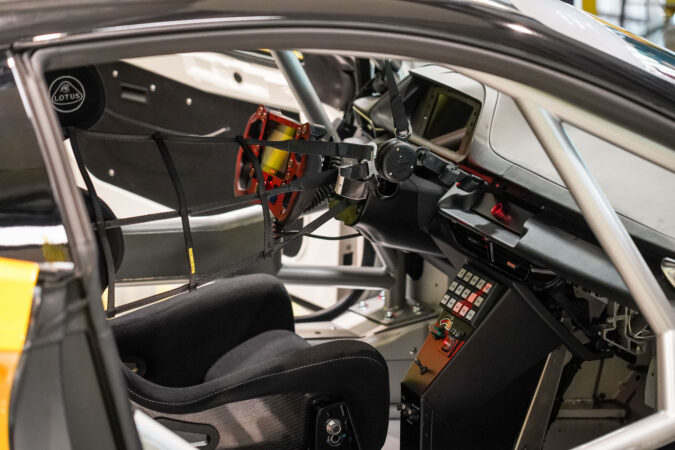 For a race car, the Emira's extruded and bonded aluminium chassis naturally had to lose some weight. This is thanks to an array of lightweight materials, such as composite body panels and a set of forged aluminium wheels. In all, the Emira GT4 weighs 1,300kg without any fluids (aka dry weight). This will make it around 100kg lighter than the road-going Emira's kerb weight of 1,405kg, which is decent.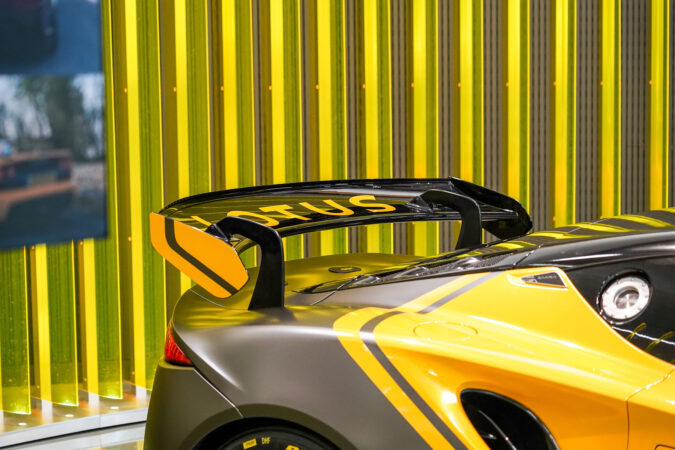 Looking further down, Lotus's Emira GT4 wears a set of Pirelli slick tyres, 245/645/18 at the front, and 305/680/18 in the rear. This is complemented with a set of meaty competition brakes. In particular, it has a pair of 6-piston front brakes and 4-piston brakes in the rear. These clamp onto 2-piece discs, as you're left managing an adjustable Bosch-built brake balance and variable ABS (anti-lock brakes).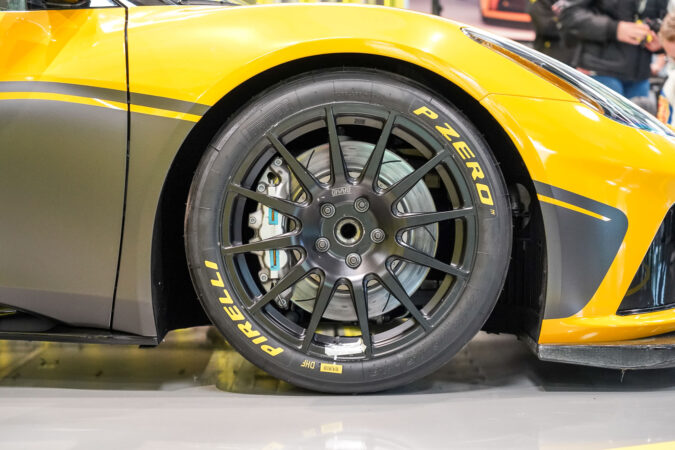 My Experience In The Passenger Seat
Of course, let's not forget the suspension tuning, which is just as crucial. The Emira GT4 rides on double wishbones front and rear and is made out of forged aluminium, at that. These are then fitted alongside upgraded bushes and anti-roll bars. On top of that, there are 2-way adjustable Ohlins TTX dampers. This is then suited up with a plethora of carbon fibre components, another key element of all this mass.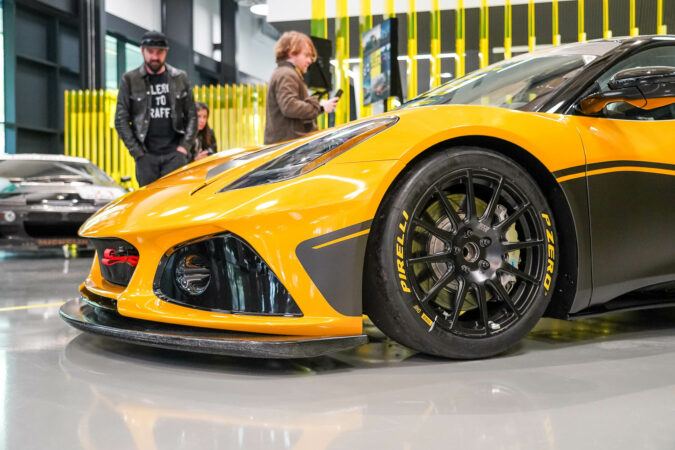 The redesigned front splitter, rear diffuser, and massive rear wings are all made from carbon. You can get your livery painted from the factory, too. With that out of the way, we can finally move on to the most exciting bit of my day at Hethel – being driven around. Immediately, the outright pace of Lotus' latest and greatest Emira GT4 is nothing short of astonishing, making mincemeat of every corner.
While Lotus' 2.2-mile Hethel track isn't massively long, its virtues of being a test track mean that it contains some pretty tough and twisty bends along the way. This alone would be more than adequate to upset most performance cars. However, the Emira GT4 didn't seem to have any complaints tackling them, hopping across from one corner to the next. Though, the man behind the wheel deserves credit.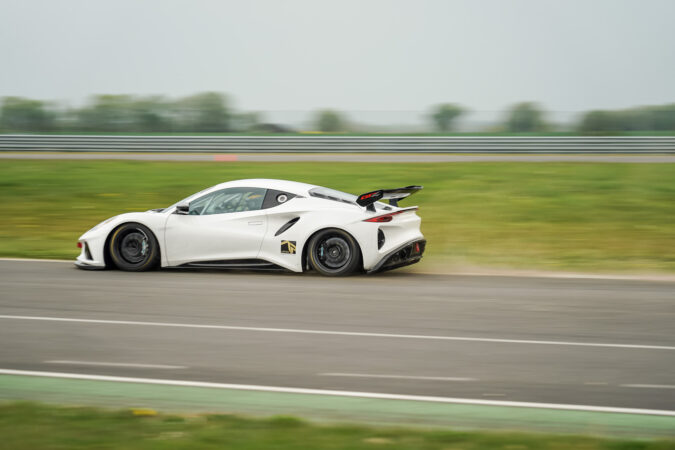 Mr Kershaw certainly wasn't holding anything back, cranking out every ounce of speed their his new creation. Even from the passenger seat (which obviously won't find its way onto the actual race cars), the Emira GT4's aerodynamics is palpable. Under hard braking, you can feel the air keeping it pinned into the corners, as downforce squats it onto the tarmac, and slingshots it back out into another corner.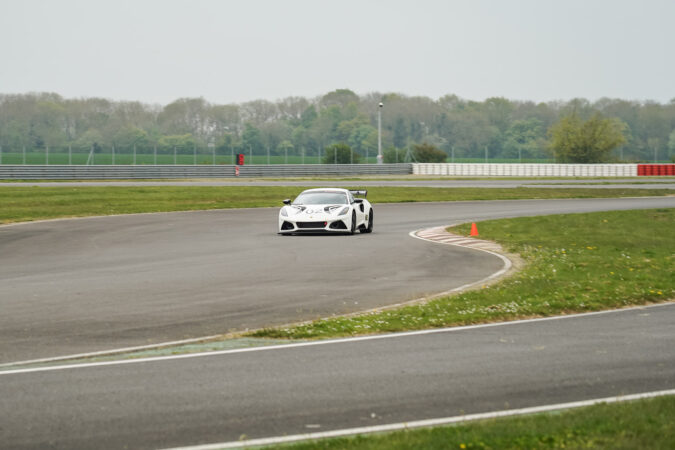 A Masterful Display Of Dynamism
Speaking of, those brakes are exceptionally good, partly aided by the fairly light mass that it'll have to carry around. That would be a good thing, given that the Emira GT4 is also lightning fast in the many straights scattered throughout Hethel. So speedy was the Emira GT4, in fact, that leading up to several turns, I couldn't even hold my camera still with all that G-force forcing the gimbal sideways.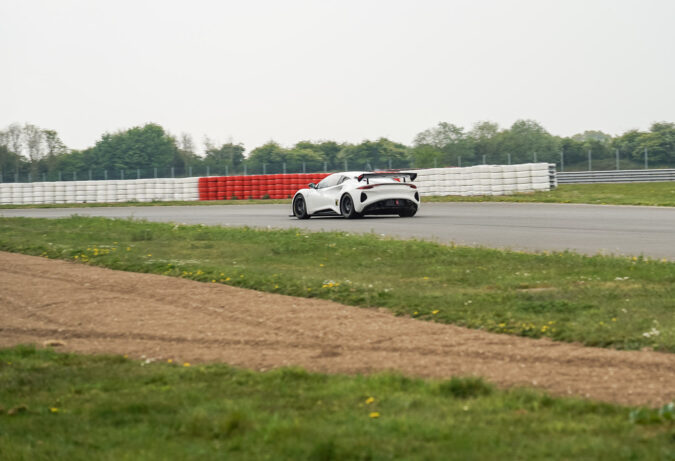 It's a testament to the amount of work that Lotus' engineers have done to get that suspension set-up and geometry nailed down to a T. Note, while the track was dry, it was a pretty mild day, reaching as low as 12 to 14 degrees. I imagine getting heat into the slicks wasn't easy, though Mr Kershaw wasn't a bit perturbed with using all of the power, leaving very little else much to the imagination.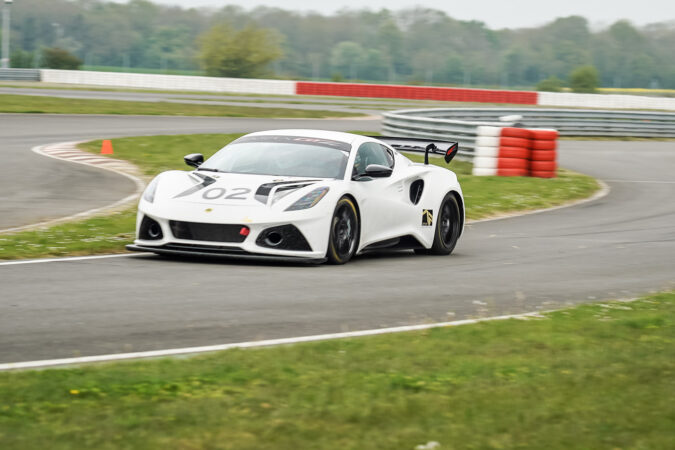 A V6 may not appear extraordinary, but with a free-flowing race exhaust, it's an absolute screamer. I have to mention the sequential transmission too, rapidly shifting its way through the gears. It's fitted with electronic flat shift and auto blipping to make those shifts smooth and hammered out at the right RPMs. With the amount of speed that we picked up along the way, it was frankly a bit terrifying.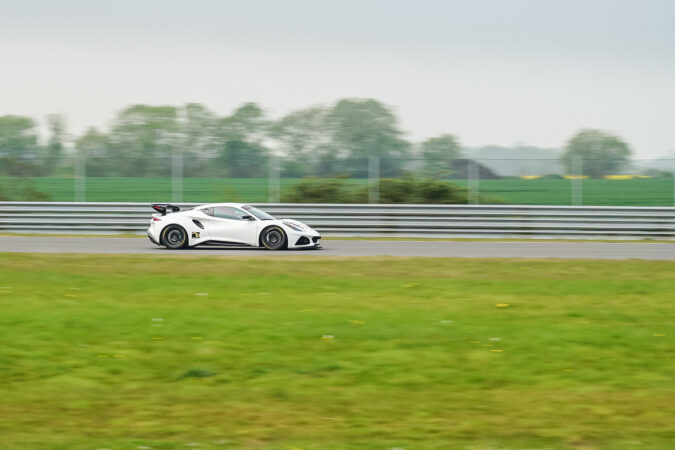 Nevertheless, I was left in awe of the performance and capabilities of the Emira GT4. It'll be standing against some fairly tough competition once we see it on the grid. These include Alpine A110s, BMW M4s, Audi R8s, Aston Martin Vantages, Porsche 718s, McLarens, Mercedes AMGs, and GR Supras. All of which have more track time than the Emira, but let's see how the dominoes fall.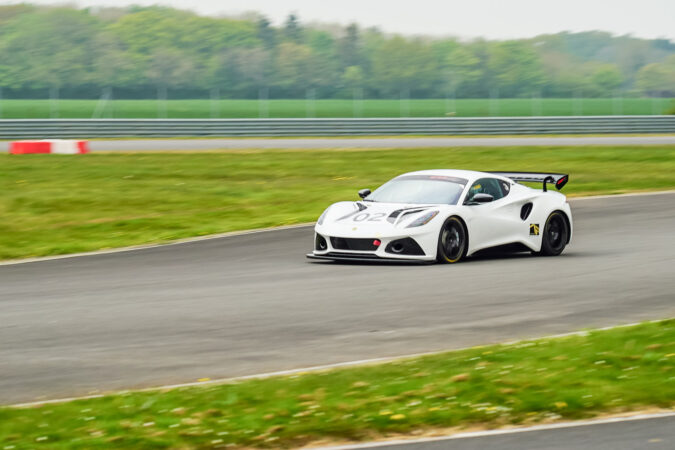 Lotus Emira GT4 Specifications
The Emira GT4 is an amazing machine, and I'm ecstatic to see any new Lotus, let alone a Lotus-tuned race car. It's not something you get to experience every day, and I can only wish for the best with the future of what Lotus has in store for us. Privateer teams running the Emira GT4 will no doubt have a lot of work ahead with getting them ready for the upcoming GT4 championships, as well.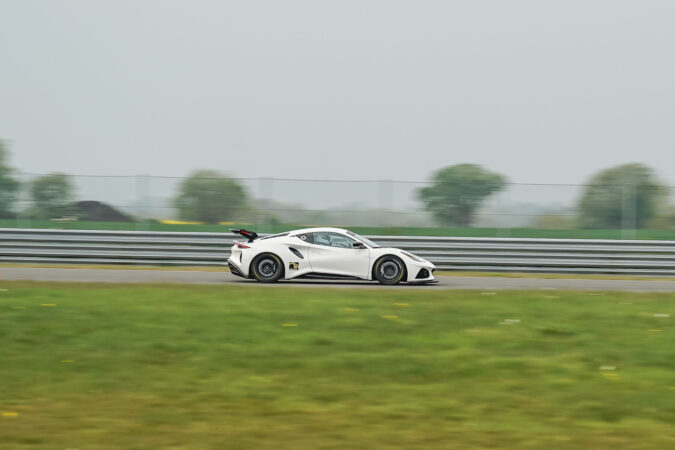 Could the Emira GT4 gain a spot on the podium, hitting it out against the big leagues? Time will tell, but for now, I'll leave you with the Emira GT4's specs and stats, just in case you're curious…
| | |
| --- | --- |
| Engine | Toyota V6 2GR-FE, dry sump, Motec engine management |
| Cubic Capacity | 3,456 cc |
| Power | 400bhp* |
| RPM | 7,200rpm* |
| Supercharger | Harrop TVS 1900 |
| Transmission | Xtrac six-speed sequential with paddle shift actuation and LSD |
| Fuel Tank Capacity | 96-litre FIA FT3-approved, with dry brake filler |
| Electronics | Motec dashboard with data logging. Motorsport wiring harness |
| Suspension | Double wishbone front & rear. Two-way adjustable Ohlins TTx dampers. Front and rear anti-roll bars. |
| Brakes | Competition specification brake system. Bosch adjustable Motorsport ABS |
| Tyres | Pirelli GT4 265/645×18 (front) and 305/680×18 (rear) |
| Safety Equipment | FIA-homologated six-point roll cage, FIA-compliant HANS-approved seat with six-point harness. Electronic fire extinguisher system / isolator switches |
| Dimensions | Length 4,410mm / height 1,290mm / track 1,636mm |
| Weight/Mass | 1,300kg* without fluids |
| Body | Extruded and bonded aluminium chassis with composite panels |
| Wheels | Forged aluminium |
| Price | From £165,000 (excluding taxes & delivery) |