Wondering what are LT 1 engine specs? The LT 1 crate engine is proudly provided by Chevrolet Performance. The LT 1 6.2L engine was first installed in the seventh-generation Corvette Stingray. This marked the beginning of the next chapter in the long, illustrious history of the small-block engine. It provides your project car with a high-tech upgrade with an exceptional balance of performance and efficiency.
The LT 1 is comparable to the LS family of small-block engines in terms of architecture, but it has its own block casting, cylinder head design, oiling system, and other features. Additionally, LT 1 engine specs unveil how they've integrated cutting-edge technology to support a sophisticated combustion system, such as direct injection and variable valve timing.
Background Of The LT 1 Engine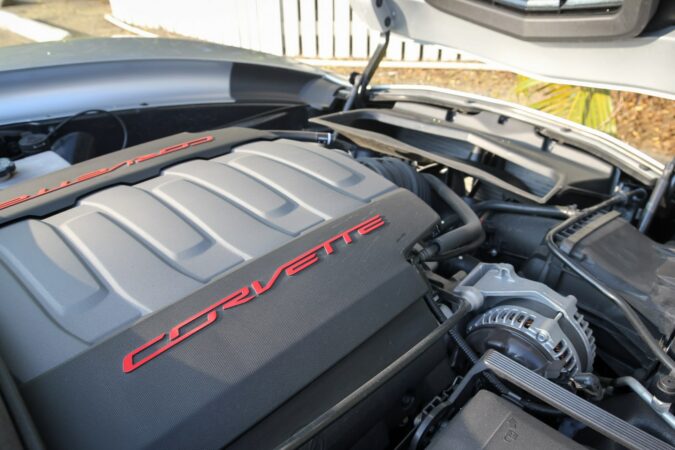 Between 1970 and 1972, Chevrolet created the first LT 1 small block engine. Which was only made available for the Chevrolet Corvette and the Camaro Z28. With more Camaro LT 1 horsepower than the 350 motors that came standard, these engines delivered excellent performance.
GM developed the "LT 1 350" small-block engine in 1991 as a replacement for the high-output Generation I LT 1 of the 1970s. Its displacement was LT 1 5.7 engine (350 cu in), and its pushrod design had two valves. With a reverse-flow cooling system that cooled the cylinder heads first. The LT 1's engine could run at a greater compression ratio than its direct predecessors while retaining lower combustion chamber temperatures.
LT 1 Engine Specs
The LT 1 came in a number of variations. The B and D bodies all have cast iron heads, while the Y and F bodies have aluminum heads. The cast iron heads are all atop a cast iron block. Contrary to the majority of other blocks, Corvette blocks had four-bolt primary caps. Block castings were the same for mains with 2 to 4 bolts.
LT 1 Engine Specs: Gen I LT 1
When GM's "Mighty Mouse" small-block V8 debuted in 1955 and was installed in the Chevy Corvette and Bel Air. It was groundbreaking for its time and immediately caught the attention of motorsports enthusiasts. For the first time, the Mighty Mouse packed a tonne of power into a tiny frame. Making it the best choice for many uses and the leading contender for a race car engine swap.
After experiencing tremendous market success, GM introduced the LT 1, a freshly updated Gen II of their small-block lineup, in 1970.
LT 1 Engine Specs: LT 1 5.7 engine small-block Gen I, 1970–1972
5.7 L of displacement (5,733 cc)
Ratios of compression: 11.1:1.1 and 9.0:1
353 horsepower at 5,600 RPM.
392 lb-ft of torque @ 4,100 RPM.
The first 1970–1972 engines were said to provide 360 and 370 Camaro LT 1 horsepower and Corvette, respectively. Albeit, there are no specific variances between them. The LT 1's compression ratio dropped to 9.01 in 1971, producing 330 horsepower for the Corvette and Camaro and 275 horsepower net. This was reduced once further in 1972 to 255 net horsepower with no mention of gross horsepower.
By calling this the "LT 1," they thankfully made life a little easier for the first-gen model in the lineup and helped distinguish the original block from its successors.
LT 1 Engine Specs: Gen II LT 1
In 1991, Chevrolet revealed the all-new Corvette, paying homage to the previous LT 1 engine with the LT 1.
Engine Specifications: LT 1 5.7 engine small-block Gen II, 1991–1997
350 CI, 5.7 L displacement (5,733cc)
10.4:1 compression ratio
350 horsepower
379 lb/ft of torque
The recently produced engine utilized a reverse-flow cooling system to cool the cylinder heads first. Lower combustion chamber temperatures and a substantially better spark resulted from this modification. Thanks to these improvements, the engine can now run at a higher compression than the previous model. Later, a number of models with various power outputs would be available, each of which included a cast-iron block.
The Corvette and Camaro LT 1 engine specs utilized aluminum, despite the fact that most LT 1 cars had cast-iron heads. The Corvette engines are frequently the most sought-after due to the huge power gains from its LT 1, which consequently makes them the most difficult to find. Corvette blocks also received four-bolt main caps, whilst other engines only had two-bolt main caps.
When the LT 1 hit the market, GM went back to the drawing board for the next engine in their small-block range, as they prepared to cause shockwaves once again with the release of the LS1 engine.
LT 1 Engine Specs: Gen V LT 1
The highly praised LS engine was succeeded by Chevy's Gen V LT 1, a contemporary masterpiece.
Engine Specifications:
LT 1 Gen V, 6.2 engine small-block, 2014–the present
6.2 L, 376 CI of displacement
11.5:1 compression ratio
Power: 460 horsepower
465 lb/ft of torque
When GM announced the addition of another new small-block to the V8 lineup, which appeared in the 2014 C7 Chevy Corvette, V8 enthusiasts worldwide celebrated. With its brand-new direct fuel injection architecture, which shoots fuel directly into the combustion chamber instead of the intake runner, the parallels to its small-block predecessors' names end there.
The Gen V was the first LT 1 to employ a lightweight aluminum block in addition to a forged crankshaft, a six-bolt main, and aluminum cylinder heads. With 450 Camaro LT 1 horsepower available in factory form, we believe the most recent LT 1 is a fantastic achievement of contemporary engineering and a deserving successor to the small blocks it replaced.
It's true that the Gen V LT didn't receive the same attention during tuning as the LS, but its sophisticated, contemporary design is still in its infancy. Many tuners are still choosing the Gen II LT 1 or the LS, even though big-power Gen V designs are swiftly becoming available online. This is because building one now requires substantial financial resources.
It's important to note that some Corvette LT 1 variants came with a dry-sump system and that there is also an LT 1 crate engine available, both of which are worthwhile considerations if you have a large budget to spend on creating a Gen V LS1.
LT 1 Engine Specs: Technical Configurations And Features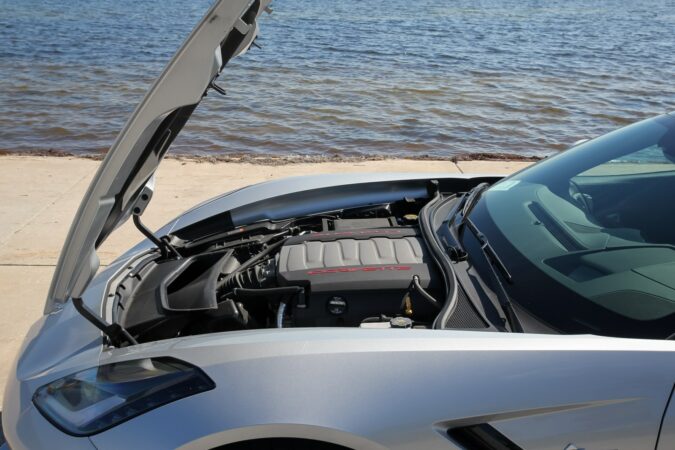 In practically every way possible, the LT 1 was an absolute engineering miracle. The engine's lightweight yet sturdy aluminum block was the first component, and it was coupled to a forged-steel crankshaft with a six-bolt primary structure.
Eight I-beam connecting rods made of powdered metal that were 6.098″ long were mounted along this crankshaft. These connecting rods had a set of domed Hypereutectic Cast Aluminum Alloy pistons at the other end. The LT 1's cylinder bores had a diameter of 4.065″ and a stroke of 3.622″. These values added up to a displacement of 376 cubic inches (6.2 engine) and a relatively significant compression ratio of 11.5:1.
The use of a relatively forceful hydraulic roller camshaft made valve actuation easier. This camshaft had lobe separation of 116.5 degrees with valve lifts of 0.551″ for the intake and 0.524″ for the exhaust.
Dual Equal Cam Phasing, sometimes referred to as variable valve timing, was another feature of the LT 1. As a result, camshaft timing was automatically advanced at idle to ensure smooth idling. The engine's cam phasers also change to enhance valve timing to ensure maximum output while under stress.
A set of newly created aluminum heads were mounted to the engine block of the LT 1. These direct-injection heads had large intake and exhaust valves (2.12″ intake, 1.59″ exhaust), and they were made to breathe heavily. All incoming air entered through an electrically controlled 87mm throttle body.
LT 1 Engine Specs: Active Fuel Management
Another noteworthy feature of the LT 1 is the use of Active Fuel Management, which enables the deactivation of four of the engine's eight cylinders while cruising. Each of these previously inactive cylinders is turned back on as engine load rises, increasing performance. The C7 Stingray achieve pretty good fuel economy thanks to this technology and the LT 1's previously mentioned variable valve timing.
The LT 1's Active Fuel Management (AFM), which reduces the firing cylinders from eight to four by deactivating the valves to the cylinders, also boosts the 6.2L pushrod motor's efficiency to previously unheard-of levels. As soon as AFM kicks in, the engine converts the 6.2L V8 into a 3.1L V4, turning off cylinders 1, 4, 6, and 7 and only burning cylinders 8, 2, 5, and 3 in that order. The LT 1 firing order is otherwise 1, 8, 7, 2, 6, 5, 4, 3.
Chevy's LT 1 generated an outstanding 460 HP and 465 lb.-ft of torque. The LT 1-equipped Stingray achieved 0–60 mph times under 4 seconds and could pull a quarter mile in about 12 seconds.
LT1 Vs LS1
The fundamental distinction between LT 1 vs LS1 is that the former is constructed of aluminum, whereas the latter is composed of cast iron. However, to ensure maximum strength and longevity, LS1 engines for trucks are also manufactured using cast iron. Due to its construction, the LS1 engine is lightweight and performs better than the LT 1. LS1 was initially capable of producing 257–345 horsepower and 335–365 ft./lbs of torque, but it was later improved to 400 horsepower and 400 ft./lbs.
The following are other distinctions between LT 1 vs LS1:
The 5.7 liters of the LS1 engine contrast the 5.665 liters of the LT 1 engine.
While LT 1 features a strong body that provides strength and longevity, LS1 is lighter and performs better.
When there is no air to burn, LS1 decreases the fuel being delivered to the engine, but LT 1 always feeds the same quantity of fuel to the engine. As a result, there is a waste because the fuel does not burn.
Compared to LT 1 engines, LS1 engines dissipate heat more effectively.
LS1 engines than LT 1 engines produce more power.
The cost of LS1 engines is higher than that of LT 1 engines.
LT1 Vs LS3
The 2015 Chevrolet Corvette Z06 features a brand-new engine called the LS3. It is one of the most potent engines ever produced and the most potent engine in its class. Designed with performance in mind, the LS3 is a V8 engine. It has an aluminum block, a dry-sump oiling system, and a fuel delivery system for direct injection. Variable valve timing is another element of the LS3, which improves fuel efficiency and performance at lower RPMs.
The new LS3 engine, which was installed in the 2015 Corvette Z06, produced 553 lb-ft of torque at 5,300 RPM and 505 horsepower at 6,400 RPM. New to the lineup, the LS3 engine is reputed to be more potent than the LT 1 it replaces. The LS3 was first built in 2017, after more than ten years of development. Although this engine has more torque than the LT 1, it also consumes more gas.
LT1 Performance Package
The optional 1LE Track Package is the greatest way to experience any new Camaro. It includes distinctive exterior elements, including 20-inch black-painted wheels and satin-black highlights, as well as distinctive interior components like microsuede trim and more supportive Recaro front seats (SS models only). The improvements that impact performance, however, are the most significant.
A limited-slip differential, stronger brakes, a dual-mode exhaust system, improved powertrain cooling components, and unique suspension tuning are all standard on 1LE models. Even though we appreciate that cars with four-cylinder and V-6 engines can still have the 1LE package, we would pick to couple it with the 1SS trim, which only has a robust V-8. Choosing the standard manual transmission would also be a part of that selection.
LT1 Tuning
Because of the wide variety of upgrades on the market, many people choose the LS series when it comes to big-power LT 1 tuning, but that doesn't mean the LT 1 doesn't have reasonable tuning potential. In the long term, Gen V LT 1 tuning might likely outperform the LS-series, but its precise power limits are still unknown.
It continues to be the most practical and cost-effective choice for big power gains at the moment, thanks to the convenience of massive power gains from a turbocharged LS1. Despite this, the LT 1 Gen II continues to be the best option for excellent gains on a budget and can frequently be found in a yard for a low price.
The Corvette variations, which come with aluminum heads and four-bolt main bearing covers, are going to be your best bet if you're looking for a Gen II engine to make more power. For an additional 20–30 horsepower, you can choose new plugs and wires and a cold air intake. The inclusion of earlier modifications, along with a 383 stroker, fully forged, and nitrous/turbocharger can increase your horsepower to 500.
Difference Between LS And LT Engines
We can observe that the newest and most advanced LT engine versions provide the car with greater power. When comparing the HP that these two engines are capable of handling, LT also triumphs. In fact, the LT V8 engines' state-of-the-art technology can deliver more horsepower than other engines at the same RPM.
The LT engine's greater compression ratio contributes to increased torque and horsepower as well as improved fuel combustion efficiency. In comparison to the earlier LS engines, the newer LT models are more environmentally friendly and use less fuel.
Many generations of the LS and LT engines employ aluminum. The piston, camshaft, and cylinder of the initial LT engines all had entirely separate designs. With the use of high-pressure pumps, this design enables the engine to inject more gasoline into the cylinders. Thus, improving horsepower.
The LS engine is more well-liked because it's simple to install and customize by adding more functions. In comparison to the LT model, even the later LS engine versions were simple to install. The market is gradually developing new parts that are compatible with the LT engines and improve vehicle performance.
LT 1 Vs LT4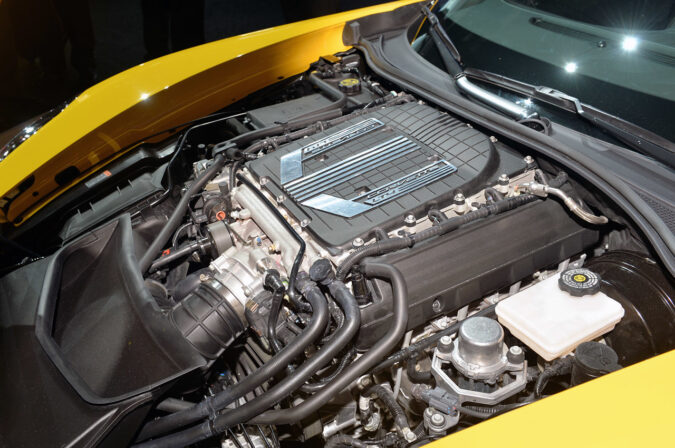 The LT4's rocker ratio is 1.6:1, while the LT 1's is 1.5:1. For more seat pressure and improved valve dynamics at higher RPM, the redesigned valve springs for the LT4 are constructed from egg-shaped wire. The intake and exhaust ports provide a significant distinction between the heads. Both are larger and have bends with larger radii.
Both the LT 1 and LT4 engines are fantastic powertrain choices for your car. While they have different amounts of power, the LT4's greater compression ratio is the key distinction between them. The amount of air and fuel that is combined before the fuel reaches the cylinders is measured by the compression ratio.
It controls how effectively and how much energy may be discharged from each cylinder.
Although neither engine is inferior, the LT4's greater compression ratio allows for more power to be produced with fewer cylinders.
FAQs On LT 1 Engine Specs
How Many Cubic Inches Is 6.2 L
6.2L is approximately 378 cubic inches.
What Is A LS1 Engine
The small block V8 that General Motors utilizes in its rear-wheel-drive vehicles, pickup trucks, and vans is replaced by the LS1. It debuted in 1995 as the GEN III engine, and the only components it had in common with its predecessors were the rod bearings, lifters, and bore spacing which was in production from 1955 until 2003.
What Does LSX Mean
The lightweight LS7 engine has a racing version called the LSX. The 2006 Corvette used the Gen IV small block in this 7.0L (427ci) configuration. The LSX motor features a cast-iron block that can withstand a lot more horsepower than the 'Vette motor. There are claims that LSX engines can produce up to 2,000 horsepower.
What's An LS Engine
The primary V8 engines utilized in General Motors' lineup of rear-wheel-drive vehicles are Luxury Sport (LS) engines. These engines are popular choices for many car enthusiasts who enjoy a blend of luxury and performance because they are sturdy, lightweight, and extremely powerful.
What Is A LT 1 Engine
General Motors developed the brand-new LT 1 small-block in 1992. The cylinder heads were cooled first in the LT 1's reverse-flow cooling system. Compared to its predecessors, this enabled larger compression ratios, which enhanced power output. Corvette LT 1 and Camaros' aluminum heads and all other models' cast iron heads were standard on all LT 1 engines.
How To Increase Horsepower On A 350 Engine
The air intake system should be everyone's first priority because it will boost horsepower by 8–10% due to increased airflow. Even with just a cold air intake system installed, the throttle response will be much improved and only improve as you add further performance upgrades. After expanding the air intake, it makes it logical to adjust your exhaust because you now need a location for all that extra air to exit the engine. You won't get the best benefits if you modify your exhaust system without also updating the air intake system. Consider taking your 350 engine to a machine shop to get it properly designed to handle the PSI if you intend to turbocharge or supercharge it.
How To Add More Horsepower To 6.1L V8
Tuning your 6.1L V8 will enable it to benefit from any additional modifications you make and get the most of the horsepower gains offered by additional aftermarket components. A high-performance cold-air intake system should be installed. Factory cold-air intake systems are built for efficiency rather than performance; by swapping the stock intake system out for a high-performance aftermarket intake system, you can gain 8 to 15 horsepower. A high-flow performance exhaust system should be used in place of the stock exhaust system. Forced air induction systems, like superchargers and turbochargers, which channel massive amounts of air into the engine, differ slightly from one another.
What Is A LS1
The Generation II LT 1 engine was taken out of the General Motors portfolio in 1997 with the introduction of the Generation III LS1. The LS1 was an all-aluminum engine block that was initially available in the Corvette and later in the Camaro and Firebird. The engine was still a high-performance item that was not available in any vehicles or sedans.
How To Increase HP On Camaro SS
You may improve the airflow by swapping out the factory cold air intake for a high-performance aftermarket model or installing a forced air induction kit to your V6 engine. You can completely improve your electronic fuel injection system or replace it with a performance computer chip to boost the fuel flow to your engine. To boost the volume of air emitted from the engine and horsepower, you must change the factory exhaust system and header system.
How Much Horsepower Does A LT 1 Have
The 6.2-liter engine is made entirely of aluminum and produces 455 horsepower and 465 lb-ft (630 Nm) of torque.
What Does V In V8 Mean
The 8 denotes the number of cylinders in the engine, and the V denotes its shape. A V8 engine is one that has a V shape with a total of 8 cylinders.
How Much Does An LS1 Engine Cost
An entirely new LS1 engine costs $4900, which doesn't include the computer.
What Is The Difference Between LS And LT Engines
The material used in the block is the primary distinction between the LS1 and LT 1 engines. Except for those manufactured for trucks, which are still cast iron-produced for maximum strength and endurance. LS1 engine blocks were made of aluminum and LT 1 engines of cast iron.
Is The LT1 A Good Engine
It is more powerful, lighter, costs almost as little, and has a sizable aftermarket. The LS1 is a fantastic engine, but the LT 1 is also quite good. The LS1 engine is among the most talked-about in the world for a reason.
How Much HP Can A LT1 Handle
The factory ZL1 fuel pump doesn't get you very far; the LT 1 fuel system is only good for about 600 rwhp (rear wheel horsepower) before you need to update the fuel system.
How Many CC In A CI
1 cubic inch contains 16.387064 cubic centimeters.
Final Verdict: LT 1 Engine Specs
It should come as no surprise that the Corvette's new V8 LT 1 engine specs will increase the vehicle's competitiveness in its class. According to preliminary data, the base C7's 6.2-liter engine should have at least 450 horsepower and 450 pound-feet of torque. Furthermore, with a predicted 0-60 time of fewer than 4.0 seconds.
To put those numbers in perspective, consider that the LT 1's torque appears to be competitive with that of the 7.0-liter LS7 that powers the current Corvette Z06. The LT 1's specific output is also significantly higher than the 6.2-liter LS3 that it replaces, up at least 20 horsepower and 26 lb-ft.
AI Car Expert Thinking 

.

.

.