Are you planning to purchase a TRD Pro model by Toyota and you are thinking of getting yourself a Lunar Rock color TRD Pro? If that is the case then you are at the right place because we are going to cover everything you need to know when it comes to the Lunar Rock color.
Picking the right color has never been more difficult, to be honest. Especially now if you can spend more on a new car, there are a ton of colors that are available and look unique on the road.
People are just tired to see their car in white or metallic silver, they just want something different that isn't available for anyone and something that also looks quite spectacular on the road. There is a ton of options available for new buyers. Especially for those who want to spend more money on their future vehicle. And thankfully, Toyota is thinking about you and has decided to include the Lunar Rock color in its lineup. But what is the Lunar Rock color?
In this article, we are going to find out. First, we are going to learn what is the TRD Pro trim and what it includes. Then we will discuss the Lunar Rock color and why picking the color is important. After, we are going to talk about which vehicles will receive this treatment and how this color is accepted by the audience. Lastly, we will talk about the alternatives available. So, let's dive into it.
What Is The TRD Pro?
The TRD Pro is a special trim level that is included in Toyota products. The TRD Pro is basically top-of-the-line or crème de la crème as people would call it. It includes features that cannot be found in any other Toyota products out there.
But for what does the TRD stands for? The TRD stands for Toyota Racing Development. They are the motorsport branch of Toyota where Toyota products compete in a number of off-road racing events.
That's why if you want to get a TRD, you know that you are getting something that's been proven on the race track. This will guarantee the endurance and sportiness of this vehicle. And most of the Toyota models are getting the TRD treatment. So, what does the TRD Pro trim includes?
As we can already tell by the title of this article, the TRD Pro includes special colors that cannot be found elsewhere in other Toyota products or any car products. These colors are fully unique and will make you proud while you are driving your TRD on the road. Because there would be no car around that is quite similar as yours.
Other options that are included in the TRD Pro are suspension upgrades. Like special heavy-duty Bilstein shock absorbers. Special suspension intended for off-road use. Special skid plate that is aluminum stamped.
Another exterior option that is included with the TRD Pro is the high-performance exhaust system. Red TRD accents everywhere on the inside like the seats, floor mats, special shift knob.
Not to forget that you will also get special TRD alloy wheels. Similar to the Lunar Rock color, this accent will set you apart from anything else on the road and make your experience unforgettable.
What Is A Lunar Rock Color?
The Lunar Rock color is a special color that is included in the TRD Pro trim. Customers can choose this color out of the few that are offered in the TRD Pro trim. But what does this color looks like?
This color is a grayish color that quite reminds one of the lunar surfaces. More precisely the lunar rocks. We all have seen a lunar rock right? If not, you can Google Lunar Rock color and you will see the resemblance of the Lunar Rock color and the color on these TRDs. It is quite a match, to be honest.
Personally, I'm a big fan of this color and I think that is one of the most unique grayish colors that are offered around. It's not dull like some of the products out there, but it has some vibrance that makes it quite appealing for us the customers.
This tells quite a lot about it and because of this it is so popular and customers love it. Reportedly, these Lunar Rock color Toyotas are selling quite better than anything else out there when it comes to Toyota TRD Pro models.
This color also gives you that off-road vibe that you have when you are going off-roading. Also what is most important is that when you go off-roading, the paint doesn't tell quite a lot about it. Unlike black or silver where you can see clearly the dust and other debris that has stuck on your paint.
With the Lunar Rock color, you absolutely do not see any of that and you only need to do a simple rinse to remove all of the debris. Also, minor scratches that are something really frequent when you off-road are less likely to be visible with this paint.
Why Are Exterior Colors Important?
Exterior colors are quite important, to be honest. The exterior color tells quite a lot about you as an owner. A car's paint color is something similar to clothing. It tells how tasteful is the owner when it comes to choosing something to wear.

Even though, choosing a paint scheme for your car is much easier than choosing clothes. Choosing what to wear can sometimes be an extremely difficult and tedious process. While choosing a paint scheme on the other hand is quite a simple task. Since most of the cars are either black, silver, or white.
Personally, I think that there is a lack of diversity when it comes to picking up the color for your future vehicle. There is only diversity when you go for the more expensive options out there and these cars tend to cost way more than the base models.
That's why I think the automotive world should focus on making the colors more affordable to different market segments and I'm sure that many people will like the diversity of colors that will be out there.
In the past, there were a ton of options when it came to paintwork and these were available to all. It didn't matter how deep was your pocket and your financial leverage. You just go out there and pick a car. Blue, orange, yellow, pink, it doesn't matter. That's how it should be today. And the good thing is that Toyota thinks about us and is including the Lunar Rock color in their lineup.
It is still in their most expensive offering out there. But it is what it is. But have you asked yourself which of the vehicles in Toyota's lineup are getting the Lunar Rock color treatment? That's what we are going to cover next.
Which Vehicles Will Receive The Lunar Rock Color Treatment?
When it comes to vehicles that will take this color, we can tell that you are going to love our answer since all of their off-road lineup is going to take this Lunar Rock color option. And this is quite good news since you will not have to make compromises. So, which are these vehicles? Let's discuss.
The first models that got this color were the SUVs offered by Toyota. Namely, the Toyota 4Runner which is Toyota's mid-size SUV, and the Toyota Sequoia which is the full-size SUV offered by Toyota.
The 4Runner is more off-road capable and probably should be your pick if you want to experience the TRD Pro to its fullest. The Sequoia on the other hand is more focused on luxury and comfortable driving. So, I wouldn't recommend it to off-road enthusiasts.
Other models also got the Lunar Rock color. These were the Tacoma and the Tundra. Both of these vehicles are pickup trucks. The Tacoma is a mid-size while the Tundra is a full-size pickup truck. And both of them got the TRD Pro treatment as well.
But I must admit that the Tacoma is quite lighter and much sturdier when it comes to tackling off-road obstacles. If you want to go for a capable off-road pickup truck, I would definitely go for the Tacoma with the TRD Pro and the Lunar Rock color. But that's just my opinion. You can share yours with me down in the comments section.
Overall, there is a Lunar Rock color option for anyone out there. Depending much on your need as well as your budget.
Love It Or Hate It?
Most of the people that are seeing this color option for the first time have mixed feelings though. It is not all sunshine and rainbows. Since quite a lot of Toyota enthusiasts are conservative when it comes to picking different color options.
There were a ton of negative comments out there on social media and online Toyota forums. First people trashed the color as something really dull and boring. While later most of them were kinda digging it. Similar to the new BMW M3, people hated it when it first appeared and thought that the front end looks obnoxious. But now, they are loving it.
As people say it will grow on you, as time progresses, we change our stance towards these things once we see them more and more frequently. Then we start to love it and their hate simply disappears.
That's why you should not be always indifferent towards changes. Since the world is turning and we cannot be stuck in one place and do the same things, wear the same clothes and drive the same cars and color options. Things change and that is for the better of all of us. That's why you should always praise a change if it is a good one and promises us a brighter future.
Similar to electric cars, we all petrol heads disapprove of them and trash them sometimes. But that's what has to be done to improve our lives and make the world a better place to live without harmful gases and other toxins. That's just how things go.
But if you still do not love the Lunar Rock color option. There are still plenty of other color options that we are going to list in the following chapters.
Other TRD Pro Paint Options
Since we covered the Lunar Rock color, let's discuss the other options that are available for you as a customer. You need to be aware of these color options as well for you to make the right decision and pick the best color possible for your liking. We are going to list all of the colors with our commentary of their appeal and whether they are a good option as your next color option for your Toyota truck or SUV. So, let's begin.
1. Quicksand
Quicksand is another good color that resembles geographical locations. Namely sand and dunes. This color is a shade of brown but it has that yellow tone to it. It is appealing and will fit those who are love to use their Tacoma or Tundra in an off-road environment.
Personally, after the Lunar Rock color, this is my favorite color out of the bunch in which the TRD Pro models are offered. Tell me what your thoughts are down in the comments.
2. Inferno
The Inferno is a brave color that loves to challenge you. It is for those people who love striking colors and want something that stands out. And the Inferno stands out.
It is quite a mix between Red and Orange. In the shade, it looks more red than orange. But when it is up in the sun it looks spectacular and gets all the looks out there from the crowd. Good option if you want something appealing and different.
3. Army Green
If you are a military enthusiast and you have been in the army. Then you are going to love the Army Green color that is offered in the TRD Pro models. Especially this Army Green that looks quite amazing, to be honest.
It's not matte like a regular army car, but it strongly resembles one. And I'm digging it, that's for sure. This color is the perfect option if you love to take your Tacoma or 4Runner on the trails and experience some new landscapes.
And I bet that with this color, you are going to make a friend or two who love military stuff. Going for this color will make you have that extra edge in ruggedness and off-road feel to your vehicle.
4. Cement – Quite Similar To Lunar Rock Color
Cement is quite similar to Lunar Rock. Unlike the Lunar Rock color that has some greenish to it, the Cement is fully gray and basically resembles cement.
It is also not quite dark and looks particularly good on trucks that are used for work duties like construction or other types of work. With this color, you wouldn't bother if you scratch your truck somewhere, it will just blend in and complete the look of it. Still, trucks are made for work and not for show.
The Cement is perfect for those that agree with this opinion. This color looks particularly good on the Tundra as well as on the smaller Tacoma. I wouldn't spec a Sequoia or a 4Runner in this color. But this is only my opinion. Please share yours down in the comments. Now let's move on to the next one.
5. Voodoo Blue
If you want to have a color that pops out beside the Inferno that we covered, the Voodoo Blue is also a good option to get for your new Toyota TRD Pro model.
This color is so striking that it sometimes is almost too much and as I mentioned. It is dedicated to the ones that are brave and want to have something popping. Would this color fit in off-road circumstances? I think not.
It's too much blue for me, it almost reminds me of the smurf blue color. But this one is a little bit bluer. Definitely, an eye-catcher wherever you go. So, if you want to be the main focus wherever you go, this color might be the right color for you and your TRD. I would stick to the Lunar Rock color for now.
6. Cavalry Blue
The Cavalry Blue color is perfect if you want a blue truck but something that doesn't pop that much as the Voodoo Blue color that we discussed above. This color is the way to go if you want something stealthier and more sublime.
Whenever I had the option to choose between the Voodoo Blue and the Cavalry Blue, I would go for the Cavalry Blue. It looks so much better and more appropriate in my opinion. But hey, that's just my opinion after all. Tell me what you think down in the comments.
Nevertheless, this color is a good option because it is a mix of gray and blue and looks quite good. It looks like an old army uniform from the early days where cavalries rode across the battlefield. This color along with the Lunar Rock color are my favorites when it comes to choosing a color on a Tundra or a 4Runner. But which one should you choose?
Well, that's what we are going to cover in the following chapter when we will share our opinion on the Lunar Rock color and all these colors that we covered by now.
Should You Go For The Lunar Rock Or Pick A Different Color?
If you want to go for something really special, then choosing the Lunar Rock color is the way to go. It is a gray color, so what? It is not a simple gray color like Cement that we covered.
The Lunar Rock color is so much more than that and I must admit that looks quite the best from all these colors. Since there is nothing else out there that looks quite similar to the Lunar Rock.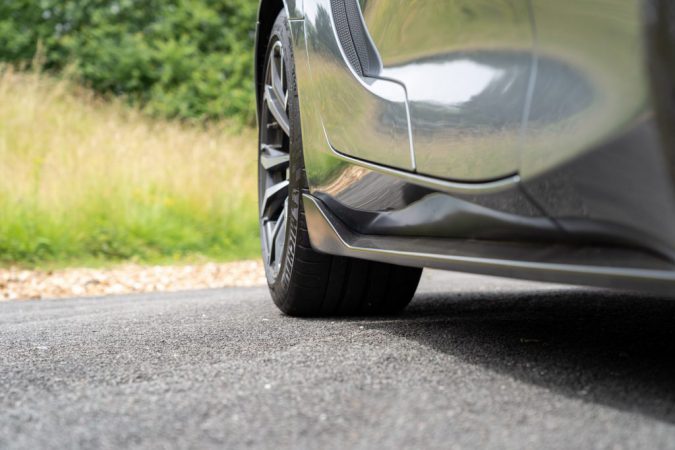 The Lunar Rock gives you that sublime look but even better, it makes your car stand out and makes you feel that you are riding something unique and different from all the other boring colors that exist in this world. That's why I would go for this one if you are asking me.
But which color should be my second pick? I would say the Cavalry Blue, it just looks so good. It doesn't pop out like the Voodoo Blue and it looks just perfect. But what about the third option?
My third option would probably be the Quicksand. I just really like the look of it. It looks nice, especially if you live in a place where you drive on dirt roads. It blends in well. But how to pick the right one? Well, that's what we are going to discuss in the following chapter.
How To Pick The Best Color?
When you pick a color, make sure that you spend the right time by observing these vehicles and seeing how they would fit your personality. Because not all people are a perfect match with every color.
For example, I wouldn't imagine myself driving a smurf blue or Voodoo Blue Tacoma or Tundra. It simply is not my character. But I would happily go for something more stealthy like the Lunar Rock color or the Cavalry Blue. That's why you should focus on what you want and pick your favorite color.
The color simply tells quite a lot about us and what image we create about ourselves out there while we are driving these cars.
Toyota TRD Pro: Lunar Rock Color and Upgrades
Toyota has released a new color for its TRD Pro lineup, called Lunar Rock.
The Lunar Rock color is exclusive to Toyota's TRD Pro lineup, and will replace the 2020 Army Green color.
Unique one-year-only color vehicles have held their value better than standard colors, which has helped Toyota build a strong following.
The TRD Pro series is Toyota's most off-road capable lineup, and the 2021 vehicles come with some additional upgrades.
All 2021 TRD Pro models now feature LED high beams in addition to their current RIGID LED fog lamps.
The 2021 TRD Pro 4Runner gets new black TRD alloy flow form wheels complete with Nitto Terra Grappler tires.
The addition of re-tuned 2.5-inch Fox Internal Bypass Shocks aids in trail driving motion isolation and high-speed performance.
The front Fox shocks improve trail capability with its TRD-tuned coil springs giving it an inch of front lift.
The back 2.5-inch Fox shocks provide "piggyback-style remote reservoirs to maintain damping performance in the most demanding off-road terrain".
The 2021 TRD Pro series should be available towards the end of 2020, with speculated pricing from $45,000 to $65,000.
Conclusion – Lunar Rock Color
In this article, we have covered a lot when it comes to the Lunar Rock color. We learned what is the TRD Pro trim and what are main characteristics of it. As we concluded this is the top-of-the-line trim that Toyota is selling and these vehicles are all performance-focused.
Then we have covered the Lunar Rock color and saw in which of the vehicles this color is included. Namely, in the Tacoma, Tundra, Sequoia, and the 4Runner. This is a brand new color introduced for the 2021 year.
Then we have also discussed the other different colors offered in the TRD Pro trim and we gave our thoughts on these colors and we listed our favorite colors. One of which is the Lunar Rock color. We strongly hope that you enjoyed this article and comment to share your thoughts with us.