Here at Motor Verso, we go on a lot of car shoots. Take a look in our reviews section, and you'll see that we've reviewed over 50 cars since the beginning of 2017. For each of these shoots, we go out with the car and capture our own unique and bespoke photography to go along with our written articles. So because we're going on so many shoots, in all sorts of conditions, we need camera gear that can hold up to so much use – and this is why we have the Manfrotto Street Bag.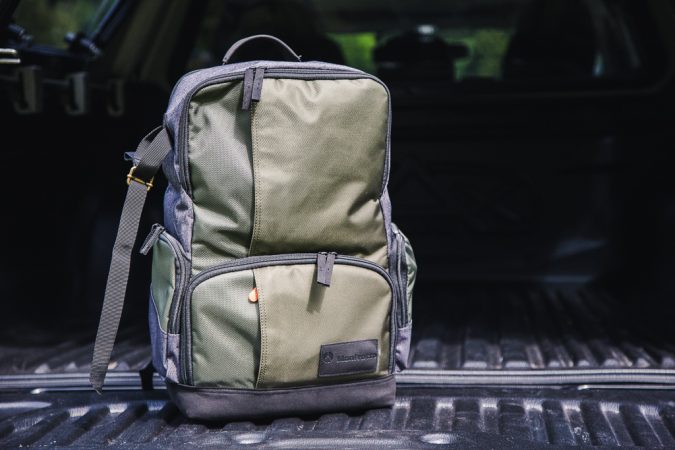 Manfrotto Street Medium Bag
The Manfrotto Street Medium Bag is a camera bag that's designed to not look like a camera bag. For starters, it's not black. Instead it comes in this camo green colour which to my eyes is a lot more pleasing, yet still just as subtle as a black bag. Vertical zips down the front of the bag add to the stylish look and the green colour is offset by panels of grey around the top and sides.
The backpack looks great, and being priced at £119.95, it's a great purchase for anyone who is serious about photography – as I shall now explain…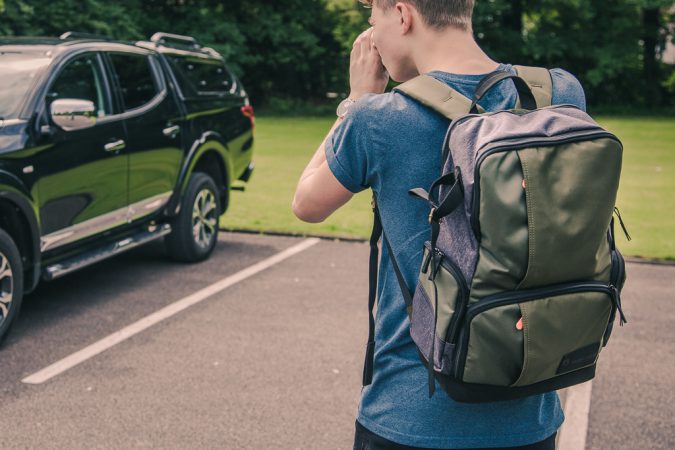 Straps and Adjustments
After wearing this backpack on multiple shoots now, I can tell you that it is seriously comfortable. The straps are super thick with padding and are fully adjustable. The back of the bag is covered in soft foam which sits against your back nicely and doesn't cause you to sweat too much. Ergonomically this bag is useful too – as it's essentially a rectangle, packing it into the boot of a car full of other camera gear is an easy job.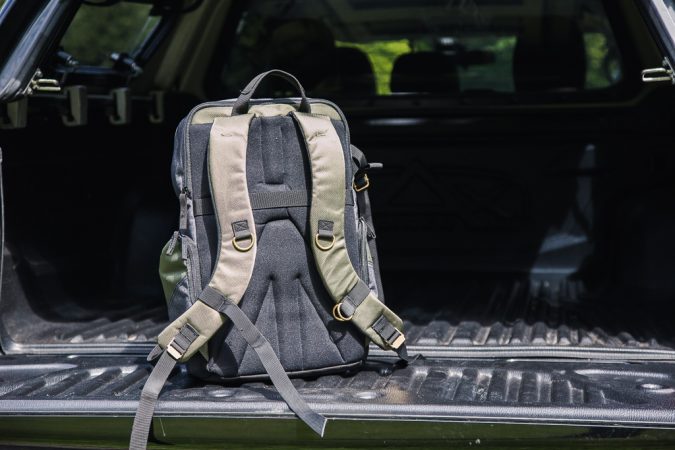 Sizes and Dimensions
The main function of a camera bag is to carry your gear – and this is something that the Manfrotto Street Bag is particularly good at if you spend some time thinking about where you're going to put your kit. When empty, the bag itself weighs just over 1 kilogram so you have a nice light bag to start filling.
The bag is 46cm tall, 28cm across and 15cm deep. For the interior measurements, you can minus 1cm from each of those figures, apart from the depth where it's down to 10cm. I will explain why later.
The Manfrotto has 7 main pockets; a main upper and lower compartment, two side pockets, 2 front zipped pouches and a full-length rear pocket capable of holding a 15″ laptop.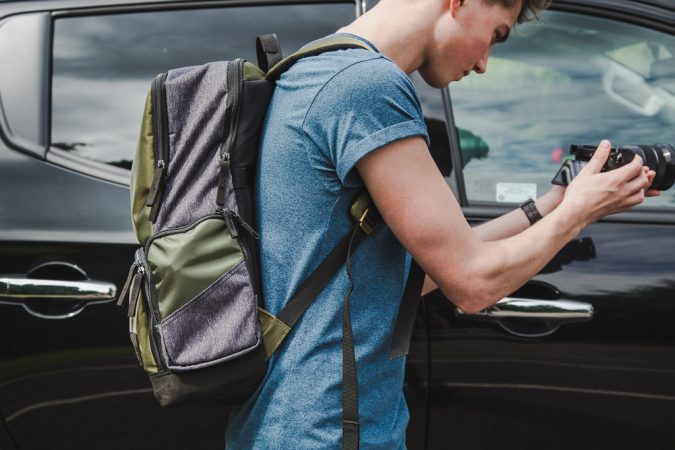 The Lower Compartment
The bag's lower compartment is designed to hold camera gear, featuring removable foam inserts to make organising your kit easier. This compartment will hold a maximum of 3 lenses and one camera body – which for most people would be enough. However I use two cameras, so for me it's not quite enough space. My primary camera is stored in the upper pocket.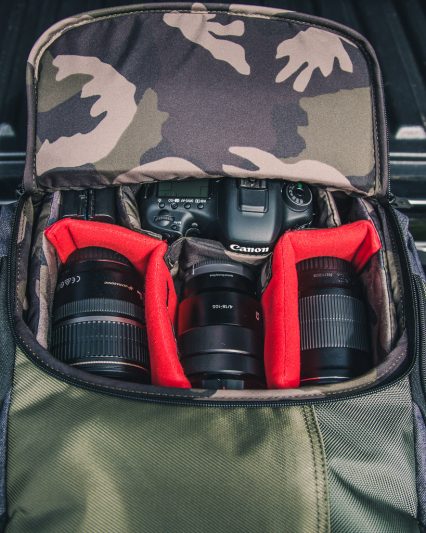 The Upper Pocket
The purpose of the upper pocket is to store personal items such as a drink, or maybe even a lightweight jacket. But as I said before, due to the lower pocket being rather snug with my lenses and DSLR body, I've had to use the upper pocket to store my other camera and various other items like GoPros and flashes. What's useful though, is that the divider between the two compartments can be unzipped and removed, creating one large compartment – meaning this camera bag is a very versatile piece.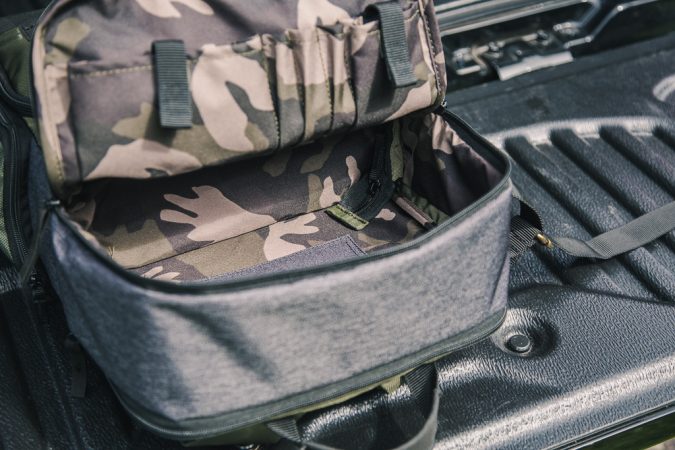 The Build Quality And Material
Where the Manfrotto Street Bag struggles in space, it more than makes up for in build quality. All over the bag is made of thick, tough and weatherproof material. I mentioned earlier that interior depth is 10cm rather than 15 – well this is because of all the padding! The side and bottom padding is more than substantial to protect your gear from knocks, and at the bottom of the laptop compartment, Manfrotto have even provided a cut of foam for your computer to rest on.
The material itself feels nice to the touch too, the material around the bottom is soft, along with the zips (which never get stuck or caught, by the way). Accessing your kit is never going to be a problem.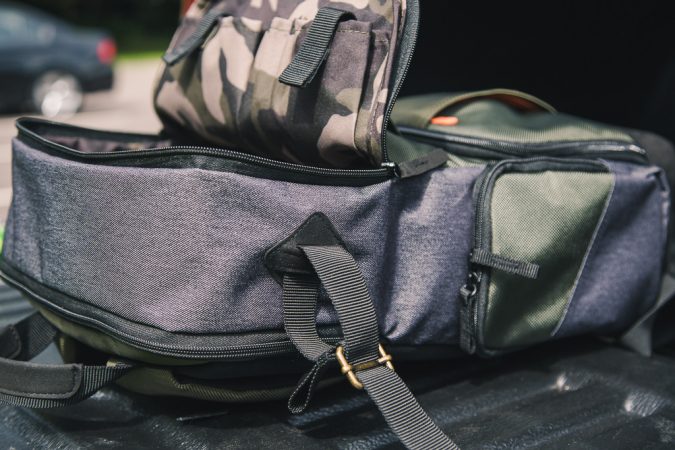 Verdict
Overall, I am very impressed with the Manfrotto Street Bag. It may not be able to hold as much as other camera bags, but the upside to this is that it keeps a low profile, and forces you to be economic and forward-thinking with your gear. The bag may not suite full-time professional photographers, as it simply won't hold enough gear – however, for any amateur or semi-professional photographer, it's perfect.
Being weatherproof, tough and stylish all at the same time means that I'll be using this unique bag on all my shoots from now on.