The Masters Historic championship made their second appearance of the truncated 2020 season at Brands Hatch circuit in Kent. With capacity grids once again, there was no shortage of action and variety from the vintage cars on display.
What is the Masters Historic series?
Formed back in 2004 by Ron Maydon, Masters Historic Racing sets out to provide a professionally run race series for enthusiasts who are passionate about historic motorsport.
Featuring races throughout Europe and North America, Ron's vision took off and proved a huge success. Featuring series from Historic Sports Cars, Pre 66 Touring Cars and the monstrous DFV Cosworth powered early 1980's F1 cars, there not only is the opportunity to see historic cars in action but the opportunity to see a huge variety in a single event.
Masters Historic Formula One: 1972 – 1985 Formula One Cars
This weekend, in particular, was a special one for the Masters. With a guest appearance from former British Grand Prix winner, Johnny Herbert, and the first appearance of Jonathan Holtzman in his newly built Tyrrell P-34 6 wheeler, there was no shortage of spectacular equipment in this series alone.
Race 1 went the way of Martin O'Connell in his 1982 Tyrrell 011 B after a dominant light to flag victory. Whilst he cruised off to a 7-second advantage, the battle for second was hot. Steve Hartley in his McLaren MP4/1 and Greg Thornton in his Lotus 91/5 put on a spectacular show for the remaining rostrum positions. Remaining within a second throughout the entire race, the McLaren ultimately came out on top by just 0.152 seconds to claim second place.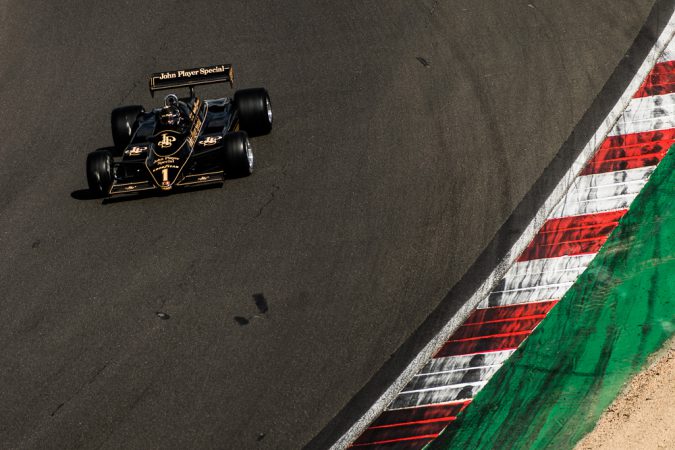 Meanwhile, ex-F1 driver, Johnny Herbert put in a strong performance to claim P5 despite stopping on the final lap.
Race 2 saw a dominant victory for Thornton. However, it wasn't all plain sailing. Getting caught in traffic on the 18th and final lap, he lost 5 seconds to O'Connell and only just held on to win by 0.9 seconds after that late scare.
O'Connell was engaged in a race-long battle with Hartleys McLaren closing the gap to just 0.3 seconds by lap 16. O'Connell held off all that the McLaren could throw at him to scamper away once they caught the backmarkers to a 3-second advantage at the chequered flag.
It was a frustrating race for Herbert who retired on lap 6 in his Ensign with Chris Perkins in his Surtees TS14 the only other retiree from the race.
Pre 1966 Touring Cars
It was heartbreak for touring car ace, Steve Sopher. Having dominated since he took the wheel of his Ford Mustang, it all lead to nothing as a costly mistake saw him retire with just one lap to go, handing the victory to fellow Mustang driver, Rob Fenn.
Michael Cullen made a strong start to maintain 1st position holding off attacks from Fenn and Henry Mann (co-driver to Sopher). However, it wasn't long before the Mustang duo made their way through.
Fenn managed to build a 4-second advantage over Geoffrey Letts in his Lotus Cortina with Mann now dropping back to 4th.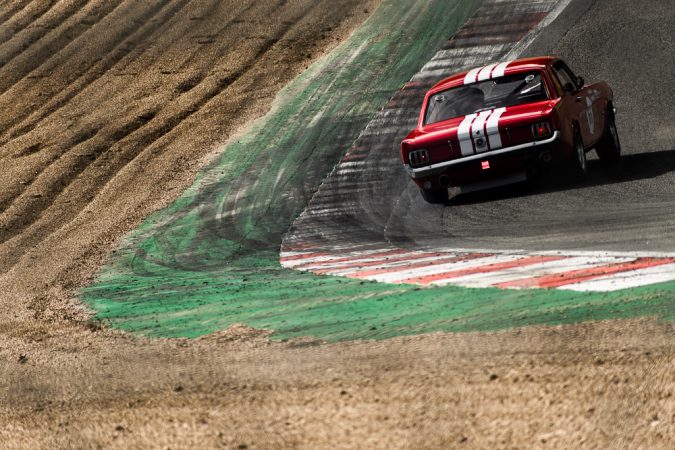 By the time the pit window opened, Mann was the first to stop handing over to Sopher in an attempt to move back up the order. Cullen pitted a lap later on lap 15 having dropped to 6th, handing over to BTCC star, Andrew Jordan. All eyes were now on the Blue Cortina but a charge through the field was cut short after Jordan was forced to retire after just a handful of corners.
With the stops all complete, Fenn maintained the lead but only just. Ollie Taylor emerged just 0.9 seconds behind in 2nd with Sopher rapidly closing in 3rd. It wasn't long before Sopher had dispatched of Taylor and was hot on the heels of Fenn after closing in at the rate of 2 seconds per lap. It was then a case of cruising to the finish. He steadily built up a 6 second lead but a stuck throttle saw him off the road at Surtees handing the win to Fenn after all. Taylor finished in 2nd with Alan Letts in another Cortina finishing in 3rd.
Gentleman Drivers: Mini Endurance Races for Pre 1966 GT Cars
Heading into the longest race of the weekend, all eyes were on pro-drivers: Alex Brundle, Tiff Needell and Phil Keen who had qualified 3rd, 4th and 5th on the grid. Pole position was taken by the Shelby Daytona replica of former British GT champion, Calum Lockie and car owner, Julian Thomas.
The weather looked set to play its part with dark clouds rolling in just minutes before the green flag. Luckily the rain stayed away leading to a fully dry 90-minute race.
Mike Whitaker took a dominant victory in his TVR Griffith having hardly been challenged throughout the entire race except for the mid-race safety car period where Alex Brundle took full advantage and led for a lap before being quickly repassed by the TVR.
Brundle was holding a strong second place in his Jaguar E-Type after rapidly clearing pole sitter Thomas. After Brundle's battle with Whitaker after the safety car, Thomas started to reel him back in and decisively moved through with a stunning pass at Graham Hill Bend on lap 19. But it was all undone when he ran wide on lap 23 allowing Brundle back through.
With the pit window open, it was Thomas who pounced first handing over to Lockie to help move their car back up the order. Once all had made their stops, Whitaker resumed his position in the lead now by 11 seconds. Lockie pumped in consecutive fast laps to leapfrog Gray Pearson (who took over from Brundle), with Mark Martin now in 4th albeit briefly after being passed by Needell in his TVR Griffith.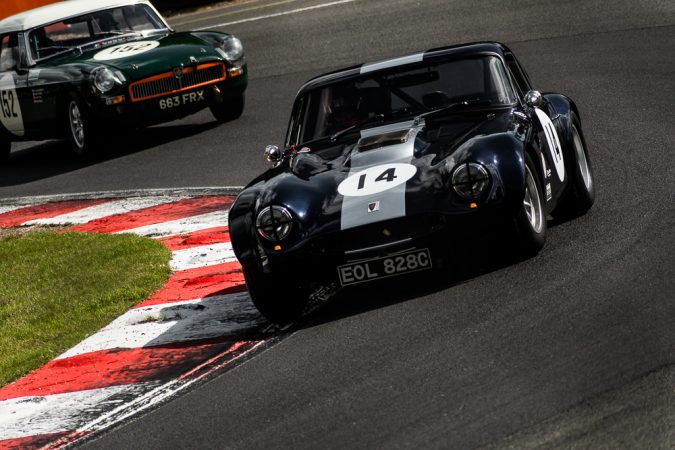 There was no change in the order until Pearson was forced in after being slapped with a pitlane penalty. Ironically, Martins Cobra also retired within minutes promoting Needell up into 3rd place.
The race would then ultimately end behind the safety car after an MGB found its way into the gravel trap. Whitaker taking a dominant win from Lockie/Thomas with Needell/Spiers rounding out the rostrum.
Masters Historic Sports Cars: Le Mans style cars from 1962 – 1974
Alex Brundle and Gary Pearson took a dominant victory in their Lola T70 MK3B by 11 seconds from the ever rapid Chevron B19 driven by Jonathan Mitchell.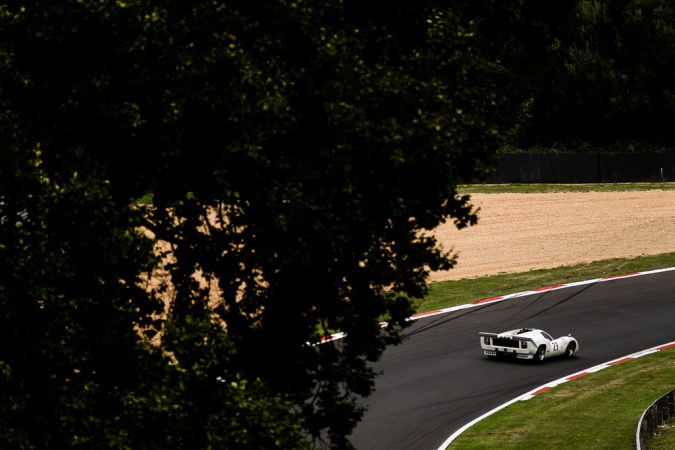 With Mitchell having taken pole position in qualifying and a win in the previous round at Donington Park, he was the favourite to take a second straight victory, Despite getting a good launch at the start, his lead was short-lived. Brundle (son of former F1 driver, Martin) quickly dispatched the Chevron heading onto the Grand Prix Loop after making a move at Surtees corner.
From then on it was fastest lap after fastest lap leading to Brundle building up a lead of 10 seconds once the mandatory pit window opened after 25 minutes. Mitchell maintained a clear second place now over Robert Beebee after previous 3rd place runner, Garry Culver, was ordered to make a stop-go penalty after an infringement at the rolling start.
With Pearson now having relieved Brundle of his driving duties, it looked as though Mitchell would close in having taken 1.2 seconds out of him on their first flying lap after the pitstops. Pearson was wise to this Wattack and soon put the hammer down in response creating a constant 10-second buffer to the rapid Chevron driver.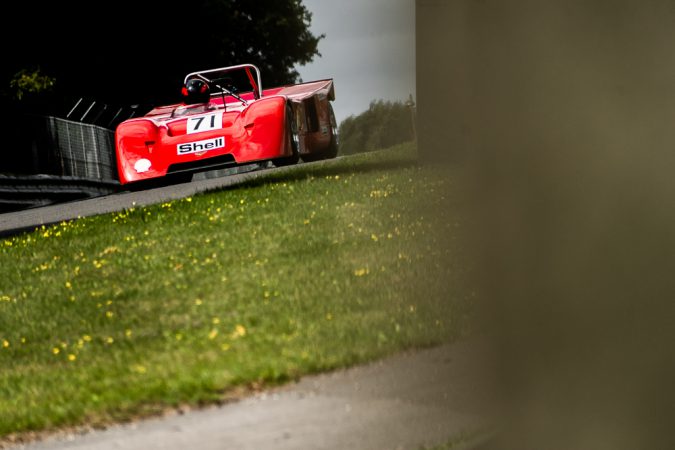 He was able to maintain this to the flag and claimed victory ahead of Mitchell with Goncalo Gomes and James Claridge rounding out the top 3 in their Chevron B23.
Racing resumes on the 4th September at Zandvoort circuit in The Netherlands which will see high power single-seaters running on the new banking for the first time