Max Verstappen is on top of the F1 world. After his 10th win in a row at Monza, the flying Dutchman now holds the record for consecutive F1 race wins all on his own. He also has a lead of 145 points over his Red Bull teammate, Sergio "Checo" Pérez in second place, with only eight rounds left in the 2023 Formula 1 season.
Incredibly, Verstappen has over double the points of the surprise-third-placed driver Fernando Alonso. After a brief recap of what happened in Italy, we'll look at what's next for the championship leader heading to the Marina Bay Street Circuit in Singapore. The Singapore Grand Prix is Round 16 on the 2023 F1 calendar and takes place on 17 September.
What Happened at Monza?
Max didn't have things all his own way in Round 15 qualifying at Monza. The Tifosi were hopeful of a home win, with Carlos Sainz grabbing pole position in the Ferrari. His teammate Charles Leclerc also qualified only 0.054 seconds behind Verstappen in third spot on the grid.
Ferrari fans will have to wait longer, though. Verstappen passed Sainz on lap 15 and took the checkered flag over six seconds ahead of his Red Bull partner Pérez. The Prancing Horses ended third and fourth, over five seconds further back.
The media asked Christian Horner whether he felt Verstappen was nervous about the record before the race. The Red Bull team principal had the following to say:
"I wouldn't say nervous, but I would say you could definitely feel that his focus was razor sharp – more than usual. You could see that it definitely meant something to him … I don't think there's anybody in the world right now that could beat Max Verstappen in this car."
In light of Horner's bold statement, what can we expect from his premier driver over the rest of the season?
After Verstappen's exploits and ultimate victory in Italy, it will take a brave punter to bet against the soon-to-be three-time world champion at Marina Bay. For those looking to place a wager, there are many betting sites to choose from, but don't expect to find any long odds for winning races offered on Max Verstappen!
If you do want to bet on Verstappen, it's worth browsing other markets at betting sites rather than simply his win. For example, many offshore options for users in the US tend to offer a greater variety of markets than those based in the US. You might instead find markets offering odds on the chances of him breaking certain F1 records this season. You may get better odds on those, or even by predicting how long it will take him to win the 2023 F1 Championship.
The Singapore Grand Prix: A Record-Extending 11th Consecutive Win?
The smart money will be on Max Verstappen winning in Singapore. After all, the reigning World Champion has taken 13 wins from 15 races this season so why should the next Grand Prix be different? Verstappen is on another level compared to his competition at present. His Red Bull is likewise showing all the speed and reliability needed in a Championship-winning car.
Sport is a great leveler, though, so what factors may contribute to an upset at Marina Bay?
The Singapore Grand Prix debuted on the F1 calendar as the first-ever night race in 2008. Both Mercedes and Red Bull Racing have won the event four times since. A resurgent Ferrari has also won on three occasions. Sebastian Vettel has five wins with Red Bull and Ferrari in Singapore, while Lewis Hamilton has three for Mercedes. Sergio Pérez won the Singapore Grand Prix last year.
Max Verstappen has never won in Singapore. Could his teammate, Hamilton, or two-time Singapore winner Fernando Alonso hold a psychological edge for the race? With Verstappen's confidence as high as it is, this is unlikely. Besides, the World Champion hadn't won in Australia or Bahrain before 2023 either. Now with 47 grand prix wins, Verstappen could well add a first Singapore victory to his accomplishments.
Last year, Max Verstappen could only manage 8th position in Singapore. Overtaking is difficult at Marina Bay. Both Sergio Pérez and Verstappen recently played down Red Bull's chances, with Pérez saying the following:
"I think it's going to be a weekend where basically anything can happen, and hopefully we are able to have a very strong Saturday, because if you don't start in the front row, it's very unlikely that you will have a shot at the victory. So hopefully we can repeat what we did last year there."
The Japanese Grand Prix: Clinching the 2023 F1 Drivers' Championship?
Although unlikely with Sergio Pérez's form and Red Bull's reliability, Max Verstappen could win the 2023 F1 World Championship in Japan on 24 September. For this to happen, the Dutchman would need to win in Singapore and at Suzuka, with Pérez finishing outside the points. The odds of this happening are extremely high though.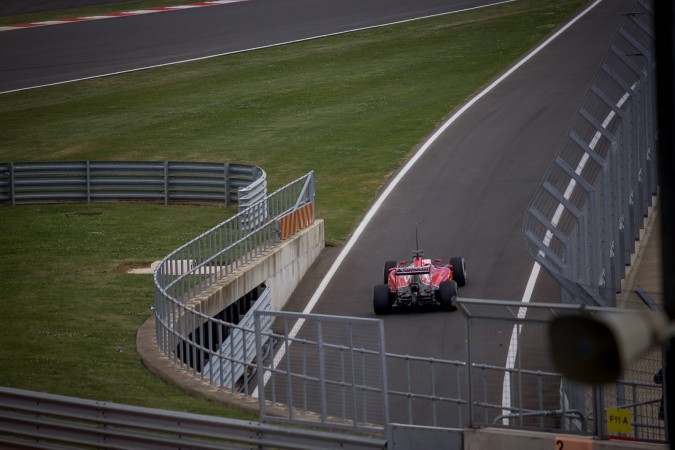 A more likely scenario would see Verstappen crowned after the United States Grand Prix at the Circuit of The Americas in Austin.  The Mexican Grand Prix at the Autodromo Hermanos Rodriguez in Mexico City is a later viable option.
The Dutchman could yet achieve the unlikely at Suzuka. If so, he would break the legendary Michael Schumacher's record by winning the title with seven Grands Prix remaining.
The Qatar Grand Prix: A Record 16th Win in a Single Season?
If Max Verstappen wins in both Singapore and Japan, he could break his own 2022 record for the most F1 wins in a single season in Qatar. The race at the Lusail International Circuit on 8 October could hence have added importance for the F1 Championship leader.
On current form, with five more rounds in the season remaining after Qatar, Verstappen should reach this milestone in 2023 anyway. The Lusail race is, however, the earliest he can achieve it. It took 73 years for any driver to reach more than 13 wins in a single F1 season with Verstappen achieving it with 15 in 2022. As such, it will be legendary whenever the accomplishment happens.
The Mexican Grand Prix: Highest Win Percentage in a Single Season?
By the time the F1 caravan reaches Mexico City on 29 October, Max Verstappen could be in a prime position to beat another F1 record. In this case, one that has stood for 71 years. That's provided he keeps winning until then, of course.
In 1952, Alberto Ascari and his Ferrari won 75% of all the F1 races that season. The fact that the season consisted of only eight races that year is likely a good reason why the record has stood for so long. There are 23 rounds in the 2023 F1 Championship season.
Taking the length of the current season into account, the chance of Verstappen breaking this record is a feat in itself. Should he not break the record in Mexico, he still has a further three races left in the current season to do so.
Final Thoughts
Max Verstappen is definitely on top of the F1 world right now. He is already a two-time World Champion and has a massive lead in the 2023 Drivers' Championship. The flying Dutchman has already broken a plethora of F1 records and is in line to break several more.
Whatever happens over the rest of the season, Verstappen's name is already etched in F1 history. Pundits already mention him in the same breath as greats like Schumaker, Hamilton, Senna, and Fangio.
At the tender age of 25, his confidence is soaring while his Red Bull car carries him to consistently more achievements. On current form, there's no reason why Max Verstappen shouldn't end up equaling and even eclipsing the feats of these F1 legends.