The Mazda 3 is an excellent little automobile. This sporty sedan provides dynamic steering, responsive brakes, and rapid acceleration, making it one of the most fun-to-drive cars in its class. It also offers a smooth ride that absorbs the majority of road irregularities. The Mazda 3 comes with a user-friendly infotainment system and quality materials throughout the cabin. But despite all this, would Mazda 3 reliability concerns put you off?
An Overview Of The Mazda 3's History
The Mazda 3, also known as the Mazda Axela in Japan, is a compact car made by Mazda. Its name is a combination of the words "accelerate" and "excellent." In the C-segment, it was released in 2003 as a 2004 model, replacing the Familia/323/Protege. Mazda had a collaboration with the Ford Motor Company from 1974 until 2015.
Ford purchased a 24.5 percent stake in Mazda in 1979 and increased its ownership to 33.4 percent in May 1995. Ford steadily reduced its investment in Mazda from 2008 to 2015 under the leadership of Alan Mulally, with Ford controlling 2.1 percent of Mazda stock as of 2014 and disconnecting most manufacturing and development ties.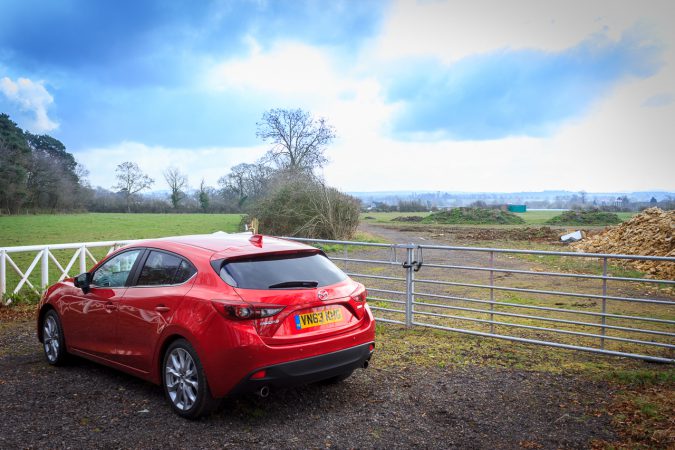 The Mazda 3 was made across 4 generations…
1. First Generation (2003-2009)
The BK Series, the first generation Mazda 3, was introduced in 2003 and remained on the market until 2009. It was highly received and praised for its excellent performance, comfort, handling, and elegant appearance.
Fuel efficiency and crash test results were among the concerns, however, the latter was addressed by mandating six airbags. During the years 2005–2007, the Mazda 3 was the second best-selling car in Canada and the best-selling car in Israel.
Design:
The Mazda 3 is built on the Ford worldwide C1 platform, which is also used by the newest Ford Focus and Volvo S40 in Europe.
The Mazda 3 is available in two body configurations: the first one was a four-door sedan marketed as "coupe-style" in Europe and another one was a five-door hatchback marketed as "sport version" in Canada, Japan, and the United States, both based on the look of the MX-Sportif concept vehicle.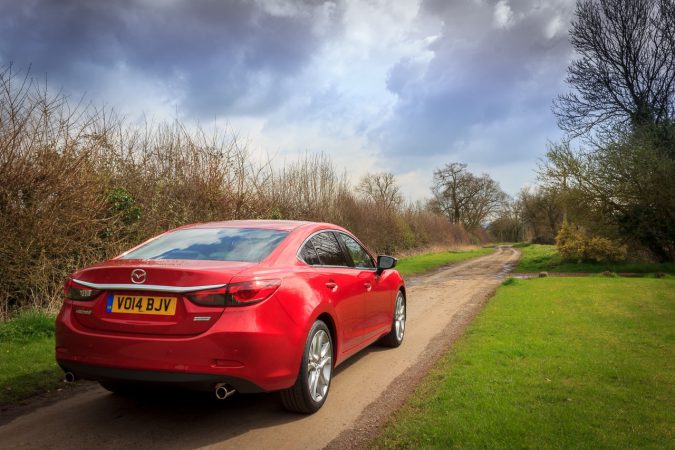 Mazda 3 models for the US market were initially available in only two trim levels, with 2.0L and 2.3L engines, respectively. Since then, Mazda has added more Touring and Grand Touring models to its line-up.
Performance:
Europe's Mazda 3 1.4 S, the slowest-powered model, takes 14.3 seconds to accelerate from zero to 100 kilometers per hour, with a top speed of 170 kilometers per hour.
These vehicles have an average fuel consumption of 10 L/100 km, with the 2-liter 2008 Mazda 3 automatic-transmission model getting a 10 L/100 km city and 7.6 L/100 km highway rating from the US Environmental Protection Agency.
2. Second Generation (2009-2013)
From 2009 until 2013, the BL Series was released as the second generation. The Mazda 3 received a makeover and had its body restyled. Advanced amenities like adaptive lighting, dual climate control, and a 10-speaker sound system were added to the automobile.
Specifications:
In the US and Canada, the 2.0L petrol engine from the previous generation was offered, as well as a new 2.5L inline-four shared with the second-generation Mazda.
The 2.3L engine was replaced with a 2.5L engine that produces 167 horsepower and torque of 167 lb-ft.
A 2010 Mazda 3 with a 2.5L engine and a 6-speed manual transmission accelerates from 0 to 60 mph in 7.4 seconds and runs the quarter-mile in 15.7 seconds at 87 mph.
3. Third Generation (2013-2018)
The BM Series, which was produced from 2013 to 2016, and the BN Series, which was produced from 2016 to 2018, make up the Mazda 3's third generation. For improved performance and fuel economy, the latest Mazda 3 has SkyActive Technology and KODO – Soul of Motion.
The Mazda 3 has since received a 5-star rating from the Euro NCAP safety testing program, making it one of the safest compact cars in the world.
Specifications:
The 2.0L engine accelerates from 0 to 60 mph (97 km/h) in 7.8 seconds and the quarter-mile in 16.1.
The 2014 Mazda 3 accelerates from 0-60 mph in 6.9 seconds and completes the quarter-mile in 15.2 seconds at 95 mph when equipped with a 2.5L engine and 6-speed automated transmission.
Only the 2.0L cars had a 6-speed manual transmission, whereas the 2.5 had an automatic transmission as standard, and the 2.0L had an automatic transmission as an option.
The 2014 Mazda 3 was the subject of a first-drive review by Car and Driver.
4. Fourth Generation (2019-Present)
The BP Series, which was produced from 2018 to present, make up the Mazda 3's fourth generation.
Its new fourth generation is competitive in terms of design and performance, giving buyers more bang for their buck. The advent of the fourth generation of Mazda's primary passenger car, the Mazda 3, is a long-awaited launch for the Japanese firm, with six million units sold since the first Mazda 3 was introduced in 2003.
With North American markets accounting for a third of global Mazda 3 sales, the firm chose Los Angeles as the launch city, with the 3 hitting the market in 'early 2019'.
Specifications:
The SkyActiv-X engine, which is a spark-controlled compression ignition engine, could be included in the fourth-generation Mazda 3.
With an 85kW 1.8L diesel and an 89kW 2.0L petrol, Mazda's acclaimed SkyActiv engine technology is available in the line-up.
All variants come standard with adaptive cruise control and LED lighting, and the interior cabin was designed with the driver in mind. For the model year 2021, Mazda released an all-wheel-drive version of the 2.5L turbocharged gasoline engine, which is only available with a six-speed automatic transmission.
The 6-speed Skyactiv-MT manual and the Skyactiv-Drive automatic transmissions are available.
How Does The Mazda 3 Reliability Scores Fare?
All major reliability ratings have given the Mazda 3 a high rating.
RepairPal gave it a 4.0 out of 5.0 reliability rating, placing it ninth out of 36 compact automobiles.
The Mazda 3 is one of Mazda's finest automobiles, and it has earned its place for a variety of reasons.
It's has been updated three times in the last decade, according to Consumer Reports: once in 2010, again in 2014, and most recently in 2019.
The Mazda 3 has a high-value retention rate.
In 2019, CarGurus named its third generation the "Best Used Car" in the compact sedan/hatchback category.
What Are The Interior-Related Mazda 3 Reliability Issues?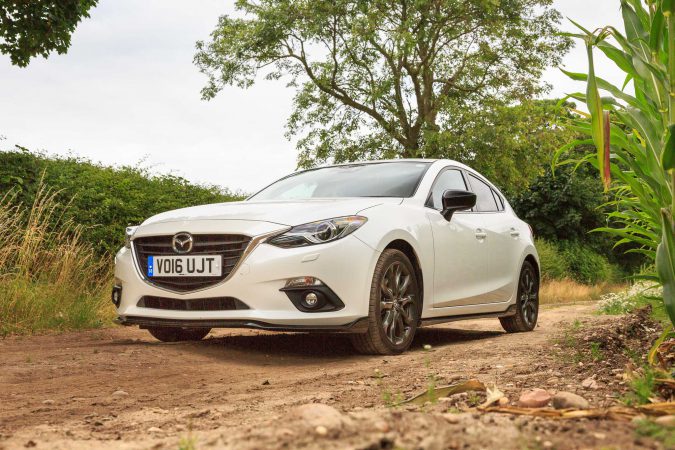 Cargo Space:
The Mazda 3 sedan has a load capacity of 13.2 cubic feet, which is below average for the class, but the hatchback has a capacity of 20.1 cubic feet, which is adequate for a small hatchback. The back seats fold down to make it easier to stow longer objects, regardless of the arrangement you choose.
Child Car Seats:
The Mazda 3's rear outboard seats have two complete sets of latch connectors. There is also a tether anchor in the rear middle seat, as well as the possibility to borrow lower anchors from the adjacent seats. The Insurance Institute for Highway Safety gave this latch system the highest rating of Good+. The "+" signifies that the system is one of the most user-friendly and adaptable.
Interior Quality:
Even the entry-level Mazda 3 has superior interior materials that are pleasant to the touch. Synthetic or genuine leather upholstery, as well as heated front seats, are available as options.
Infotainment, Bluetooth, and Navigation:
An easy-to-use rotary knob beside the gear selector controls the Mazda 3's infotainment system. Crisp graphics and straightforward menus grace the 8.8-inch display. You'll need to upgrade to the 2.5 S model to receive Android Auto and Apple CarPlay, which aren't standard.
Seats:
The Mazda 3 has seats for up to five persons. The driver and front-seat passenger can find a comfortable position in the front seats, but the rear seats are substantially smaller.
What Are The Mazda 3 Reliability Woes That You Need To Look Out For?
Despite its popularity in the tiny car sector, the Mazda 3 has had its fair share of problems over the years. The most frequent ones are listed below:
Mazda 3 Reliability – Brake Problems And Vibrations
1. Premature Brake Wear
Due to the brake pad coming into touch with the rotor, several Mazda 3 owners from 2004 to 2011, 2013, and 2015 have reported hearing screeching sounds from the rear brakes. The majority of the brake pads on the affected vehicles have a burr on their backing plate, causing them to misalign on the bracket.
A prevalent issue with the 2014 Mazda 3 is premature brake wear. Despite having fewer than 100,000 miles on their odometer, some owners have complained about needing to repair rear brake parts like calipers, rotors, and pads multiple times.
2. Excessive Vibrations
Several Mazda 3s from 2004 to 2011, 2013, and 2015 have been reported to have severe vehicle vibration when accelerating.
To fix the problem, many owners have reported replacing the tires, braking rotors, and brake pads. The problem was frequently traced back to a faulty motor mount later on. A replacement motor mount might cost anywhere from $30 to $100 just for the parts, or up to $700 including labor.
Mazda 3 Reliability – Transmission Issues
1. Clutch Failure
Clutch failure was a widespread problem with the 2010 and 2011 Mazda 3, causing acceleration and stalling troubles. Despite having only 50,000-70,000 miles on their odometers, several owners of these model years had to replace the clutch.
Owners are having to repair their clutch before the car reaches 50,000 miles, according to CarComplaints.com. Consumers report that mechanics say the single-disc clutch layout is to blame for the problem in the 2010 and 2011 Mazda 3 vehicles. Mazda refuses to pay for the clutch assembly replacement parts, which cost an average of $1,250. Owners of these automobiles are furious.
2. Grinding Gears
Due to worn-out bearings, several owners have reported hearing their gears grind when moving from third to fourth gear. While on the road, several drivers lost complete power in their vehicles, causing the check engine and electronic stability control lights to illuminate. The majority of them had to replace their complete transmission.
The 2012 model year in particular had a slew of other transmission-related faults. When shifting gears, owners of the 2012 Mazda 3 report hearing grinding noises. The shift stick gets jammed constantly when attempting to put the car in reverse.
Mechanics inform drivers that the noises they're experiencing are the result of bearings becoming stripped during gear changes. This creates serious transmission difficulties and can cost upwards of $5,000 to fix. When a car's warranty expires, which is commonly the case, the owner is faced with a large repair expense.
3. Stick-Slip Condition
A stick-slip issue between the CV axle shaft and wheel hub has been recorded in Mazda 3s from 2004 to 2007. This causes alternating adhesion and sliding motions. When shifting gears, this condition can cause clicking noises.
Installing a washer between the two sections, which can cost anywhere between $10 and $20 plus labor charges, is usually the solution. It's important to remember that your Mazda 3 may develop issues over time.
However, by understanding the most prevalent problems, proper handling, and regular maintenance, you can keep your car in great shape and extend its service life.
Mazda 3 Reliability – Electrical And Electronic Gremlins
1. Lighting System Issues
In the 2019 redesign, a malfunctioning automatic lighting system is a prevalent concern. Under severe heat, the auto-light system malfunction alert signal appears on the dashboard, rendering the auto lights useless, according to drivers of this model year.
2. Illuminated Air Bag Warning Light
Several Mazda 3 redesigns from 2004 to 2009, 2011, and 2013 have also been reported to include an illuminated airbag warning light. While faulty wiring in the seatbelt pre-tensioner sensor is the most common source of this problem, several owners have also reported a blown dashboard bulb and a misplaced sensor spring as causes.
3. Faulty Thermostat
Some Mazda 3 redesigns from 2004 through 2010 and 2013 have been plagued with a jammed thermostat, causing the engine's temperature to plummet. To fix this problem, you'll need to replace the thermostat, which will cost anywhere from $20 to $120 plus work.
Mazda 3 Reliability – Steering And Suspension Defects
1. Failed Shocks And Struts
When it came to the suspension, Consumer Reports gave the 2010 Mazda 3 a one-out-of-five rating. The struts and rear shocks frequently failed, creating uneven tire wear, according to owners.
Ball joints, tie rods, and alignment concerns were among the other issues. It's easy to see why the 2010 Mazda 3 received the "Beware of the Clunker" award from Car Complaints. This is a model that should be avoided at all costs.
2. Loose, Bent, Or Rusted Sway Bar Links
Some Mazda 3 owners have reported hearing rattling and clunking noises coming from the back end of their vehicles from 2004 to 2012. Sway bar links that were loose, twisted, or rusty were the most common cause of the noises. A replacement sway bar link can cost anywhere from $30 to $100, not including labor.
Mazda 3 Reliability – Miscellaneous Other Problems
1. Lack of Power
Carbon build-up in the throttle body might cause it to become clogged. If the throttle body becomes clogged, you will have poor idling and a loss of power when attempting to accelerate. When idling, the revs should not move about haphazardly and should remain steady.
2. Rattling Noises From The Rear Of The Car
A malfunctioning rear brake light mounting is most likely to blame for a rattling noise emanating from the back of the vehicle. This is on the hatchback's third brake light, which is located in the center. As you drive over speed bumps or bumpy roads, this noise will become more noticeable
How Can We Score It In A Review?
1. Mazda 3 Styling
While the sedan has clever, clear proportions, the hatchback features huge rear pillars that make it appear heavy and restrict rearward visibility. In most cases, we prefer hatchbacks, but not in this situation, thus our evaluations are based on the more common sedan. Both body designs, however, have a cohesive and sophisticated interior.
On all variants, the huge shield-like grille is canted forward. The narrow headlamps protrude from the grille, giving the car an appealing front end that is evocative of an Aston Martin-like style. The focus of otherwise ordinary sedan and hatchback designs, which have soft, gentle contours rather than sharp cut lines.
The cabin has a low beltline, a nice mix of light and dark colors, some well-placed brightwork, and plenty of soft-touch materials, all of which make it feel more like a luxury car than an economic compact. The center screen appears to sprout out of the dash and is somewhat far, but that's not a problem because it lacks touch capabilities.
2. Mazda 3 Performance
The 2021 Mazda 3 is more refined than sporty, with a regulated, pleasant ride and engine options ranging from modest to satisfyingly strong. It gets a 7 because of its smooth ride and well-balanced handling. That is dependent on the model you purchase.
We wouldn't recommend the standard 2.0-liter inline-4 because it only produces 155 horsepower. The 2.5-liter inline-4, on the other hand, is large and powerful by compact car standards, producing 186 horsepower. Its power builds linearly, and it takes a lot of the throttle to get the best out of it.
Mazda will introduce a 2.5-liter turbo-4 engine with 227 horsepower and 310 pound-feet of torque in 2021. It's remarkably smooth, lacking the power surge that one might expect from a turbocharged vehicle. It will most likely accelerate the Mazda 3 from 0 to 60 mph in under six seconds.
The ride and handling are balanced thanks to a sturdy frame and gentle dampers. Bumps and ruts are absorbed by the suspension. The Mazda 3's torsion beam rear suspension is unsuited to the Mazda 3's premium intentions, and it can result in a bumpier ride.
3. Mazda 3 Comfort And Quality
The interior is where Mazda's premium aims are most obvious. The premium approach isn't totally apparent in the cheapest models, where the 3's front seats are manually adjusted. However, in the Preferred trim and upwards, 8-way power adjustments are standard.
Here, all seats offer considerable bolstering for a supportive driving experience. The broad, small-diameter steering wheel, combined with the seats, creates a dynamic driving stance with plenty of room for most body shapes.
4. Mazda 3 Safety
The Mazda 3 is extremely safe, according to crash-testing organizations. The NHTSA awarded the Mazda 3 a perfect five-star rating in 2021, while the IIHS gave the 2020 model its highest accolade of Top Safety Pick+. The IIHS results for 2021 aren't in yet, but we predict the same results.
Automatic emergency braking with pedestrian recognition, active lane control, automatic high beams, adaptive cruise control, and a driver attention monitor are all standard safety features. Blind-spot monitors, rear cross-traffic alerts with automated emergency braking, adaptive headlights, traffic-sign recognition, a traffic jam assist system, front and back parking sensors, and a surround-view camera system are among the options available to buyers.
5. Mazda 3 Features
The Mazda 3 is available in a variety of trim levels, from entry-level to luxury. It's no longer an economy car, and at the top of the line-up, it aspires to compete with Acura, Audi, and Mercedes-Benz. We give it a 6 out of 10 for its extensive array of basic features and choices, but deduct a point for its clumsy infotainment system.
The entry-level 2.0 model costs $21,445 and includes cloth upholstery with manually adjusted front seats, power door locks and windows, keyless entry, an eight-speaker sound system, an 8.8-inch touchscreen screen with a rotary controller, LED headlights, and 16-inch alloy wheels.
6. Mazda 3 Fuel Economy
The 2021 Mazda 3 is fairly fuel-efficient, like most compact cars, however, others are more fuel-efficient. The least powerful versions are the most fuel-efficient, however, the 2.5 S and 2.5 Turbo models all get a 5 out of 10 for fuel-efficiency. The Mazda 3 sedan gets 26/35/30 mpg with front-wheel drive and 25/33/28 mpg with all-wheel drive when equipped with the 2.5-liter inline-4 engine.
When coupled with front- or all-wheel drive, the shorter, less aerodynamic hatchback loses 1 mpg. The turbo-4 can run on either regular or premium fuel, however, the naturally aspirated engines require standard unleaded fuel.
Mazda 3 Reliability and Repair Facts:
Mazda 3 has a reliability rating of 4.0 out of 5.0 from RepairPal, ranking ninth out of 36 compact cars.
The annual repair cost for Mazda 3 is approximately $433, which is nearly $220 less than other compact cars.
Mazda 3 has a lower-than-average rate of major repairs with only a 10% probability compared to the average 11% in the compact car segment.
Mazda 3 has great value retention, and in 2019, its third generation was awarded CarGurus' "Best Used Car" award in the compact sedan/hatchback category.
A lighting system malfunction is a common issue found in the 2019 redesign of Mazda 3.
Infotainment system issues have been reported in the newer generations of Mazda 3.
Several Mazda 3 models have brake problems, including rear brake squealing, premature wear, and replacement of parts.
Loose, bent, or rusted sway bar links can cause rattling and clunking noises from the Mazda 3's rear end.
Excessive vibration upon acceleration has been reported in some Mazda 3 models and is usually traced back to a faulty motor mount.
Other common Mazda 3 issues include a stuck thermostat, illuminated airbag warning light, transmission problems, clutch failure, and melting dashboard, and broken seat lifter links in the 2010 model.
Should You Buy One?
In conclusion, my impression of the Mazda 3 is extremely favorable; in fact, it combines all of the advantages of her younger sister in a more spacious and comfortable package with additional features to enhance the driving experience. Additionally, it remains to be among the more reliable cars of its class. Some of its competitors, like the Volkswagen Golf, can't even compete.
The Mazda 3 under consideration costs $28935, plus $873 for the Red Soul color, $2212 for the six-speed automatic transmission, and $3027 for the i-Activsense Technology + Leather Pack. Its driving aids, such as adaptive cruise control and perforated white leather heated seats with electronic adjustment, are included in the white package.