Here's a fun fact that you probably already know… America is the (pickup) truck capital of the world. Overall, more trucks are sold here in the US-of-A than in any other nation. But, for a country this madly in love with pickups, you'd think that there would be more alternatives, right? Currently, it's a space yearning for added variety, as the prospect of a Mazda BT 50 USA market entry onto our shores.
Oh, and here's another fun fact… America isn't the only place that loves trucks. The folks in Thailand, Australia, New Zealand, Malaysia, and elsewhere adore their pickups, too. Hence, why there are many other trucks out there that we Americans can only dream of. One such example is Mazda's latest BT 50 pickup truck. It's beautiful, highly capable, utilitarian, and we're likely never getting one here.
But, what gives? What have we done to deserve this? But more importantly, is there any hope in the world that they might someday make the Mazda BT 50 USA version a reality? From the get-go, their new BT 50 looks like it has the potential to be a strong contender in the compact to mid-size pickups segment. Ordie, perhaps the BT 50's focus on the overseas truck markets might cripple its chances.
Mazda Truck
Before we get any further into an imaginary Mazda BT 50 USA variant, let's first look at Mazda's old trucks that they used to sell here in the US. Yep, that's right, Mazda once made pickup trucks for the American market, which began as early as the 1960s. It started – and later ended in the 2000s – with the B-Series. Interestingly, the first B-Series trucks that made it into the US had Wankel rotaries.
To this day, the legendary Mazda B-Series REPU (Rotary Engine Pick-Up) was the first and only truck that came fitted with a rotary engine. Moreover, it was among the first Japanese brands that made it into the mini-truck market on our shores, and it was a huge hit for Mazda. The goal was simple… Make a truck that's better-built than the Americans, be practical, and put a sensible motor in it.
 

View this post on Instagram

 
In more ways than one, they succeeded. The REPU's 1.3-liter Wankel rotary engine, for example, can output an impressive 110hp. Back in the mid- to late-1960s, it was a very mighty figure. Plus, it'll rev up to over 7,000RPM, at a time when Detroit's trucks would struggle to get past 4,500. Owing to the high torque figures, hauling loads is pretty effortless, and its 1,400lbs payload rating is respectable.
Though not impressive, what more could you expect out of a tiny truck? Furthermore, the REPU is a lot more lightweight and compact than American-built trucks of the era. In the end, they've made a sporting, easy-going, yet practical truck for American buyers. Though the Gas Crisis killed the REPU, Mazda would continue selling trucks in the US for 37 whole years, with its last B-Series in 2009.
Mazda BT 50
With the passing of the B-Series, Mazda unveiled the BT 50 as its successor. Generally, the BT 50 is a lot larger than the B-Series. Some folks had hoped that a Mazda BT 50 USA variant would make the journey here eventually with the help from Ford. After all, the 1st- and 2nd-generation BT 50s were built in collaboration with Ford's overseas divisions in Europe, Australasia, and South Africa.
Underneath, the earlier BT 50 trucks were built on the Ford Ranger's platform. It even had the Ford Ranger's powertrain and running gear. Although, the BT 50 was heavily redesigned, re-trimmed, as well as re-engineered by Mazda. But even with their tie-up with Ford, Mazda never offered their BT 50s here in the US… Or even in Japan, their home market. It appears even more unlikely now.
After the Mazda-Ford partnership ended, Mazda partnered with Isuzu to make the 3rd-generation BT 50. First unveiled in mid-2020 in Australia, the 3rd-generation BT 50 was developed atop Isuzu's popular D-Max pickup truck. It was a huge departure from the earlier, Ranger-based BT 50s. It was revealed that Mazda never had a hand in the development of the 3rd-generation Isuzu D-Max.
Instead, Isuzu would pass on finished D-Max trucks over to Mazda. Nevertheless, that's not to say that the new BT 50 is a straight-up rebadge. The underpinning structure and general shell are shared with the D-Max. However, Mazda has redesigned the upper body panels to echo their new Kodo design language. This is quite apparent from the front, which is akin to Mazda's other cars like the CX-9.
Mazda BT-50 First Generation (2006 To 2011)
But let's roll time back a decade and a half to study more closely about the history of Mazda's BT 50 trucks. Perhaps, this might shed some light as to why a Mazda BT 50 USA arrival hasn't yet come to fruition. The first-generation BT50 – which replaced the B-Series – came in 2006. Technically, the UN-generation BT 50 is related to both the Ranger and Everest, back when Mazda worked with Ford.
As such, the UN BT 50s were powered by Ford's Duratorq MZR-CD 2.5-liter and 3.0-liter inline-4s. All of which were turbocharged diesel engines. These were mated to either a 5-speed automatic or a 5-speed manual. Being a hardy truck, you could spec them with rear- or four-wheel-drive. Depending on where you are (Mexico, Central America, and South America), you might get different engines.
 

View this post on Instagram

 
The UN-generation BT 50s sold there could be had with the same engine and transmissions as the outgoing B-Series trucks. As with the present-day BT 50s, you could configure them as a single cab, extended cab, or dual cab trucks. Having shared the same manufacturing resources as Ford, meant Mazda could distribute the BT 50 more widely. The initial batch of trucks was Thai-made.
However, this expanded to Ford-Mazda's shared plants in Colombia, Zimbabwe, and South Africa. Just like the later BT 50s, not a single model was either built or sold in either the USA or its home country in Japan. The BT 50 was a relatively strong seller for Mazda, encouraging them to pursue making more trucks in the years to come. The final UN-generation BT 50 was built in 2011.
Mazda BT-50 Second Generation (2011 To 2020)
As with the first-generation BT 50, the UP- and UR-generation BT 50s were based on Ford's Ranger. Interestingly, the looks were penned by Mazda's design team that was based at Ford's Australian design center. Although, they worked independently on the styling of both the BT 50 and Ranger. A handful of exterior components were shared, such as the windshield, roof, and rear windscreen.
Nonetheless, the remainder of the body panels were unique to both models – the BT 50 and Ranger. With that being said, the platform underneath is of course shared between them. They both ran on the same engines, an updated set of Duratorq MZ-CD motors. These were either a 2.2-liter (inline-4 diesel) or a 3.2-liter (inline-5 diesel). The latter is actually more powerful than today's BT 50s.
 

View this post on Instagram

 
Gearbox-wise, you'll find either a 6-speed manual or a 6-speed automatic. Having been unveiled in the 2010s, the new BT 50s (and Rangers) naturally had more interior tech than the old BT 50s. This meant the inclusion of Apple CarPlay and Android Auto (they're among the first to do so). For most of its lifespan, the UP- and UP-generation Mazda BT 50s had no significant mechanical updates.
Despite being launched in Australia and having a huge following there, the BT 50 was never built in Australia. Instead, the second-generation BT 50s were only built in Ford-Mazda's plants in Thailand or South Africa. Altogether, the second-gen BT 50 was on the market for a very long time – through to the 2020 model year. It was then replaced with the hugely anticipated TF-generation BT 50.
Mazda BT 50 Background
While we can't (not yet, anyway) get a Mazda BT 50 USA model, we still can't help but notice some of the details. The latest BT 50 is powered by 2 Isuzu-sourced engines. There's a 3.0-liter turbodiesel inline-4 with 188hp and 332lb-ft of torque or a smaller 1.9-liter inline-4 with 148hp and 258lb-ft of torque. As for the transmissions, you can choose either a 6-speed manual or a 6-speed automatic.
Currently, the BT 50 can be specified with a wide range of body styles. The smallest and most work truck-like of the lot is a 2-door single cab variant. Meanwhile, there's a 4-door extended cab as the mid-range picking which features rear clamshell doors. Otherwise, their largest offering is a 4-door double cab variant. What's most interesting with the BT 50 is its abundant inclusion of tech.
For instance, you could now get the BT 50 with adaptive cruise control. But instead of mounting the sensors in the grille, Mazda instead placed the twin forward-facing cameras at in the windshield. It would allow you to have a lot of room for installing off-road accessories on the front without then having to obscure the sensors. Depending on the trim, it comes with a lot of safety systems, too.
There's the usual autonomous emergency braking, blind-zone monitoring, rear cross-traffic alerts, and lane-keep assistance, among others. When compared to Isuzu's D-Max, the Mazda BT 50 is a much more luxurious option. The interior, for example, features a lot of leather upholstery, and a jam-packed infotainment system. Its overall feel is just as upmarket as Mazda's other models.
Mazda BT 50 Specifications
Note, some of these specifications are direct conversions from Australian BT 50s (also, these pics are from our review of the D-Max, but it's close enough to the BT 50)…
Power- And Drive-Train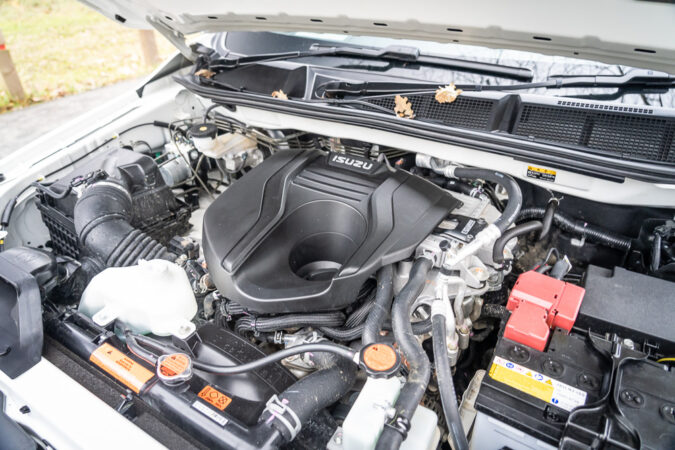 Engine type: Inline-4, dual overhead cams (DOHC), 16-valve
Fuelling system: Electronic fuel injection, common rail
Fuel tank size: 76-liters (20 gallons)
Performance:
1.9-liter RZ4E-TC GEN2 turbocharged inline-4 (diesel), with 148hp and 258lb-ft of torque (peak power at 3,600RPM and peak torque at 1,800RPM to 2,600RPM)
3.0-liter 4JJ3-TCX turbocharged inline-4 (diesel), with 188hp and 332lb-ft of torque (peak power at 3,600PM and peak torque at 1,600RPM to 2,600RPM)
Transmissions:
6-speed Aisin AE6 manual gearbox
6-speed AW TB60-LS automatic gearbox
Drivetrain:
4×4 (four-wheel drive)
4×2 (rear-wheel drive)
Differential lock: Yes (rear only, for the 4×4 variants)
Fuel economy:
1.9-liter turbodiesel – 33.60mpg
3.0-liter turbodiesel – 30.55mpg (4×2 dual cab automatic, 4×4 dual cab manual)
3.0-liter turbodiesel – 29.40mpg (4×2 dual cab chassis, 4×4 dual cab automatic)
Steering: Hydraulic power-assist steering
Suspension: Double-wishbone (front) and leaf springs (rear)
Brake: Ventilated disc (front) and drum (rear)
Dimensions And Payload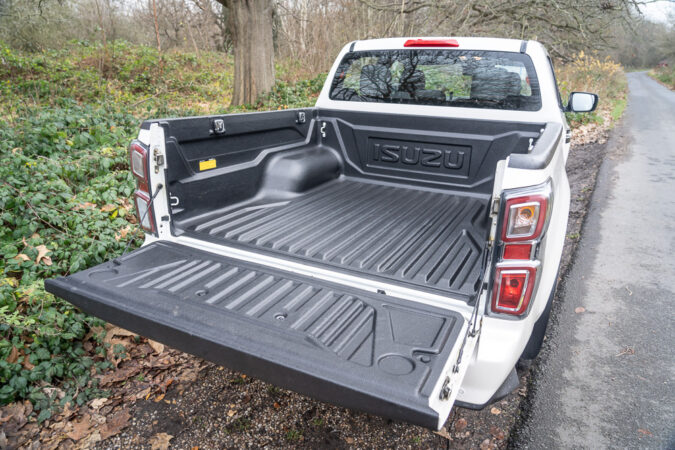 Length:
Dual cab – 5,280mm (207.9 inches)
Single cab – 5,320mm (206.5 inches)
Wheelbase: 3,125mm (123.0 inches, both dual and single cabs)
Width:
Dual cab – 1,870mm (73.6 inches)
Single cab – 1,810mm (71.3 inches)
Height: 1,770mm to 1,810mm (69.7 inches to 71.3 inches – depending on the trim)
Ground clearance: 220mm to 240mm (8.7 inches to 9.4 inches)
Wading depth: 400mm to 800mm (15.7 inches to 31.5 inches)
Payload:
Curb weight – 1,800kg to 2,010kg (3,968lbs to 4,431lbs)
Gross weight – 2,800kg (6,173lbs)
Towing capacity – 7,716lbs (with the 3.0-liter engine)
Bed length:
Dual cab – 1,571mm (61.9 inches)
Single cab – 2,345mm (92.3 inches)
Bed width:
Dual cab – 1,120mm (44.1 inches)
Single cab – 1,120mm (44.1 inches)
Load bay height:
Dual cab – 490mm (19.3 inches)
Single cab – 465mm (18.3 inches)
Tire size:
Dual cab – 255/65/R17 or 265/60/R18 (depending on the trim)
Single cab – 205/R16C
Optional Equipment And Trim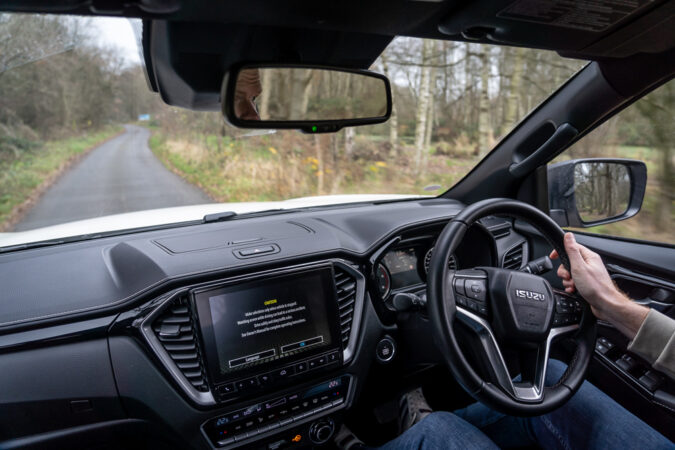 Start-stop: Yes (standard on most models, but not equipped on some single cab variants)
Cruise control: Yes (also available with adaptive cruise control as an optional extra)
Gauge cluster:
3.5-inch monochrome display
4.2-inch TFT-LCD color display (standard on higher trim levels)
Infotainment system:
7-inch display with Apple CarPlay and Android Auto
9-inch display with Apple CarPlay and Android Auto
Multimedia system: Radio with CD (for commercial tiers without an infotainment screen), MP3, AUX, USB, and Bluetooth (standard with the infotainment system)
Speakers: 2, 6, or 8 speakers (depending on the trim)
Air conditioning: Available with dual-zone climate control and rear vents (on the higher end trims)
Front seat adjustment: 4-way manual, 6-way manual, or 8-way power adjustment (with manual lumbar support)
Upholstery material: Leather or fabric (depending on the trim)
Exterior color options: Rock Grey Mica, Gunblue Mica, Ice White, Red Volcano Mica, and True Black Mica
Safety Systems And Driver Aids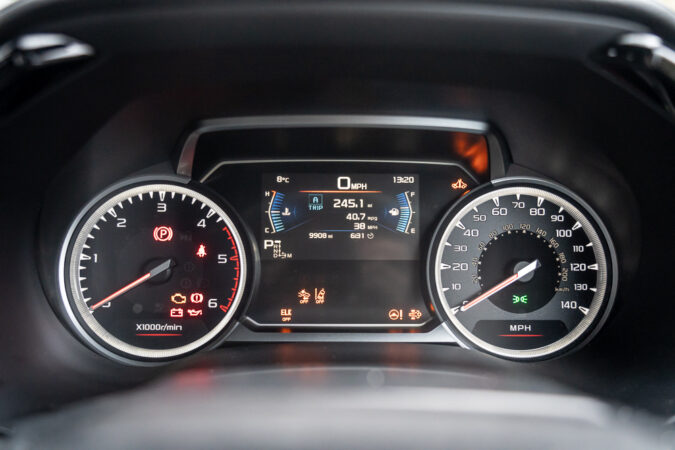 Airbags: 2 (driver and front passenger), or 7 (driver, front passenger, side, curtain, and driver's knee)
ABS (anti-lock brakes): Yes (with electronic brake-force distribution and brake assist)
Electronic stability control (ESC): Yes (with traction control and emergency stop signal)
Hill descent control: Yes (with hill launch assist)
ISOFIX: Yes (with child restraint anchor points and tethers)
Anti-theft systems: Immobilizer and anti-theft kit (lower commercial trims only get the engine immobilizer)
Automatic high beams: Yes (only on the higher end trims as an option)
Blind-spot monitoring: Yes (in some trims as an optional extra)
Rear cross-traffic alerts: Yes (in some trims as an optional extra)
Lane-departure warning: Yes (in some trims as an optional extra)
Forward collision warning: Yes (in some trims as an optional extra)
Auto emergency braking: Yes (in some trims as an optional extra)
Adaptive cruise control: Yes (only on the higher end trims as an option)
Warranty: 5-year manufacturer warranty or the first 100,000km (whichever comes first)
Will The Mazda BT 50 Come To The US
Since it was unveiled two years ago as of 2022, there's not yet been any plans for Mazda to bring its BT 50 to the US. For now, Mazda is focused on their largest truck markets like Australia or Thailand. Speaking of, Mazda's production of the BT 50 truck is piggybacking off of Isuzu's Samrong plant in Samut Prakan, Thailand. This is the same assembly plant where the D-Max is being built.
For those wondering if Mazda or Isuzu would import their trucks (either the D-Max or the BT 50) to the US, it's unfortunately not a realistic scenario. This is all due to the infamous 25% Chicken Tax of the 1960s. While that tax covers a wide variety of goods, it also covers light trucks, which both the BT 50 and D-Max are. Should they import either truck to the US, it'll have to account for this.
In the real world, it means that either… A) Mazda or Isuzu bears the added tax on their own (which isn't realistic either, owing to the high costs of making a truck, in the first place)… or B) customers who'd want a BT 50 or D-Max will have to pay a huge premium tacked on top of them to help pay for that tax (which would severely limit the customer base). In the end, importing isn't a feasible option.
The only other way that Mazda (or Isuzu) could bring the BT 50 into the US is by building it here. That means having to accommodate either one of Mazda's plants in the US to build the BT 50. Mazda's USA operations are borne at two factories – one in Flat Rock, Michigan, and the other in Huntsville, Alabama (this is co-owned and co-run by Toyota). The latter of which makes Mazda's SUVs.
Facts about the Mazda BT-50:
Mazda might expand its business quickly by introducing the BT-50 truck.
The BT-50 truck is no longer in partnership with Ford, which will open up more markets for it.
Mazda is close to adding a six-cylinder engine to the BT-50 lineup.
The truck will undergo revisions and updates as part of a facelift or mid-cycle refresh.
The BT-50 currently uses a 3.0 and 1.9 liter diesel engine which is not suitable for the US market.
The BT-50 will introduce a 3.0-liter engine with 323 hp and 369 lb-ft of torque.
There are other options, such as a hybrid configuration with a PHEV system capable of producing 250 hp and 405 lb-ft of torque.
The BT-50's current unibody architecture is a downside as it needs durability and towing capacity.
The BT-50 diesel engine will produce 230 hp and 370 lb-ft of torque, with increased towing capacity.
The release date for the Mazda BT-50 in the US is still uncertain, but Mazda's ultimate goal is to bring the truck to the US market.
Final Thoughts On Mazda BT 50 USA
With that being said, it's not an impossibility for a Mazda BT 50 USA variant to arrive on our shores someday. Right now, Mazda BT 50s are widely available in Australia, New Zealand, Thailand, much of Southeast Asia, Central America, South America, Africa, and the Middle East. Mazda's own execs have hinted that the BT 50 may come to the USA, assuming there's some customer demand.
Recently, we've seen a massive rise in interest for smaller trucks. I mean, look no further than Ford's latest Maverick, or established nameplates like the Honda Ridgeline. Therefore, there's justification for Mazda to add to this frankly minimal selection with the BT 50. From what we've heard (and based on our own experiences with a D-Max), it's the perfect blend between a work truck and a cozy runabout.
As a regular pickup for practical reasons – hauling stuff, towing, off-roading – it has the capabilities, no doubt aided by Isuzu's lengthy experience in truck-making. While power doesn't seem anywhere near as burly as Detroit's offerings, it's more than sufficient as a work truck. Better still, the Mazda BT 50 is a huge step-up from the D-Max if you're planning to use this more for urban cruising.
Compared to the D-Max, Mazda's idea of a truck is elegantly designed and would fit neatly in any urban landscape. Sitting inside, and while there are some Isuzu electronics, it's a very plush truck. There's ample leather, tech, and comfort to keep you cossetted. We very much hope Mazda starts offering it here. So, if you really want one, keep shouting, and maybe Mazda will start listening.
FAQs On Mazda BT 50 USA
If you're still wondering about a Mazda BT 50 USA entry, our FAQs here might have the answers…
Will Mazda BT 50 Come To The US
The BT 50 replaced Mazda's venerable B-Series trucks and still remains strong to this day. However, unlike the B-Series (which was sold in the US), there was never an American homologation of the BT 50. Mazda's earlier first- and second-generation BT 50s were co-developed alongside Ford and their Ranger pickup truck. Even then, Mazda never brought it to the US. Now, their new third-generation BT 50 launched with great fanfare in truck-loving markets like Australia and Thailand. At least, the execs at Mazda have been very open to the idea of bringing the BT 50 to the USA. It will all depend on how much demand and anticipation there is for the BT 50 among American truck buyers.
Is A Mazda BT 50 The Same As A Ford Ranger
Mazda's first- (2006 to 2011) and second-generation (2011 to 2020) BT 50 pickups were developed alongside Ford and their Ranger. Technically, much of the running gear (engine, transmission, and other mechanicals), as well as the underlying platform, are practically identical between the BT 50 and Ranger. However, there was a bit of a divergence in the second-generation BT 50. The styling was largely penned by Mazda's own designers, not Ford's. As such, only the windshield, roof, and rear windscreen were shared between the BT 50 and Ranger. Otherwise, most of the body panels were distinct on the BT 50. Mazda and Ford stopped working together by now, which is why their third-generation BT 50 is co-developed with Isuzu (based on their D-Max trucks), instead.
Are Mazda Trucks Available In The USA
Nowadays, Mazda no longer sells trucks either in the USA or even in their home market of Japan. Nevertheless, Mazda sells loads of their BT 50 trucks in other markets. Specifically, markets where pickup trucks are highly popular, such as Australia, New Zealand, Thailand, Malaysia, Africa, and more. That said, Mazda used to sell trucks in the US, as early as the 1960s. The first among them was the REPU (Rotary Engine Pick-Ups). To this day, Mazda's iconic REPU is the first (and so far, only) truck powered by rotary engines. The Gas Crisis of the 70s forced Mazda to rely on a more conventional piston-based engine for their trucks, though. Mazda's B-Series of trucks were sold natively in the US for more than 37 years, before ending production in 2009.