Are you planning to purchase a compact crossover and the Mazda CX50 is one of the most attractive options for you? Well, if that is the case, then you are at the right place because there will be quite a bit to cover on this topic in this article, we are going to cover every detail when it comes to this model.
Doing your own research before you go out there on the market and purchase a car should be one of your top priorities. Currently, there are hundreds of models and in each segment, there are at least a dozen cars that you can choose from.
So, when it comes to the purchase process you might be confused because each manufacturer promises quite a lot but only a few of these manufacturers really deliver the car that you really want. So, is this the case with the Mazda CX-50? Is this model worth the hype? Well, we are about to find out.
First, we are going to learn a little bit about Mazda and its rich history in the US market. Then we will dive into the Mazda CX50. We will learn about the general concept of the model and once we cover the basics, we will move on to the specs, fuel economy, safety aspect, and also the price. We will learn the prices for each of the trims. So, if you want to learn more about the model, follow along.
Who Is Mazda
Now before we dive into more complex topics and start learning about the Mazda CX50. Let's first take a look at Mazda and learn more about its history. We feel obliged to introduce you to Mazda because there are those who are not quite familiar with this brand. So, who is Mazda, and why Mazda is one of the most legendary automakers? Let's elaborate.
Mazda as you probably know is a Japanese automaker. And probably one of the oldest Japanese automakers.
The company was founded in 1920 in Hiroshima by Jujiro Matsuda. What is worth noting is that this company did not start to make cars right away. But started as a cork-making company. And cork is a wood cap that is used to close wine bottles.
It was in 1931 when Mazda produced its first automotive product which was the Mazda-Go rickshaw. A small motorcycle intended for two people.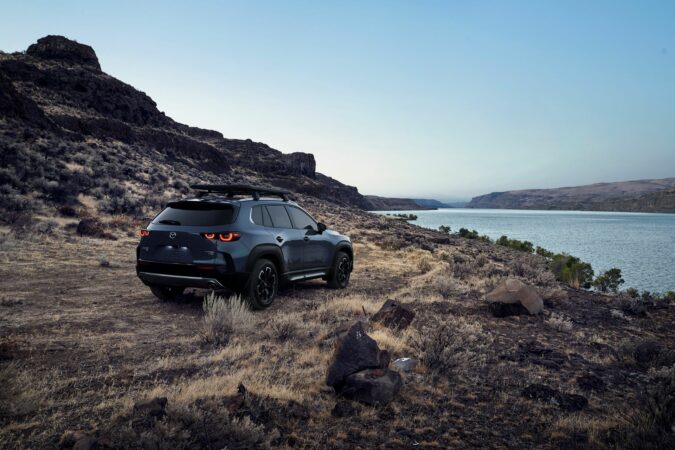 Throughout world war two, the company produced weapons and it was only in 1960 that the first model, the Mazda R360 was introduced. And this model was followed by the Mazda Carol in 1962.
What is interesting to know is that this carmaker started using a very interesting engine layout. Which was the Wankel engine, named after its inventor Felix Wankel. And Mazda included this engine layout in some of its most popular models, like the RX-7 and RX-8.
These two models are hugely popular in the car community, especially when it comes to tuners. Since these engines can create a ton of power. Nowadays Mazda has slowed down a little bit in terms of sales. But they try to introduce new models and the Mazda CX50 is one of them. And more on this model we are going to cover next.
Mazda CX50
Now as we introduced ourselves to Mazda and learned a little piece of the history of this legendary Japanese carmaker. We can slowly move on and start learning about the Mazda CX50. Let's learn more about the core concepts of this model before we dive into the release date and the specs.
The CX-50 is a new model by Mazda. This model is a compact crossover SUV. So, what does this mean? Well, this means that the CX-50 is based on a compact car platform. More precisely, the CX-50 is based on the same platform that the Mazda3 is based on.
At first glance, this model is quite similar to the already existing CX-5 and this confuses a lot of people out there who are new and do not know how this model differentiates from the other.
Even though the CX-50 is quite similar to the CX-5, actually, the CX-50 is quite bigger than the CX-5. The CX-50 was designed to appeal more to the younger audience. As Mazda says, the CX-50 is for people who live more active and outdoor lifestyles. So, the new CX-50 is a bigger and also more rugged vehicle than the CX-5.
So, the CX-50 is positioned between the smaller CX-5 and the bigger CX-9 model. What is good is that the CX-50 is not very expensive and is a really good deal for people who want to get more space for only $1,000 more compared to the CX-5.
And as a vehicle that emphasizes off-road and living an adventurous lifestyle, the Mazda CX50 comes only in an AWD variant. This means no FWD or RWD options. Only AWD is included in the lineup. And as you probably know, this system is active all the time. Just like in the Subaru Forester.
Mazda CX 50 Release Date
So, we learned about the new Mazda CX50 and where it is positioned in the Mazda lineup. Now before we continue with the specs. Let's take a look at the Mazda CX50 release date. When this model will be released exactly?
This model is in fact already been released. The model according to JP Power was released at the end of March 2022.
So, you can make an order for your new CX-50 at any Mazda dealership nationwide. This model that is intended for sale is the 2023 model year. Just in case not to be confused with the years. Usually, when cars are announced, the first year is skipped and the official release starts for the following year.
But what about the specs of the Mazda CX-50? Let's elaborate more on that topic in the following chapters, where we are going to learn all about this model and its features.
Mazda CX 50 Specs
Now let's dive into the Mazda CX50 specs and learn more about which specs this model comes in. As we noted previously, this is a fresh model that was released this year and 2023 is the first model year.
This model precisely falls in the compact crossover SUV class and is based on the same platform as the Mazda3. What is interesting to note is that this model is assembled domestically at the factory in Huntsville, Alabama.
This model comes only as an all-wheel-drive (AWD). So, no other option to choose from. This is why this vehicle is perfect for people who are adventurous in spirit and want to drive more off-road. Since the system in this model is rather capable and can easily compete with the Subaru Outback, or the GMC Terrain AT4.
Still, this is yet to be proven and a lot of car reviewers would probably do some testing to determine how capable is this new Mazda model.
But nevertheless, we learned the basic specs of the CX-50 and learned about the powertrain layout. Now let's cover the rest of the specs starting with the size and practicality aspect.
Mazda CX 50 Dimensions
Now as we introduced ourselves to the Mazda CX-50, we can slowly move on and learn more about the specs of this model. Let's first start with the dimensions and size of the car.
The CX-50 has a wheelbase of 110.8 inches and an overall length of 185.8 inches. The model is 75.6 inches wide and about 63.5 inches tall.
The curb weight of the model is between 3,706 and 3,907lbs. There is a 200lb difference mainly because not all models come with the same engine and equipment. Usually, the entry-level models are lighter and the better-equipped models are heftier.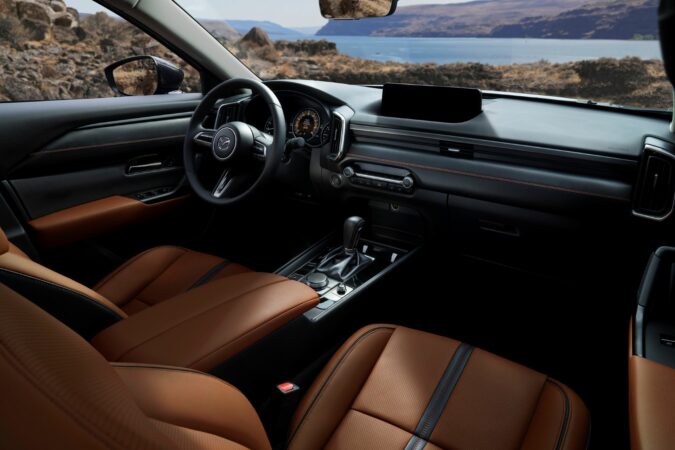 What is important about this model is that it is almost as big as a mid-size SUV. So, it is quite perfect for people who want something bigger but still do not want to get a proper mid-size SUV.
When it comes to practicality, we can say that it is rather a good performer. With the rear seats up, this model gets about 42.6 cubic ft of space, while when the rear seats on the Mazda CX50 are folded down, this space increases to 75.4 cubic ft. Which is quite enough for most cars out there and only 10 cubic ft less than a mid-size SUV.
Which makes the CX-50 a really good deal for those who want more space and do not want to spend a lot for a bigger SUV.
Mazda CX 50 Interior
Now let's take a look at what the CX-50 has to offer when it comes to interior and trim levels. What is interesting to note is that this model has plenty of trims. Which is quite surprising for a new model.
In the US the base trim is the S, then there is the Select, Preferred, Preferred Plus, Premium, and also the Premium Plus trim level which is the highest level possible.
In addition to this, Mazda also offers a Meridian Edition, which is a turbocharged model that is basically the most rugged trim of all of the trims in the lineup.
This trim level implements big 18-inch wheels with all-terrain tires. In addition to this, there are interesting graphics, as well as other accessories that are oriented toward outdoor enthusiasts. So, if you are after the GMC Terrain AT4, you will probably enjoy the Meridian Edition as well.
The interior on the other hand really depends on what you opt-out of. With the Base trim level, you only get the standard features and an 8.8-inch infotainment system with Android Auto and Apple Car Play, and 8 speaker sound system.
While on the Premium trim level, you get a 10.2-inch screen as well as a 12-speaker Bose audio system. In addition to this, you get ventilated front seats, an 8-way adjustable driver's seat, a leather steering wheel, and all the other goodies that come with the Premium Plus trim. But enough on that, let's take a look at the Mazda CX50 engines.
Mazda CX 50 Engines And Transmissions
In terms of engines, it is worth noting that there are two engines included with the CX-50, and both of these engines use Mazda's Skyactiv technologies. The base engine is a 2.5L inline-4 with direct injection that creates 187hp and 186lb-ft of torque.
While the more powerful engine is the 2.5L inline-4 turbocharged engine with direct injection. This engine is probably the engine you need if you want to get a better response from the throttle. This engine creates 227hp and 310lb-ft of torque.
Both of these engines on the Mazda CX50 are paired with a 6-speed automatic transmission with overdrive. But what about the fuel economy of this model, is this model fuel efficient? Let's elaborate more on that next.
Mazda CX 50 MPG
We learned more about the powertrain options that are available in the Mazda CX50 and learned that there are two options available. But how efficient these powertrains are in reality? Let's elaborate.
The 2.5L engine non-turbocharged gets better fuel economy than the turbocharged. The non-turbo version gets 24 mpg in the city and 30 mpg on the highway. The combined fuel economy is 27 mpg which is really good for a vehicle of this size. The gas tank size on this model is 15.9 gallons.
The turbocharged version of the CX-50 gets slightly worse fuel economy of 23 mpg in the city, 29 mpg on the highway, and 25 mpg combined. This model also has a 15.9-gallon fuel tank.
As you can see, based on the numbers, having slightly worse fuel economy for more power is not a deal breaker. Just take note that since this is a turbocharged engine, if you push it really hard, you can expect it to perform much worse than this.
And you will probably get a fuel economy in the low 10s. Turbocharged engines are efficient when you drive them slowly. If you push them hard, they will not be as good in this aspect, especially when you tow. And on how much the Mazda CX50 can tow we are going to elaborate in the following chapter.
Mazda CX50 Towing Capacity
Another very important aspect, especially if you are an outdoorsy folk is the towing capacity of a vehicle. How much the CX-50 model can tow?
In terms of towing this model is pretty average. It can only manage to tow up to 3500lbs. Even though, we would not recommend that you push it this hard because you never know, the transmission and also the drivetrain can suffer from this stress.
This is why you want something quite capable when it comes to towing. It is advisable that you opt for a V8-engine vehicle. Something like the Jeep Grand Cherokee with the 5.7L engine that can tow up to 7,200lbs. And what is interesting is that this model is also in the same class of cars as the Mazda CX-50.
Now once we covered the main bits, let's move on and learn more about the safety that this Mazda CX50 model delivers. Is this model safe? Let's elaborate more on that next.
Mazda CX50 Safety
Now let's address one more topic when it comes to the Mazda CX50. And that is the safety aspect. In other words, let's see how safe this model is for 2022 standards.
This model was tested by the IIHS, which is the Insurance Institute For Highway Safety. They gave the 2023 model "Good" scores on most of the tests. Except for the non-turbo version where this model got an "Acceptable" score because the non-turbo version does not offer the adaptive headlight feature.
But overall, the model is really good in terms of safety as most Mazda models are. The car also got the Top Safety Pick+ award from the IIHS for its really good scores that were scored on their tests. But what about the price, how expensive this model is? Let's learn more about that next.
Mazda CX50 Price
Now let's discuss more about the price and see how expensive the all-new Mazda CX50 really is. Price is also a very important aspect. So, let's elaborate on it in detail.
The price of the CX-50 starts at $28,825. This is the price for the base model of the CX-50. If you want to get something better, then you will have to go for one of the other trims.
Another very important aspect is if you want a turbo or a non-turbo model. A non-turbo base model as we said starts at $28,825. But if you want a turbo, you need to spend $38,425. Which is quite a lot only for a more powerful engine.
And if you want the turbo engine with the Premium Plus package, you will have to spend about $43,575.
So, it is up to you to determine if this model is worth the premium and spending so much money on a compact crossover SUV. When for the same amount of money, you can get a mid-size SUV. The new 2023 Honda Pilot starts at $40,000.
But if you are into off-roading and you are a Mazda enthusiast, then the Mazda CX50 would be perfect for you because it delivers excellent off-road capability. Especially with the Meridian package that is purely intended for off-road use.
Alternatives To The Mazda CX50
So, we covered the specs of the Mazda CX50 and learned that this is a compact crossover SUV that is marketed by Mazda to enter the off-road enthusiast market. But what is the competition of the model? Are there any comparable SUVs?
Well, there are other models. More specifically, there is the Subaru Outback. The Subaru Outback is basically an off-road station wagon. And highly capable one, especially the Wilderness trim level. And this model is in the same price range. The Wilderness starts at about $39,670.
Another alternative that is rather good is the GMC Terrain AT4. The AT4 is a special off-road trim level with improved suspension and an overall more rugged look. This model is also very affordable and starts at $37,395.
Another on our list is the new Ford Bronco. The Bronco starts at $33,900. And you can get a decent spec for close to 40k. So, this is a really good option that you want to check out.
And last but not least is the legendary Jeep Wrangler. The Wrangler is also highly affordable. It starts at only $32,000. And when it comes to off-road, there is hardly anything more capable than the Wrangler.
Mazda CX50: Verdict
In this article, we have covered quite a bit when it comes to the Mazda CX50. First, we learned what is the CX-50 and in which class of cars it falls.
Then we discussed the specs of the CX-50. We learned more about the size and also the trims in which it is available. We then discussed the engine options, fuel economy, and price. Lastly, we covered the alternatives that you can get for the same amount of money.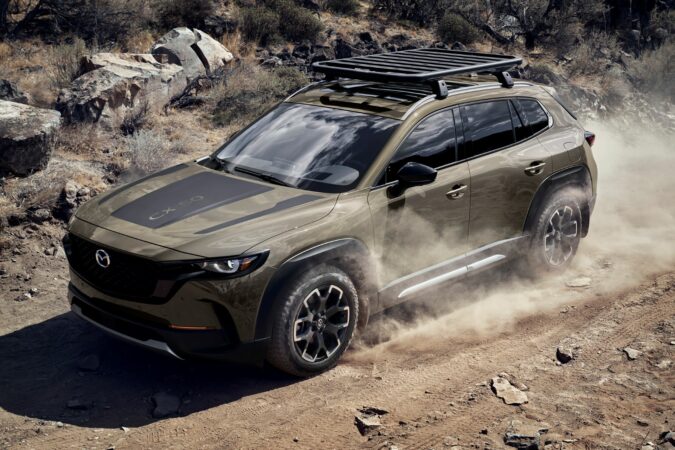 FAQs On The Mazda CX50
Now let's answer some frequently asked questions.
Is Mazda Japanese
Yes, Mazda is a Japanese automaker. They were founded back in 1920 as a cork-making company. But starting in the 1960s they entered the car-making business and created a lot of legendary models that we all cherish and love today.
Who Owns Mazda
Mazda is owned by Mazda. This company does not have an owner. Even though Toyota Motor Corporation has a 5% share in Mazda. This means that even Toyota supports Mazda and its car-making business.
Does Ford Owns Mazda
No, Ford does not own Mazda. Ford had a 33% stake in Mazda until 2015 when they sold their shares. The two companies were partners and created a lot of models together. But unfortunately, they decided to split.
Where Is Mazda Made
Their main factories are in Hiroshima, Japan. But they also have a factory in the US that is shared with Toyota in Huntsville, Alabama where the new CX-50 is assembled.
Why Mazda Is Not Popular
Mazda lost its popularity mainly because it didn't create products to meet the demands of the customers. Simple as that. So, the customer base started to go away to competitors. But Mazda is still trying to bring some of the sales back and they offer some good models like the CX-5 and CX-50.
Are Mazdas Good On Gas
Their current models are good cars. But the ones they did with Ford, probably not so much. These are rather problematic models that you probably want to avoid.
Image Notes:
Mazda-CX50.png sourced from https://insidemazda.mazdausa.com/press-release/mazda-reveals-all-new-cx-50/
Mazda-CX50-2-1.jpg sourced from https://insidemazda.mazdausa.com/press-release/mazda-reveals-all-new-cx-50/
Mazda-CX50-3.jpg sourced from https://insidemazda.mazdausa.com/press-release/mazda-reveals-all-new-cx-50/
Mazda-CX50-1-1.jpg sourced from https://insidemazda.mazdausa.com/press-release/mazda-reveals-all-new-cx-50/