The Mazda RX8 R3 was Mazda's last rotary-powered sports car before the Japanese manufacturer decided to discontinue the RX range in 2012. In this article, I'll tell you everything there is to know about the R3. This includes highlighting its exterior, interior, and performance, before delving into some common issues. And, what an RX8 is like to own. Here's a short overview of what you can expect to find in this article:
Mazda RX8
The Mazda RX-8 story begins with its predecessors, namely the now-iconic RX-7. Heralded as one of the best and most unique sports cars to come out of Japan, the RX-7 holds a very special place in JDM culture.
It's the car that kick-started the entire JDM craze back in the late 1990s and early 2000s, along with the Toyota Supra and the Nissan R34 GT-R.
A lot of people know the RX-7 because of its appearance in the third installment of the 'Fast and Furious' movies, called 'Tokyo Drift'. In the movie, the character Han drifts an orange Veilside-equipped RX-7 through a busy Tokyo intersection as the crowd disperses and steps aside as the car is approaching.
The RX-8 story doesn't begin until 2002 though when it first made its debut at the North American International Auto Show. Despite some negative feedback criticizing it for its contemporary styling and bulkier size, people were generally pleased to hear that Mazda decided to stick with a "Wankel" rotary engine instead of a conventional piston motor.
Advertised as a 2+2 coupe, the RX-8 is a unique proposition in its segment not just because of its bespoke engine, but because it's got four doors. Throughout the years the RX-8 went through several minor upgrades, but most were special editions either specifically built for the UK or Japan.
I recently did a full article highlighting every single RX-8 edition ever built, where I discuss specs and what makes each edition so special.
RX8 R3
In 2008 Mazda introduced the 'second-gen' RX-8, but it was more of a facelift really. Mazda themselves were calling it a mid-cycle refresh at the time, which accurately portrayed what it was.
The R3 version first made its appearance in Japan as an extremely limited model. It was then reintroduced worldwide in 2009 as the R3 face-lift. The most significant change was a standard Sports Styling Pack which included a new front bumper, new side skirts, and a new and much sportier rear wing. It also got bigger 19-inch wheels and 225/40 tires all-around.
The changes are more than just skin-deep though, as Mazda worked extremely hard to make the new R3 drive a lot better than its predecessor, but we'll get to that later on in the article.
Timeless Design
Visually, the R3 upgrades do wonders for the car's styling in terms of making it look more modern and new. Of course, a lot of people still prefer the way the first-gen RX-8 looks, but most will agree the newer car is the better-looking one.
The front fascia's all-new bumper includes a much wider grille in the middle with even bigger air dams on either side. The air dams incorporate small plastic shrouds which hide the foglights inside.
Sitting behind the large air openings you can actually see the radiators, so they're not just there for show, but are completely functional. I'm not the biggest fan of the little horizontal plastic trim piece above the main grille, but that's a minor complaint.
The Mazda RX8 R3 also gets new headlights which are noticeably larger than the ones found on the pre-facelift model. They've also replaced the black shrouds inside the housing with silver ones, to open up the front end and give it a more modern look.
I love that they've kept the same triangle-shaped bulge in the hood indicating that it's hiding a rotary engine underneath. People loved that about the first-gen RX-8, so it's great that Mazda listened to its customers and their feedback, and decided to leave it untouched.
From the side, the larger and more sculpted skirts do a much better job of connecting the front and the back wheel arches. Thanks to them, the R3 looks lower and more hunkered down compared to its predecessor (although it actually is slightly lower).
Different Taillights
At the back, the first thing you'll probably notice is the new taillights. The first-gen RX-8 was famed for having those extraordinary clear taillights with intricate housing designs. Many people thought they look a bit ricer-y (Race Inspired Cosmetic Enhancement), but some loved them.
Well, if you're one of those people who didn't like the slightly funky taillights, then you'll probably prefer the R3's units because they're much more restrained. Instead of having a single central shroud inside, the new taillights have two central pieces aside.
Obviously, they've also kept the twin exhaust outlets and the central rotor-shaped foglight, once again reminding people following you that this is a Wankel-powered Mazda. Personally, I don't like the reflective lights just above the exhaust tips, so I think the old RX-8's rear bumper was cleaner in that regard but to each their own.
RX8 R3 Size And Dimensions
The Mazda RX-8 R3 has a wheelbase of 2,703 mm (106.4 inches) and is 4,470 mm (176 in) long, making it less than half of an inch longer than a BMW M2. Seeing them in isolation, you'd definitely think the RX-8 is the bigger car, but line them up next to each other and there's really nothing in it.
I'm not trying to compare the RX-8 to the M2 since they're in very different price and performance brackets, but it just goes to show how compact the RX-8 is despite what some people on the internet would have you believe.
The reason the RX-8 looks so long is because it's actually a very narrow car. Measuring in at 1,770 mm (69.7 in) wide, it's a dwarf in comparison to the M2's 1,984 mm (78.1 in) width. The RX-8 is a product of an era when large body kits and flared arches weren't as much of a thing as they are today, so it's no wonder it's more constrained.
That being said, the RX-8 is relatively low compared to most other cars on the road, as Mazda's whole philosophy with the Wankel engine, and the RX-series as a matter of fact was lightweight and had a low center of gravity. The Mazda RX8 R3 is 1,340 mm (52.8 in) tall, some 3.2 inches lower than the BMW M2.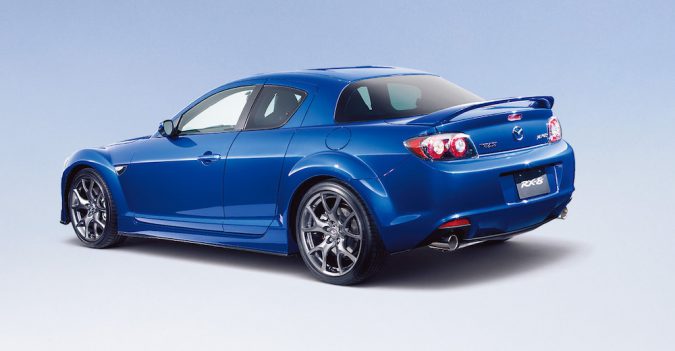 It tips the scales at anywhere between 1,309 and 1,373 kilograms depending on trim and optional equipment, which is relatively lightweight by today's standards. The automatic variant is obviously a little heavier at 1,384 kilograms.
For reference, consider this: a BMW M2 weighs 1,495 kilograms, and the M2 Competition is a right porker at 1,625 kg. The GT-86, a car many people often compare to the RX-8, is 100 kg lighter than the Mazda, but then again it's physically a lot smaller (5 inches shorter wheelbase) and it has less power.
RX8 R3 Interior
Stepping inside the cabin feels like walking into some revolutionary new concept car the first time you do it. Open up the large front door and the suicide-opening rear door, and you're suddenly greeted by a large cabin opening that wouldn't look out of place on a Rolls-Royce.
The moment you step inside you realize this is a well-thought-out cabin with excellent build quality. The materials feel great for what the car is, and bar a few cheap plastics here and there, nothing really feels out of place or squeaks and rattles.
The dashboard is simple and elegant. Although you might call it boring or dull, it's withstood the test of time. These days, it still looks great. A lot of cars trying to innovate in this segment will end up feeling dated after a decade, but not the RX-8.
The center console has a great layout too. All of the buttons are where you'd expect them to be (and they're actual physical buttons). Operating everything inside the car feels as easy as one-two-three. It's an extremely ergonomic design. Still, I wouldn't have expected anything else from a company like Mazda.
Interior Space
For a sportscar of this size, the Mazda RX8 R3 is ridiculously roomy inside. You'd have to be a 10-year-old child. Or, have absolutely no legs to climb in the back of an M2, and the GT-86 isn't much better either.
The RX-8, by comparison, can accommodate four adults in relative comfort with ease. It's not a 7-Series by any stretch of the imagination. Yet, rear legroom is adequate to the point where even taller drivers don't have to scoot forwards to give passengers in the back more room.
Despite being suspiciously narrow on paper, the cabin feels wide once you're inside. This isn't a Lotus-like ordeal where you'll be touching shoulders with your passenger constantly and occasionally rubbing legs.
Because of how flat the RX-8's sides are, designers have been able to maximize interior space and stretch out the cabin nearly as much as the car is wide.
What's really surprising is the amount of boot space the RX-8 offers. At 290-litres and change, the RX-8 won't win any practicality tests any time soon. Although, it does offer decent room for a weekend getaway or for doing the weekly shopping.
RX8 R3 Features And Gadgets
Being a ten-year-old car at this point, the Mazda RX8 R3 is starting to show its age in terms of gadgets and features, or the lack thereof to be precise. You won't find any fancy touchscreen display with Android Auto or Apple CarPlay here. In fact, you won't even find a central display at all.
You control everything through various buttons either on the console or the steering wheel. Meanwhile, most of the information is presented to you on the small display lodged at the top of the dashboard.
That being said, the instrument cluster looks surprisingly modern despite the fact that it's analog. Divided into three separate sections with circular shrouds, it gives the car a sporty feel. The dials are also clear to read and the colors are vibrant.
As far as features go, it won't wow you with lane keep assist or automatic cruise control. Still, it does have the bare necessities such as A/C, a radio, and a remote trunk. If that's not enough, there's also an excellent 9-speaker Bose surround sound system.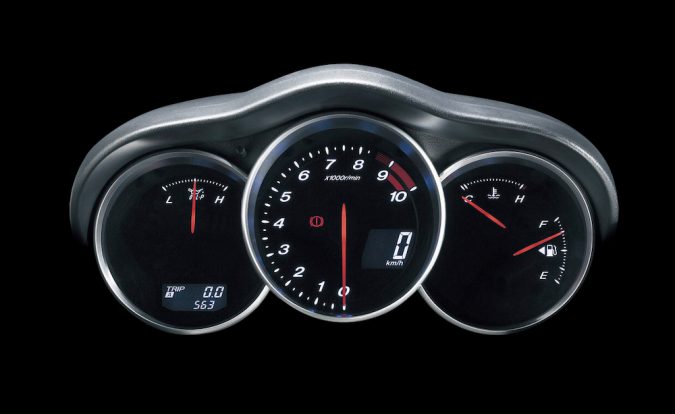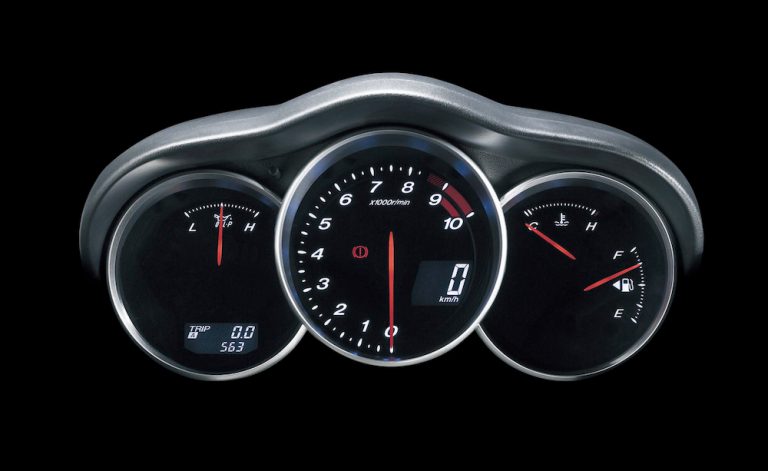 RX8 R3 Incredible Driving Position
Too often I get inside a car and think to myself how the driving position is all wrong. I don't care if it has 1,000 horsepower. If the seating position is rubbish then you're not going to enjoy the driving experience, end of.
Mazda's engineers were obviously well aware of this when designing the RX-8. So, they crafted what must be one of the loveliest seating positions ever made. You sit nice and low in the car, giving you that cocooned experience we all crave for.
I don't want to say become one with the car because that's a bit cliché. Yet, you do genuinely get to experience how the car behaves and moves underneath you a lot better exactly. And that's all because of the driving position.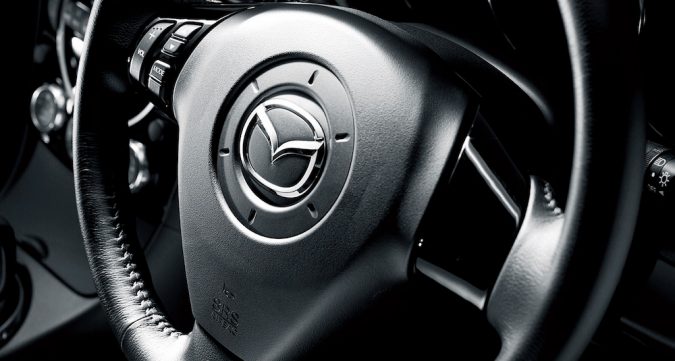 The seats are wonderfully comfortable but they manage to be supportive at the same time. You can cover a lot of ground in an RX-8 without getting too tired. But, that's not what this car was made for.
If I'm honest, I have to say that the steering wheel looks dated but it feels great. It's exactly the right size and shape, with a great three-spoke design. The M2's steering wheel, for instance, feels too thick. It's almost like it was made for the Hulk, but not so the one in the RX8.
The pedals are perfectly offset for heel-and-toe and the shifter is in exactly the right place so that you never miss a gear when you go for a gear change. You get what I'm aiming at, don't you? It may not have the best features. However, everything that truly matters for a great driving experience is spot on in the Mazda RX8 R3.
RX8 R3 Specs
The engine in the Mazda RX8 R3 is a 1.3-liter naturally-aspirated two-rotor producing 228 bhp and 156 lb-ft of torque. It's an evolution of the engine in the pre-facelift model, introducing an improved oil-metering system and a new knock sensor.
It's basically the same engine from the first-gen RX-8. But, with a few alterations to make it more reliable. On top of that, sorting out some of the kinks Mazda was able to find throughout the car's first lifecycle.
Engine Characteristics
To drive and enjoy on the road, rotaries have to be the sweetest engines ever made. Because it's only got 156 lb-ft of torque, you have to absolutely rev its nuts off to get anywhere. This is exactly why so many people love the Wankel motor.
The redline is a staunching 9,000 rpm and it'll happily go up and down the rev range all day long. It loves to be thrashed and it'll reward you kindly for doing so.
Whenever I drive a regular car hard I always feel slightly bad. It's because I have this impression that I'm ruining the car. I know some of you share the same mechanical sympathy as me and probably feel the same.
Linear Power Delivery
With a rotary, you don't get that because of how smooth the engine is. It feels just as buttery-smooth at 9,000 rpm as it does at 2,000. The only real difference is that at 9,000 rpm it makes a much sweeter noise. In addition, it propels you towards the horizon at a quicker pace.
The Mazda RX8 R3 sends its power to the rear wheels through a six-speed manual. Though, you can also find examples using a 6-speed auto as well. Personally, I think you'd have to be a bit mad to get an RX8 with an auto. This is simply because how much the driving experience it's able to offer you depends on rowing gears yourself and wringing its neck.
The great thing is that you get to enjoy all of its power most of the time. Get a BMW M2 and you'd struggle to keep your foot in it for more than two seconds for fear of ending up in jail. The Mazda RX8 R3, by comparison, is a quick car, but not exceptionally fast. However, a lot of owners do look at LS engine swaps or turbo kits if they want more power.
It'll get to 62 mph in 6.4 seconds and top out at 146 mph. Both those figures are more than enough to have fun on the public highway. But, without losing your license every time you go out for a spirited drive.
RX8 R3 Chassis Dynamics
The new Mazda RX R3 features significant chassis improvements over its predecessor too. The bodyshell was stiffened by several percentage points. Plus, it also got new bushes, springs, stiffer dampers, and revised anti-roll bars. Mazda even brought in Bilstein to tune the sports suspension.
Elsewhere, we also saw a urethane-filled front cross member for better isolation and less noise. As well as, a re-tuned rear multi-link suspension. All these changes add up to create a car that's not just better on paper compared to its predecessor. But, it feels like it is behind the wheel too.
The old RX-8 had great steering and chassis. Although, it didn't wow you from the get-go. Hence, why a lot of people criticized it and compared it to the RX-7. The Mazda RX8 R3, on the other hand, feels alive from the moment you get behind the wheel and turn the key.
The stiffer body means less body roll and even more cornering grip. But, you can still get the rear to squirm around a corner exit if you give it a bootful of throttle. It's wonderfully childish and utterly joyful at the same time. All the while, making you grin ear from ear each time you do it.
The brakes are decent, but I wouldn't trust them to survive a whole track day if you plan on tracking the car. Maybe change the brake pads for a more aggressive compound or even replace the braking fluid for one with a higher boiling point.
Don't even think about tweaking the suspension yourself or replacing the shocks since you'll just make it worse. Unless you plan on making it a dedicated track car and know what you're doing, it's best to leave the suspension setup alone as the car feels pretty much perfect as is.
Common Issues
The RX-8's single biggest drawback is that it likes to guzzle fuel at a ridiculous rate. It's not uncommon to see mid-to-high teens if you're pressing on and low teens or even single figures on track.
Common faults with the Mazda RX8 R3 include but are not limited to poor compression, sticking SSV or tune valves, damaged catalyst, ignition coils, and bad/worn actuator on the manifold. Most of these can lead to the car flooding on startup.
Earlier cars also had issues with oil metering pump failures and starter motors, but by the time Mazda got round to making the facelifted R3 they had mostly sorted those out.
The most common 'internet issue' people like to discuss online is worn apex seals, but they can easily be diagnosed because they come with a variety of serious issues and tell-tale signs. Poor compression is one of them, as are hard cold starts and frequent misfires.
I recommend getting a third-party inspection before committing to any purchase. That'll give you peace of mind and it'll guarantee you don't end up with a lemon. If you do end up with a lemon, not all is lost as there are lots of engine swap options for the RX8.
Competitors
The RX's main competitors are cars like the Audi TT and the Alfa Romeo Brera. But, I'd argue they're not in the same bracket. After all, they're both physically smaller cars, not to mention they're way less fun to drive.
Comparing a Brera to an RX8 for the driving experience is like comparing a burger to dining at one of Gordon Ramsay's restaurants. You can't compare the two.
The Mazda RX-8 R3's main competitor is, in all honesty, the Toyota GT-86. Although they're both excellent cars and I adore the 86, for sheer excitement, the RX-8 is the better car. This is simply because of that marvelous engine.
Facts about the 2009 Mazda RX-8 R3:
The car offers excellent handling and responsive steering with performance suspension parts.
Recaro seats and a short shifter give the car a sports car feel.
The car suffers from poor acceleration and bad fuel economy.
Navigation isn't available with the R3 trim.
The R3 trim attempts to solve the torque problem through revised gear ratios, but the engine remains unchanged.
The car's lack of acceleration is noticeable during an off-the-line performance.
The RX-8 R3 comes with a 300-watt Bose audio system as a standard feature.
The car comes with a smart key system and Bluetooth cell phone integration, which can be operated through voice command.
The 2009 Mazda RX-8 R3 has a unique look with its distinct doors, full front doors, and half suicide doors in the rear.
The car is expensive for its level of performance, and its lack of navigation and MP3 capability and poor fuel economy lower its overall rating.
FAQs
If you're still unsure about the Mazda RX8 R3, then our FAQs here might help…
How Much Is A Mazda RX8
If you ever want a fun sports car but don't have a lot of spare cash, the Mazda RX8 is a great choice. Despite being the last rotary-powered production car (thus far), they're relatively affordable, even with 2022's insane used car market. You could find pretty well-used examples for under or around $5,000. Although, nicer and well-kept examples will run you at least $10,000. There's a good reason why RX8s aren't as valuable as they deserve to be, and that all comes down to maintenance. RX8s are notorious for their complex and costly maintenance routine, owing to their RENESIS 1.3-liter rotary engine. It burns through a lot of oil, while also accelerating wear on the spark plugs, ignition coils, as well as catalytic converters. Moreover, it has an appalling fuel economy, so it'll cost you quite a bit to fill up.
Is The Mazda RX8 A Good Car
Absolutely, it's a great sports car, and you get to enjoy one of the best engines ever made. Albeit, the spunk, and linearity of its rotary powertrain do have a flaw – it's not powerful. Here in the US, RX8s are rated to output somewhere between 212hp to 247hp, depending on which variant and transmission you get. The RENESIS engines that came with a high-power 6-port spec are the most powerful ones, which were paired with manual transmissions. Even so, this isn't as impressive as some other sports cars that you can buy for the money. Moreover, the RX8 tends to be pretty tough to maintain, requiring diligent care and servicing. But other than that, it's a practical car, thanks to the inclusion of 4 doors. Plus, the RX8, despite not having all that much power, handles, and corners like a dream.
Does The RX8 Have A Rotary Engine
Yes, the RX8 featured a rotary engine, so-called the RENESIS. It was a 1.3-liter engine, configured as a two-rotor rotary. At the time of its launch, it (as well as the later Mazda RX8 R3) was the only production car in the world to carry a rotary engine. There are many benefits to using a rotary engine over a more conventional piston one. Despite having a small displacement (just 1.3-liters), the RX8 could still crank out a respectable amount of horsepower. And, to compete with higher displacement powerplants. Using a rotary engine, which is more compact and has fewer moving parts, has also allowed Mazda to shave off the RX8's weight. Furthermore, Mazda used this opportunity to move that engine around to further optimize for a 50:50 weight distribution. Thus, improving its dynamics.
How Much Horsepower Does A Mazda RX8 Have
The RX8 came solely with a RENESIS 1.3-liter two-rotor rotary engine. Here in the US, this powertrain does come in numerous forms and configurations. The base-level RX8 trims had a 4-port RENESIS engine that was mated to a 4-speed automatic transmission. These could manage, at most, 212hp (peak power at 7,500RPM) and 159lb-ft of torque (peak torque at 5,500RPM). Meanwhile, the mid-tier RX8s and ones that featured manual transmissions could output a bit more power. Specifically, around 232hp, with peak power at 8,500RPM. Although, there is an even more powerful RX8 variant here in the US. In particular, these came with a high-power 6-port RENESIS engine and a 6-speed manual gearbox. It's North America's equivalent of the Japanese Type S RX8s and could crank out around 250hp.
How Long Do Rotary Engines Last
One of the advantages of using a rotary engine over a conventional piston motor is its packaging. Owing to how a rotary combustion process operates, it doesn't require nearly as many moving parts as a piston engine. Theoretically, this means that there could be fewer things to go wrong. In reality, however, rotary engines (like the ones in a Mazda RX8 R3) require frequent maintenance and servicing. They regularly burn through a lot of oil and puts significant wear as well as heat onto the engine, and exhaust system, among others. Although, if you take good care of a rotary engine, it would easily last upwards of 200,000 miles before a serious rebuild is necessary. If you take very, very good care of it, a rotary might even get past 300,000 miles of use before needing to rebuild and restore.