Amongst all this talk of electrification, many petrolheads wonder if internal combustion has a future at all. One of the topics that get brought up most often, besides hydrogen, is e-fuels, or sustainable fuels. The idea of using a blend of petrol or diesel that's fossil-free is tempting, but does it really work? Or, is it just a bunch of snake oil to give us petrolheads false hope?
Well, Mazda has recently showcased that at the very least, it's a concept worth trying. Having topped up a standard, production-spec 2.0-litre MX-5 Miata roadster, they've since driven this over 1,000 miles across the UK. Not only did that account for road-going miles, but this Miata has even dropped respectable lap times on a select few circuits… All using sustainable fuels.
Is There Hope In Sustainable Fuels?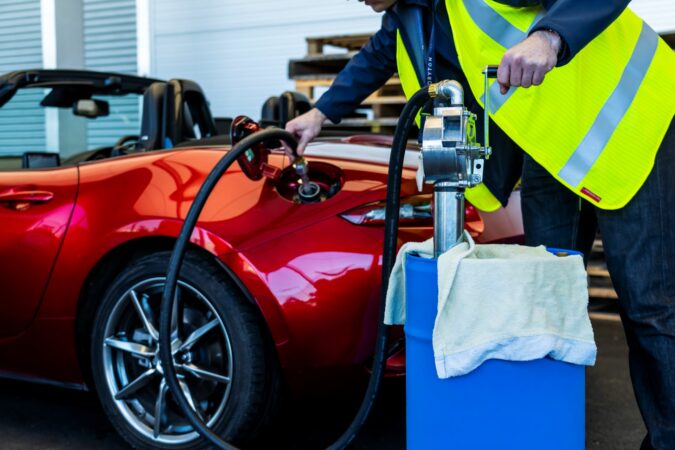 That includes Anglesey Circuit and Oulton Park. In particular, the MX-5 was powered by e-fuel supplied by Coryton – their SUSTAIN 100% blend. If you're wondering what's inside it, this fuel contains 100% agricultural waste. So, that's stuff like straw, or waste from crops that you would likely throw away, anyway. On the road, that MX-5 even averaged a decent 45.6mpg.
Sure, sustainable fuel still emits carbon dioxide into the atmosphere. But, given the fact that it absorbs CO2 during the production process, the total emissions output is very close to neutral. On top of that, low-carbon fossil-free e-fuels don't emit nearly as much toxic fumes as typical petrol or diesel. So, is there still hope for us petrolheads? With this, that's a solid 'maybe'.