Introducing the VelociRaptor 6×6
Hennessey, the renowned Texas-based hypercar manufacturer and high-performance vehicle creator has outdone itself once again by transforming the Ford F-150 Raptor R into a formidable six-wheel-drive supertruck called the VelociRaptor 6×6. With a host of upgrades that enhance its on- and off-road performance, this truck is an absolute showstopper.
Key Upgrades and Improvements
Built on the foundation of a third-generation Ford F-150 Raptor R, the VelociRaptor 6×6 features:
Six-wheel drive with dual locking rear axles
Enhanced suspension with live valve Fox dampers
Bespoke 20-inch alloy wheels and 37-inch off-road tires
An extended 8-foot cargo bed
Brembo performance brakes
These improvements result in a 50% increase in tractive grip, a 45% increase in cargo capacity, and a beast of a truck that's nearly 27 feet long, 7 feet tall, and 7 feet wide, with a curb weight of approximately 6,500 pounds.
A Beast Under the Hood
The VelociRaptor 6×6 retains the Ford Raptor R's supercharged 5.2-litre V8 engine, generating a staggering 700 bhp @ 6,650 rpm and 640 lb-ft torque @ 4,250 rpm. This powerful engine ensures the 6×6 supertruck dominates both on- and off-road.
Hennessey's Engineering Expertise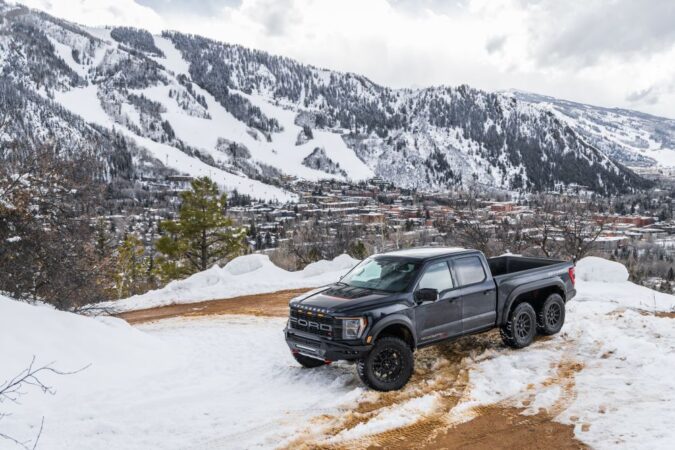 Hennessey is no stranger to the world of high-performance trucks. As the world's largest producer of modified Ford F-150 Raptors, the company has built thousands of VelociRaptor trucks for customers around the globe. The VelociRaptor 6×6 is just the latest addition to its lineup of impressive 6×6 supertrucks.
Pricing and Warranty
The VelociRaptor 6×6 starts at £383,000, including the base Ford F-150 Raptor R. Hennessey backs its workmanship and vehicles with a comprehensive 3-year / 36,000-mile warranty. For those interested in adding this monster to their collection, the VelociRaptor 6×6 can be ordered now through authorized Ford retailers or directly with Hennessey.
Conclusion
The Hennessey VelociRaptor 6×6 is a testament to the company's engineering prowess and attention to detail. With its impressive list of upgrades and uncompromised performance, this supertruck is a force to be reckoned with. If you're looking for a go-anywhere, head-turning supertruck, the VelociRaptor 6×6 is undoubtedly worth considering.