This article was recently reviewed by car expert Paul Hadley to ensure it is as accurate and helpful as possible.
If there's one thing future generations can look back at and remember, they'll recognize the 2010s for one thing – big cars (among the biggest car in the world). To be more specific, big SUVs, big trucks, and just everything growing rapidly in mass. As someone who loves smaller cars, I don't exactly get why. But hey, people seem to like it. So, it's not entirely a surprise that there's even a Mercedes 6 wheel truck – the AMG G63 6×6.
Now, those are words that I never thought would ever go together. Mercedes, after all, is a sensible and refined company. They make luxurious and opulent saloons for statesmen and the champions of industry. Although, to see them making a gigantic 6-wheel mega-truck isn't entirely a surprise. Merc is also known for jumping off the deep end every once in a while. In fact, their history is filled with it.
Mercedes-Benz has made some truly astounding and insane vehicles in its past. Think of the Red Pig, and how that conquered motorsports where everyone else thought it couldn't. Or, how Mercedes has also made some of the world's best military vehicles, trucks, and buses. To combine its experiences in making elite cars with absolute utility into a single Mercedes 6 wheel truck is its craziest idea yet.
What's With This Whole Mercedes 6 Wheel Truck Thing, Anyway?
But you might be curious… Why should a prestigious brand like Mercedes-Benz get down and dirty with utilitarian vehicles like a Mercedes 6 wheel truck? Well, it turns out that one-percenter marques like them aren't shy about flexing technical and engineering chops outside of their usual clientele. Did you know that Rolls Royce used to make armored cars in the Great War? Yes, THAT Rolls Royce.
That same company which today could trim the cushiest lambswool carpeting that costs more than your entire house used to make more down-to-earth vehicles, too. Lawrence of Arabia, in particular, conquered much of the Arab peninsula from the Ottoman Empire in his own Rolls Royce. He had a whole squadron of them, with full bulletproof armoring and a water-cooled machine gun or two.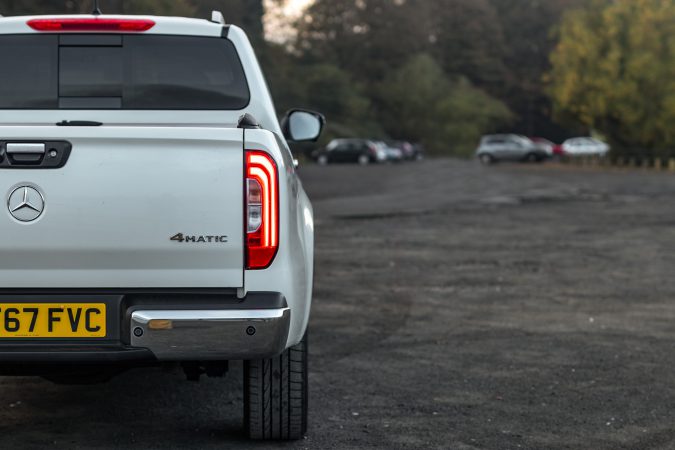 Chariots of war, they called them. After that, though, Rolls Royce left that sort of dirty work for other carmakers. Mercedes-Benz, on the other hand, embraced this practical side of their business. They're still one of the largest manufacturers of commercial vehicles in the world today, mind you. We don't see a lot of these in the States. But in Europe, for example, the three-pointed star is prevalent.
Mercedes trucks, buses, vans, and other commercial vehicles have reached every corner of the globe. The first "truck" that Mercedes made is almost as old as the company itself. In 1896, Karl Benz made the first motorized goods vehicle – a horseless carriage that could carry cargo upwards of 1.5 tonnes. A more modernized front-engine version was then introduced in 1908, capable of carrying 5 tonnes.
The History Of Mercedes 6 Wheel Trucks, From Genesis
But enough of the plebeian four-wheelers. We're here for the Mercedes 6 wheel trucks, and indeed, these have been around for much longer than the recent Mercedes-AMG G63 6×6. So, let's take a bit of a deep dive into the history and background of Mercedes 6 wheel trucks. We'll soon learn that to have six wheels isn't just about showing off to your fellow rich friends. It's quite handy to have.
To better understand the legacy that the G63 6×6 is built on, we'll start at the very beginning…
1. Mercedes 6 Wheel Truck – W31 G4 (1934-1939)
So, here's a dark side to Mercedes' history that they – understandably – don't talk about all too often. The first known Mercedes 6 wheel truck is this, the W31 G4. It was a three-axle – hence, six wheels – off-roader built as an ultra-rugged go-anywhere military staff and command car. If you know your history, you'll know what the 1930s symbolized in Mercedes-Benz's native homeland, Germany.
This beastly seven-seater Merc was initially made to be used by the German Army, the Wehrmacht, as a command vehicle. Think of it as a posh limousine to ferry its generals across a battlefield. It also, unfortunately, meant that the Nazi regime took great interest in it, as well. There's a good reason for this, as the W31 G4 was far too expensive for just any general to use, five stars or otherwise.
As such, all of these G4s primarily went into the hands of the Nazi party's upper echelon. The top of the baddies, including Adolf Hitler himself, used the G4 for various parades and inspections. Some of the first G4s were deployed by the SS or used as personal vehicles for top officials. Hitler gifted a G4 to his fellow dictator, Francisco Franco, which survives today in the Spanish Army's car collection.
Most of the G4s were painted in dark grey with black fenders and bumpers. It included some running boards for your bodyguards to stand on. And, some G4s also had rear-facing spotlights that could try to blind folks behind them if they drove too close. The only ones to be found riding in a G4 are VIPs, after all. A few others received camouflage or anti-reflective paintwork, which is fitting for a military car.
1.1. Mercedes W31 G4 – Specifications
The G4 is just as heavy as it looks, with a curb weight of 3,700kg (8,157lbs). I did lie a bit in the intro there by saying that the G4 is the first known Mercedes 6 wheel truck. Technically, it was at least the first production six-wheeler. The G4 was built on the foundations of the six-wheeled G1 prototype in 1926. The G4, though a rarity, evolved over three different engines:
1934-1936 – 5.0-litre 'M24' inline-8, with around 100hp.
1937 – 5.3-litre 'M24' inline-8, with around 115hp (although roughly the same performance figures after negating the added weight).
1938-1939 – 5.4-litre 'M24-II' inline-8 with 110hp. This model in particular was used as a parade car by Hitler after he annexed Austria and the Sudetenland in former Czechoslovakia.
The G4 could only manage a top speed of around 42mph. It was coincidentally the limit of its chunky off-road, all-terrain tires. The G4 was built on an elongated box-section frame that afforded quite a generous interior space for its occupants. As we mentioned, it's a seven-seater, with a set of benches front and rear. This is then split by a middle row, where the guards or adjutants would usually sit.
Unlike today's G63 6×6, the G4 was a 6×4, mated to a four-speed synchronized transmission. In other words, it means that power is sent to the four rear wheels. The G4 is thus rear-wheel driven, through a set of self-locking differentials. The rear wheels are then paired with two rigid axles about 37 inches apart. So, and despite the front wheels not being driven, the G4 was still a highly capable off-roader.
1.2. Mercedes W31 G4 – What Happened To It After The War?
The G4 adopted quite a few relatively high-end tech back in the day. All six of its wheels had hydraulic braking with servos, which was necessary given its heft. To ensure that the G4 remained as comfy as possible to drive on roughed-up fields of battle, it had semi-elliptic leaf spring suspension. While most of the G4s were open-top convertibles, a few hard-top variants were made. These are rarer, though.
Namely, there was the "radio car" version, which carried around communications equipment. Then, there was the "luggage car", which followed Hitler and his entourage to bring around their baggage. Entry and exit were made easier thanks to suicide doors. Some G4s that were designed as escort cars carried 7.62mm G34 or G42 belt-fed machine guns for protection. So, what happened to the G4?
The actual production varied between 57 to 131, depending on the source. Nonetheless, it's one of those rarities that most would likely never encounter. A couple can still be found preserved in a few museums around the world. For instance, the Sinsheim Auto & Technik Museum has a unique G4 in its collection. After the war, this very W31 G4 was converted into an active fire truck/engine.
Later, it was donated to the museum. We spoke already of the G4 left behind in Spain. Originally, the Germans sent this as a gift for the Spanish royal family, which has been meticulously restored. One is found quite close to home, in Hollywood, where it appeared in some scenes of Hogan's Heroes. The G4 has proven to be immensely valuable, with a lot of three G4s sold for over $9-million back in 2009.
2. Mercedes 6 Wheel Truck – (Engesa) LG-1519 "Mamute"
If there's one familiar theme in Mercedes 6 wheel trucks, most of them are built around the military. Following the W31 G4, we hop from the craters of WW2 to a modern Brazil. For this, we have one of the most insane trucks – or lorries, as we call them here in the UK – we've ever seen. This, ladies and gentlemen, is the Mercedes-Benz/Engesa LG-1519 "Mamute". Or, "mammoth", in Portuguese.
First, you might be curious as to who or what 'Engesa' is. Short for 'Engenheiros Especializados SA', they're an outfit in Brazil that specializes in military, construction, and agricultural vehicles. They've been around since 1963, and have made similarly bizarre six-wheeled vehicles before. Engesa used to build them on Chevy or Ford trucks. But given Mercedes' prowess, they've ported them there, too.
To be clear, it doesn't seem like the LG-1519 will ever enter production [sad face]. This one you see here is merely a showpiece vehicle to demonstrate Engesa's 'boomerang' suspension. They basically took a Mercedes civilian or commercial truck, and then militarised it. For the most part, it's still the same Mercedes truck underneath, with a few very clever (and very cool) suspension tricks.
2.1 Mercedes/Engesa LG-1519 "Mamute" – Specifications
So, the highlights – what's this 'boomerang' suspension, anyway? In layman's terms, its two rear axles that carry the four rear wheels are joined together and can pivot like a see-saw. This swinging axle design allows the Mammoth to tackle incredibly challenging obstacles that no other vehicle could. It, for example, can climb over steep embankments or crawl over rocks without any difficulty.
The key USP of Engesa's boomerang all-wheel-drive setup is that it allows the axles to climb over any obstacle without tilting the entire truck. This prevents the truck from possibly toppling over, or even let the truck's massive weight get in the way. Aside from stability and maneuverability, a boomerang suspension set-up can articulate like nothing else we've seen in a truck like this. Truly, it's incredible.
We reckon you could probably drive over an entire car with ease if you want it to. Albeit, this is one truck that pedestrians like you and I aren't possibly able to order in anytime soon. Unlike the G4, the LG-1519 Mammoth is a proper 6×6 – or full six-wheel drive. Albeit, the suspension and axle layout for the front wheels haven't changed much. Then again, it doesn't need to thanks to its beefy engine.
Powering the Mammoth is still the Mercedes OM 355/5 diesel engine as it came from the factory. It's good for around 192hp. That's not much, but more importantly, it can dole out 485lb-ft of torque. Combined with that trick boomerang suspension, the Mammoth is no doubt one of the most capable Mercedes 6 wheel trucks on this list. Note that we said, "one of…".
3. Mercedes 6 Wheel Truck – Unimog U5000 6×6 (2012-Present)
As much as I loved watching the frankly hypnotic boomerang suspension on the LG-1519, personally, I'd rather have a Unimog. An icon in its own right, the Unimog is one of the most revered models in Mercedes' back catalog. Expectedly, the 6×6 treatment eventually had to trickle its way there, as well. The Unimog was built from the ground up to be one of the best off-road trucks out there.
Its power off the beaten path remains unchallenged. Tough, unbeatable, and it could hope over hills and mountains like a goat. Even the regular four-wheeled Unimog is pretty great on its own. Imagine then when you have an extra set of axles and another pair of wheels. The U5000 Unimog is just that, adding a 6×6 (six-wheel-drive) drivetrain to an already go-anywhere vehicle.
This added capability is most welcomed when it comes to the Unimog. Around the world, the Unimog is deployed in high-intensity situations as a rapid response and emergency vehicle. It includes being used as fire trucks or ambulances that could traverse terrain where ordinary vehicles may not reach. It can transport heavy equipment as well as bodies with ease anywhere it goes.
This is thanks to the Unimog's steady traction, high ground clearance, advanced differential locks, as well as its uprated suspension, and highly flexible frame. Now packing a 6×6 configuration, traction on the Unimog has been improved significantly, as does its ability to haul greater payloads. Even with an extra axle, the Unimog 6×6 could happily carry around in excess of 10 tonnes (around 22,000lbs).
3.1. Mercedes Unimog U5000 6×6 – Specifications
The other neat trick with any Unimog is its configurability. We've noted already its use as an off-road ambulance-slash-fire-truck. The construction and energy industry regularly uses numerous versions of the Unimog, too. The bed can be fitted with a crane, for instance. Or, you could use it as a flatbed to carry pipes for that drilling project out in the wilderness, with a fording depth as high as 1.2-meters.
Forest fires have become a major concern in some parts of the globe. Where that is concerned, there ought to be a Unimog somewhere in the thick of the fight. The Unimog 6×6, especially, can be fitted with a much larger 7,000-litre (roughly 1,850 gallons) tank. Large water pumps and firefighting kits can be readily installed on the back, generators and all, with 19 whole inches of ground clearance.
But if that's not enough, you could instead modify the U5000 as an outback bus, with seating for up to 30 people. What's equally amazing is the powertrain of the Unimog 6×6. As stock, its gearbox has eight forward gears, with six reverse gears. This allows the driver/operator granular control for even the toughest of terrain. Yet, its engine is surprisingly small but is nonetheless potent.
It's an OM 924 LA BlueTec diesel. This is good for a relatively measly 218hp, and another 597lb-ft (or 810Nm) of torque. However, this should be more than sufficient given its application. Another useful bit of equipment that'll help you get the job done is an onboard central tire inflation system. From the comfort of your air-conditioned Unimog, you can inflate or deflate the tires at will.
4. Mercedes 6 Wheel Truck – AMG G63 6×6 (2013-2015)
Last but not least, we have what is assuredly the most recognizable Mercedes 6 wheel truck – AMG's G63 6×6. It's a culmination of everything that we've learned so far into a single, $500,000++ truck. So, if you have to ask, you – including I and most other mortals – can't afford it. With that being said, the G63 6×6 had more humble roots. Once again, the idea of six-wheelers only found clients in the army.
In 2007, Mercedes-Benz worked with the Australian Army for a new transport truck. Think of it's their version of a Humvee. At the time, the G63 6×6 was the largest off-road vehicle made by Mercedes, not counting its commercial arm. It was also the second-most expensive street-legal model offered by them too, shy only of the supercars. But then Mercedes thought, why just offer this to the soldiers?
It had the engine from a four-wheeled G63 AMG. This being a 5.5-liter twin-turbocharged 'M157' V8. The powertrain – including the gearbox – was then placed atop a highly modified G-Glass body, made into a pseudo-pickup. Beneath that, Mercedes engineers then installed 6×6 portal axles. Meanwhile, the interior was touched up to make it so you can know what half-a-mil feels like.
The Aussie Army's 'G 6×6' is still in production today. Mainly, its roles are relegated to functioning as a reconnaissance or light utility vehicle. It's mostly only moderately armored to maintain the 6×6's speed. Some versions of this militarised 6×6 don't even have a windshield, though it could fit up to three machine gun turrets at once. Camouflage and canopies are sold separately.
4.1. Mercedes-AMG G63 6×6 – Specifications
Alas, it's a shame that Mercedes stopped producing the civilianized G63 6×6 so quickly. Their decision was based purely on protecting the 6×6's exclusivity. So, you'll only likely see this in the hands of the uber-rich. For the rest of us, we can still dream, at least. Here are some specs, just to keep you restless at night…
Engine: 5.5-litre twin-turbocharged 'M157' DOHC 32-valve V8, 536-hp, 516lb-ft of torque.
Transmission: 7G-Tronic 7-speed automatic, with a 0.87:1 high-range ratio (on-road driving), or vary up to a 2.16:1 low-range ratio (off-road driving).
Performance: 0-60mph takes just 7.8 seconds, with a (limited) top speed of 100mph.
Drivetrain: All six wheels could split their drive 30:40:30. You can lock the differential in 5 settings, and it can be operated from the dash. It has the same portal axles as that Unimog U5000 6×6.
Ground Clearance: 18.1-inches, with a fording depth of 1-meter (39.4-inches).
It's a culmination of all the things that they had experimented with before with Mercedes 6 wheel trucks. It has that pickup-like form factor of the G4, but with the endless off-road abilities of the Unimog and the LG-1519. Speaking of, the G63 6×6 has a built-in onboard air-compressor, as well. This way, you can easily inflate or deflate the tires from the cabin, depending on the condition of the roads.
There are four separate air containers with 20-liters of capacity. Therefore, it can fill or empty the tires at speed in less than 20 seconds. It's no wonder why folks in the Middle East love it so much. You can rapidly convert it from riding the dunes to storming the highway in a matter of seconds. But above all, it's an AMG, so you could nevertheless drive it like a bat out of hell with that V8.
Luxury Off-Roader: Facts
In the Middle East, oil-rich Arabian natives are known for their car collections, and some purchase the Mercedes-Benz Unimog to stand apart from their neighbors.
The Unimog is an ultimate off-road vehicle, but it lacks creature comforts, making it challenging to handle.
To solve this problem, AMG has developed a Geländewagen with Unimog's off-road capability and S-class interior comfort.
The Geländewagen is a vehicle that AMG originally developed for the Australian army, with three axles and five locking differentials.
AMG has built two stretched G63 AMG preproduction vehicles, each spanning over 19 feet in length, featuring a pickup bed, and four heated and ventilated leather seats.
The conventional axles of the G63 AMG 6×6 were replaced with portal axles providing 18.1 inches of ground clearance.
The G63 AMG 6×6 has a twin-turbocharged and intercooled DOHC 32-valve V-8 engine, producing 536 hp and 561 lb-ft of torque, with a 7-speed automatic transmission.
The G63 AMG 6×6 weighs around 8,500 lbs, has a length of 231.3 inches, width of 83.1 inches, and height of 89.8 inches.
The G63 AMG 6×6 can go from zero to 60 mph in 5.9 seconds and has a top speed of 99 mph.
The estimated price of the G63 AMG 6×6 is $525,000, and AMG will only build a small number of these vehicles if there is enough interest from potential customers.
Final Thoughts, And Honourable Mentions
That then rounds up our look at just a few of the more popular Mercedes 6 wheel trucks. Either it's a joyriding G63 AMG 6×6 flaunting its wealth at your local 5-star hotel car park. Or, it could be that one Unimog driving through the smoke and flames to rescue survivors of a forest fire. In all, we can see that Mercedes has quite a lot of experience in making some truly mad six-wheelers.
But we also have a couple of honorable mentions that you may have forgotten about…
X-Class X350d 6×6 – An auction site, Classic Youngtimers Consultancy, once sold an X-Class (itself was based on a Nissan) pickup that's been converted into a 6×6. It was conceived by the famed tuner, Carlex Design. It still had the same 3.0-liter turbodiesel V6 with a somewhat puny 254hp. But with that tall 4-inch lift and meaty off-road tires, this one looks like it's ready for a bit of off-roading.
ML-Class ML320 6×4 – We don't have a lot of details on how it was converted, but someone put this posting up on eBay a while ago. It's surely the cheapest six-wheeler Merc you can buy, at $25,000. As an ML-Class underneath, it retained most of its boxy SUV silhouette, with a landaulet-style rear-end. It's "only" got a four-wheel drive set up, a 3.2-liter V6, and a lot of AMG accessories on it.
The idea of a six-wheeler has alluded enthusiasts and off-roaders for just about a century now. More wheels could theoretically allow vehicles to have greater traction and maneuverability off the road. Still, such intricacies could alternatively add complexities when as far as reliability and performance goes. Maybe, just maybe, our guide on Mercedes 6 wheel trucks could inspire you regardless.