DRIVEN: Mercedes Benz C200 BlueTEC
Welcome to the brand new Mercedes C200 BlueTEC, looking every bit like a miniature S-Class and in this guise sporting the smallest engine in the range, a 1598 cc 4 cylinder diesel.
Whats The Mercedes C200 BlueTEC All About?
This C-Class is Mercedes bread and butter, it's their money maker, their mid range saloon built to go up against the likes of the BMW 3 Series and Audi A4. And fitted with this engine it's most likely to be the model that will attract company car buyers and frugal thinkers alike, thanks to a CO2 figure of just 106g per km and a combined MPG of 72.4.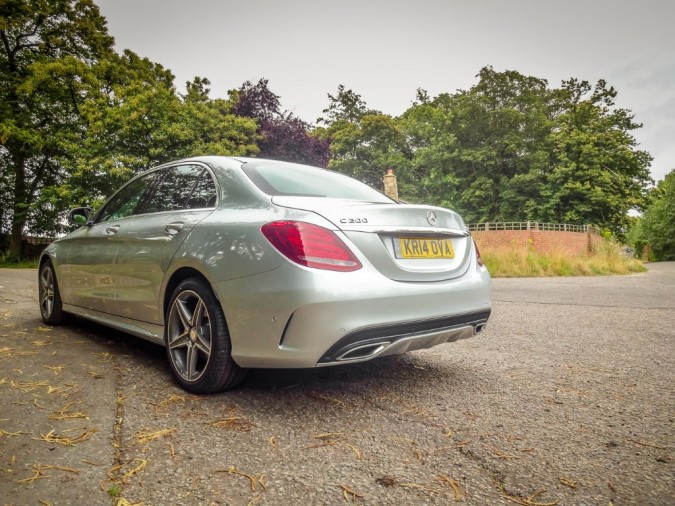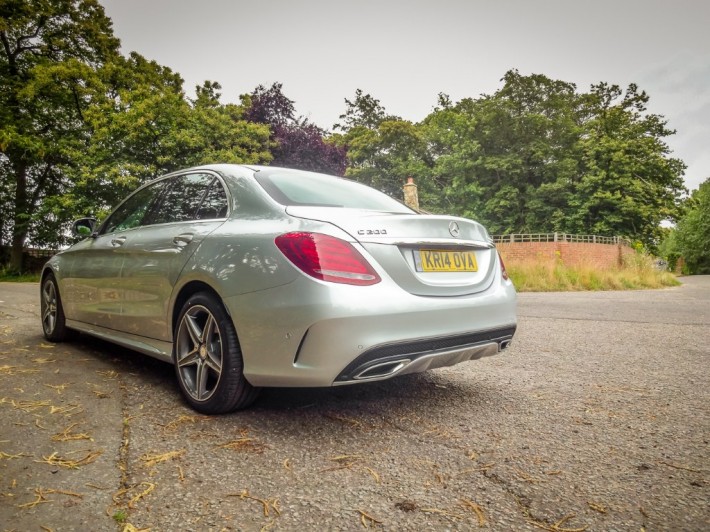 Mercedes has hit a bit of a sweet spot with the design of this new C, it's every bit a shrunken S-Class and is less angular than the outgoing car. It's well proportioned and despite only growing a couple of millimeters over its predecessor commands a great deal of presence on the road. This could of course be due to those menacing daytime running lights, swooping over crystal clear LED headlights and full LED rear lights. An AMG styling package (front, side and rear skirts) also comes as standard. A big 3 pointed star sits confidently on the 2 slat grille too, giving this car a little hint of classic Mercedes from times gone by. Whatever the reason people got out of my way sharpish when I wanted to pass.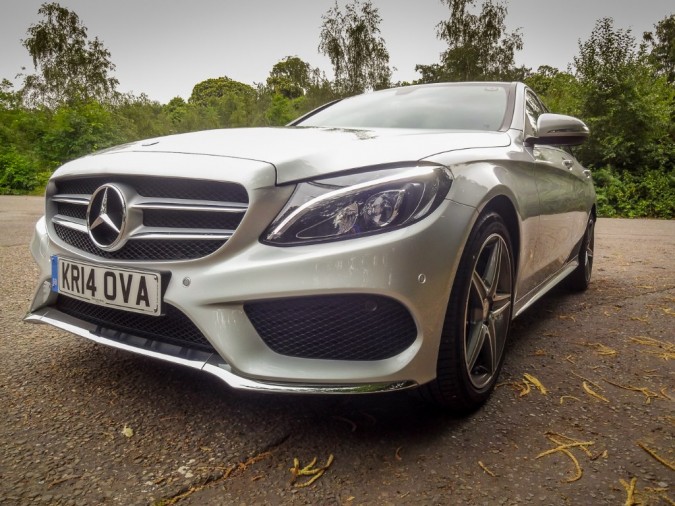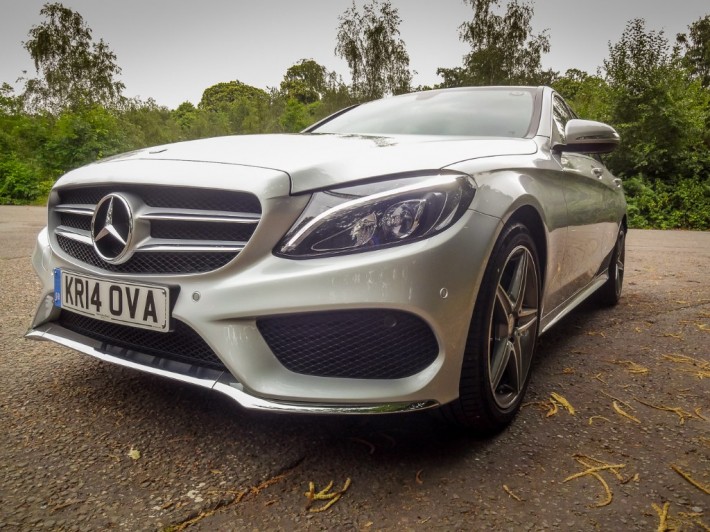 The business of passing you might think is challenging given this cars small displacement but this turbo charged engine is a bit of a wonder. Yes 0-62mph takes a leisurely 9.7 seconds but that's a harsh criticism because the in gear punch delivered by 136hp and more importantly 320Nm of torque from 1500rpm  makes up for any slow getaway from the lights.
How Does It Drive?
In a word; beautifully. A new rear wheel drive platform teamed with all round independent multi link suspension does an excellent job of smoothing out the UK's notoriously less than perfect roads. Even teamed with the cars standard 18 inch AMG alloys the car is wonderfully dampened. As with all new cars, the C comes with electro mechanical steering. It's a good set up and provides enough feel for everyday town/motorway driving, however show it a twisty road and it's hard to put the front wheels exactly where you want them, so don't worry BMW you still hold the dynamics crown. However this issue can be remedied if not fully fixed by a flick of the driving mode switch down by the gear stick. 5 modes are available, from Eco, to eek the most out from that frugal motor and Comfort to cushion your backside even more. Through to Sport and Sport+ which sharpens the whole car up by stiffening the suspension and making that electro steering that little bit weightier. You can also custom make your own mode, picking the best bits from each.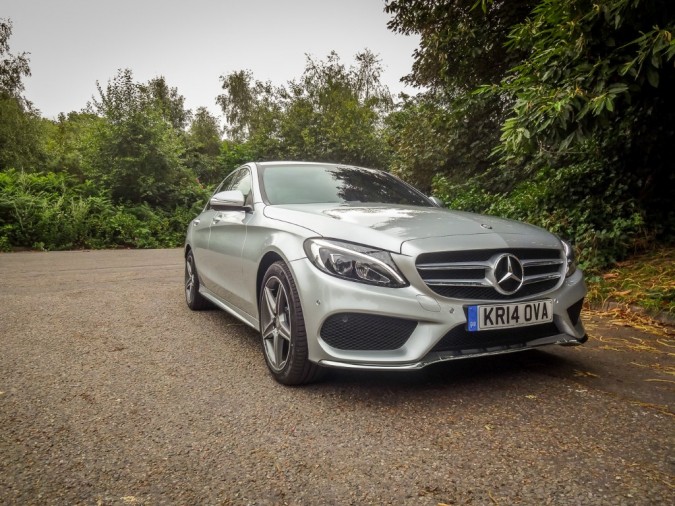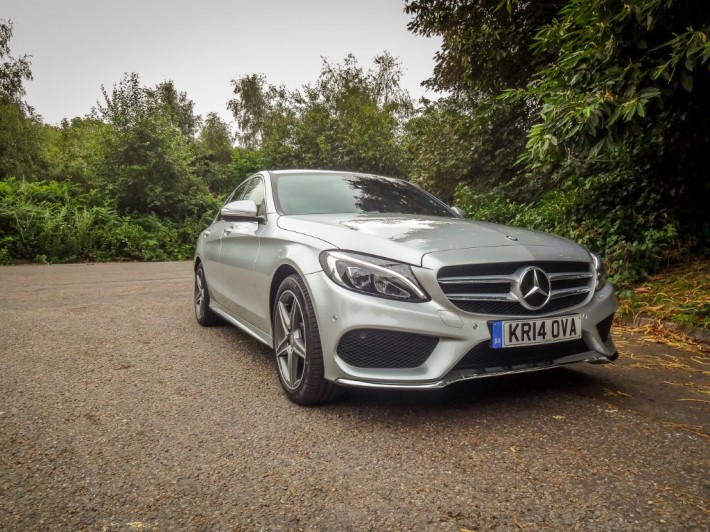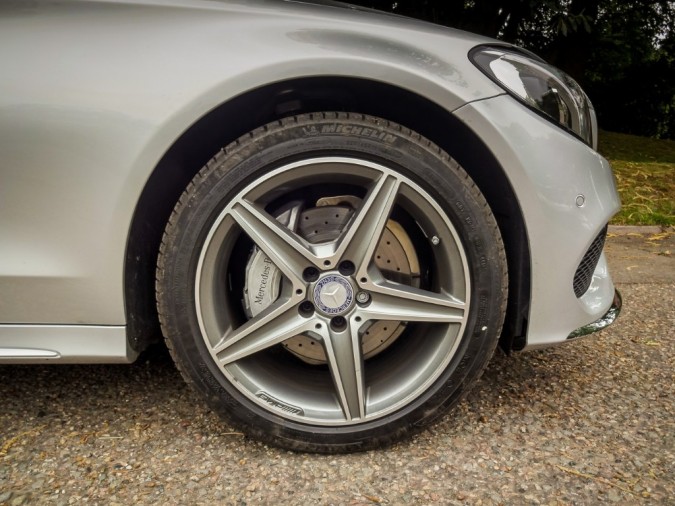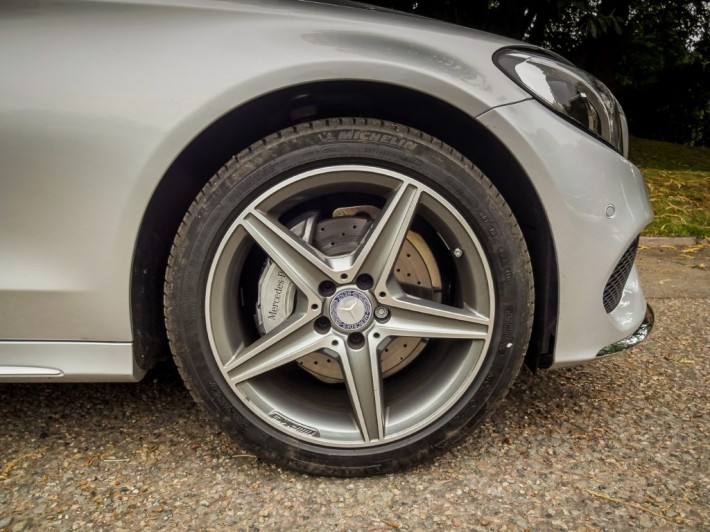 As standard the C comes with a 6 speed manual gearbox, a surprise when you consider most Mercs on the road are autos. My initial reaction upon opening the door and seeing 3 pedals and a stick was delight, great I thought, a rear drive saloon that I can ultimately determine when to change gear in. However, this gearbox isn't the best, to my surprise I much preferred the optional 7 speed auto I tried in the bigger C250. The Mercedes C200 BlueTEC's manual just wasn't smooth enough, it felt notchy and not at all what I expected from Mercedes. On occasion during the drive I even slipped it into the wrong gear, now this could have just been my utter incompetence but I think the vagueness of the box played a part too.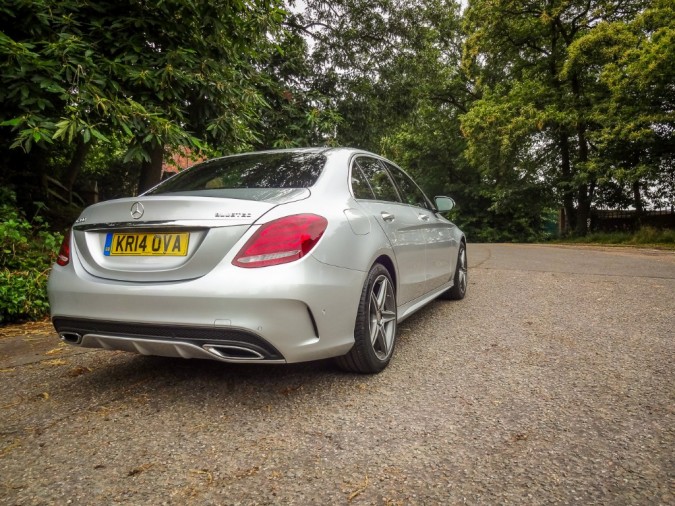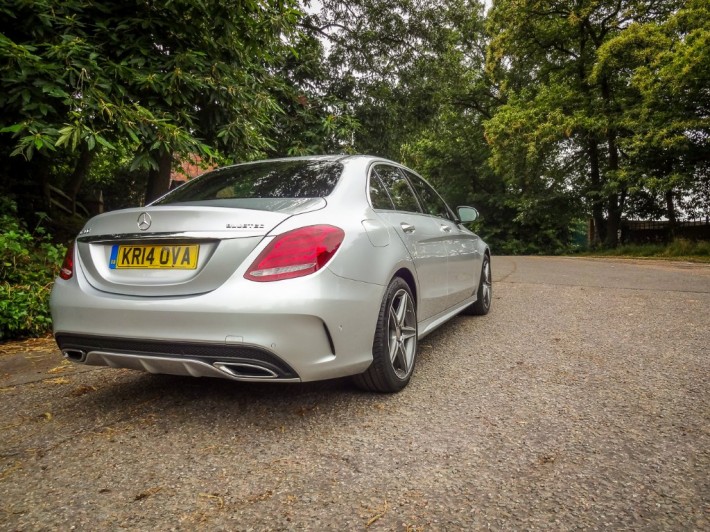 Whats It Like Inside?
The inside of the new C is another absolute triumph, genuinely it's like being in a slightly smaller S-Class,  sumptuous leather seats immediately make you feel relaxed and there is enough space in the back to almost stretch out your legs, I know this as I sat there, for quite some time enjoying the space, much to the bewilderment of passing pedestrians I'm sure. The surfaces, finished in a mixture of piano black and soft leather are wonderfully free of buttons and controls. Instead all the cars functions such as Nav, Phone and DAB digital radio to name but a few are controlled from a touch pad that comes up and over a more traditional circular idrive like knob  in the centre console.  The switches that there are, for the climate control and the ones on the steering wheel have a real quality feel, exactly what you'd expect from a Mercedes. Other standard features on this car include, reversing camera, auto wipers and a tonne of safety equipment such as blind spot monitoring, collision prevention, attention assist and speedtronic cruise control to name but a few.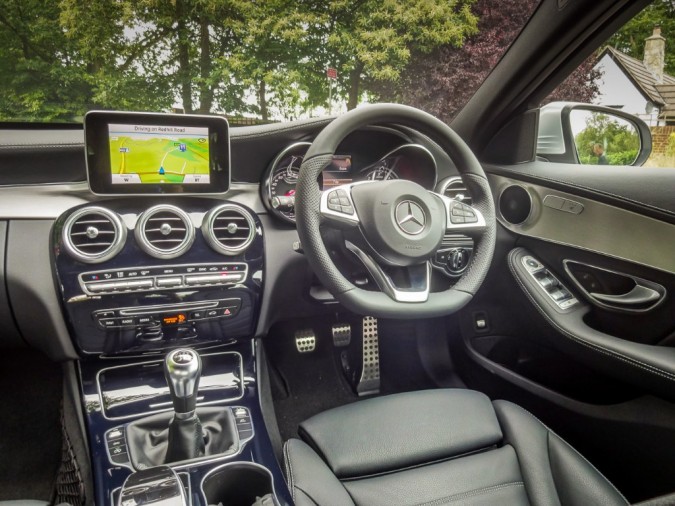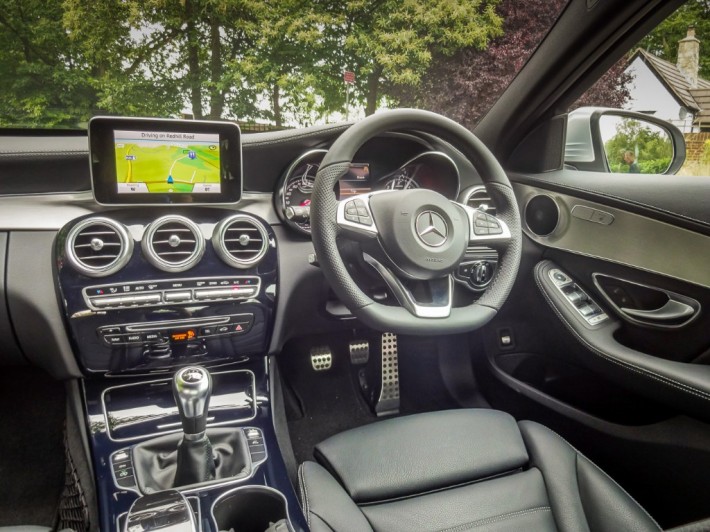 Criticisms and this is something I never thought I'd say, the interior looks better as an auto, the gear stick adds clutter and reduces the size of that touch pad controller (see bottom left of interior photo, that's the touch pad). In the auto there's a greater sense of space and the touch pad is bigger and sits more comfortably on the transmission tunnel. Oh and that piano black trim although gorgeous does appear to scratch easily, the 2 C-Class's I drove only had a 1000 miles between them, but were showing some nasty swirl and scratch marks already, so be careful where you rest your keys! My other niggle, the C200's diesel was a bit noisy, especially at idle, thankfully the stop start means that as soon as your off the clutch in neutral it switches itself off, but still I expected less rattle permeating into the cabin. By comparison the C250's motor was quieter.
The Experience
Let me put it this way, I've never felt so relaxed inside a mid sized saloon. The new C seems to protect you from the harsh world outside, it surrounds you in the sort of luxury that I expected from a car a few models up. The C has an ability to either sooth you in comfort mode or excite you in sport, I think it is just what any discerning Mercedes buyer should want.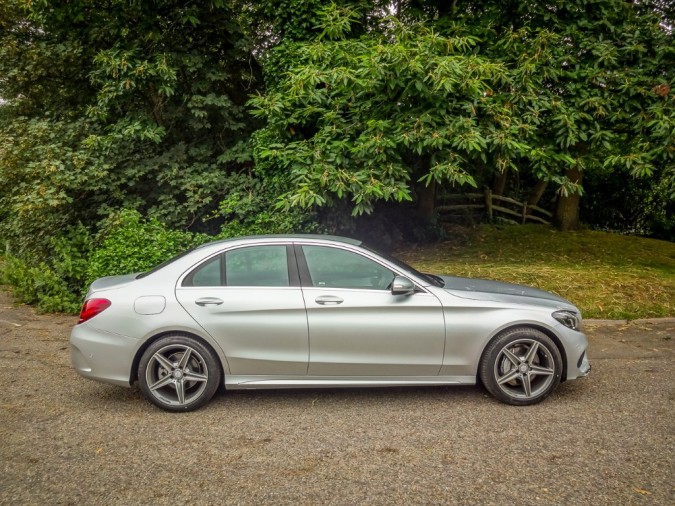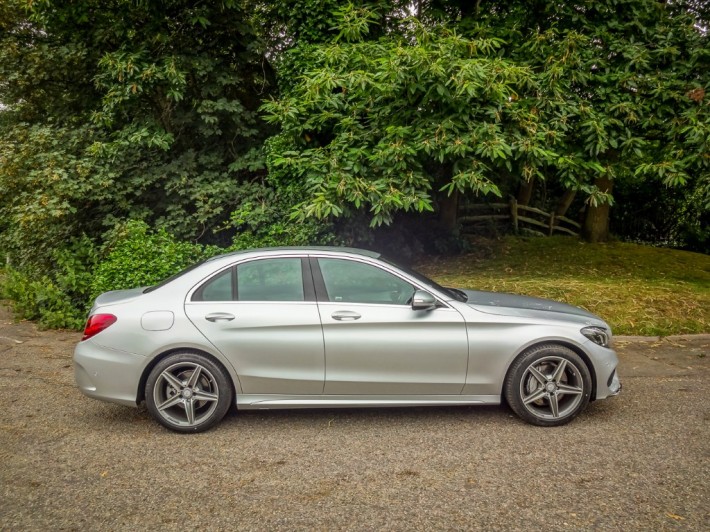 Verdict
The new C-Class is a very accomplished car, one that should definitely worry the competition. It might not have the driving dynamics of the 3 series but it gets close and manages to entertain in other ways. The amount of technology packed into it, the quality feel of the cabin and the way it looks both stationary and on the road all help set a benchmark that others must now try to emulate.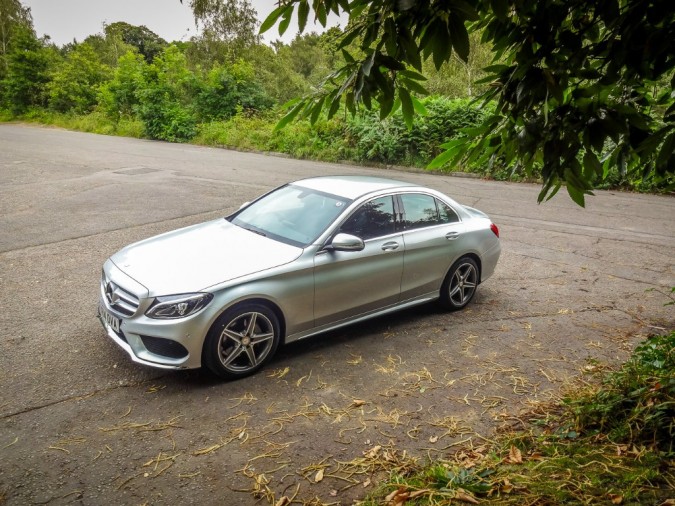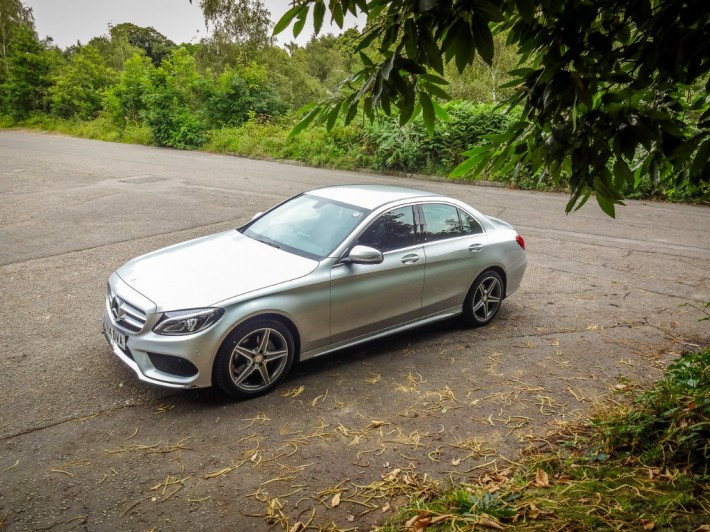 SPECIFICATION
Mercedes C200 BlueTEC
Price: £32,060,
Engine: 1.6-Litre turbo charged inline 4 diesel
Power: 136hp
Torque: 320Nm
Transmission: 6 speed manual
0-62mph: 9.7 Seconds
Top Speed: 135mph
Weight: 2,050kg
Economy combined: 72.4mpg
CO2: 106g/km