Carbon Neutral is a term used to describe the state of an entity (such as a company, service, product or event), where the carbon emissions caused by them have been balanced out by funding an equivalent amount of carbon savings elsewhere in the world.
Michelin has been busy developing the first carbon-neutral tyre at the point of purchase, considering the emissions from raw material extraction too delivery to the customer. Ever since 1992 Michelin have been developing a low resistance tyre to help you climb up the miles per gallon leader boards all in the name of Greta Thunberg. However, in 1992 it was not so fashionable. This is the vision that has inspired the new Michelin e.Primacy tyre.
Scott Clark the Executive Vice President has commented that "tomorrow everything will be sustainable"
Predictable environmental responsibility was at the heart of the design process from the get-go. The e.Primacy has the lowest rolling resistance in its category, which reduce CO2 emissions and fuel savings for the customer. The rolling resistance equates to 174kg less CO2 emitted over the life of the tyre. For comparison, the average person living in Belgium emits around 8 tones of CO2 a year. Take of this what you will.
Over comparison tests, it has been reported that the new tyre will save around 0.21 litres of fuel every 100km and about 80 euros over the life of the tyre. If you see the current Michelin Primacy 4 E as a comparison the average single tyre will cost 100 euros. It doesn't seem like a bad investment. If you are already living a climate change activists lifestyle it will even increase your EV range by 7% for your next trip.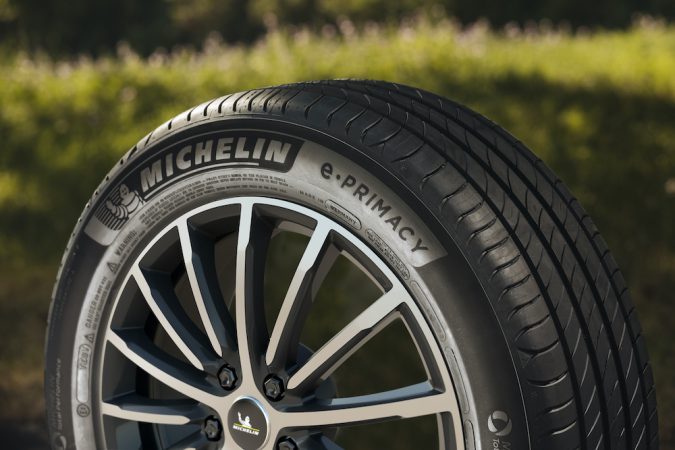 The plan was not only to produce a tyre that is green in mantra but to also deliver exceptional driving performance that is made to last. To meet its energy efficiency targets without compromising its performance the tyre incorporates the latest technologies developed by researchers and engineers. Technology has always been at the forefront with this development including energy passive high elasticity compounds, cool-running sidewalls and much more, all to maximize contact with the road and evenly distribute braking, acceleration and cornering forces.
Michelin has pledged to lower CO2 emissions from all its production facilities by 50% by 2030 with the ultimate goal of achieving carbon neutrality by 2050. To hit these targets they are also developing solutions to use renewable or recycled materials to put into all tyres while enhancing their performance even more. By 2030 Michelin tyres will be 20% more energy-efficient than they were is 2010.
Exception Driving Performance That Is Made To Last
On the 1st March 2021 Michelin e.Primacy will be available in 56 sizes from 15 inches to 20. Scott Clark also commented, "This is a world's first that will open the way to a new generation of products".